I DO NOT POST MUCH ABOUT EPL BUT WHEN I DO EITHER CHELSEA WINS OR MANCHESTER UNITED ...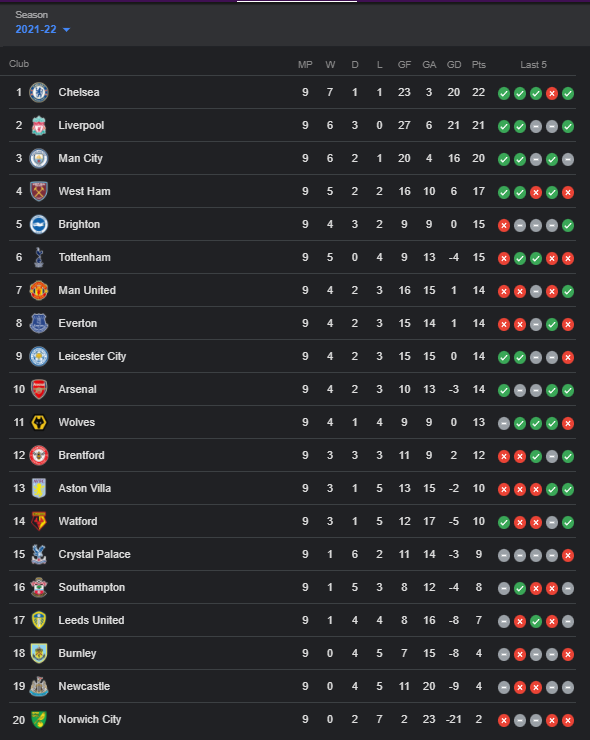 source
After that lost to #City on matchday 6, Chelsea has been cruising past bottom 10th team quite easy. Sincerely there is no chant for celebration since the expectation is high for them. Usually Chelsea scored one goal to advance.
Lately they found ways or the teams allowed them to score at will.
Looking at the incoming matches, Chelsea should be cruising all the way to week 15. I am just saying the competition looks favorable until they meet the hot Liverpool or #City again. By the way Lukaku had injuries. The other guys found ways to continue to route other teams on their way.
I do not know how Liverpool is playing but the whooping of #United was sort of deserving. I was asking myself, where was the defense throughout the first half? CR7 is almost playing on a stretcher. I saw the goal that was waived. Not sure what is the point of having Sancho on the bench when he is an incoming star.
Maybe this is the way to blame it on the scheduling for #United.
They have to play better. Actually they look like a strong 10 place team goin forward.
There is a reason #EPL is the best league on earth. The competition is so high, just watch a game you can see how a team should play.
Now the manager could be on the chopping block if this kind of result are usual.
I know #Manchester United can lose a match, but this score line is out of proportion. Just looking at the table, #Brighton and #West Ham are doing much better job to keep the momentum moving. Coming in the second half, Progba messed up the whole game trying to force way too much.
At least they can move away from that loss and find comfort this is a long season.
Next time they play against #liverpool it will be away on March 19th.
Every fan will want to know this score this time.
So far I bank on Chelsea to take EPL.
What is your take?


---
---