HOLDING HIVE HAS A LOT OF MEANING THESE DAYS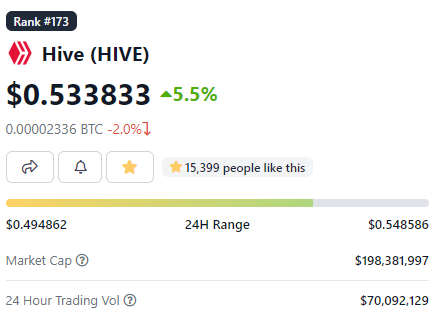 source
Every passing month the matter to hold Hive is starting to send a message to all holders. Yesterday I read a post stating more than 160 million Hive are powered. Actually not all of them are curating. So if I do the calculus we have around 226 million floating around. I did not exclude the Hive in the DHF fund that we know is there for Hive improvement.
As we can see Hive is not just polarizing the market. It is following the trend we have these days.
Assuming the daily volume for Hive in July, the KRW find a way to trade it over its marketcap frequently. So daily could easily surpasses $15 million exchanging hands to hands. Lately I am doing my best to purchase small chunks from time to time. I have a feeling it will become harder for anyone to just go and get crypto. Hive price is still affordable in the great scheme of things.
Due to new hard fork it could be a boost for Hive price. Even at 50 cents it is a dream to get some. The market is bearish but any minute you can sense the bull raging back for couple days. Another aspect has to do with #resource credit that can be something more than what it is.
#HBD pull a trick on us the other day. Good faith and hard work did bring it back to its place. #HBDstabilizer was at work.
All factors put together Hive is in a place where there are more than just posting and curating. I looked at the blokchain data, you can see splinterlands transaction all over. I can see where resource credit can find a market to flourish.
While inflation tends to cause a roar it is important that this is something that help a blockchain to remain accessible for everyone long term.
Just for holding Hive power the blockchain adjusts your HP at a rate of 2.9% APR. It is sort of inflation to the new Hive created from the pool.
So much good will come from this blockchain. As you can see layer-2 brings another vast opportunities to Hive. If you are not busy enough, be ready to get your hands in the mix. I read soon we will have a more descriptive hiveblocks showing layer one and two in one space.
The way I see Hive in 2022 could change in 2023, 2024. But one thing will remain for many of us.
The power to own your wallet, the value attached to the token is priceless.
I can see why many hold their Hive so strong unless they want to support layer-2.
Possibly #hive could uptrend its value causing many to be left behind. I wonder if Hive is ever in a bear market. This is what we call positive attitude. There are more good traction in Hive than ever.
This is how I call Hive, the gift that keeps on giving.
Keep on vesting then.
Posted Using LeoFinance Beta
---
---