HAPPY LEOFINANCE POWER UP DAY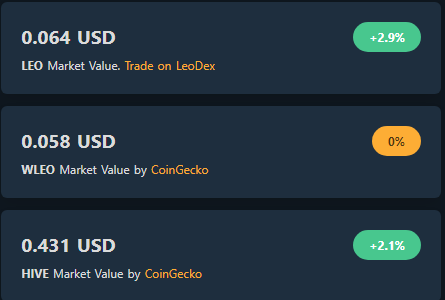 source
I has been for a week I kept reading about #LPUD. I like the approach the community has engaged so far. This is the second of such initiative from last month. Actually I have been engaging myself to accumulate Leo token even before the dip. Now it has become much attractive to get more from the market. I used to go left and right in layer-2 but lately I slow down and remain a fervent user of leofinance.
After all this is where you get the most actual news about Finance and crypto in general. At first it was hard finding ways to write about financing. It is still but the diversity we have, the amount of subject at our disposal make it so easy to do so. It may be a burden for many but the idea, you need to have in mind any aspect of finance, money and find ways to put it out via words.
Before I go further #LPUD is one the best initiative next to Leofinance engagement. I must say this is an engagement with Leo itself. The other one has to do with posting, commenting propelling everyone to embrace what Leofinance has to offer. This is what use cases stand for. This is a way for Leo to push the boundary for WEB 3.0. So far we still have remnants of WEB 2.0. Time will come when we depend more on WEB 3.0 and keep the internet decentralized.
I am sure #LPUD is going to change the value each bring to Leo token. I know the best way to earn Leo is through posting. Another way you can earn LEO token, you can delegate #Hive to @Leo.voter. From there you get a portion of Leo. Lately I did one thing with my portion daily. I power it up straight. I remember couple years prior #leo was touching a dollar range. This reminder keeps me on my toe knowing Leo can go back to that price range.
Another advantage of #LPUD you are strengthening your engagement in the community. You are pushing decentralization where you care to make money, we are all happy by curating posts that stand to promote Leofinance and further emphasize the value from within. When you mention Leofinance quickly you see #WLEO. You go further away you catch #CUB, #BLEO. Recently we had the honor to interact and be a part of #PLEO.
It all starts with #Leofinance vision for an inclusive community. The ladder has not reached the top yet for Leo. Lately the new adding piece from #Polycub shows the long term aspect for this community. I hope #CUBDEFI will acquire some of the new project to keep both platforms relevant going forward. No matter how you flip Leofinance, you can easily have a day full of reckoning.
I spend much of my time in Hive blockchain in Leofinance.
Hope you find time to power up some Leo today.
Keep on vesting.
Posted Using LeoFinance Beta
---
---