HANDLING OF FINANCIAL PRESSURE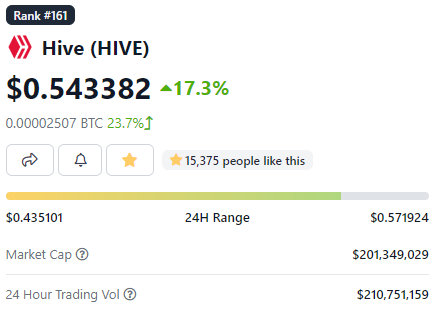 source
It always amazes me to see Hive always looking North when the majority of the market is looking South. It does not happen everyday but when it does every diamond hand feels good holding a piece of Hive stronger. Lately it is no mystery when you see Hive price moving the needle a bit. Looking through the exchanges Hive/KRW is leading the day with $158+ million in daily volume. It may not last for long but you get the idea that Hive means something for them.
Hive means way more for everyone holding Hive power. it is no gimmick holding Hive power and you know for sure you can get it back all within 13 weeks. This trust factor can build so much pressure, you realize this is a constant envy if Hive moves the needle higher. Before I go further if you know this community for five year, the pressure has diminished. In the long term it offers protection that seems unimaginable at first.
By now many get used to it and see a delicate balance between holding Hive and holding HBD. While it may sound apolitical Hive system for holding Hive power for 13 weeks could be a sway. One thing I can say instead of losing all, it is a winner circle knowing the time fits the profile. You probably heard this before, if there is no news, it is good news. Hive approach tends to relay on security before pushing the profitability.
This approach helps to relieve the financial pressure many face out there. The risk factor is everywhere but Hive blockchain tends to manage that risk by offering many keys. Apart from posting and holding Hive, you are being part of a model of finance where you own your wallet. You run your wallet. Since you are in charge you feel less pressure long term. It is impossible for any hivers to get rich quick.
Keep in mind as the years go by, the landscape will change as more diamond hands will hold and the value will accumulate. It will be a game changer to notice how many will deal with pressure of seeing their account grow. Since everything is in the blockchain, it will be a true highlight for Hive.
Another way of handling the pressure will be when everyone sees the true wealth Hive has become.
If you make it by yourself it is not fun. We need to grow together.
This is the main aspect of #Leofinance. They make it a priority of giving back while you manage to do the same so the growth is widespread.
I know not everyone will tag along but it is there for everyone to reach out.
This approach has been the game changer all over Hive and communities in layer-2.
As a social media the growth will be slow for the community, the HODLERs are the one scarifying by risking, so they should get the reward to the end.
Since we are dealing with crypto the pressure will always be there.
Dealing with financial matter, time always favor the ones with the right plan of action.
Hard to control the market but Hive tends to find ways to send the right signal. It could be dim and weak but long term holders see it and keep on vesting.
Posted Using LeoFinance Beta
---
---