ANOTHER NUGGET FOR THE WORLD OF CRYPTO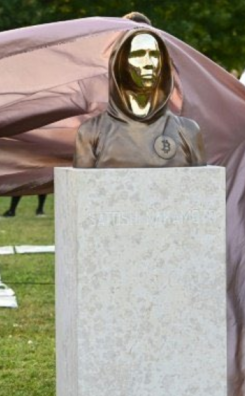 source
Believe it or not many folks are waking up with crypto in their mind. While understanding crypto implies to further study of blockchain, ledger and use cases, the world is getting closer where crypto will be a second language to us all. The fun part of crypto either you love it or hate it you need to deal with it.
Having a statue of a pseudo satoshi will be in the memory of many.
Europe seems to understand the rapport crypto will have in the next 10 years. As the internet is moving information faster, so do crypto in the finance world. Time is the essence for humanity.
As open mind you can be, crypto deserve its place for changing our mind concerning money. Bringing fast and cheap transactions around the world to billions is the extract crypto is all about.
It is so glad to see this September looking so bad for crypto has maintained a price parallel to the envy of inflation. Can you believe we are beginning the era of ownership of your funds. You can have access to it wherever you are in the world.
Crypto is for everyone willing to put time and study it.
Lately #DEFI is causing so much problem #CEFI is looking for ways to merge it together.
The decision is made for each of us to pave the way for true innovation.
As always I like to come so close to this community and look at #Hive up close.
Just look at how the value is handling itself. Not just Hive, #CUB finance, #Leo, #Splinterlands,
and many more. We do believe in each other and this gratification is not a work of one year. We stick together for a good five to six years to deliver this strong community.
I preach holding like there is nothing better in the world. With crypto, holding is a way to save. It could be staking, with Hive blockchain, it is Hive powered that bring so much for the crypto holders.
This statue is making sure everyone is on the same page going forward. Since nobody knows the real satoshi, this statue reflects on everyone for the future of crypto.
The best we all can do for crypto, educate yourself and do the right thing for crypto.
Best case of action, hold crypto little by little till fiat is going bye.
Keep vesting them tokens.

Posted Using LeoFinance Beta
---
---