ANOTHER MONTH ANOTHER POSITIVE FOR LEOFINANCE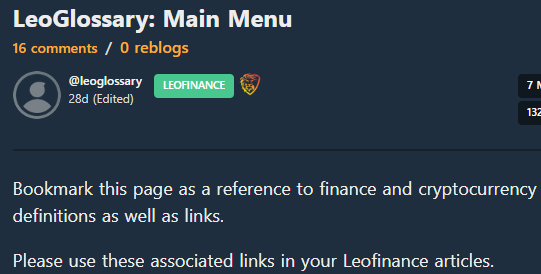 source
If you think you know everything, you know nothing. This quote is a reverence to some folks not understanding what we have in our premise in the blockchain. I tend to admire the hard work of the team behind @leoglossary for the past month putting reliable short posts about many and more related term in finance
@taskmaster4450 if you are working on this endeavor by yourself, you deserve all the votes in the world. It is a lot of work even by researching into it.
Glad to know it is available for the community to use.
A little research is required by alphabetical order to get a word.
If you read my post I use often the word inflation. It has different meaning for different aspect in finance. While it may sound mostly in a pessimism way it is a word many of us need to understand with open mind.
There are more than that in @leoglossary and this is a way for us to dig and even make comment below each small post describing the word.
This is something I will use way more going forward. While you are reading about inflation you can find many other words with their own explanation. If there is one thing I admire and the power to educate yourself. You can add these words into your posts boosting Leofinance url into the web. This is one easy way we give each other the exposure we need.
This is the continuation of something great.
This blockchain has infinite prowess we can maneuver at our disposal. Even if this year is a boring one, it is full with excitement where the growth is slowly compounding for the next couple years.
If you are into writing in #leofinance this glossary will help a bunch. Sincerely you are not obligated to use it but if you do it is a plus.
You might know the meaning of all the words but the benefits to expose your writing with clear definition will enhance your surrounding and leave a statement worth noticing.
I still know nothing so I am learning and you know that you need to keep on vesting.
Posted Using LeoFinance Beta
---
---