ABOUT TIME YOU OWN SOMETHING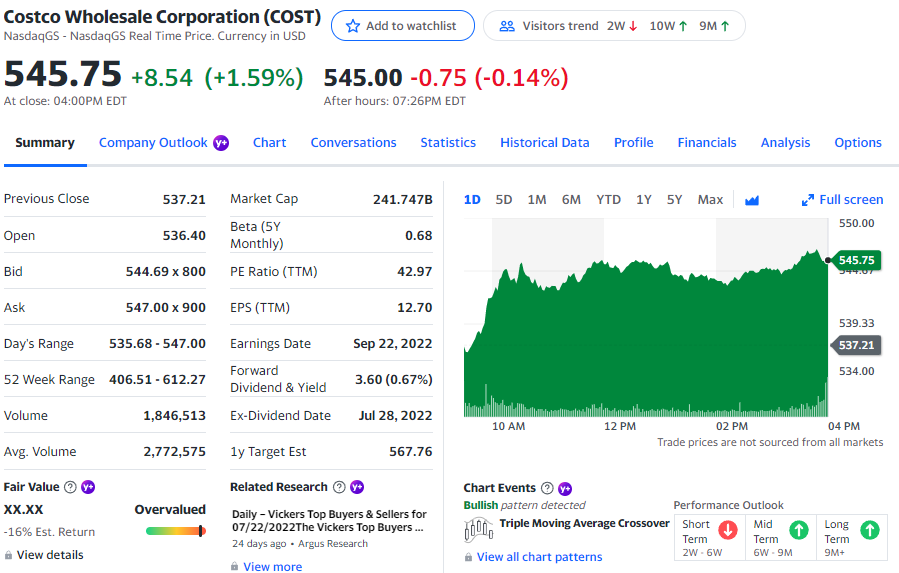 source
I went to Costco today. It was not busy at their gas station like usually. When I am done It was crazy to find a parking spot unless I am okay to walk three minutes. It depends where you live you may have at your vicinity a club store to do your bulk grocery shopping once a week. Where I am, they are the closest after Sam's club closed its door 3 years ago. I post a reflection of their stock, showing you how efficient it is.
Many of us do not understand all the numbers beneath the stock price. $545 is crazy high to own a stock. From what I know they have Costco in Canada and the US. Oops I did a quick research they are all over the world like UK, Japan, Iceland. Okay they have totaled 834. So far there is one thing I truly understand at the bottom. The stock is overvalued.
It is weird for the stock to be so high during a bear season. The explanation is easy, the shareholders trust the company and they parked their funds in it knowing #Costco will not do anything out of ordinary. In that case it is true for many big companies with mammoth valuation. They do what they know and with time the trust factor becomes second nature to everyone.
It does not stop the financial world to see it is overvalued. Sometimes the value has to go back to normal. When you go to Costco their customer base tells you how they operate. Price wise is acceptable knowing you can manage for them to pay the card membership back for you. I am saying you need to use it in order to get there.
I am coinciding this trust factor idea with what we are building in #hive and #leofinance. It is taking time and we can see the progress when you know it will work. Before you know it, #hive could easily reach the dollar mark and stand its ground.
Same thing for Leo. If we keep having this tremendous #LPUD where less and less #leo is available in the market, pressure makes diamond. I know the liquidity is something that ease with time.
Use cases are develop in parallel of what Leo can do.
Just my gut feeling, #leothreads can change how #hive and #leo will be seen outside of the blockchain. Be a pioneer is tough but a good thing to cement the transition for a stronger
community.
I did power some and I will continue to do so.
Many that powered a while back still holding strong Leo, that speaks volume.
Happy #LPUD everyone.
Posted Using LeoFinance Beta
---
---