A BIG THANKS TO NOVEMBER 2021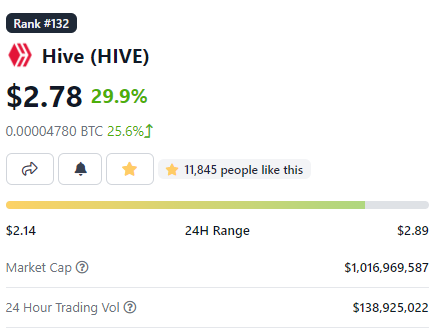 source
It was like yesterday the month started and one more day the month is over. At the mid point of November something happened that still going on for this community. It is funny for me to check every couple hours to see if this is for real. I think it is since November 17th #Hive has left the 80 cents class to jump to the full dollar range.
I recalled some of my posts where I kept saying we need a dollar Hive price. As you can witness yourself, it is no longer a dollar thing, it is roaming around $2.78. I think the highest was $3.41 for Hive. If you are holding, you are a strong hiver. You believe in something cause you could easily sell everything and run for cover.
While I preach #HPUD like crazy, I will pass for December. The reason is simple I am gathering some liquid Hive for other purposes pertaining to Hive-engine, hoping to help me get more Hive in the future. If you have paid attention, the community is alive. So much to do. I guess if you are really focus and you spend 10 strong hours daily in Hive you could earn yourself an average income.
Having Hive rising and Splinterlands airdroping, Leo and Cub finance DEFI'ing it is possible to get an income with Hive. As you may see taking away posting/curating this blockchain is so much alive, folks are coming back. Glad if you never left cause they are watching everyone.
Apart from that when Hive was trading at 13 cents, only a few envision Hive could reach that mark. I think many still think this is just temporary that Hive is trading above the dollar mark.
It could be true. The whole crypto market could be true. I can say the same for #BTC or Ethereum, hard to explain why the price is so high. Hive is on the building block for quite sometimes. Hive community is rock solid for the past five years. Name changed does not deter the ultimate goal to reach new high.
The arrival of Hive-engine taking a cue from #SMT give Hive sidechains life and it is paying huge dividend these days. Thanking November is a way to have the opportunity to stick around when you may not see the flipping. BTC went down in mid month while Hive took off.
I guess it pays to hold #altcoins. Until you can prove me wrong, Hive is searching for a place in the crypto wall of fame. The holders are the one who put it there.
While the market is doing its thing, we, the community we remain focus. I guess the community does not get bothered with the price so much. Yes Hive is higher and then... What! Life continues.
Hive has become a journey. A place for many to rant. A place for many to seek and understand the meaning of value.
A place to learn and sometimes correct your point of view with just a comment.
A place to navigate and see how without a proper authority everyone follow the Hive principle.
December could be the month we have all been waiting for.
I can sense Hive floating around $5. I am just saying.
If it does not go down to a dollar, it will go up.
That is the rule of this community. We hold so strong, we starve the exchanges.
You know too well many will sell, who's buying? Investors looking to make this blockchain
the arena where $10/Hive is what changes everything.
So far let's enjoy this rise.

Posted Using LeoFinance Beta
---
---