[ESP-ING] - Iniciativa - Mi Experiencia con el Café - | Mis experiencias con el café - Iniciativa.
UN GRAN SALUDOS PARA TODOS.
[ESP-ING] - Iniciativa - Mi Experiencia con el Café - | My experiences with coffee - Initiative.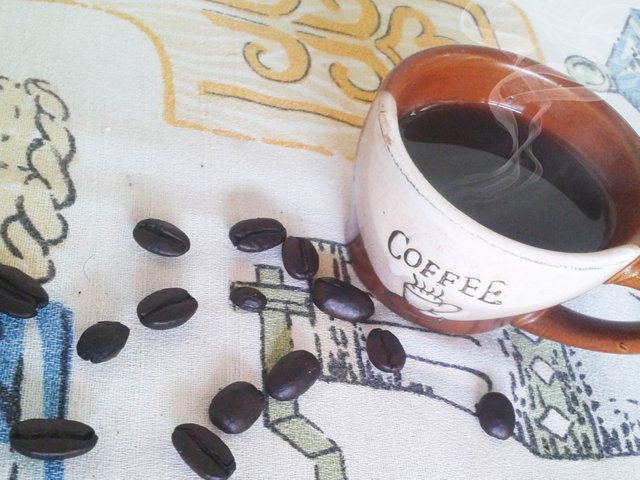 MIS EXPERIENCIAS CON EL CAFE.
Gracias a esta hermosa comunidad cinnamoncup coffee y a la iniciativa tomada por
@brujita18
hoy participaré contestando las preguntas y compartiendo mis experiencias con el café.
Thanks to this beautiful cinnamoncup coffee community and the initiative taken by @ brujita18, today I will participate answering the questions and sharing my experiences with coffee.
CUÉNTANOS UNA ANÉCDOTA SOBRE EL CAFÉ.??
Aprendí a tomar café desde muy pequeño y como también trabajaba con mi padre desde los 5 años en su negocio yo lo acompañaba bien temprano de madrugada entonces había varias personas vendiendo café y mi padre compraba café para tomar en el lugar y me compraba a mi también el vendedor vendía café bien caliente y yo me quemaba los dedos mientras que mi padre soplaba dos veces y se tomaba el café en dos tomas, nunca olvidare esta anécdota de mi padre tomando café tan caliente sin quemarse.
TELL US AN ANECDOTE ABOUT COFFEE. ??
I learned to drink coffee from a very young age and since I also worked with my father since I was 5 years old in his business, I accompanied him very early in the morning so there were several people selling coffee and my father bought coffee to drink in the place and he bought me too The vendor sold hot coffee and I burned my fingers while my father blew twice and drank his coffee in two shots. I will never forget this anecdote about my father drinking coffee so hot without burning himself.
QUE MOMENTOS TRISTES HAS VIVIDO CON UNA TAZA DE CAFÉ. ??
El momento mas triste vivido tomando café fue cuando estaba en la funeraria cuando murió mi padre, fue un momento muy triste y difícil acostumbrarme a que no lo volveré a ver y cada trago de café me llegan recuerdos de cuando estaba vivo mi padre y me acorde la forma como tomaba café para mi era algo extraordinario porque nunca vi a ninguna persona tomar café bien caliente sin quemarse y que tomaba café a cada rato cuando trabajaba y cuando estaba en casa hasta 5 veces al día.
WHAT SAD MOMENTS YOU HAVE LIVED WITH A CUP OF COFFEE. ??
The saddest moment I experienced drinking coffee was when I was at the funeral home when my father died, it was a very sad and difficult moment to get used to the fact that I will not see him again and each drink of coffee brings back memories of when my father was alive and I remember The way I drank coffee for me was something extraordinary because I never saw any person drink hot coffee without burning himself and that he drank coffee every so often when he worked and when he was at home up to 5 times a day.
TE HA AYUDADO EL CAFÉ EN TUS RELACIONES AMOROSAS. ??
Bueno conocí a mi esposa tomando café y desayunando en una panadería cuando la fui a visitar por primera vez, donde le robe un beso con mucha picardía.
Mi esposa no era amiga del café negro solo tomaba café con leche pero yo la enseñe a tomar café negro y esto llevo a compartir aun mas ya que como yo tomaba bastante y mi esposa no, cuando aprendió empezamos a tomar café juntos nuestra relación se fue haciendo mas estrecha porque hablamos mucho tomando café y en las tardes siempre lo acompañamos con algo dulce después del almuerzo, ya que no tomo ninguna bebida gaseosa solo tomo café después de cada comida.
COFFEE HAS HELPED YOU IN YOUR LOVING RELATIONSHIPS. ??
Well, I met my wife having coffee and having breakfast at a bakery when I went to visit her for the first time, where I stole a kiss from her very mischievously.
My wife was not a friend of black coffee, she only drank coffee with milk but I taught her to drink black coffee and this led to even more sharing since since I drank a lot and my wife did not, when she learned we started drinking coffee together, our relationship ended. making it closer because we talk a lot over coffee and in the afternoons we always accompany it with something sweet after lunch, since I do not drink any soft drink, I only drink coffee after each meal.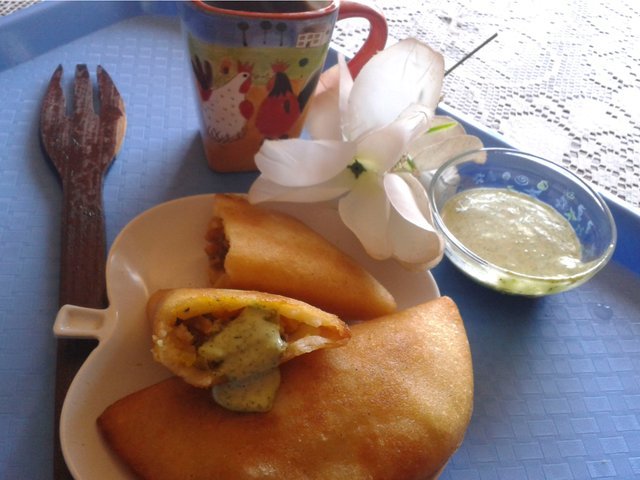 [ Desayuno enpanadas con sal acompañado de un taza de café.]
[Breakfast enbanadas with salt accompanied by a cup of coffee.]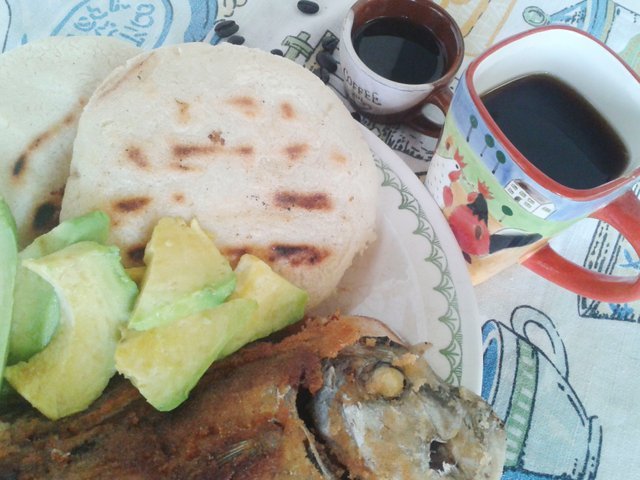 [ almuerzo en horas del mediodía arepa asada con pescado frito acompañado de un taza de café.]
[lunch at noon grilled arepa with fried fish accompanied by a cup of coffee.]
No hay nada mejor que comprar café recién molido es algo que siempre hago a pesar que hay muchas marcas de café gourmet en los súper mercados, pero después que estuve en el centro de la ciudad y sentí el olor a café tostado llego a mis sentidos a pesar que el vendedor estaba a 3 cuadras de distancia de mí, desde este momento solo compro café molido proveniente del municipio montes del Estado Sucre y se lo compro al mismo señor de siempre.
There is nothing better than buying freshly ground coffee, it is something I always do despite the fact that there are many brands of gourmet coffee in the super markets, but after I was in the center of the city and I felt the smell of roasted coffee I came to my senses. Despite the fact that the seller was 3 blocks away from me, from this moment I only buy ground coffee from the municipality of Montes del Sucre State and I buy it from the same gentleman as always.
[ Café en granos en un molino electrico .]
[Coffee beans in an electric mill.]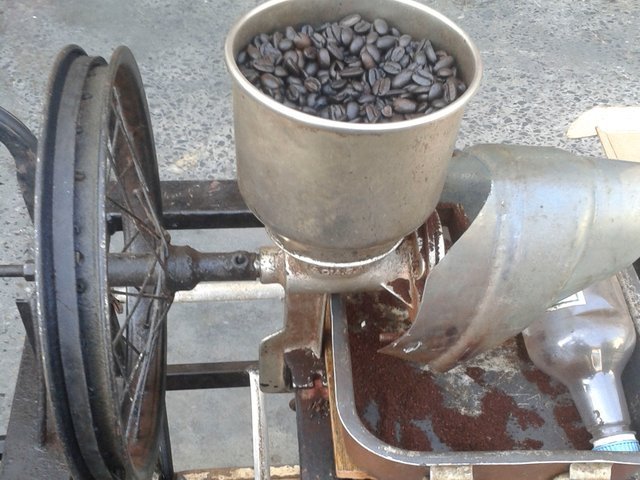 [ Molino listo para empezar a moler el grano de café tostado .]
[Grinder ready to start grinding roasted coffee beans.]
[ Momento cuando el señor comienza a moler los granos de café para venderme café molido .]
[Moment when the man begins to grind the coffee beans to sell me ground coffee.]
A QUE PERSONA SE LE OCURRIÓ EN PENSAMIENTO CON UNA TAZA DE CAFÉ. ??
A mi esposa cuando la conocí por primera vez en persona era un momento hermoso y mágico donde la alegría y la emoción me llevo a la picardia y le robe un beso desayunando y tomando café en una panadería, recuerdo que le lleve un regalo que estaba dentro de una bolsa de papel grande y gruesa y cuando le robe el beso moví la mesa y le cayó café con leche a la bolsa menos mal que no le paso nada al regalo.
WHAT PERSON OCCURRED IN THOUGHT WITH A CUP OF COFFEE. ??
When I met my wife for the first time in person, it was a beautiful and magical moment where joy and emotion led me to mischief and I stole a kiss from her while having breakfast and drinking coffee in a bakery, I remember that I brought her a gift that was inside out of a large and thick paper bag and when I stole the kiss I moved the table and coffee with milk fell into the bag, thankfully nothing happened to the gift.
Una vez tomando café me queme el cielo de la boca por no soplar y me acorde de mi padre cuando tomaba café caliente de forma tan rápida sin quemarse era algo que muchas personas del entorno del negocio comentaban por ser algo muy extraño de ver en una persona tomar café así.
Once drinking coffee, I burned the roof of my mouth for not blowing and I remembered my father when he drank hot coffee so quickly without burning himself, it was something that many people in the business environment commented because it was something very strange to see in a person drink coffee like that.
Estas imágenes son de mi propiedad e autoría .
These images are my property and authorship.
Hasta uno nuevo post. !!! Que Dios los Acompañe a todos. Saludos.
Until a new post. !!! May God be with you all. Greetings.
---
---