THE BEST OF THE WEEK (# 14): Thai Green curry with squash and tofu, Sweet Corn Porridge, Tempeh and carrot nuggets with soy sauce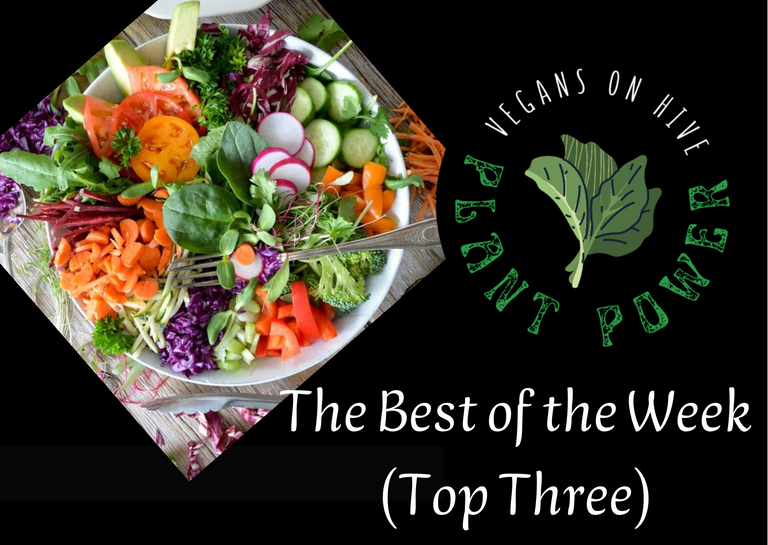 Photo by Nadine Primeau in Unsplash
Today we publish other edition of the special curatorship, which will complement the MEATLESS MONDAY; that we have called: THE BEST OF THE WEEK. Our intention with this post is to recognize the best of the best of the posts that you, friends of Hivers, share weekly in our Plant Power (Vegan) community, selecting the top three recipes from the previous week; which on this occasion corresponds to the period from Wednesday, September 7, to Tuesday, September 13, 2022. (This post should have been published yesterday, we apologize for the delay).
---
Each of the selected publications will be reviewed in this curatorship, and in turn, its author will be awarded 0.5 Hive in order to give him/her a modest recognition for the excellence and quality of his/her work.

Having said all of the above, let's see which recipes are THE BEST OF THE WEEK in this edition

One of the best chefs in the community is
@carolynstahl
. She usually shares very good recipes, presented in very complete and high quality posts, with beautiful pictures. And this week was no exception, as one of the recipes she posted in the community, turned out to be really good, and it is a Thai Green Curry with pumpkin and tofu, which she accompanies with a jasmine rice and a delicious and colorful fresh salad. With this recipe, she pays homage to her Thai roots and her mom, who like her, was from that country. A very personal and exquisite recipe that deserves to be part of The Best of the Week.
https://images.ecency.com/p/YpihifdXP4WNbGMdjw7e3DuhJWBvCw4SfuLZsrnJYHEpsqZFkiGGNCPyjABknxZJJvUz9yun2Zy8x1mtJ4x5WnBTp6kivVFZXmkX9ecSMvSKpLGcupwC3g9aaczviJYvFzhhBfh76Y4Nkw9vgXZkPqojX2zcf5Bko2DiTmEB4dKC.webp?format=webp&mode=fit

The photos of the posts that
@anggreklestari
makes are so beautiful, that sometimes it makes us doubt if what we see is a work of art or food; the truth is that besides beautiful, her recipes are practical and delicious, and this week she has shared with us a sweet corn porridge, which is finger-licking good, and very simple to make, especially for those days when we want to rest a little more, as happens on Sunday mornings. For the quality of her post, she also deserves to be part of The Best of the Week.
https://images.ecency.com/p/pBMyo3B2Sao45kGEB1kRY9cJBFGQnrPp2qChGHkgVjzu1y6XFCd4yc2x9wvxWcPinNtt42TpovD3d13Vya8g3jQRysnHckv6VZSPc4uArNt2oMfbHCCrjy1cKjr3tqwaYcdEi54Do9e5bhhhYDf5EA2LGQbhAKFBvfoEn5aXQnfb1ZKt.webp?format=webp&mode=fit

If anyone is known for making spicy, flavorful and very traditional Indonesian food, it's
@umirais
. She always surprises us with her use of different vegan ingredients to make something unforgettably delicious. And for this week she posted in the community a recipe for Tempeh and carrot nuggets with soy sauce. In a great post, very detailed and with excellent photos, she shows us step by step how to make this unique recipe, which you will surely want to eat very often, which is why she is also part of The Best of the Week.
https://images.ecency.com/p/4HFqJv9qRjVecs4xkhd5EvhidWEEBnn9tCVDBkBhQpUFvab78MhbU1Vv8jJuZjpwNKoDSMVXjV8wjZHuPmtWFdnjFxN6aDZqMZSvhAaMHAhNQHfxK22B6PsY1twDXD5TyRvS9TGwmjDBca5562FSqNbLRt28ebgFh1g.webp?format=webp&mode=fit

Below is the transfer made to each wallet, as a modest community recognition, to the extraordinary work done by these content creators



Delegations welcome!

Find our community here

Curation Trail
---
---