Chikorita / Pokémon Pixel Art, paso a paso [Esp/Eng]

Hola a la comunidad de Hive, hoy les quiero traer un nuevo personaje de Pokémon en forma de Pixeles, que aunque no pude jugar con él en los videojuegos porque nunca tuve la versión de Oro o Plata, fue uno de mis pokemones favoritos en el anime por su personalidad.
Hello to the Hive community, today I want to bring you a new Pokémon character in the form of Pixels, although I couldn't play with him in video games because I never had the Gold or Silver version, he was one of my favorite Pokémon in anime. for his personality.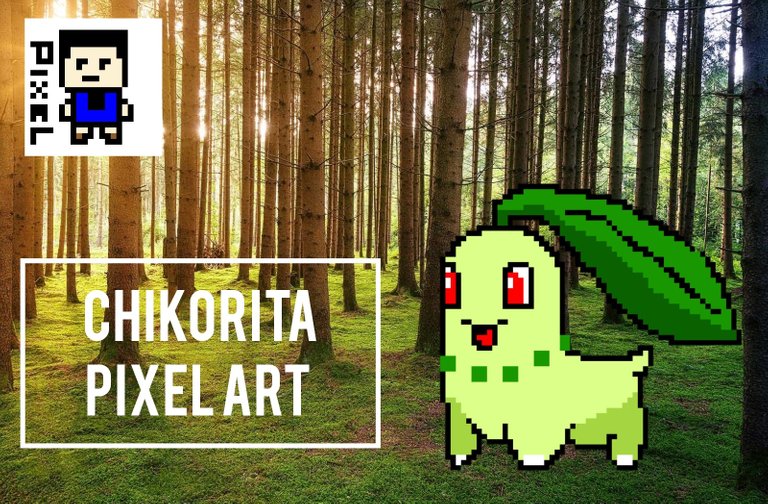 Fuente Imagen de Fondo
Esa segunda generación en el anime fue de las mejores en cuanto a la personalidad de los pokemones, Chikorita era muy celosa y adoraba a Ash sobre todas las cosas, pequeñas cosas que me recuerdan mucho a mi perrita, que es muy apegada a mí. Otros pokemones también son muy llamativos, como el Noctowl shiny o el Totodile de Ash, que es de los pokemones con la personalidad más divertida de todo el anime.
Antes de mostrar el proceso de mi creación, hoy quiero que vean a Chikorita en acción, cosa que les hará agarrar mayor empatía en mi creación en Pinxel Art, y espero que con su apoyo, pueda dedicar más tiempo a personajes más complejos e increíbles.
That second generation in the anime was one of the best in terms of the personality of the pokemon, Chikorita was very jealous and adored Ash above all things, little things that remind me a lot of my dog, who is very attached to me. Other pokemon are also very striking, such as the shiny Noctowl or Ash's Totodile, which is one of the pokemons with the funniest personality in all of anime.
Before showing the process of my creation, today I want you to see Chikorita in action, which will make you gain more empathy in my Pinxel Art creation, and I hope that with your support, I can spend more time on more complex and incredible characters.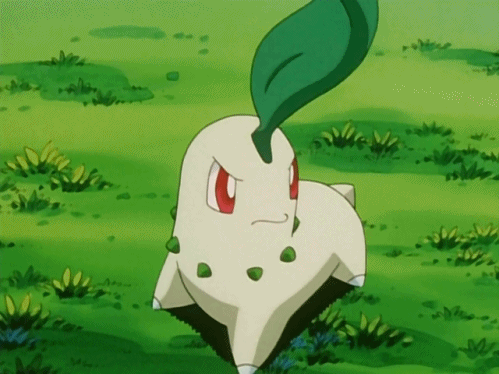 Fuente / Source
Proceso del Dibujo / Drawing Process
1- Tal cual como lo hice en mi primer dibujo, a mí me gusta hacer un boceto con las dimensiones del personaje que quiero recrear, ya que me sirve de guía, por más que se vea igual de feo que este, jajaja.
1- As I did in my first drawing, I like to make a sketch with the dimensions of the character I want to recreate, since it serves as a guide, even if it looks just as ugly as this one, jajaja.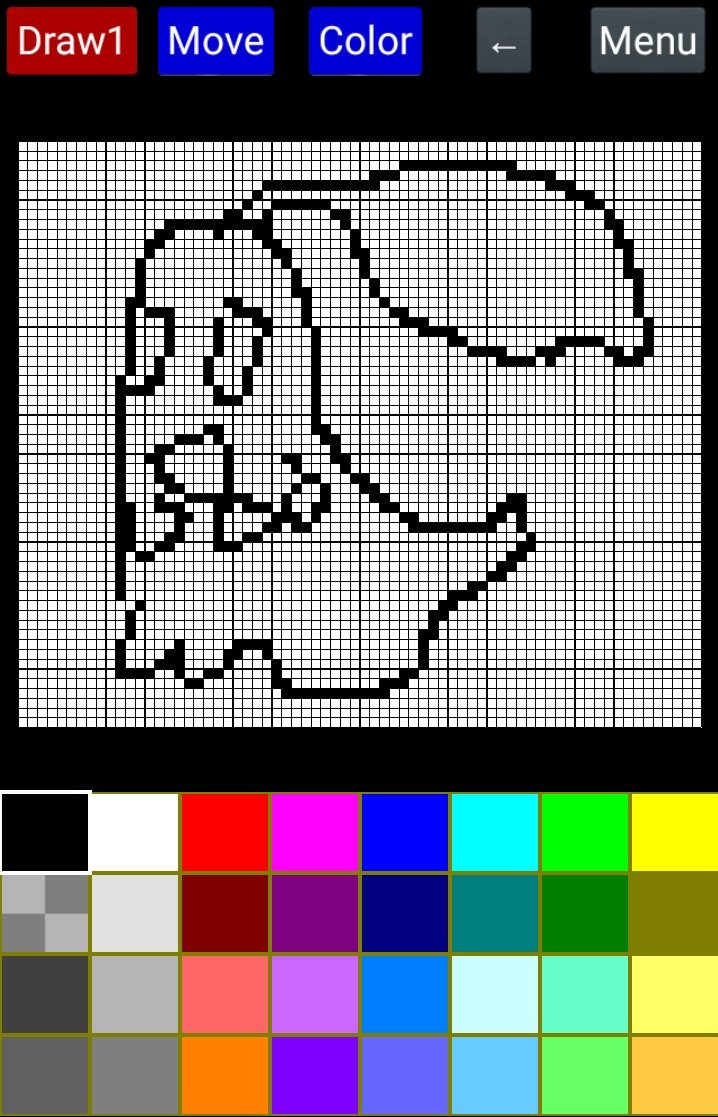 2- Poco a poco, voy delimitando su forma, siendo lo más complicado su hoja, lo más característico de esta criatura.
2- Little by little, I define its shape, the most complicated being its blade, the most characteristic of this creature.
3- Terminamos de darle la forma a su cuerpo, aunque como es evidente, a medida que vaya coloreando y agregando detalles, todo esto podría ir cambiando.
3- We finished giving the shape to his body, although as it is evident, as he goes coloring and adding details, all this could change.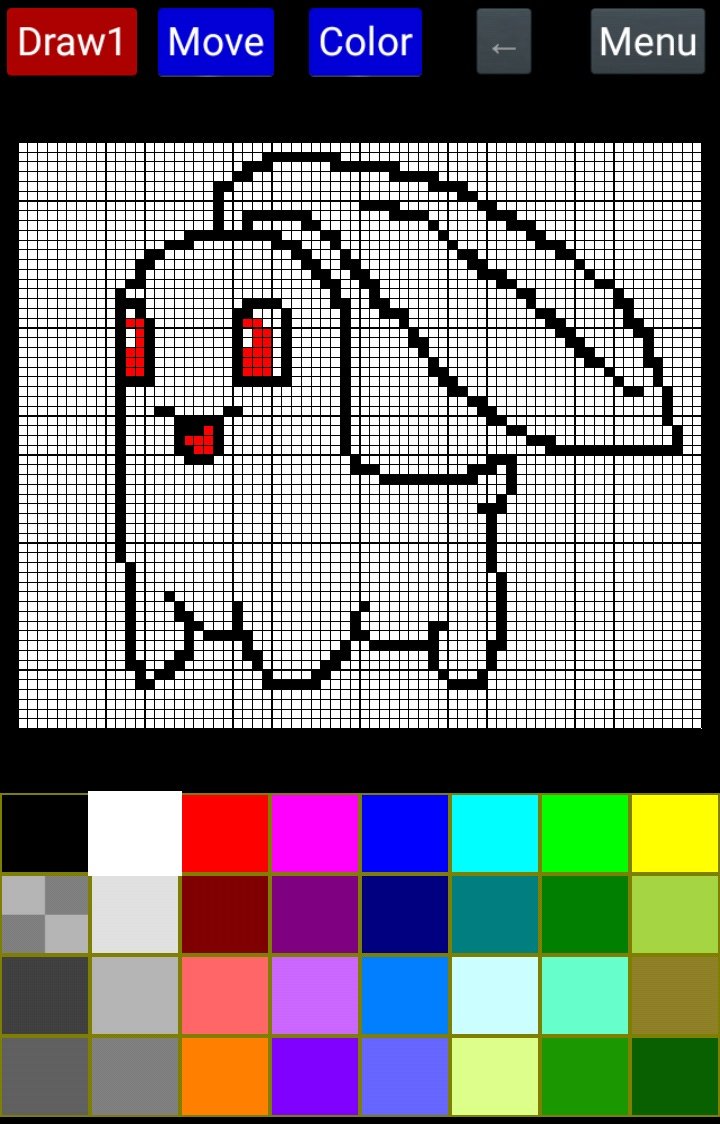 4- Lo más difícil fue la selección del color perfecto, pues pese a la gran variedad de colores que puedo llegar a formar gracias al selector y su capacidad para obtener varios matices del color, aún estoy algo nuevo en esta app y ese color manzana no fue fácil de lograr, jajaja.
4- The most difficult thing was the selection of the perfect color, because despite the great variety of colors that I can form thanks to the selector and its ability to obtain various shades of color, I am still somewhat new to this app and that apple color is not It was easy to do, jajaja.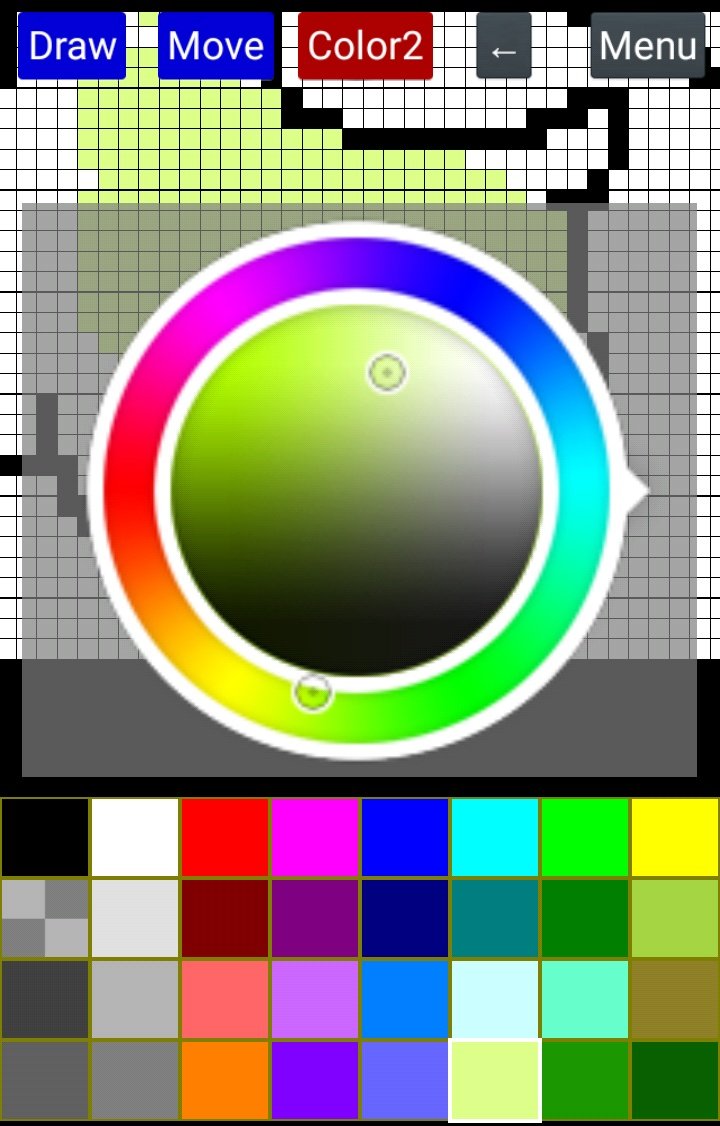 5- Ya una vez pintada la base del dibujo, puedo concentrarme en sus detalles y las sombras, y aunque aquí me percaté de que le faltaba una pata, al intentar incluirla no se veía bien.
5- Once the base of the drawing has been painted, I can concentrate on its details and shadows, and although here I noticed that it was missing a leg, when I tried to include it it did not look good.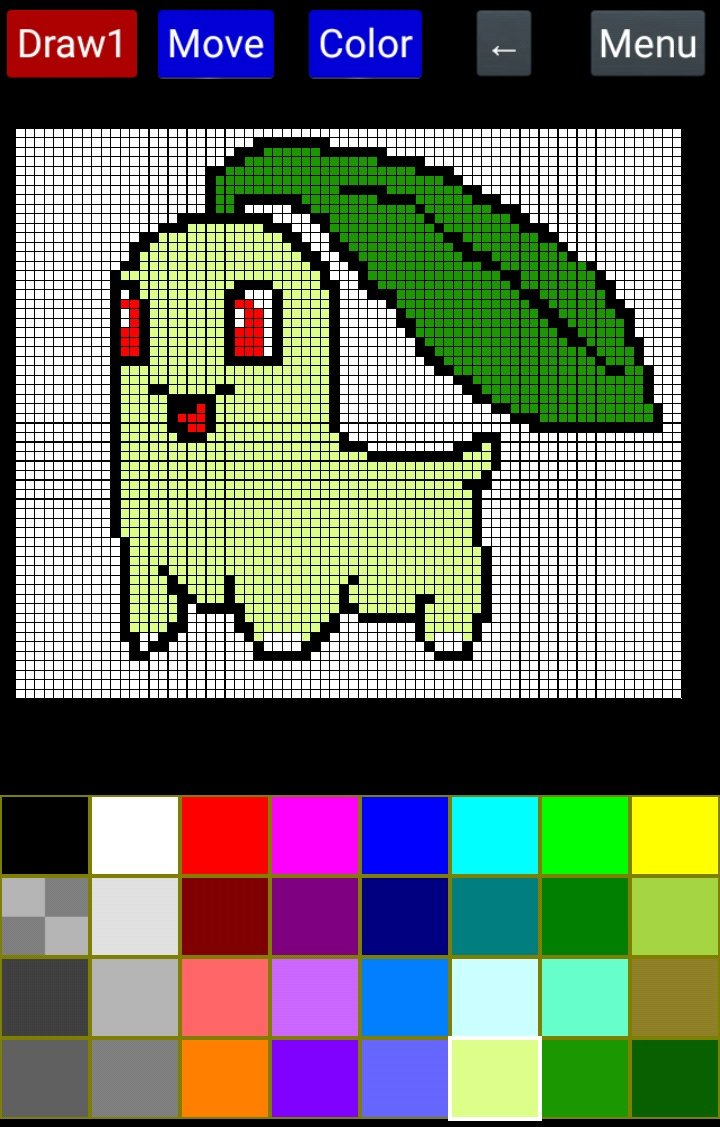 6- Finalmente, agregué esos detalles, sobre todo gustándome el efecto de sus protuberancias por donde saca sus látigo selva, ya que no necesite delinear para dar esa forma.
6- Finally, I added those details, especially liking the effect of his bumps where he draws his jungle whip, since he doesn't need to outline to give that shape.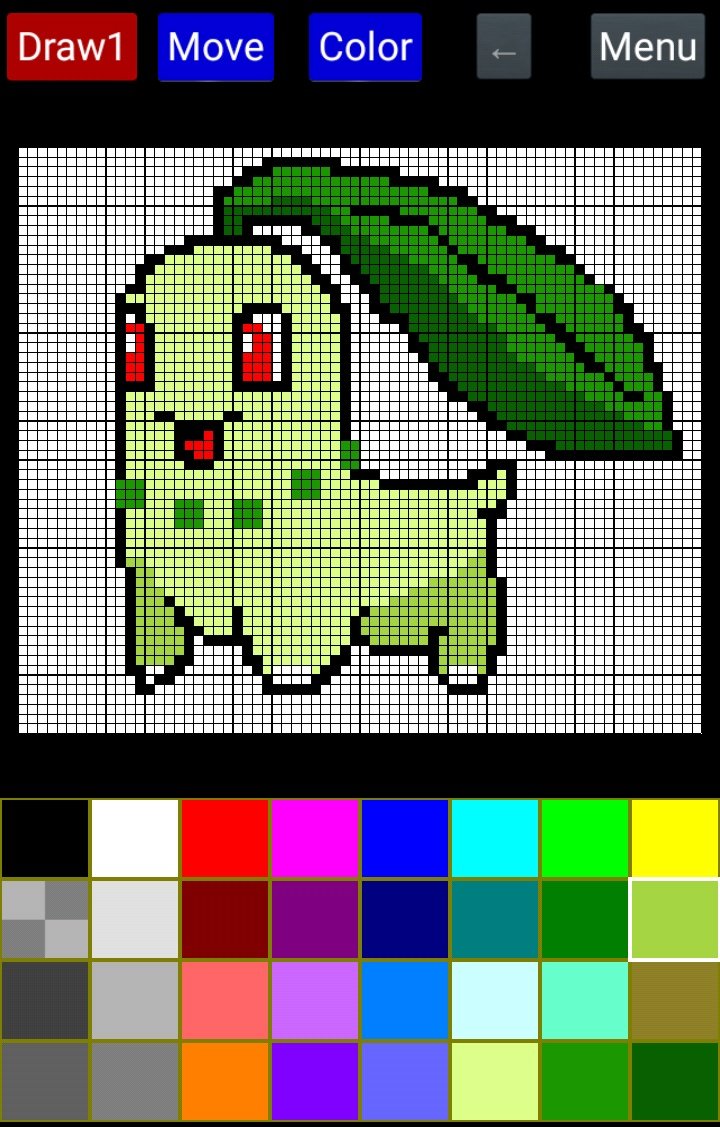 La aplicación te da varias opciones para exportar el archivo en diferentes tamaños, aunque siempre buscó la más pesada, ya que después no perderá calidad cuando la vaya a utilizar.
The application gives you several options to export the file in different sizes, although it always looked for the largest, since later it will not lose quality when it is going to be used.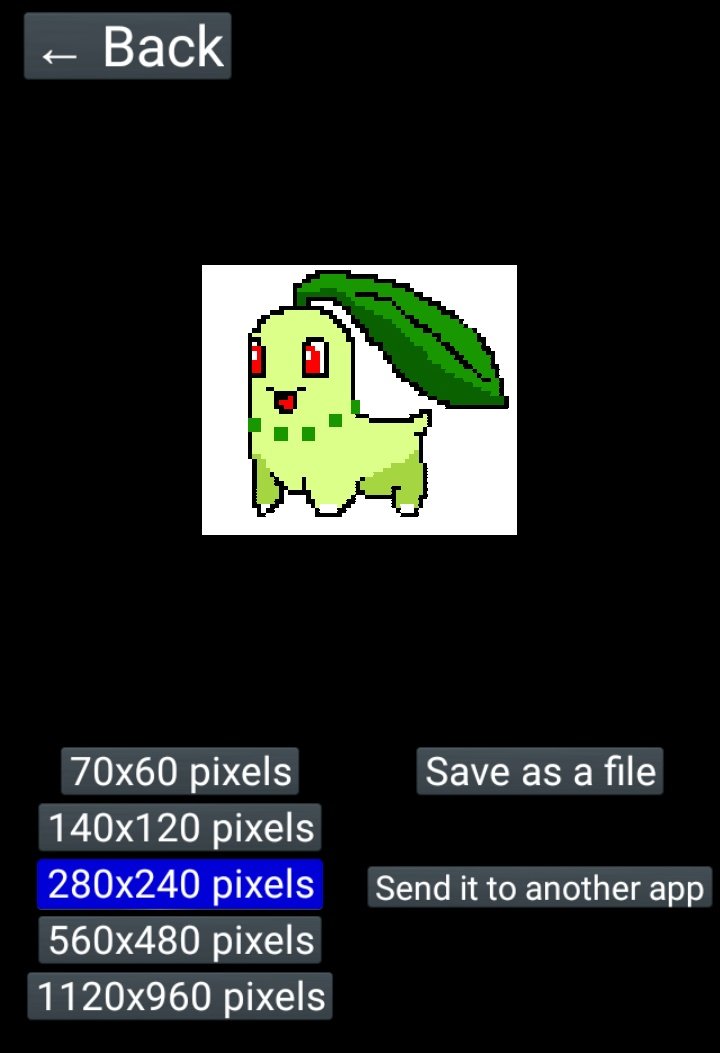 Una vez exportada, le quitó el fondo y estamos listos para utilizar este Pixel Art!
Once exported, the background has been removed and we are ready to use this Pixel Art!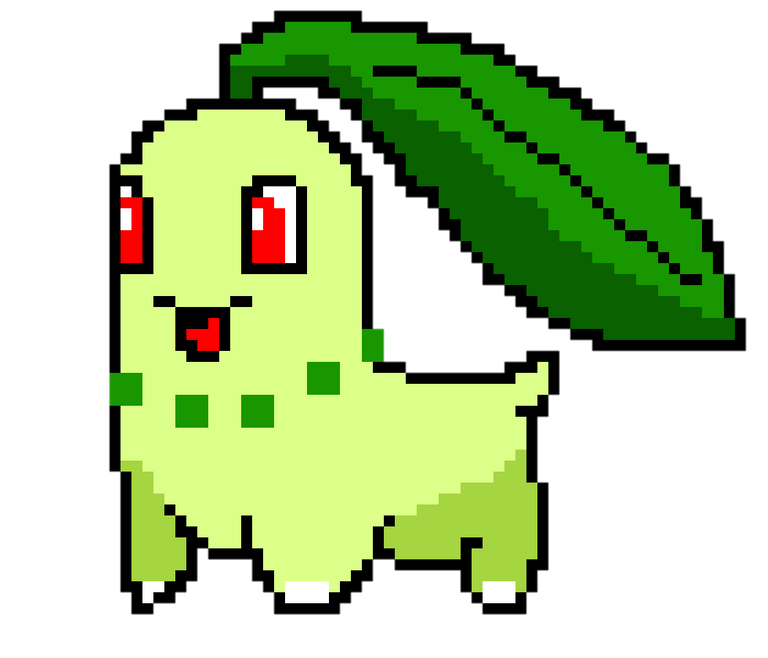 Espero les haya gustado este post, cualquier otra idea para un dibujo me gustaría que me la dejarán en los comentarios, y saludos para todos!
I hope you liked this post, I would like you to leave any other idea for a drawing in the comments, and greetings to all.
---
El dibujo fue realizado con la app Pixel Art para Android y las ediciones de las imágenes con Snapseed / The drawing was made with the Pixel Art app for Android and the image editions with Snapseed.
---
---