Öykü and Defne Sisters Making Pudding Cake

Hello everyone
Today I am here with a very cute post.My husband was on dormitory duty and was not at home.
I'm starting to get bored at home. I thought it would be good for them and me to do an activity with my girls. We could play games with my daughters, but I wanted to do something different. I asked my daughters what they wanted to do. They also wanted to make a cake.
We went to the kitchen together and checked what ingredients were in the house. We could make a pudding cake according to the materials we had. In any case, the easiest cake recipe I could make with children was pudding cake.
Kids always love to prepare something in the kitchen. My daughters love it too.
We put on our aprons, which I shared the construction stages of as a post, and we started to prepare many of our recipes.
---
Together with my daughters Öykü and Defne, we prepared a very beautiful cake. We had a lot of fun preparing our cake. Now I will share with you our cake making memories and recipe. I hope you have as much fun reading this post as we do.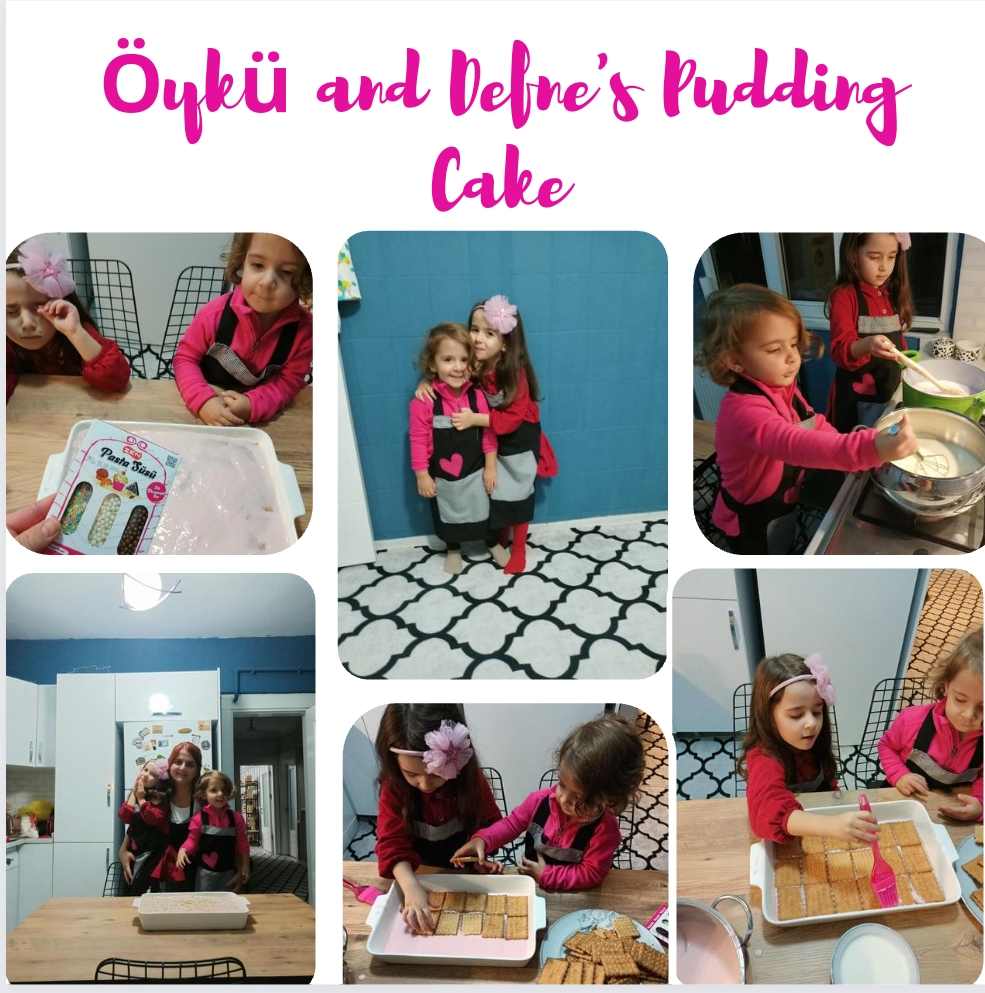 ---
Story and Defne sisters pudding cake
Necessary materials
Biscuit
Pudding (strawberry and banana)
Milk
Candy to Decorate
As you can see, our material list is pretty short. This recipe I will give you is very practical and is made with materials that can be found in everyone's home.
---
*Making the pudding cake
To make our cake, we first got ready with my daughters. After washing our hands, we put on the trace of kitchen aprons. Then we placed the materials we will use in making the cake on the kitchen table.
Before we started making the cake, we took a short video. Now I want to share this video with you.
In the video, we talk about how to make the cake with my girls and we plan.
Note: I prepared the kitchen aprons we used. We are a kitchen team with my daughters. I made new aprons to be a better looking team. My little girl Defne did not want to use the apron at first, but later she joined us.
---
We started to prepare our cake by making the puddings.
Öykü wanted to prepare strawberry pudding and Defne wanted to prepare banana pudding.
For puddings, we put the milk and pudding powders in the pot first. My daughters did the task of mixing the puddings. They had so much fun doing this. In cake making, I just told and showed them what to do. They did all the steps themselves.
---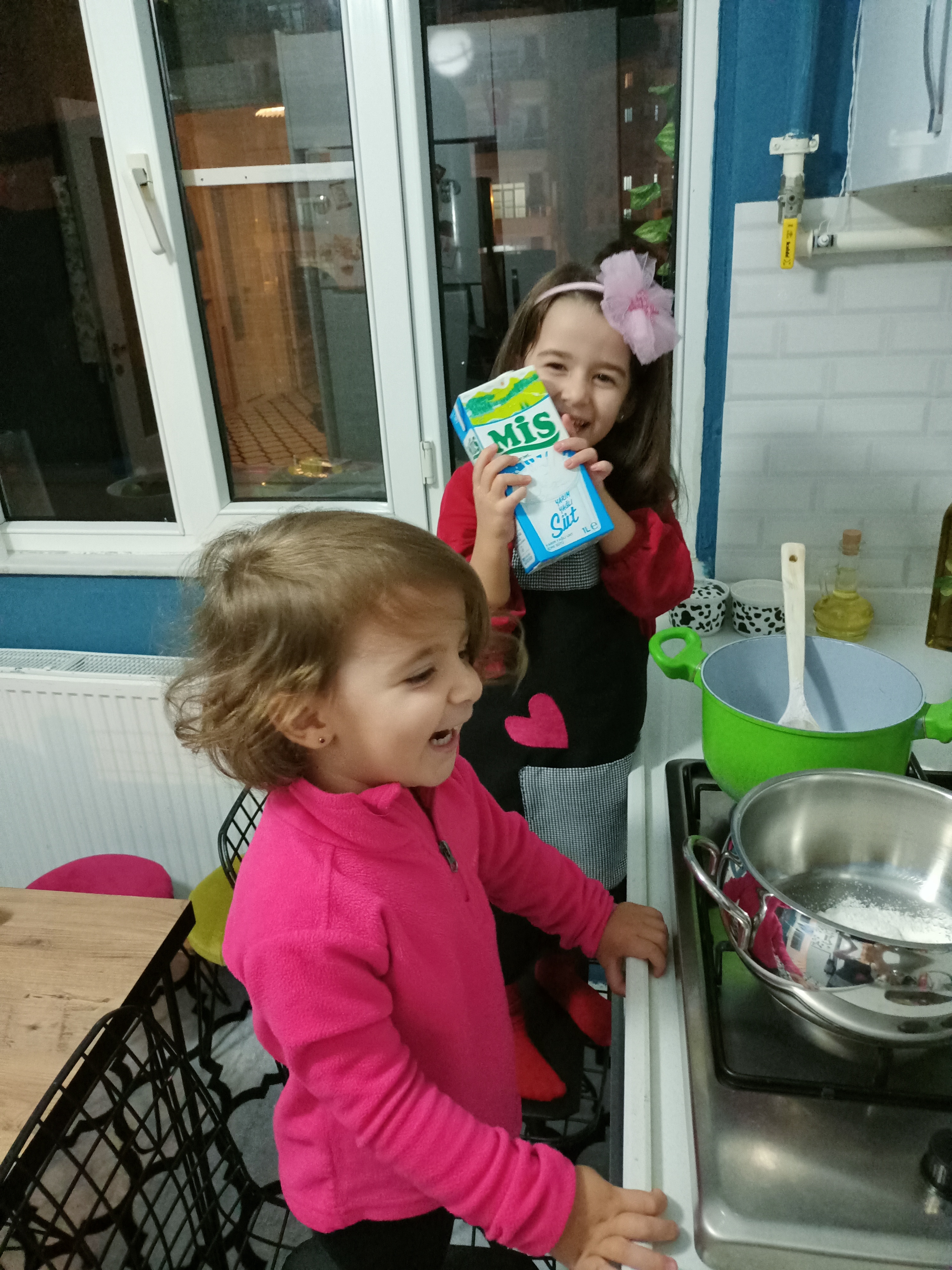 ---




When our puddings were cooked, we took our ingredients and went to the table. We placed pudding and biscuits respectively in the bowl where we will prepare the cake. Here I helped their daughter a little. The pudding was hot and it was impossible for my daughters to pour it over the biscuits.
First, my daughters started arranging the biscuits in the bowl.
( Meanwhile, my little girl Defne ate some of the biscuits. My little girl is really a little glutton 🤗 )
We put milk on the biscuits with a brush. We did this to soften the biscuits a bit. Then I took some of the puddings and poured them over the biscuits.
We repeated this process a few more times. We continued until we ran out of pudding and biscuits.
Again, my two daughters did the work of arranging the biscuits and brushing the milk.
---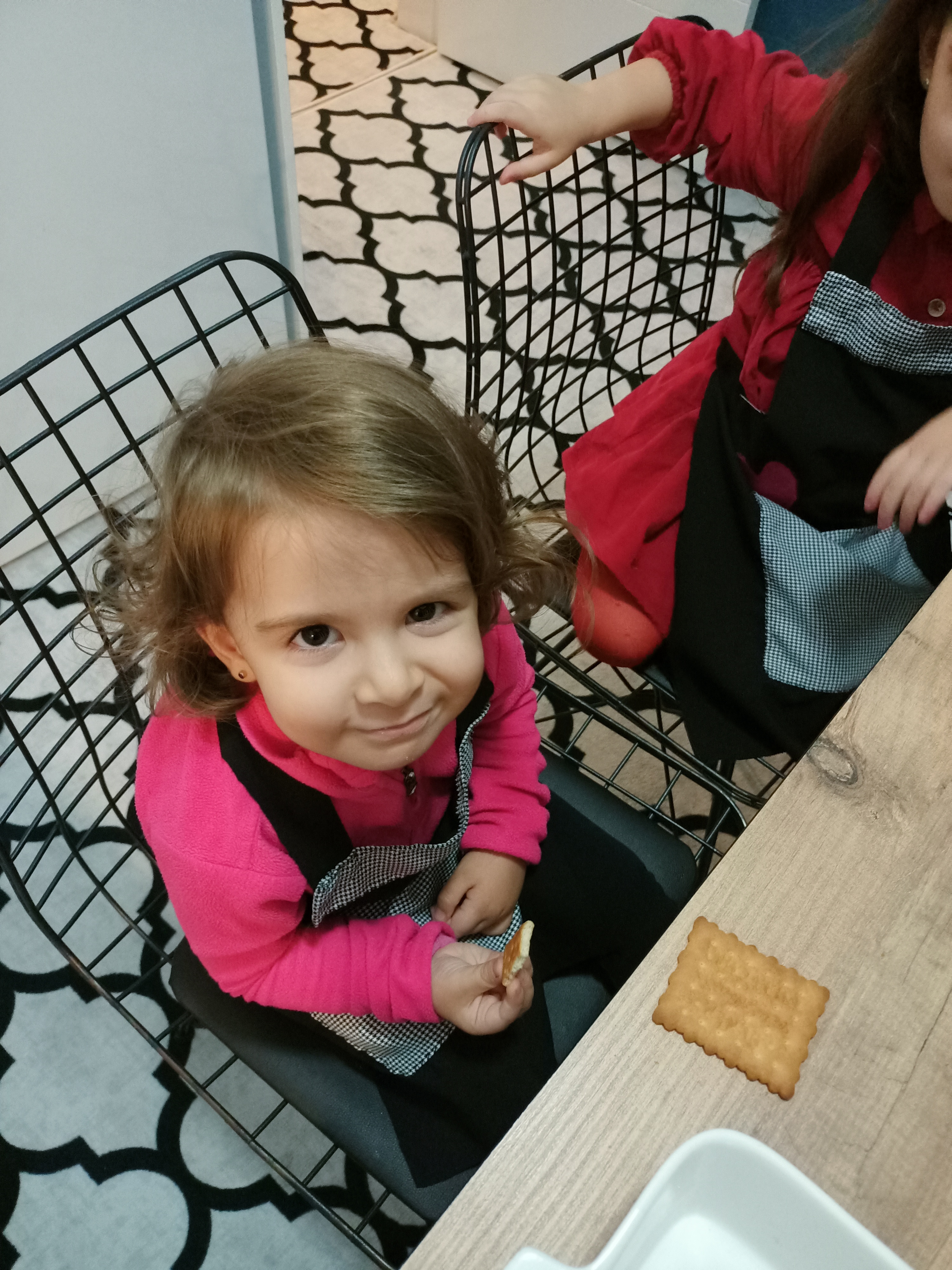 ---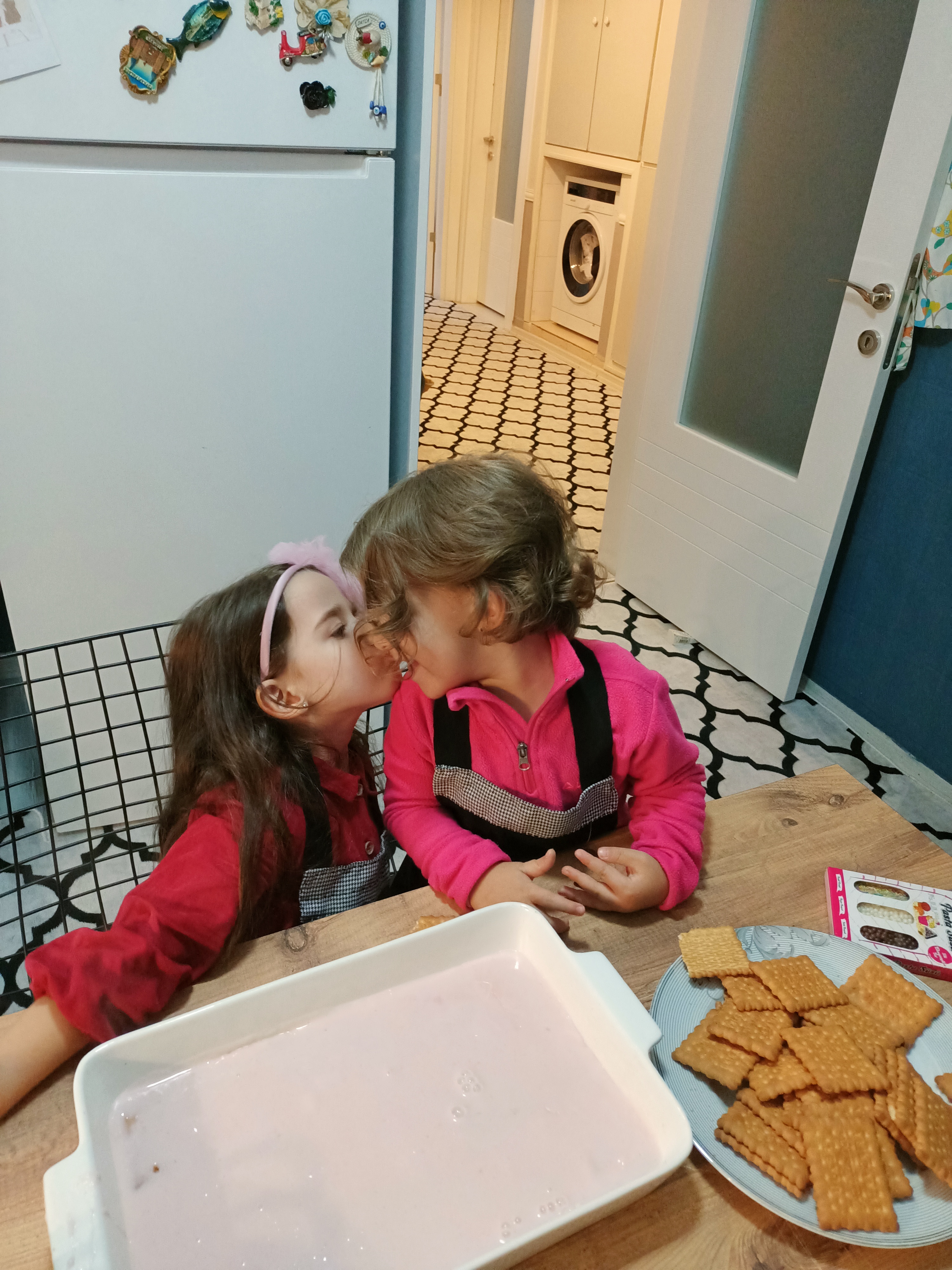 ---
Our cake would be ready. My daughters did the decoration. I did not interfere. This was their cake. They decorated as they wished. ( Of course, my little girl ate the candies we used for decoration. )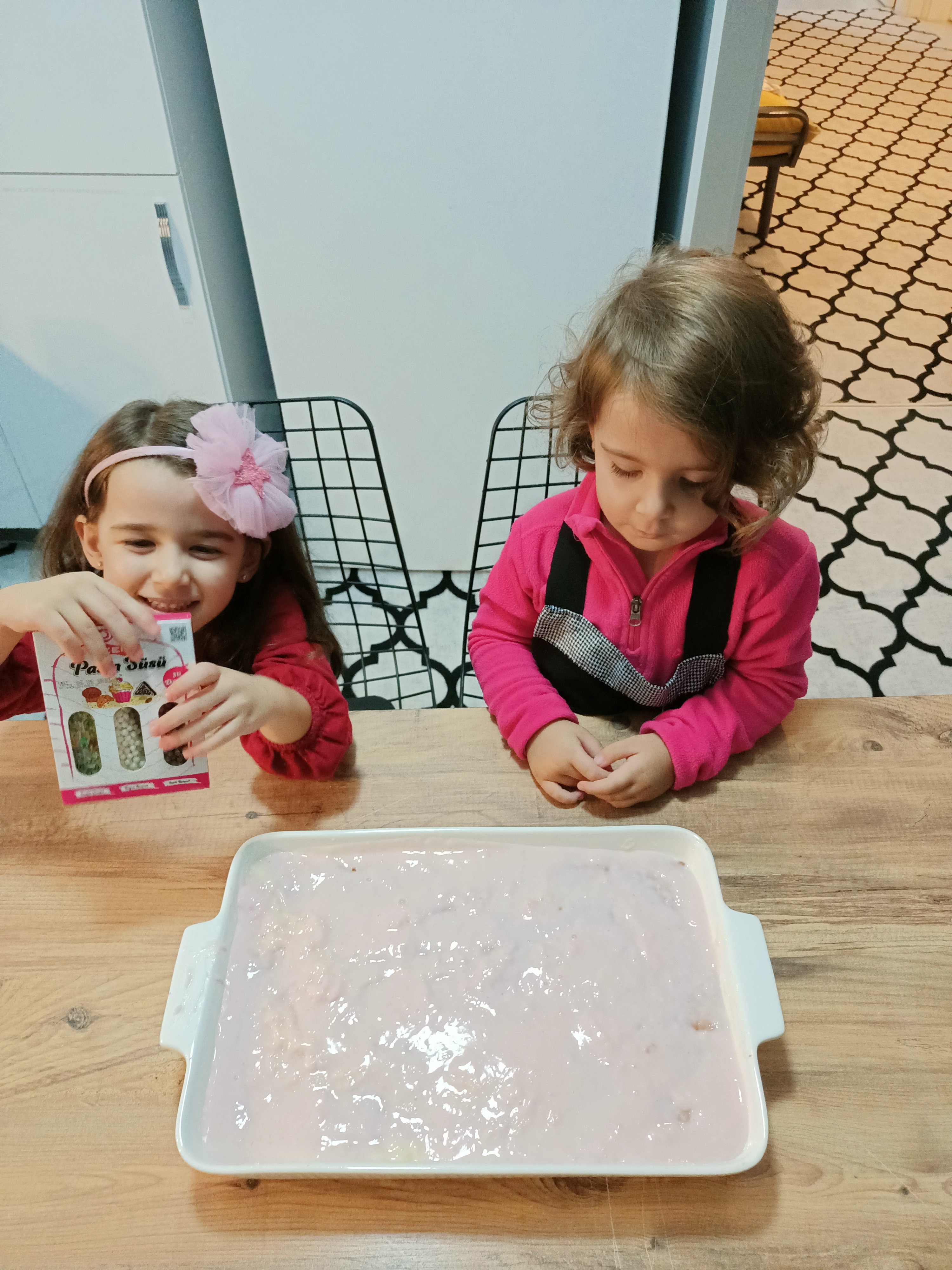 ---


We finished our cake and took a team photo. My girls had so much fun. They were very happy to have such an event. They surprised their father in the morning with our cake. This cake was the first dessert my daughters made. We had a fun time making the cake. From time to time they helped me in the kitchen, but this time I helped them and they were the main cook. Now I want to see my girls in the kitchen more often. This will both make them happy and develop their sense of responsibility.
---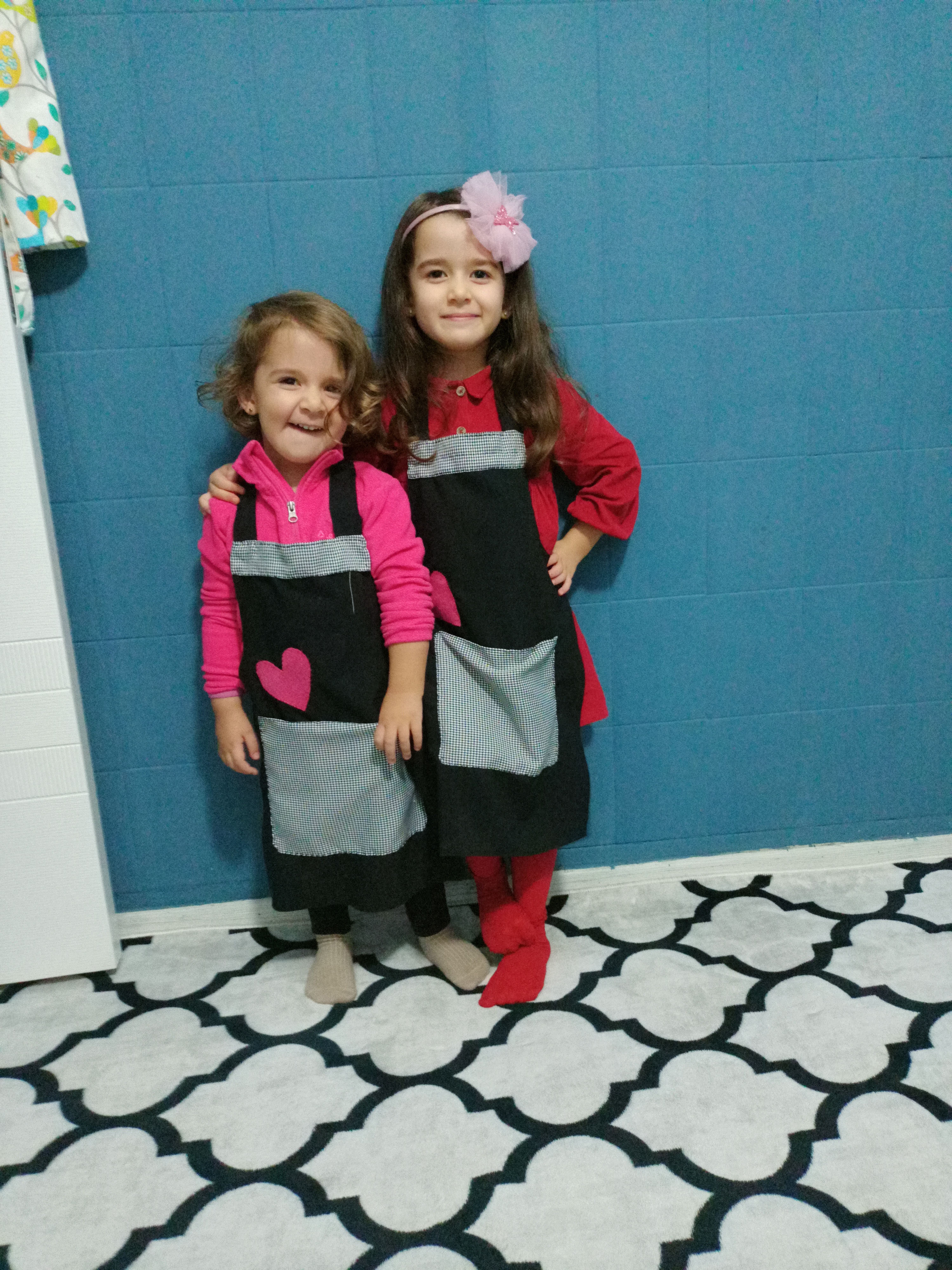 ---
We had a lot of fun while making this cake with my girls. I hope you can show this in our post and you will enjoy reading this post.
---
Thank you for taking your precious time to read my post.
*Stay with love... Goodbye...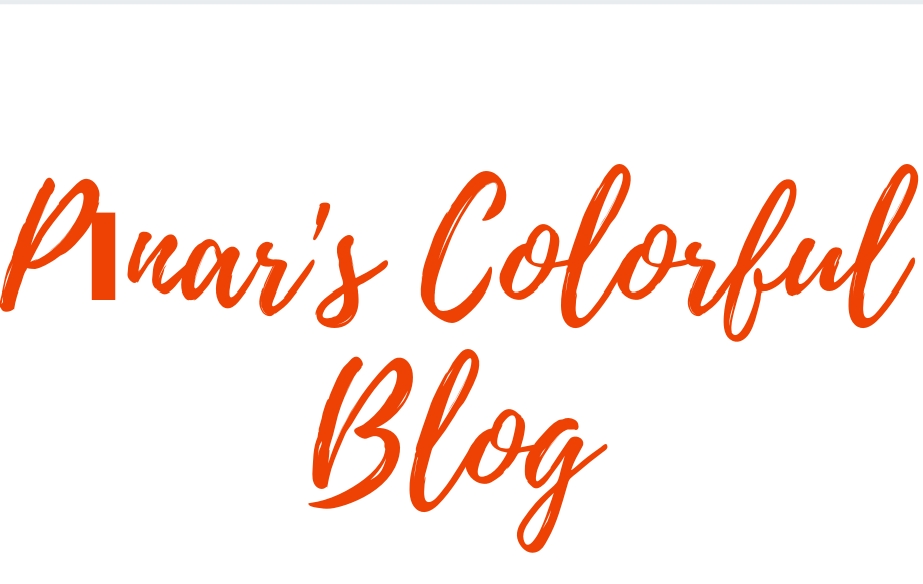 ---
---
TR
Herkese Merhabalar
Bugün oldukça sevimli bir post ile karşınızdayım.
Eşim yurt nöbetindeydi ve evde yoktu. Benimde evde canım sıkılmaya başladı. Kızlarımla bir etkinlik yapmanın hem onlar hem de benim için iyi olacağını düşündüm. Kızlarımla birlikte oyun oynayabilirdik ama ben farklı bir şey yapmak istedim. Kızlarıma ne yapmak istediklerini sordum. Onlar da pasta yapmak istediler.
Birlikte mutfağa gittik ve evde hangi malzemeler olduğunu kontrol ettik. Elimizde bulunan malzemelere göre pudingli pasta yapabilirdik. Zaten çocuklarla yapabileceğim en kolay pasta tarifi pudingli pastaydı.
Çocuklar her zaman mutfakta bir şeyler hazırlamayı sever. Kızlarım da çok seviyor.
Daha önce yapım aşamalarını post olarak paylaştığım önlüklerimizi giydik ve çok tarifimizi hazırlamaya başladık.
---
Kızlarım Öykü ve Defne ile birlikte çok güzel bir pasta hazırladık. Pastamızı hazırlarken çok eğlendik. Şimdi sizlerle pasta yapma anılarımızı ve tarifi paylaşacağım. Umarım sizde bu postu okurken bizim kadar eğlenirsiniz.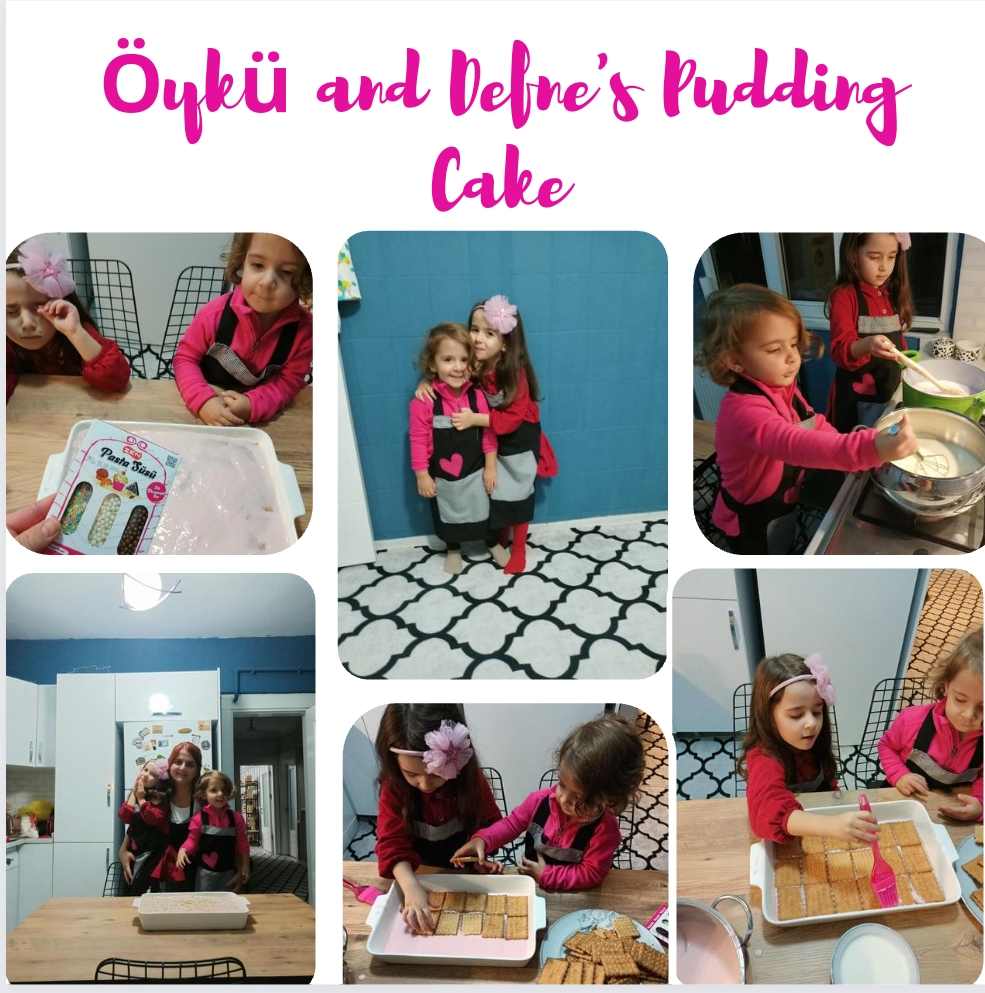 ---
Öykü ve Defne kardeşlerin pudingli pastası
Gerekli malzemeler
Bisküvi
Puding ( çilekli ve muzlu )
Süt
Süslemek için Şekerleme
Gördüğünüz gibi malzeme listemiz oldukça kısa. Sizlere vereceğim bu tarif çok pratik ve herkesin evinde bulunabilecek malzemelerle yapılıyor.
---
*Pudingli pastanın yapılışı
Pastamızı yapmak için önce kızlarımla hazırlandık. Ellerimizi yıkandıktan sonra mutfak önlüklerimizi taktık. Daha sonra pasta yapımında kullanacağımız malzemeleri mutfak masasına yerleştirdik.
Pastayı yapmaya başlamadan önce kıs bir video çektik. Şimdi sizlerle bu videoyu paylaşmak istiyorum.
Videoda kızlarımla pastayı nasıl yapacağımız hakkında konuşuyoruz ve plan yapıyoruz.
Not: Kullandığımız mutfak önlüklerini ben hazırladım. Kızlarımla birlikte bir mutfak ekibiyiz. Daha iyi görünen bir ekip olmak için yeni önlükler hazırladım. Küçük kızım Defne ilk başta önlüğü kullanmak istemedi ama daha sonra o da bize katıldı.
---
Pastamızı hazırlamaya pudingleri yaparak başladık.
Öykü çilekli puding, Defne de muzlu pudingli hazırlamak istedi.
Pudingler için tencereye önce süt ve puding tozlarını koyduk. Pudingleri karıştırma görevini kızlarım yaptı. Bunu yaparken çok eğlendiler. Pasta yapımında ben onlara sadece ne yapmaları gerektiğini söyledim ve gösterdim. Tüm aşamaları onlar kendileri yaptılar.
---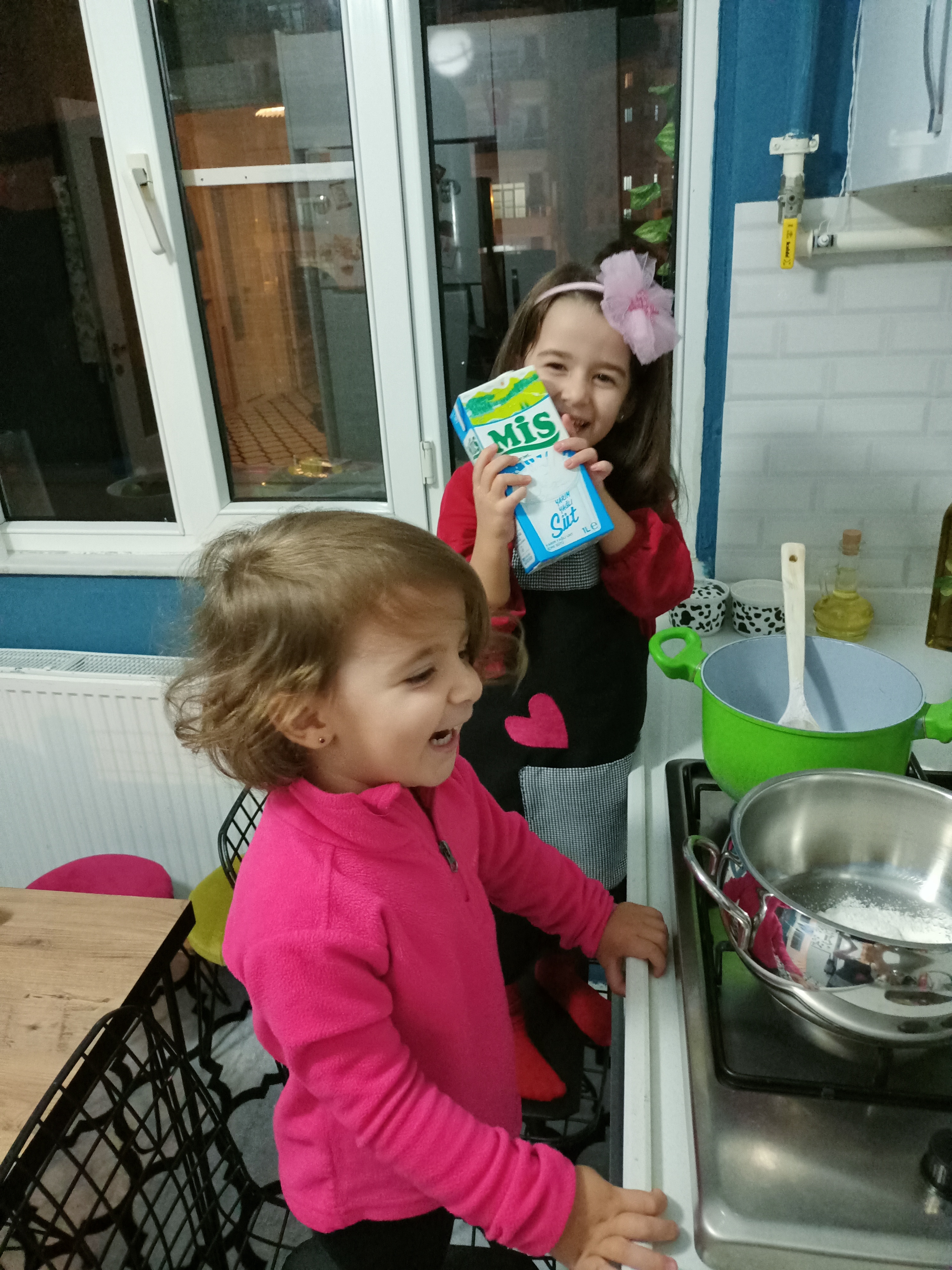 ---




Pudinglerimiz pişince malzemelerimizi alıp masaya geçtik. Pastayı hazırlayacağımız kaseye sırasıyla puding ve bisküvi yerleştirdik. Burada kızlarına biraz yardımcı oldum. Puding sıcaktı ve kızlarımın onu bisküvilerin üzerine dökmesi imkansızdı.
İlk olarak kızlarım kaseye bisküvileri dizmeye başladı.
( Bu esnada küçük kızım Defne Bisküvilerin birazını yedi. Küçük kızım gerçekten minik bir obur 🤗 )
Bisküvilerin üzerine fırça ile süt sürdük. Bunu bisküvilerin biraz yumuşaması için yaptık. Daha sonra ben pudinglerden bir miktar alıp bisküvilerin üzerine döktüm.
Bu işlemi bir kaç kez daha tekrarladık. Puding ve bisküvi bitene kadar devam ettik.
Yine bisküvi dizme ve fırça ile süt sürme işlerini sırayla iki kızım yaptı.
---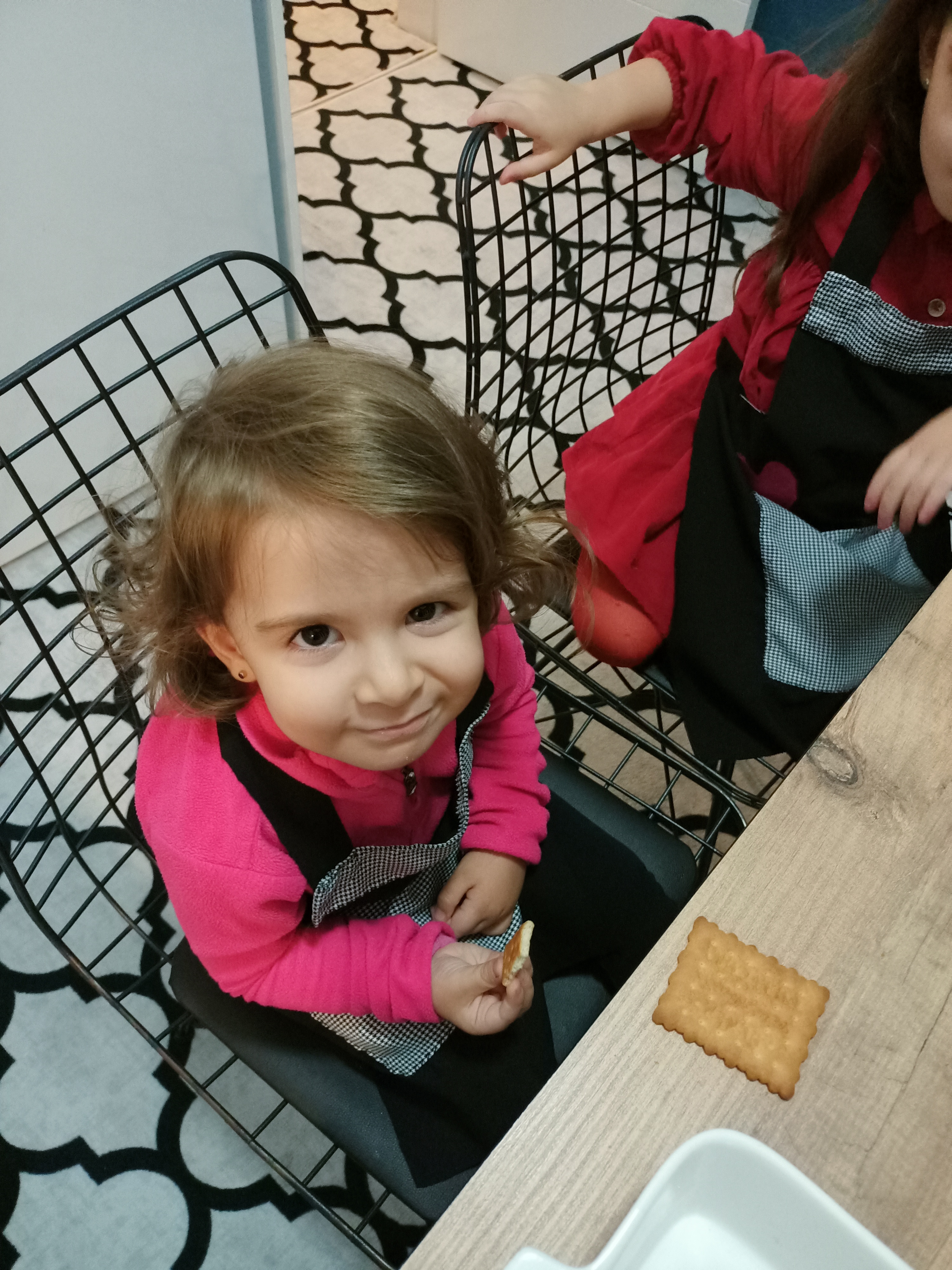 ---




Sırasıyla puding ve bisküvileri dizdikten sonra pastamızı son aşamasına geçtik. Yalnızca pastamızı süsleyecektik ve pastamız hazır olacaktı.
Süslemeyi de kızlarım yaptı. Ben müdahele etmedim. Bu onların pastasıydı. Diledikleri gibi süslediler.
( Küçük kızım elbette süsleme için kullandığımız şekerlemelerden de yedi. )



Pastamızı tamamladık ve ekip fotoğrafı çektik.
Kızlarım çok eğlendiler. Böyle bir etkinlik yaptığımız için çok mutlu oldular. Pastamızla babalarına sabah sürpriz yaptılar.
Kızlarımın yaptığı ilk tatlıydı bu pasta. Pastayı yaparken eğlenceli vakit geçirdik. Zaman zaman mutfakta bana yardımcı oluyorlardı ama bu sefer ben onlara yardımcı oldum ve asıl aşçı onlardı.
Artık kızlarımı daha sık mutfakta görmek istiyorum. Hem bu onları mutlu edecek hem de sorumluluk duygularını geliştirecektir.
---
---

Biz bu pastayı yaparken kızlarımla çok eğlendik. Umarım bunu postumuzda gösterebilmelidir ve sizlerde bu gönderiyi keyifle okursunuz.
---
Değerli vaktinizi ayırarak gönderimi okuduğunuz için teşekkür ederim.
*Sevgiyle kalın... Hoşçakalın...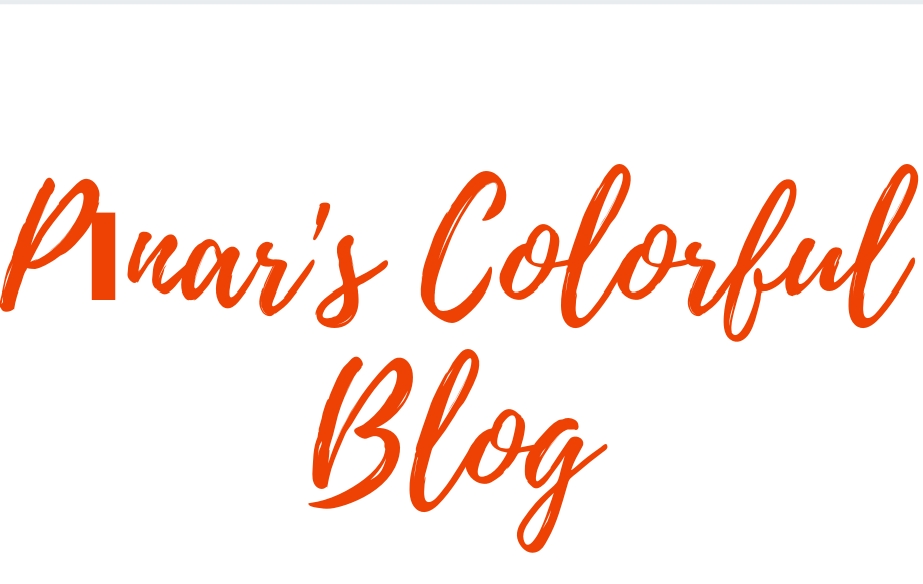 ---
---