A Delicious Meal We Prepared with My Little Daughter: Grilled Chicken in the Oven🍗👩‍🍳 💕 (ENG/ TR)

💐 Hello everyone. 💐 How are you guys. I hope everyone is well. I have a guest on my recipe post for today.
My beloved daughter, who is only 2.5 years old, accompanied me in the kitchen. We had fun and prepared a delicious dinner together.
Our dish for today's recipe is Grilled Chicken in the Oven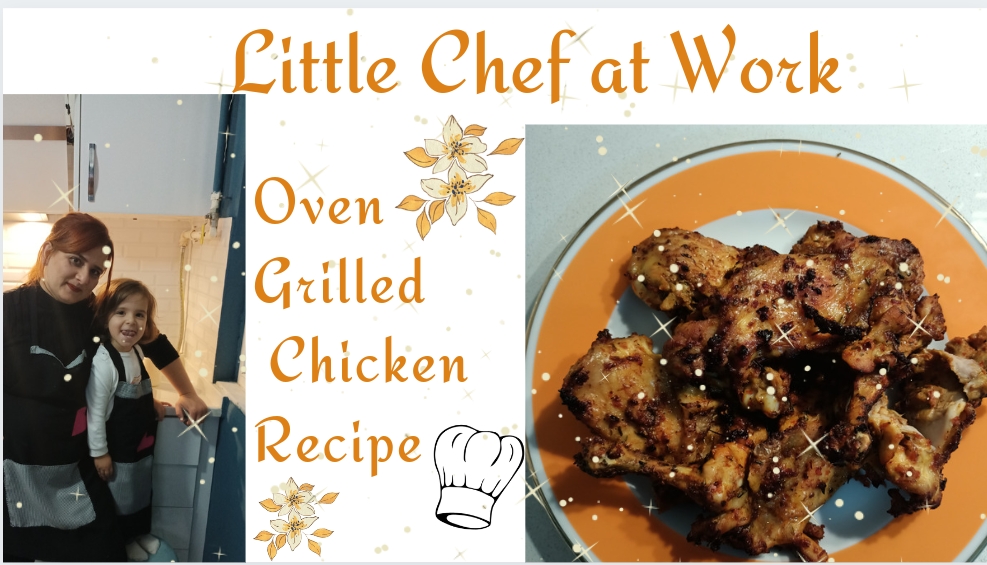 ---
I love being in the kitchen and preparing something. I think this trait has passed on to my little girl as well. He often comes and accompanies me while I prepare food. In fact, we prepare meals together so often that I prepared a kitchen apron for my daughter for this reason.
---
Despite her young age, I am very happy that my daughter is interested in cooking in this way. Who knows, maybe he will become a famous chef in the future.*
Only the cute little chef of our house for now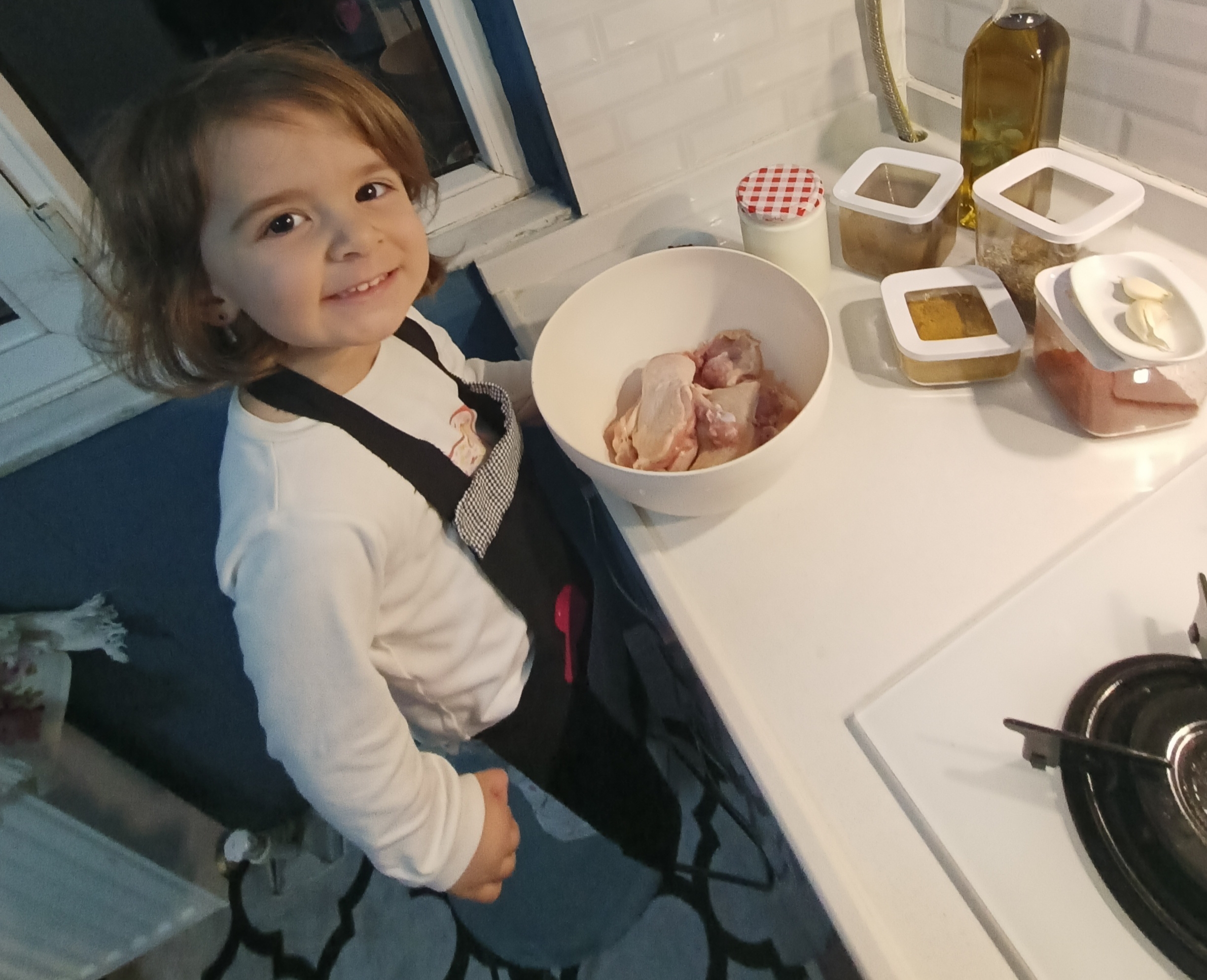 ---
I usually decide what to cook the day before. According to him, I take food out of the freezer the night before. I had guests last night and I did not have the opportunity to make any preparations.
That's why I wanted to prepare a practical meal today. After school, I stopped by the market and bought chicken pieces to grill. The recipe I will give you today is very practical and a delicious food that you can prepare in a short time.
Now let's start to tell you the recipe of our food.
---
Required Materials List
Chicken chop
Olive oil
Tomato paste
Garlic
Thyme, black pepper, paprika, curry sauce
Yogurt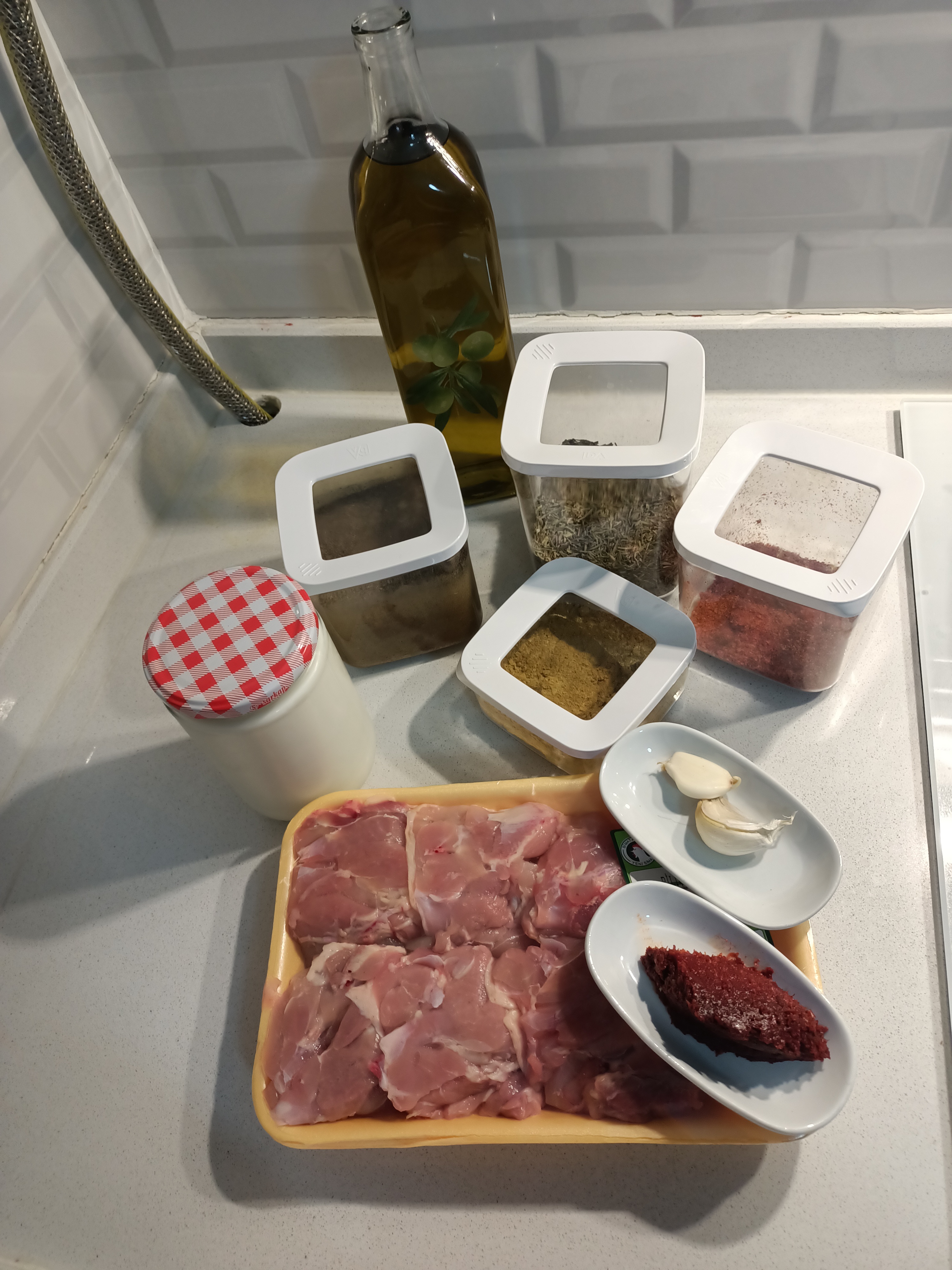 First, I washed the chicken pieces and let them sit in the strainer for a while to let the excess water hang out.
Then I put it in a deep container.
After this stage, I only prepared the materials. My little daughter prepared the dinner.
After preparing our chickens, we added the ingredients to the chickens in order.
First, we added the spices.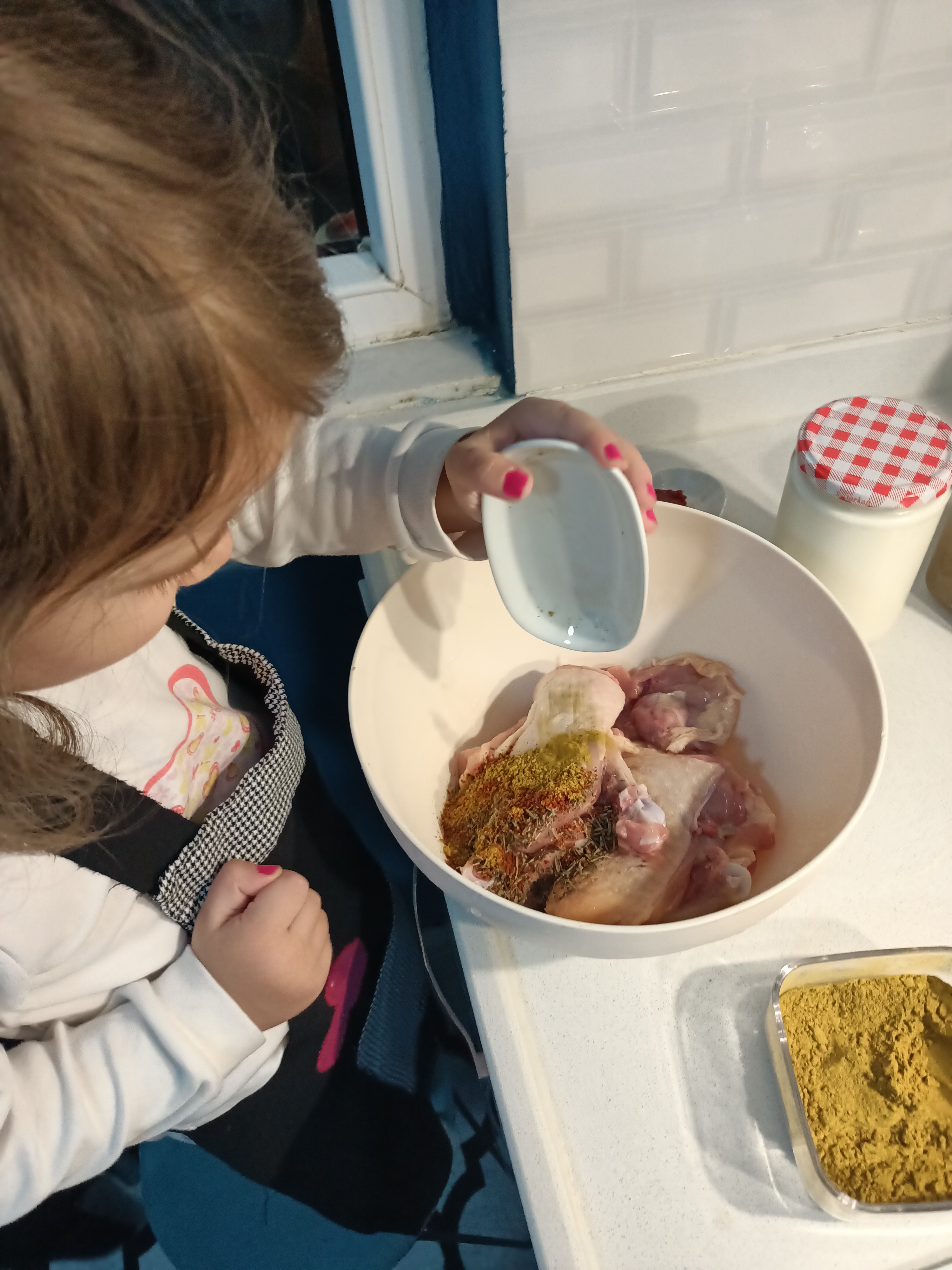 ---
Then we added yoghurt and tomato paste respectively.
( The yogurt and tomato paste I use in my food are homemade. This is a factor that increases the flavor of our food. )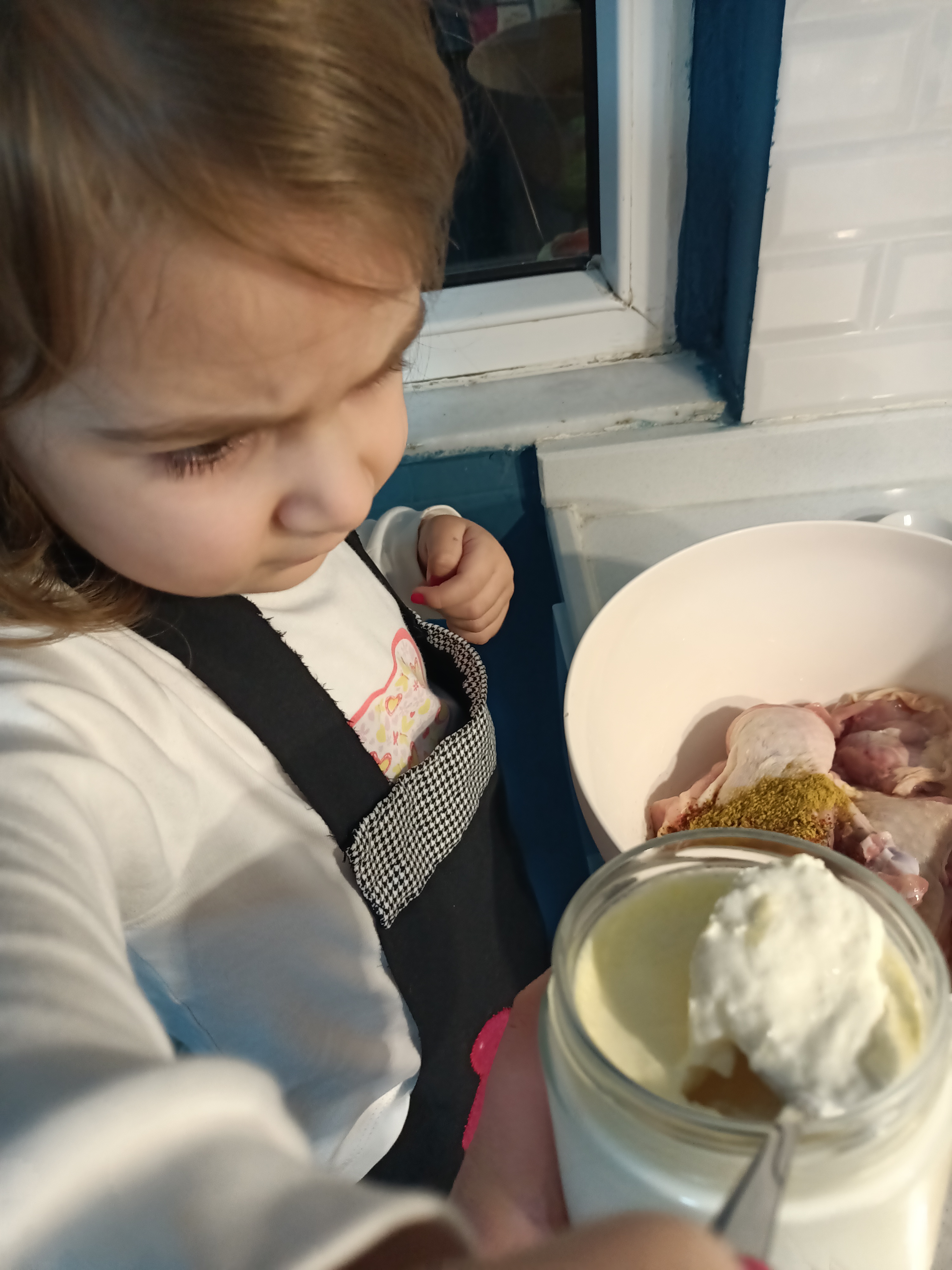 ---
Finally, we added garlic and olive oil to the chicken sauce. Again, we did all these steps together with the little chef Defne.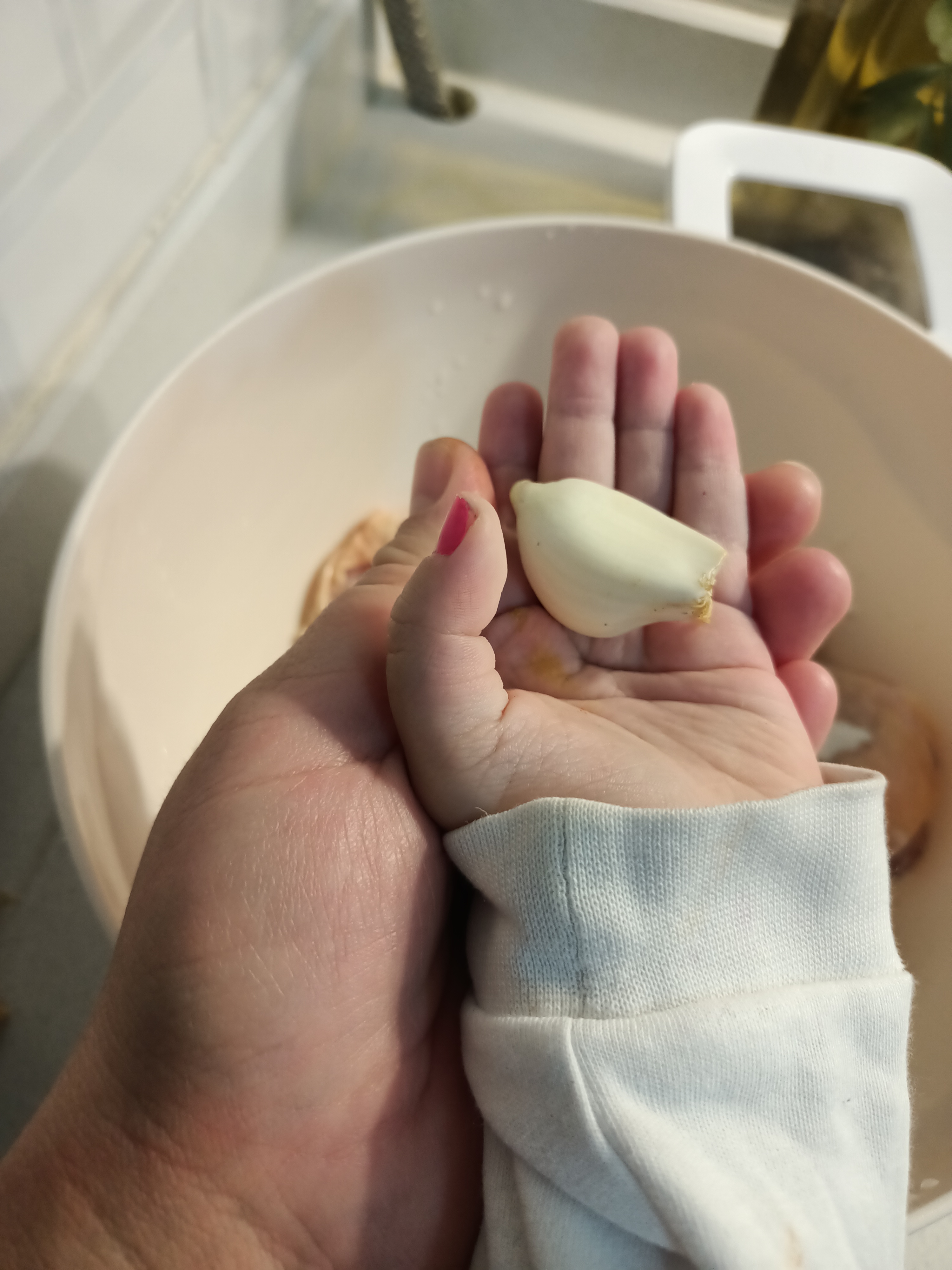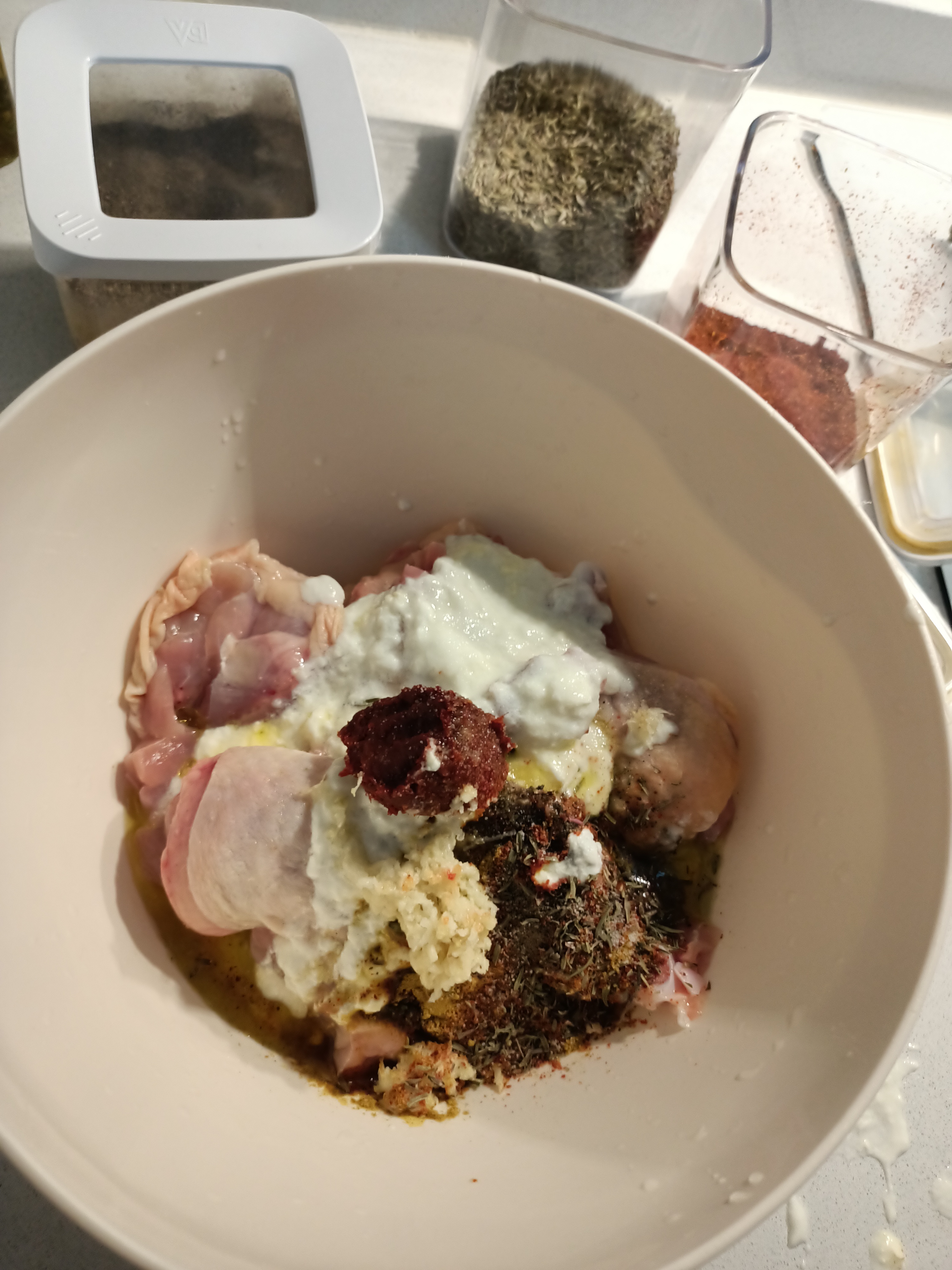 ---
We mixed the chicken and all the ingredients we added. I did the mixing step.
*Actually, if I could sauce the chicken the night before and keep it in the fridge, it would be much tastier. Since I didn't have time, I sauced the chicken and cooked it right away. If you have time, I recommend preparing the chicken the night before *
---
I placed the chicken we sauced on the wire rack.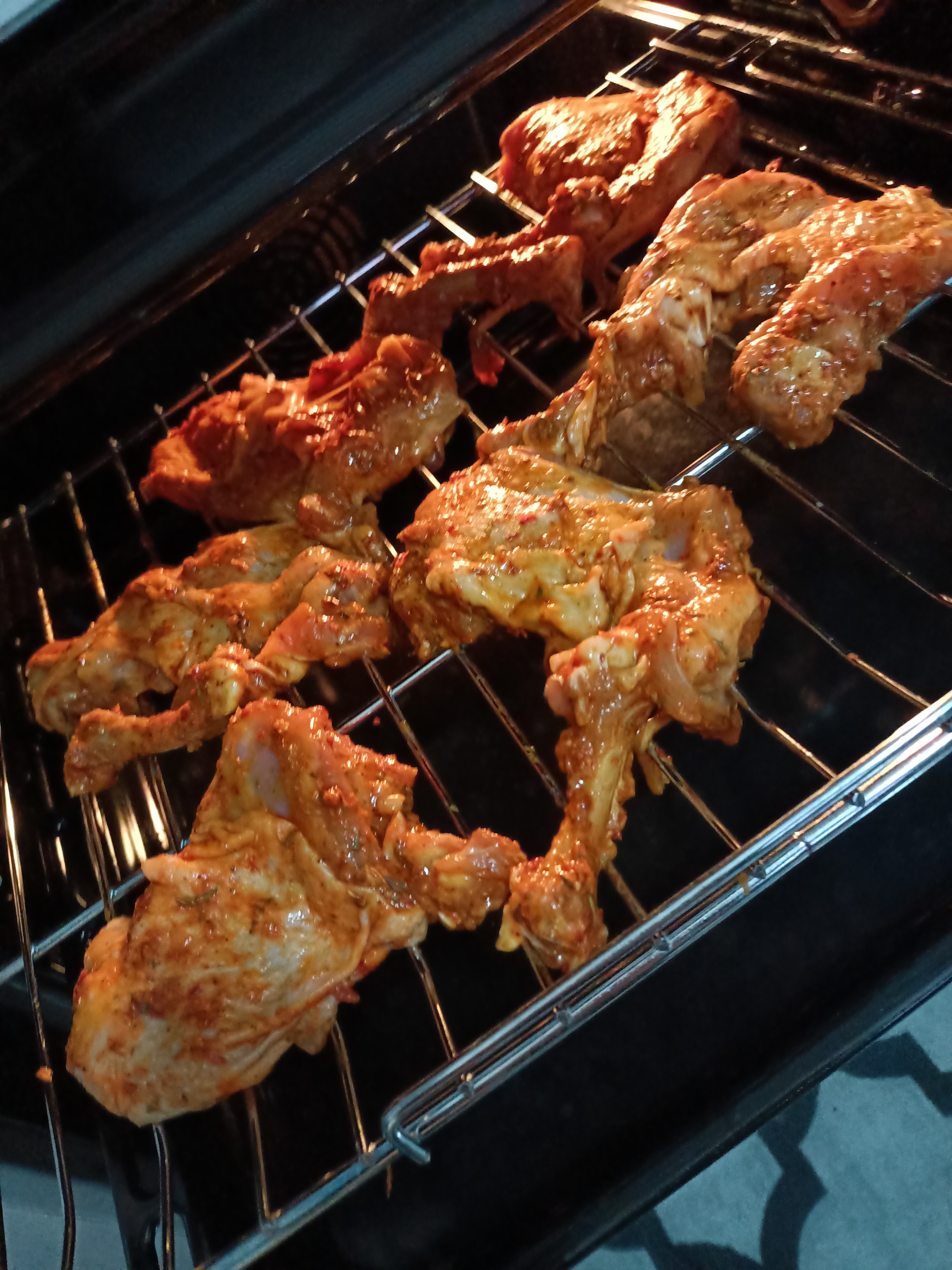 I placed it in the middle of the oven preheated to 200 degrees.
I cooked it in 45 minutes in a controlled manner.
I placed it in the middle of the oven preheated to 200 degrees.
I cooked it in 45 minutes in a controlled manner.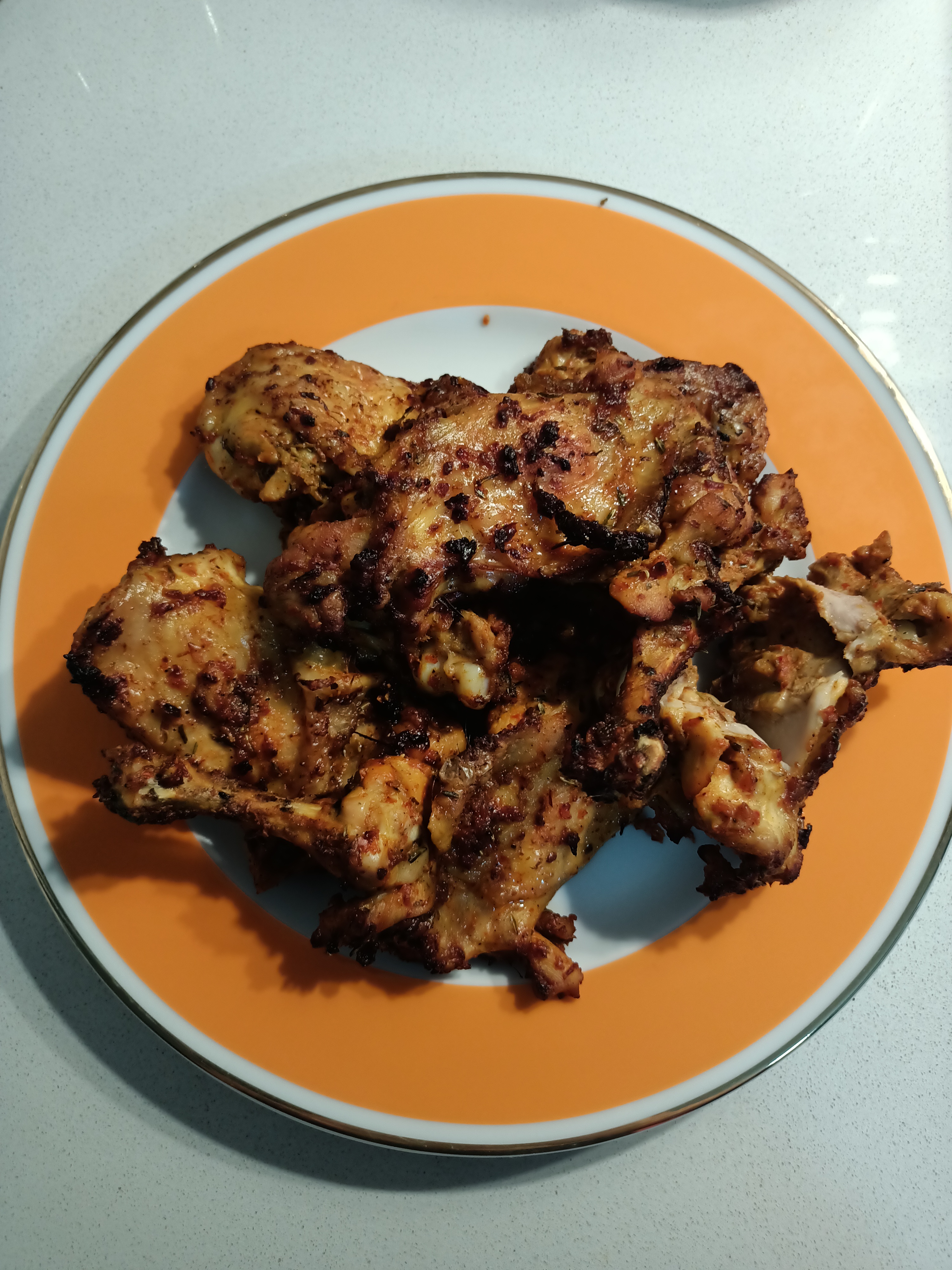 This time, the chicken grill we prepared was much more delicious than ever before. I think that my daughter prepared it with her hands.
I hope you liked my post. Thanks for reading and taking the time.
Stay with love, goodbye...
Note: All photos are mine. I edited the cover photo on canva. I took the photos with my oppo brand, cph2125 model phone.
---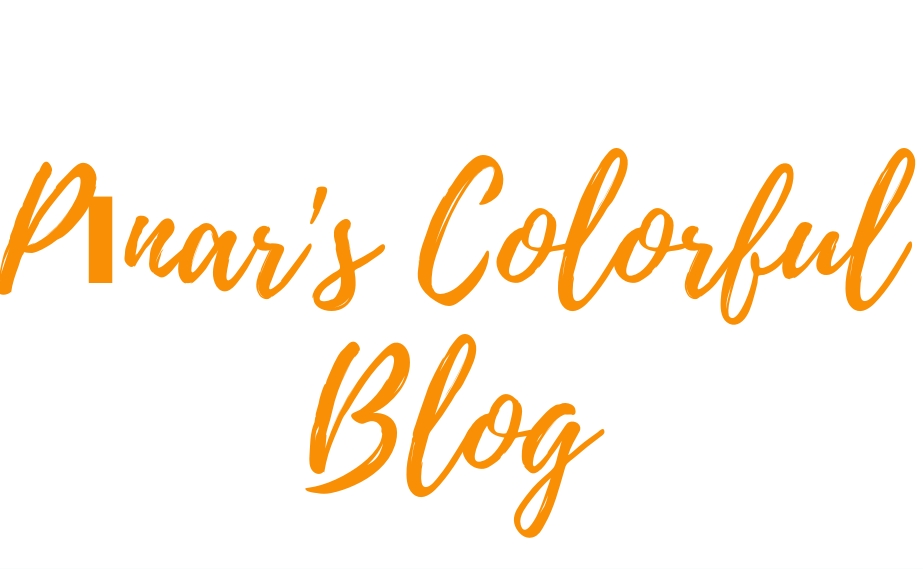 ---
TR
💐 Herkese merhalabalar. 💐
Nasılsınız arkadaşlar. Umarım herkes iyidir. Bugünkü yemek tarifi postumda bir misafirim var.
Henüz 2.5 yaşında olan sevgili kızım da mutfakta bana eşlik etti. Birlikte hem eğlendik hem de lezzetli bir akşam yemeği hazırladık.
Bugünkü tarifini vereceğim yemeğimiz Fırında Tavuk Izgara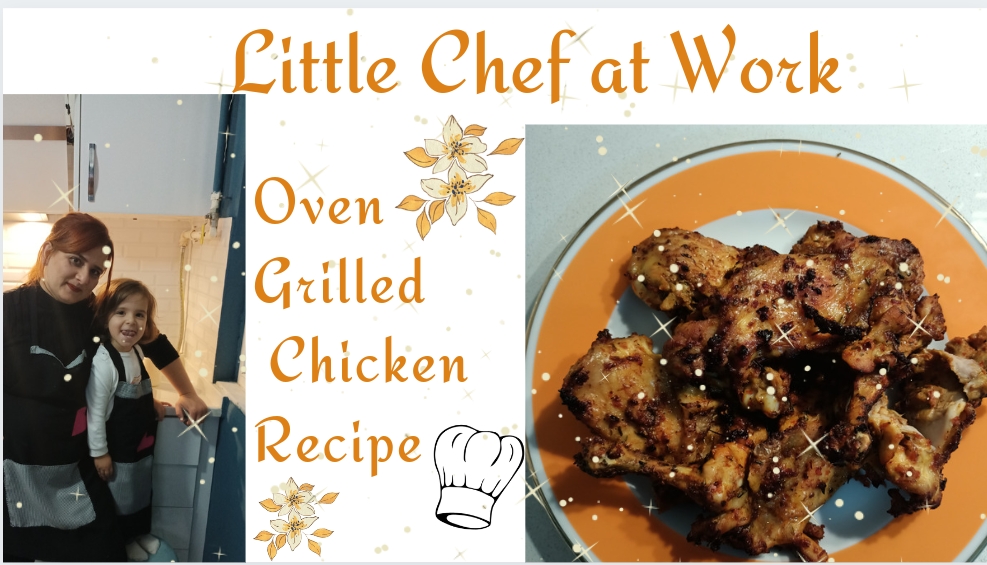 ---
Ben mutfakta olmayı ve bir şeyler hazırlamayı çok seviyorum. Sanırım bu özelliğim küçük kızıma da geçti.
Ben yemek hazırlarken çoğu zaman yanıma gelerek bana eşlik eder.
Hatta o kadar sık birlikte yemek hazırlıyoruz ki ben de bu sebeple kızıma bir mutfak önlüğü hazırladım.
---
Küçük yaşına rağmen kızımın bu şekilde yemek yapmaya ilgi göstermesine çok seviniyorum. Kim bilir belki de ileride ünlü bir şef olabilir.
Şuan için yalnızca bizim evimizin küçük sevimli şefi.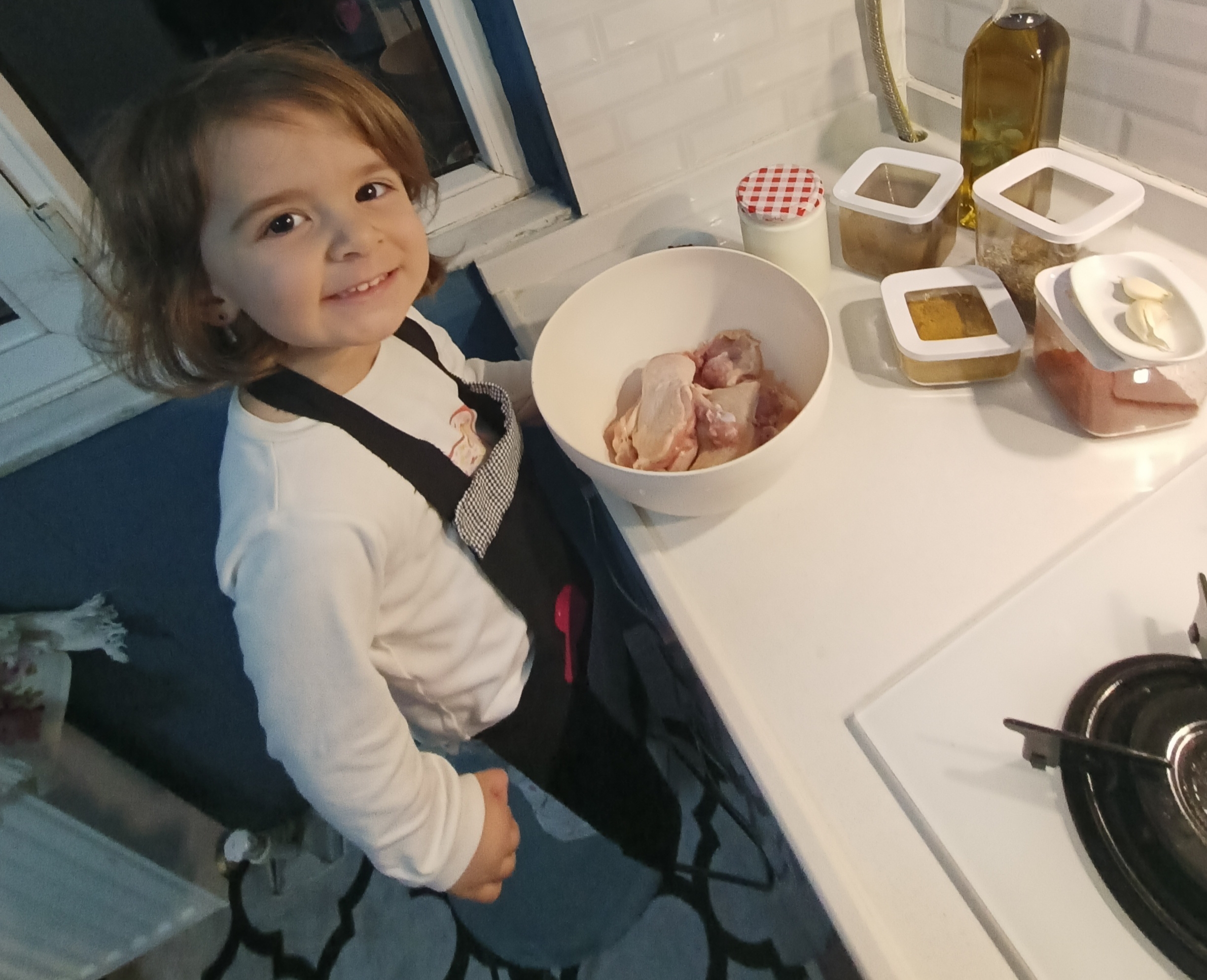 ---
Ben genellikle ne yemek yapacağıma bir gün öncesinde karar veririm. Ona göre bir gece önceden derin dondurucudan yiyecek çıkarıyorum. Dün gece misafirlerim vardı ve herhangi bir hazırlık yapma imkanım olmadı.
Bu nedenle bugün pratik bir yemek hazırlamak istedim.
Okuldan çıktıktan sonra markete uğrayarak ızgara yapmak için tavuk parçaları aldım.
Bugün sizlere vereceğim tarif oldukça pratik ve kısa sürede hazırlayanileceğiniz lezzetli bir yiyecek .
Artık sizlere yemeğimizin tarifini anlatmaya başlayalım.
Gerekli Malzeme Listesi
Tavuk pirzola
Zeytinyağı
Salça
Sarımsak
Kekik, karabiber, pulbiber, köri sosu
Yoğurt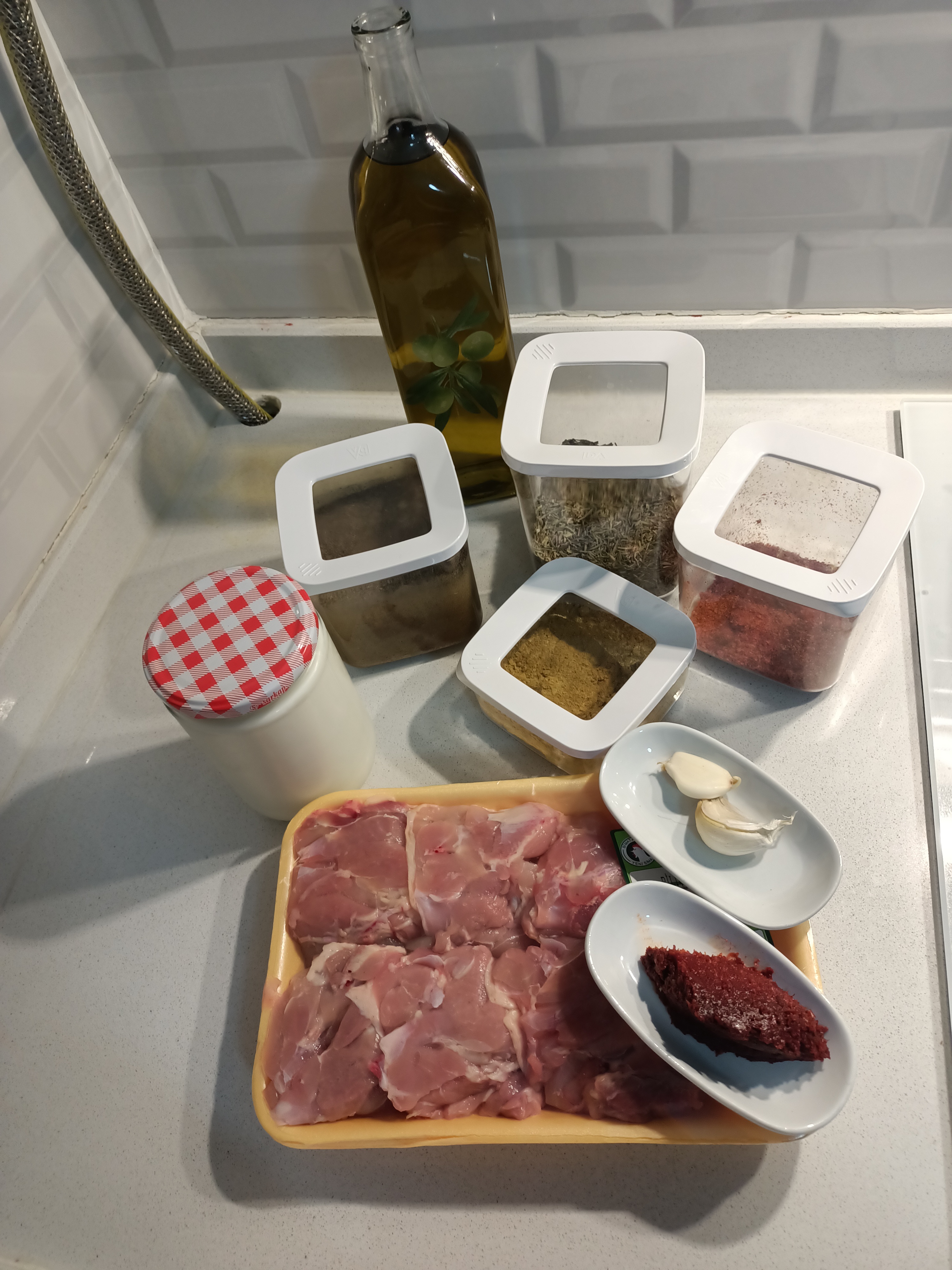 İlk önce tavuk parçalarını yıkadım ve fazla suyunun sarkması için bir süre süzgeçte beklettim.
Daha sonra derin bir kap içerisine koydum.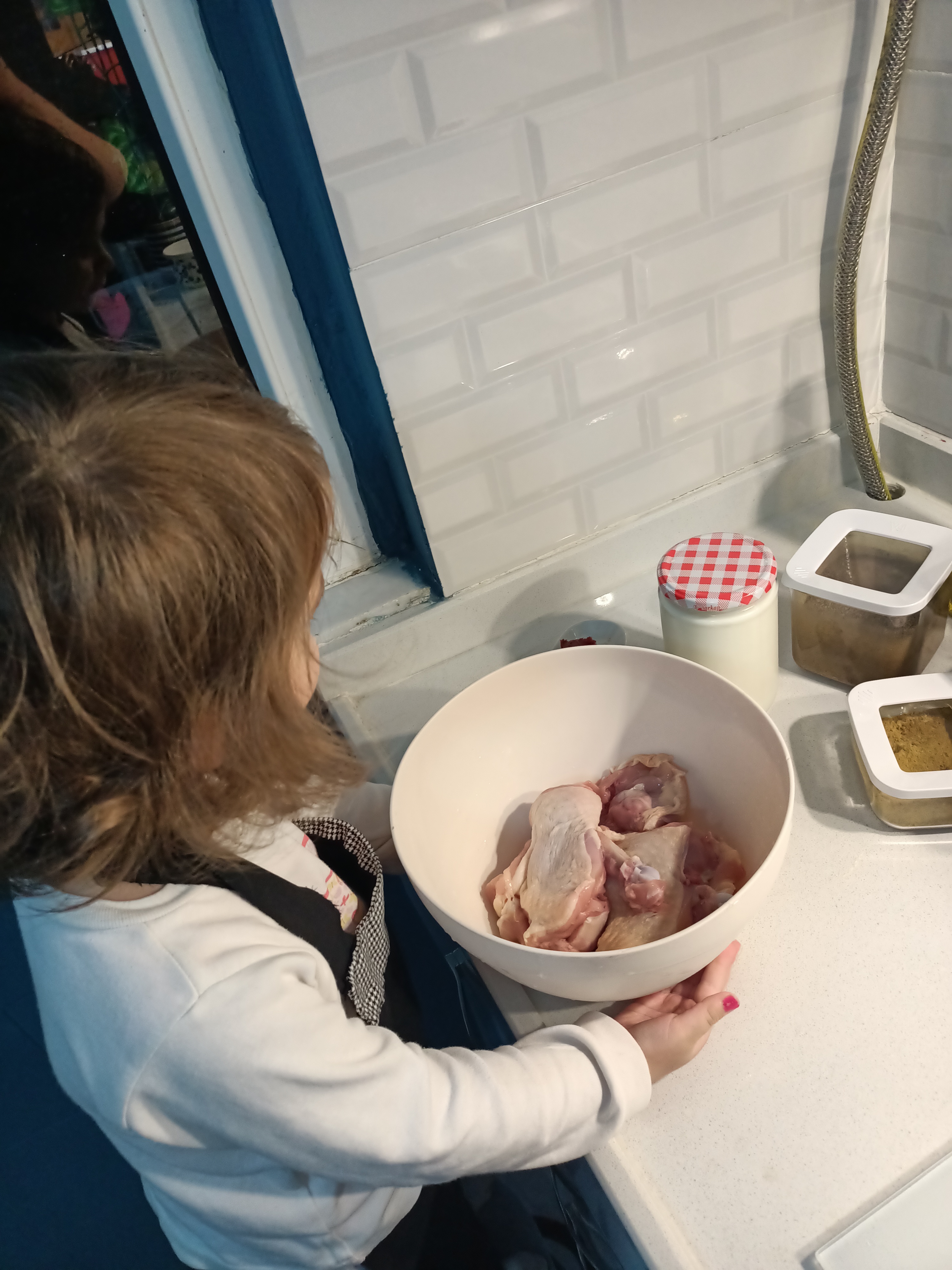 Bu aşamadan sonra ben yalnızca malzemeleri hazırladım. Yemeği küçük kızım hazırladı.
---
Tavuklarımızı hazırladıktan sonra sırasıyla malzemeleri tavuklara ekledik.
ilk olarak baharatları ekledik.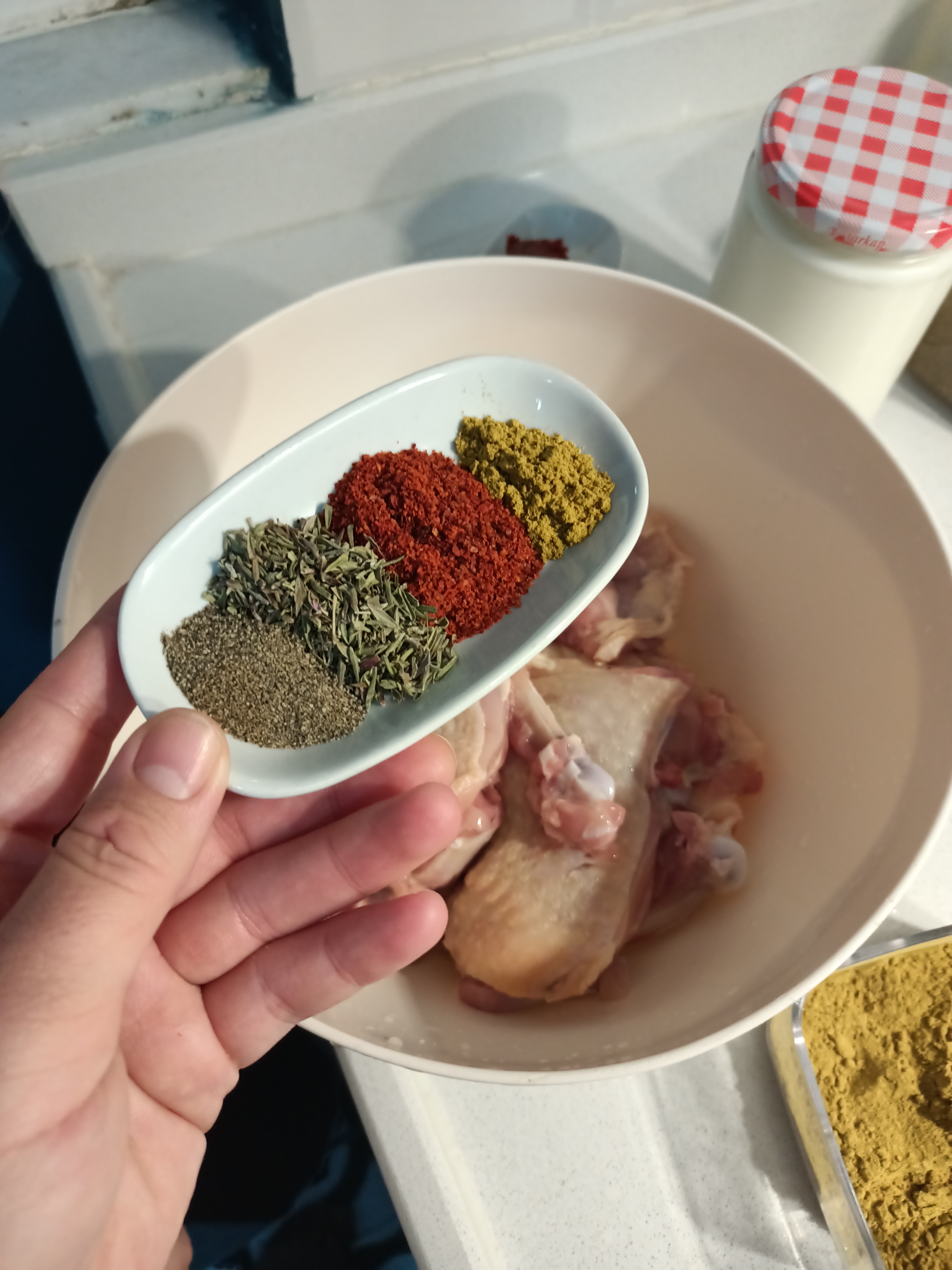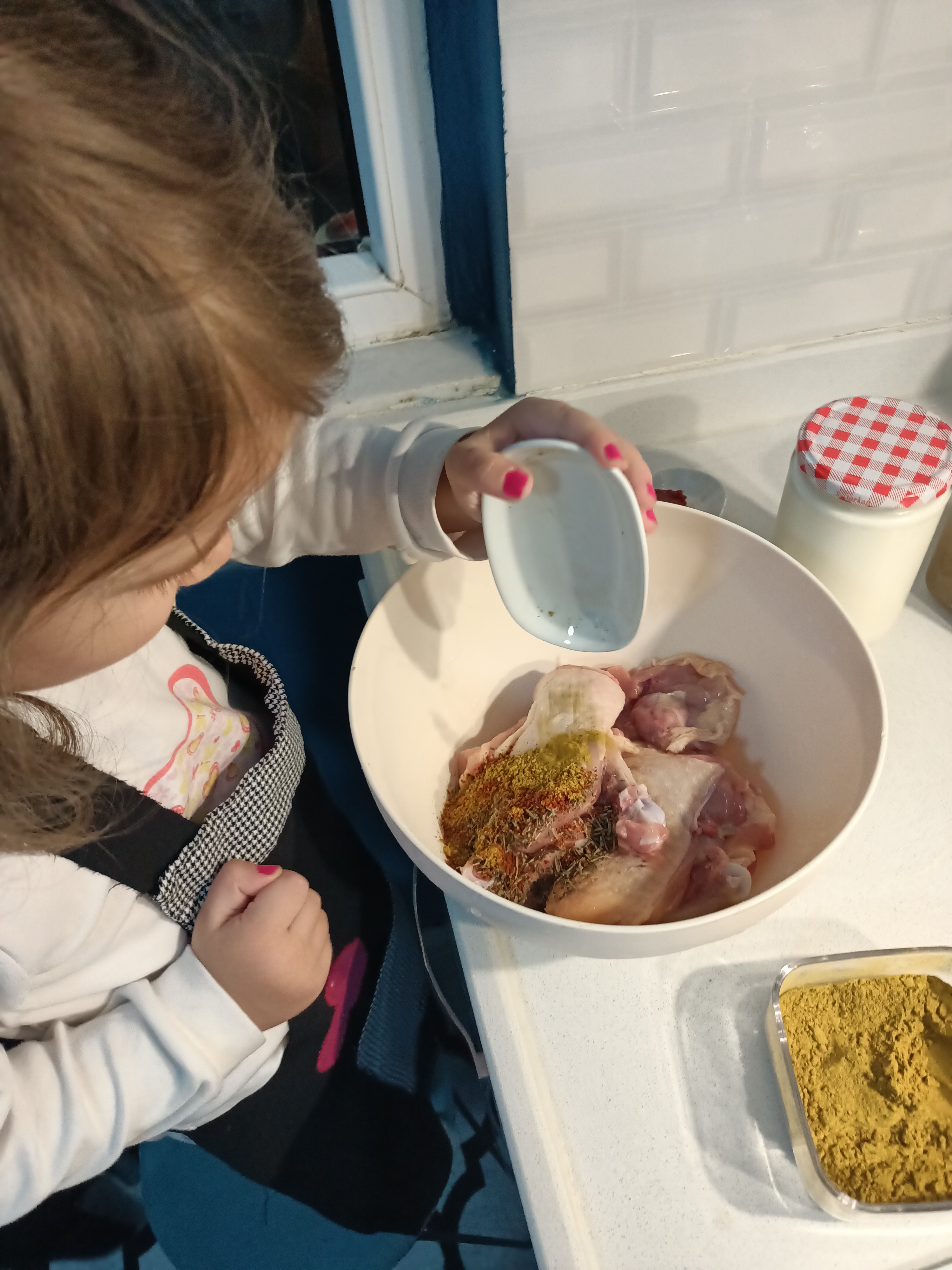 ---
Daha sonra sırasıyla yoğurt ve salçayı ekledik.
( Benim yemeğimde kullandığım Yoğurt ve salça ev yapımıdır. Bu da yemeğimizin lezzetini arttıran bir faktör. )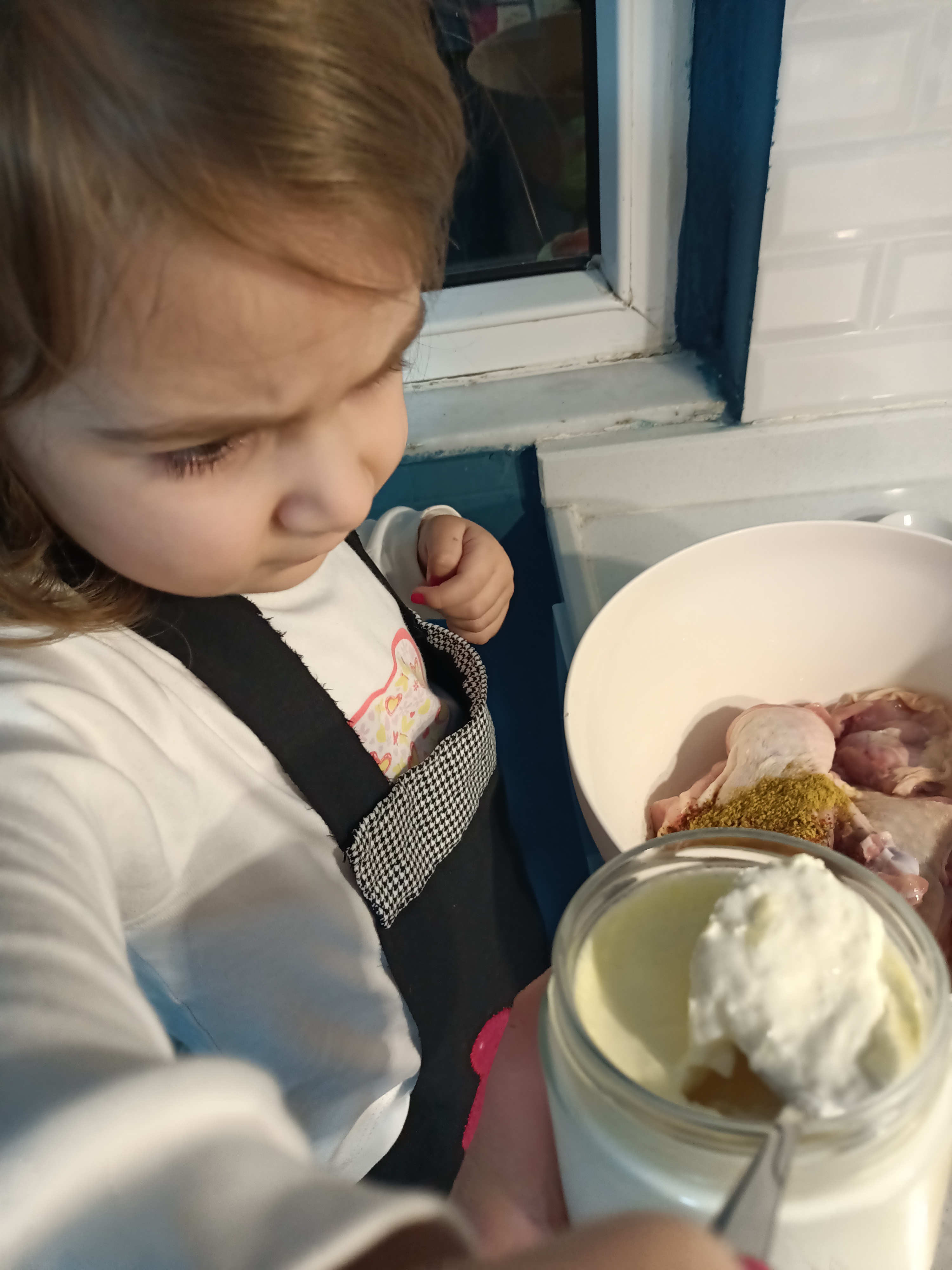 ---
Son olarak tavuğun sosuna sarımsak ve zeytin yağını da ekledik. Yine tüm bu aşamaları küçük şef Defne ile birlikte yaptık.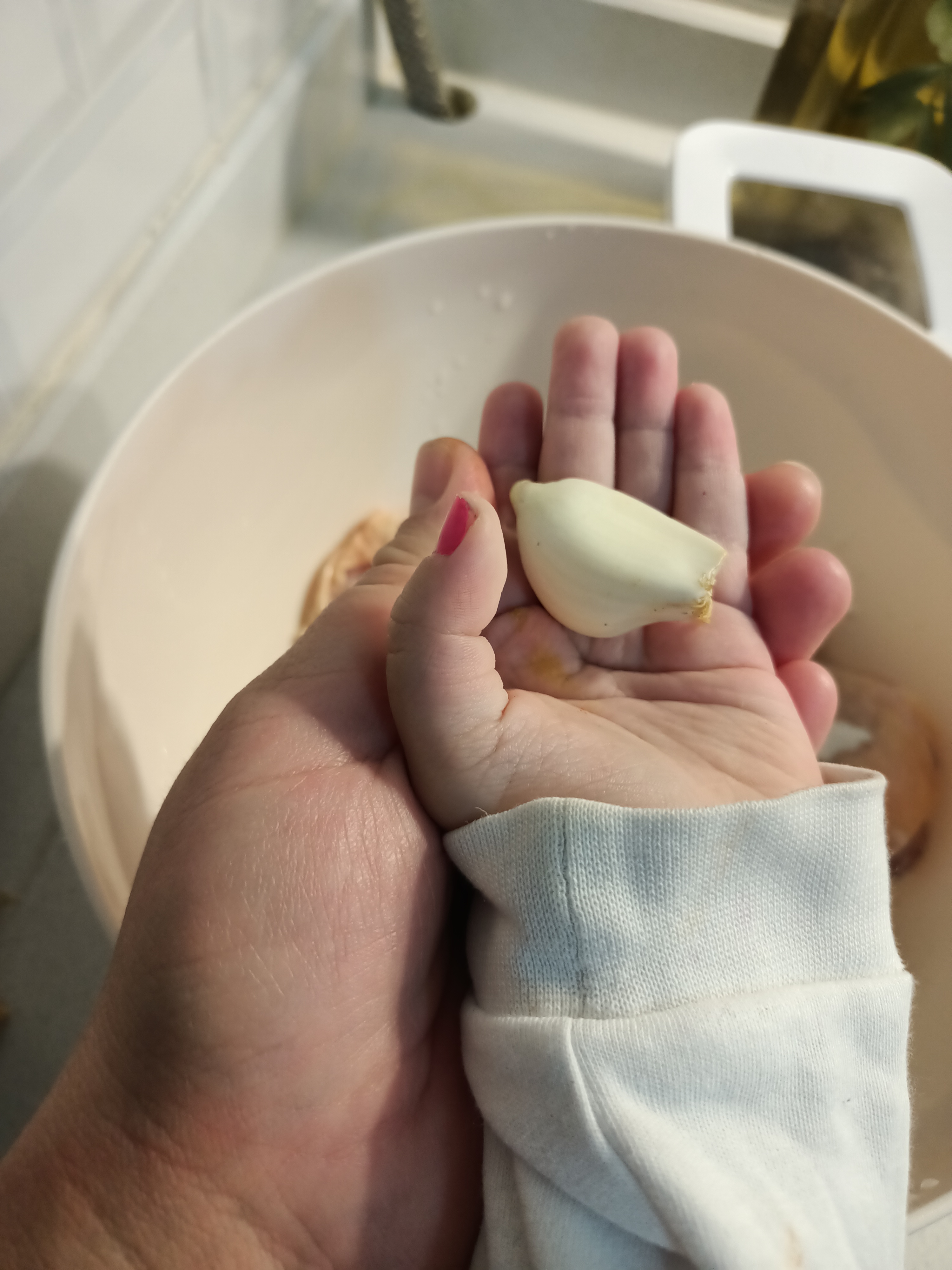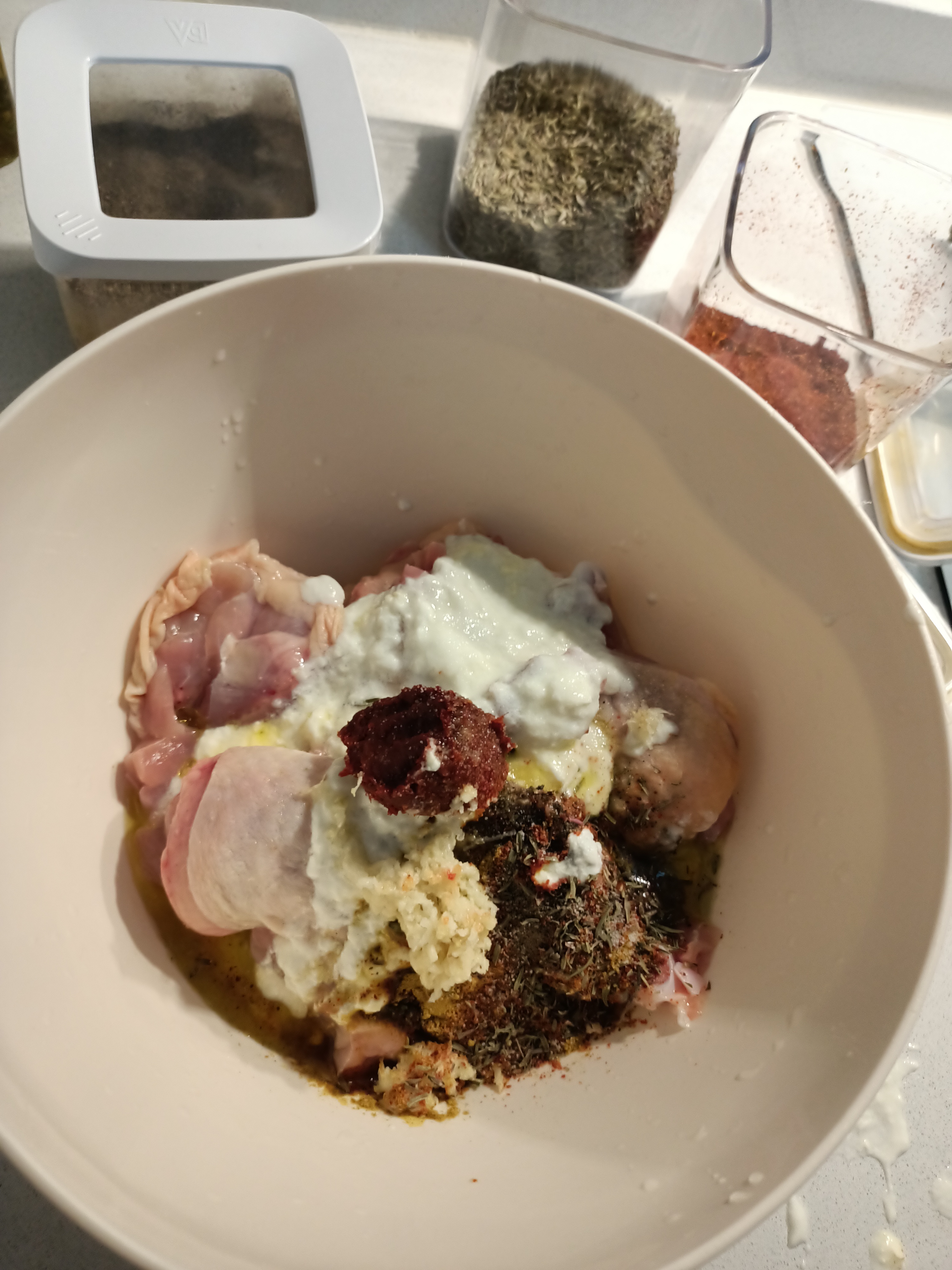 ---
Tavuğu ve eklediğimiz tüm malzemeleri karıştırdık. Karıştırma aşamasını ben yaptım.
*Aslında tavuğu bir gece önceden soslayıp buzdolabında bekletebilseydim çok daha lezzetli olurdu. Ben vaktim olmadığı için tavuğu soslayıp hemen pişirdim. Eğer vaktiniz olursa bir gece önceden tavuğu hazırlamanızı tavsiye ederim *
Sosladığımız tavukları ızgara teline yerleştirdim.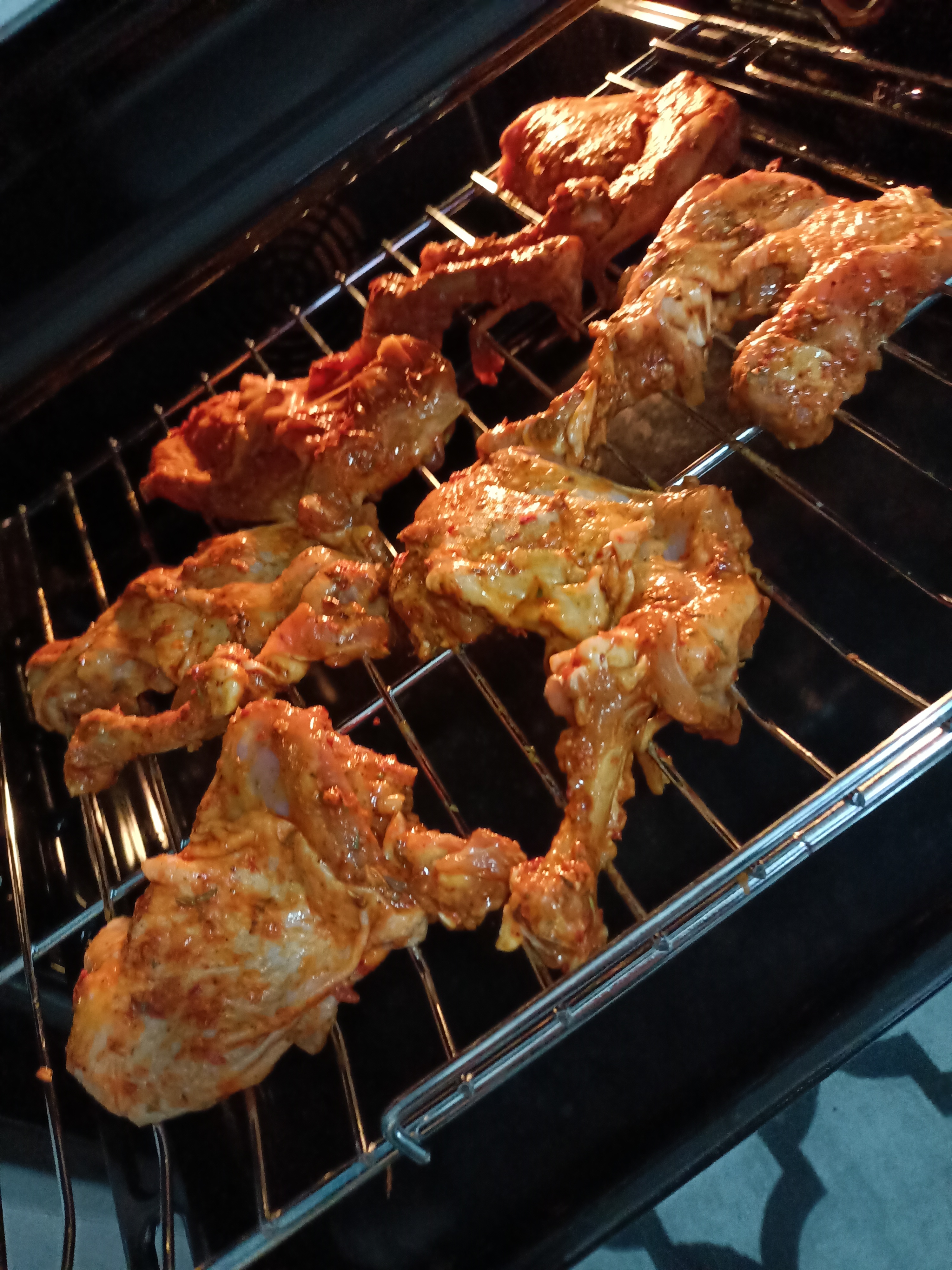 200 derece önceden ısıtılmış fırının orta tadına yerleştirdim.
kontrollü olarak 45 dakikada pişirdim.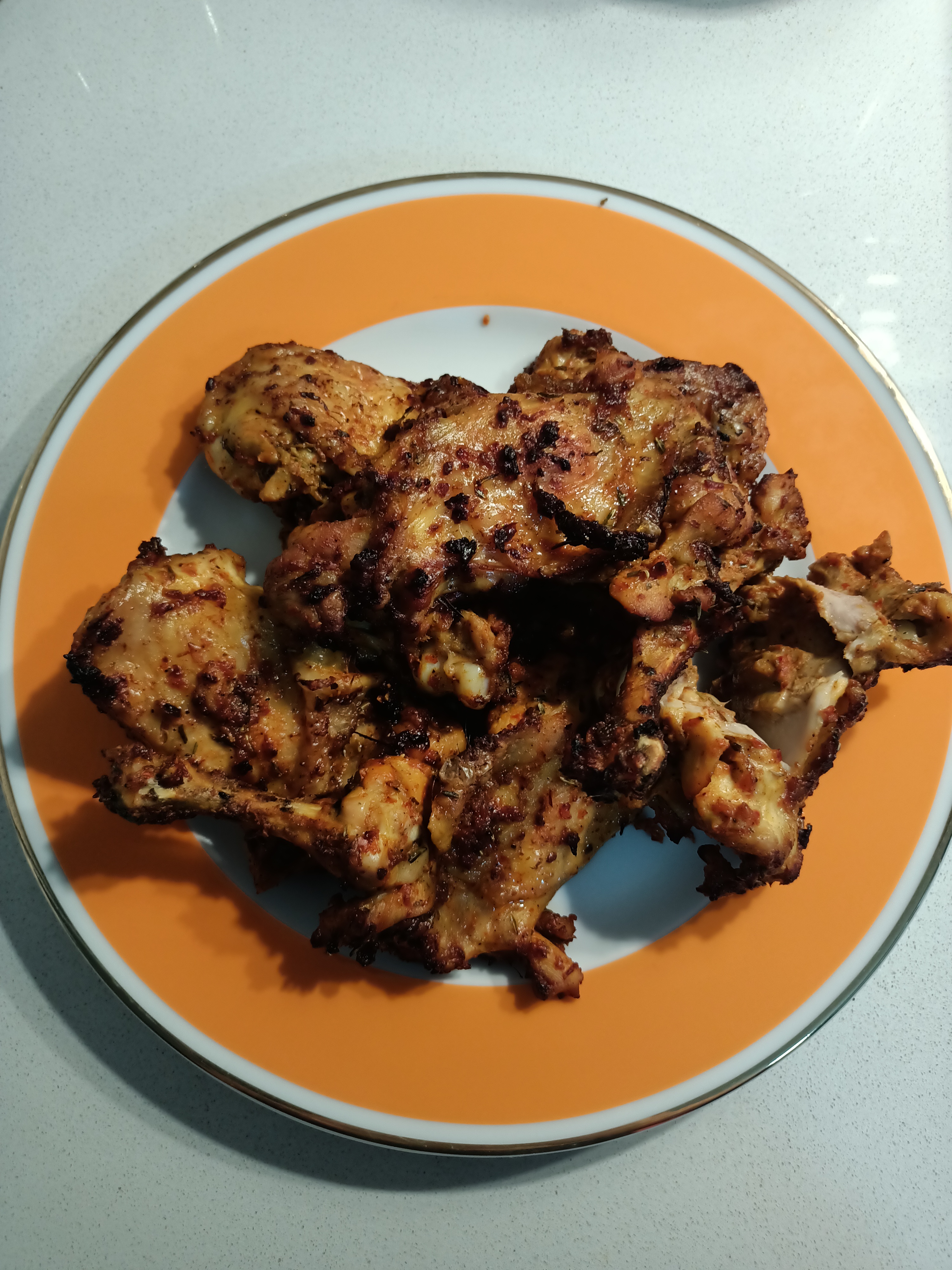 Bu sefer hazırladığımız tavuk ızgara her zamankinden çok daha lezzetli oldu. Sanırım kızımın elleri ile hazırlamış olması bunu sağladı.
---
Umarım gönderimi beğenmişsinizdir. Okuduğunuz ve zaman ayırdığınız için teşekkürler.
Sevgiyle kalın, hoşçakalın...
Not:Tüm fotoğraflar bana aittir. Kapak fotoğrafını canvada düzenledim. Fotoğrafları oppo marka , cph2125 model telefonumla çektim.
---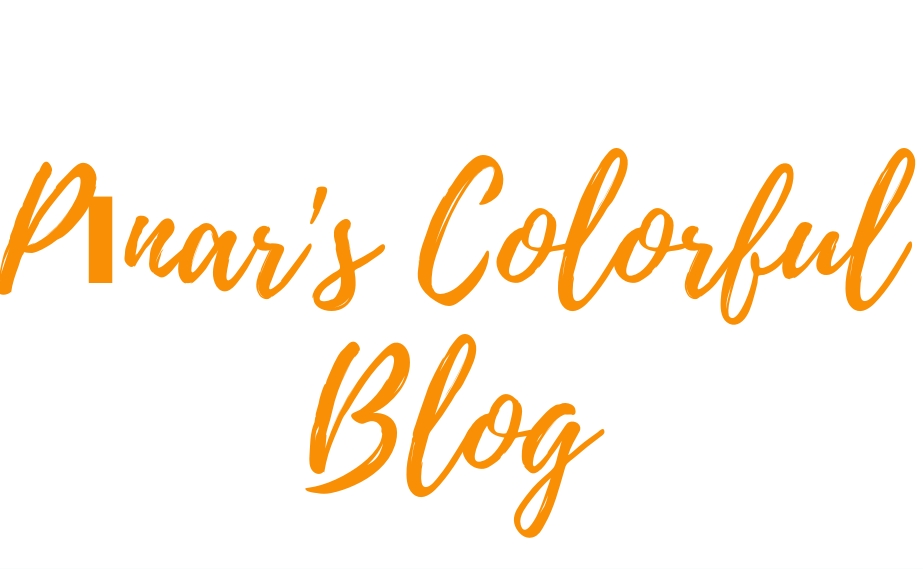 ---
---