My impulsive rant about the dolphin killing tradition on Faroe Islands

Hi there my Hivean friends and followers!
I hate to write these environmental rants as I usually try to focus on positive and inspiring things happening in nature but this is something I just cannot ignore. The incident that made me write this was so shocking and disgusting that it´s in the headlines all over the world these days so the chances are you have already seen it but if not, let me tell you what just happened on the Faroe Islands.
The Faroe Islands, a remote Danish archipelago in the North Atlantic that is home to just some 50,000 people, is actually also home to one of the most brutal traditions that humans still kept. Every year, there is this whale hunting day when crowds of the locals gather in a small bay to watch a massacre of hundreds of whales, dolphins and other marine mammals who are forced into the shallows of the bay where they are then slaughtered with knives. What a beautiful and funny way to spend some family time together, right? Take your kids and go watch crying stressed dolphins being slaughtered...
Needless to say it´s absolutely beyond my comprehension how this "tradition" can be still observed anywhere on Earth, let alone a region that is a part of one of the most developed and modern countries in the world. But the latest "season" of this perverted "tradition" was even more appalling than the previous ones. Why? Because the organizers ended up having to kill a lot more dolphins than they originally wanted because of some "miscalculations". Consequently, almost 1,500 of white sided dolphins, forced into the shallows, crying in agony and absolute despair, were waiting to be killed for long hours because there was not even enough people on the shore to do so! The scene was so brutal and heartbreaking that even some of the "spectators" who came there to "enjoy" the "tradition" said it was too much for them. The whole bay turned red with the blood of the massacred dolphins and filled with their desperate cries. I just don´t get it how any sane human being could consider it anything but an absolute apocalyptic nightmare.
There are tons of photos and videos from this "event" all over the internet so you can find more if you want but it really breaks my heart to watch them so I am going to feature only one picture here in this post for illustration purposes.
---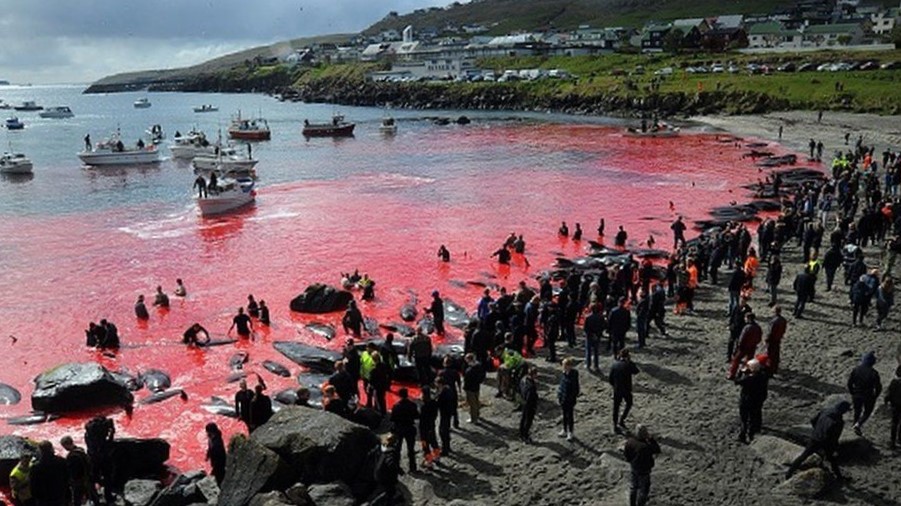 Image source: BBC News
---
I can tell you I really hate writing posts like this one and I literally got sick while doing so but I think it´s important to spread the word. The more people know, the higher the chances things will change. Honestly, I don´t know why there are still so many traditions around the world that involves abuse and suffering of animals. We are so proud of all our achievements and progresses. Soon, people will be traveling to space for holidays and yet, at the same time, we still have these extremely retrograde traditions that look as if they were imported here from the dark medieval ages... And this one from the Faroe Islands is particularly hideous in my book because they kill dolphins. These amazing playful marine creatures with intelligence, sensitivity and emotions similar to those of humans. Except dolphins would never ever do anything like this to us. Quite the opposite, there have been many cases recorded where dolphins intentionally and altruistically helped people who were drowning or threatened by sharks. And that´s what we give them in return...
---
---
---
This post was created by me for the Hive blockchain exclusively. All rights reserved.
---
---
---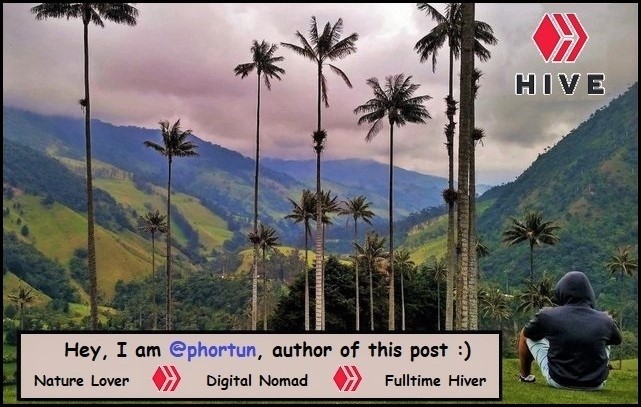 ---
Thank you for visiting my blog. If you like posts about Nature, Animals, Ecology, Crypto, Traveling, Sport, Photography and discovering secrets and beauties of the World, feel free to follow me as these are the topics I mostly write about. Have a wonderful day and keep on hiving, guys! :)
---
---