The day I fulfilled a dream: climbing up Rocky's steps! [ENG - ESP]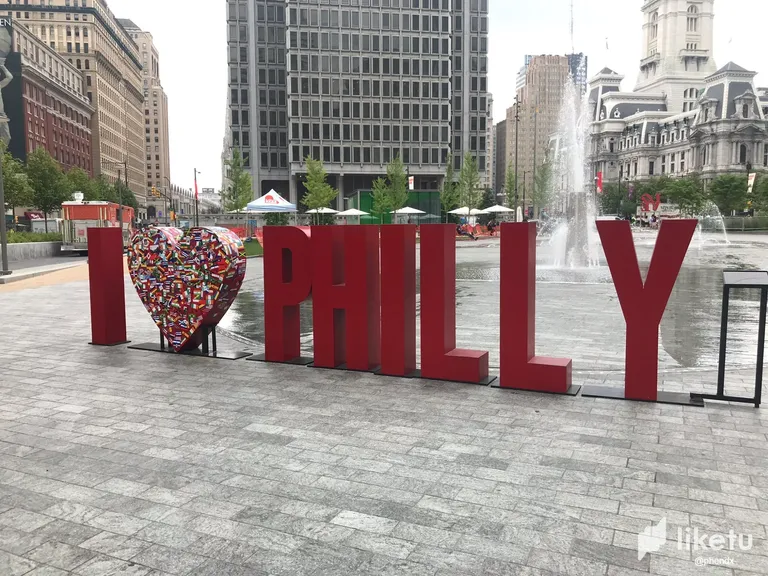 Climbing up Rocky's steps
---
Without a shadow of a doubt, I can affirm that Rocky's movies are, by far, my favourite ones. It has always been like that and I seriously doubt that it could ever change... They have all I need, a simple and well-developed timeline of events, sports and motivation. Is there something else you need in a film?!

These movies are not just movies for me... They have been a huge motivational factor for me in my sports life. I have been a long distance runner for about half of my life (now, I am currently going back to training, little by little) and in every single important race I had, Stallone's acting and Rocky's pure heart were something I always needed to go back to. The previous week of running a marathon, I would always watch the entire Rocky Balboa's series of films, 'cause there's something wonderful in how passion and effort are represented in them. I can't tell you how many time I have trained or gone on a long run with Rocky's soundtrack in my headphones. It has become a huge part of my sports life for real.
So, I was going on a very improvised trip in New York, and there I had the greatest idea: why not take a two hour bus to Philadelphia and climb up the stairs that I had always wanted to climb?! Hell yeah. I booked straightaway the tickes, got up incredibly early in the morning and there I was, on my way to seeing in real life something that was incredibly important for me. It was a fact.
---
---

I found the city incredibly beautiful, even more than New York. Despite the fact that there were a lot of junkies in the streets and that made me feel a bit unsafe, I didn't see any situations that could potentially be a harm to my integrity. Buildings were beautiful, it was really quiet (or every single place on Earth is, if you're coming from ten days in NY...) and I found it really unique when it comes to places to discover. Every single corner in Philly had its special thing.
---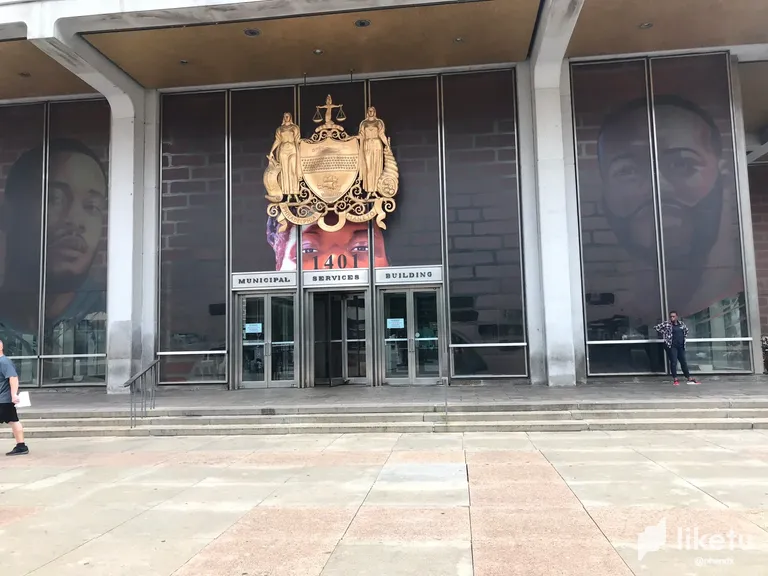 ---
---
I took some time to visit and just wander around with no special plan in mind. I knew that, sooner or later, what I was looking for would eventually show up.
And so, it did.
Even sooner than I was expecting, I was already walking in the same streets that the film was shooted. I was taking a stroll in the same place that Rocky trained and did his running sessions. The day was quite grey and about to rain, but there was such an irresistible spark for me in that moment.
And finally, the Museum of Arts showed up, with the well-known "Rocky steps" and a huge statue of the italian stallion on the side. I couldn't be happier. I simply couldn't.
---
---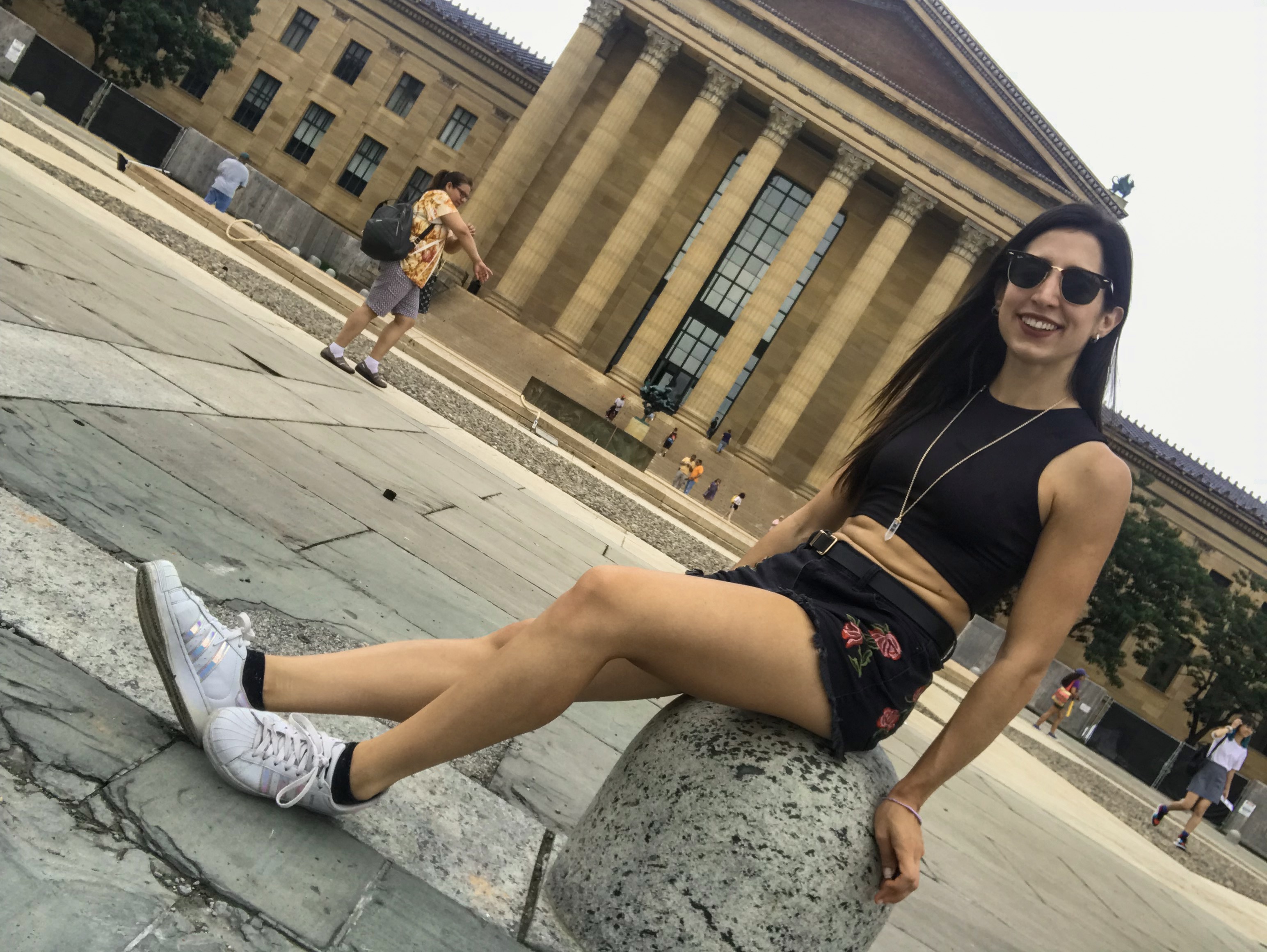 ---
I don't even have to say that I climbed those steps running, do I?! There were pleeeeenty of people in there, visiting, running up to the Museum and taking pictures, so it was quite difficult to get a nice memory of that place. I stood there for a while, just enjoying the view, it was for sure one of the places I thought I would never visit... and there I was, in a very unexpected trip, going to an unexpected city for me and having a really good time in one of the places that I had seen a million times in a film.
---
Then, it was time to get in the queue for a picture with Stallone's statue, lol. Yup, I have queues, but that twenty minute wait was completelly worth it! As it couldn't be another way, there's a huge statue for the italian stallion...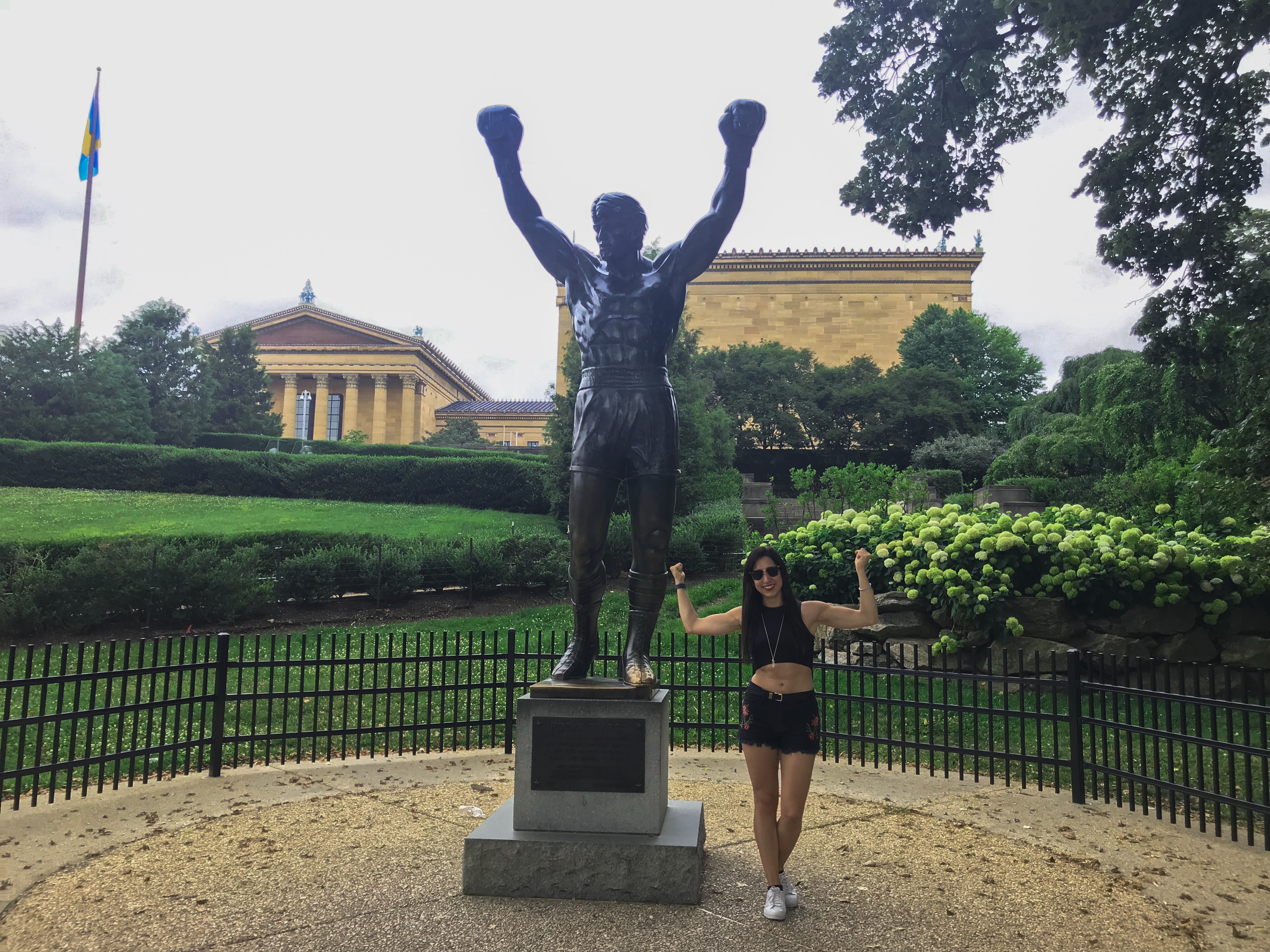 ---
Yo, Adriane! I did it!
Source
---

[ESP]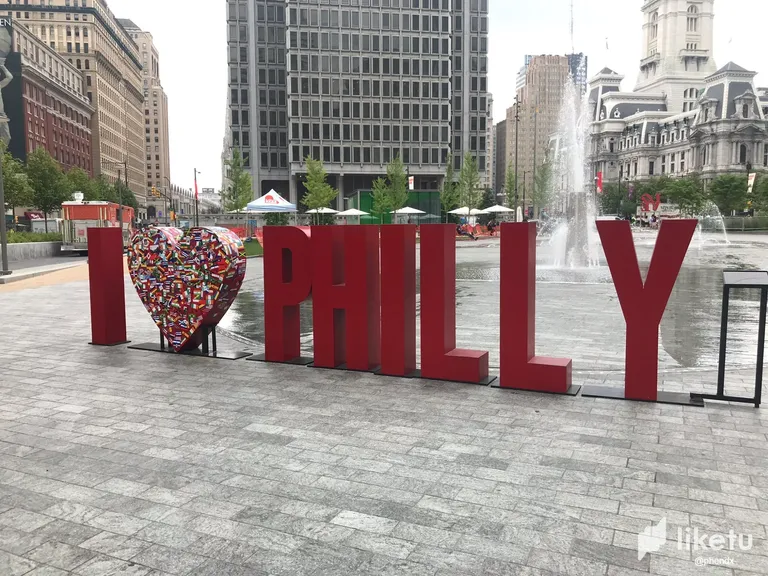 Subiendo los Rocky steps!
---
Sin lugar a dudas, puedo afirmar que las películas de Rocky son mis favoritas. Siempre ha sido así y dudo seriamente que pueda cambiar alguna vez... Tienen todo lo que necesito, una línea de tiempo simple y bien desarrollada de eventos, deportes y motivación. ¿Hay algo más que necesites en una película?

Estas películas no son solo películas para mí... Han sido un gran factor de motivación para mí en mi vida deportiva. He sido corredora de larga distancia durante aproximadamente la mitad de mi vida (ahora, actualmente estoy volviendo a entrenar, poco a poco) y en cada carrera importante que tuve, la actuación de Stallone y el corazón puro de Rocky fueron algo que siempre necesitaba. La semana anterior a correr una maratón, siempre veía la serie completa de películas de Rocky Balboa, porque hay algo maravilloso en cómo se representa la pasión y el esfuerzo en ellas. No puedo decirte cuántas veces he entrenado o hecho una carrera larga con la banda sonora de Rocky en mis auriculares. Se ha convertido en una gran parte de mi vida deportiva de verdad.
Entonces, me iba a hacer un viaje muy improvisado a Nueva York, y ahí se me ocurrió la gran idea: ¡¿por qué no tomar un autobús de dos horas a Filadelfia y subir las escaleras que siempre había querido subir?! Demonios si. Reservé los boletos de inmediato, me levanté increíblemente temprano en la mañana y ahí estaba, en camino a ver en la vida real algo que era increíblemente importante para mí. Era un hecho.
---
---

Encontré la ciudad increíblemente hermosa, incluso más que Nueva York. A pesar de que había muchos drogadictos en las calles y eso me hacía sentir un poco inseguro, no vi ninguna situación que pudiera dañar mi integridad. Los edificios eran hermosos, era muy tranquilo (o lo es cada lugar en la Tierra, si vienes de diez días en Nueva York...) y lo encontré realmente único cuando se trata de lugares para descubrir. Cada rincón de Filadelfia tenía algo especial.
---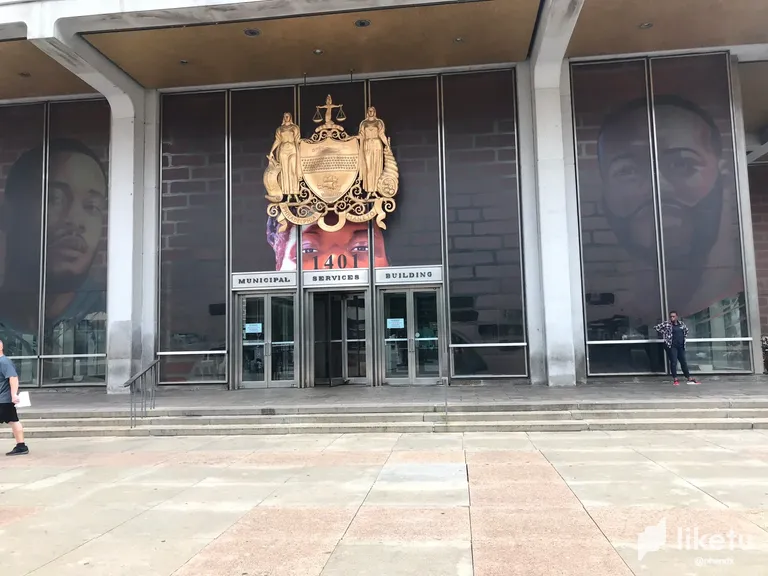 ---
---
Me tomé un tiempo para visitar y pasear sin un plan especial en mente. Sabía que, tarde o temprano, lo que estaba buscando eventualmente aparecería.
Y así fue.
Incluso antes de lo que esperaba, ya estaba caminando por las mismas calles donde se filmó la película. Estaba dando un paseo por el mismo lugar donde Rocky entrenaba y hacía sus sesiones de carrera. El día estaba bastante gris y a punto de llover, pero había una chispa tan irresistible para mí en ese momento.
Y por último, apareció el Museo de las Artes, con los conocidos "Rocky Steps" y una enorme estatua del semental italiano al costado. No podría estar más feliz. Simplemente no pude.
---
---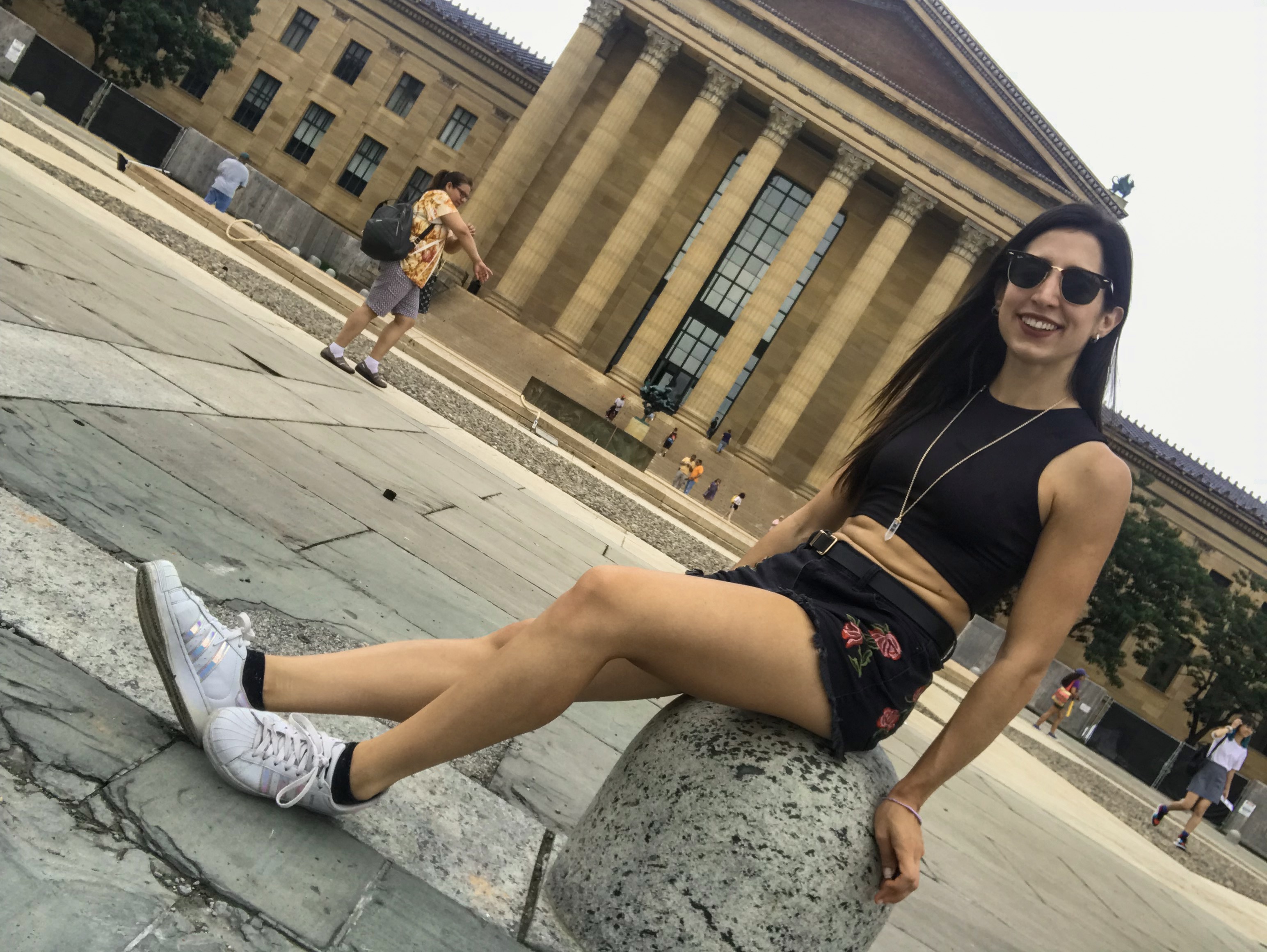 ---
Ni siquiera tengo que decir que subí esos escalones corriendo, ¿verdad? Había muchísima gente allí, visitando, corriendo hasta el Museo y tomando fotos, por lo que fue bastante difícil llevarse un buen recuerdo de ese lugar. Me quedé allí un rato, simplemente disfrutando de la vista, sin duda era uno de los lugares que pensé que nunca visitaría... y ahí estaba yo, en un viaje muy inesperado, yendo a una ciudad inesperada para mí y teniendo una Realmente un buen momento en uno de los lugares que había visto un millón de veces en una película.
---
Luego, llegó el momento de hacer cola para una foto con la estatua de Stallone, jajaja. Sí, tengo colas, ¡pero esa espera de veinte minutos valió la pena! Como no podía ser de otra manera, hay una enorme estatua del italian stallion...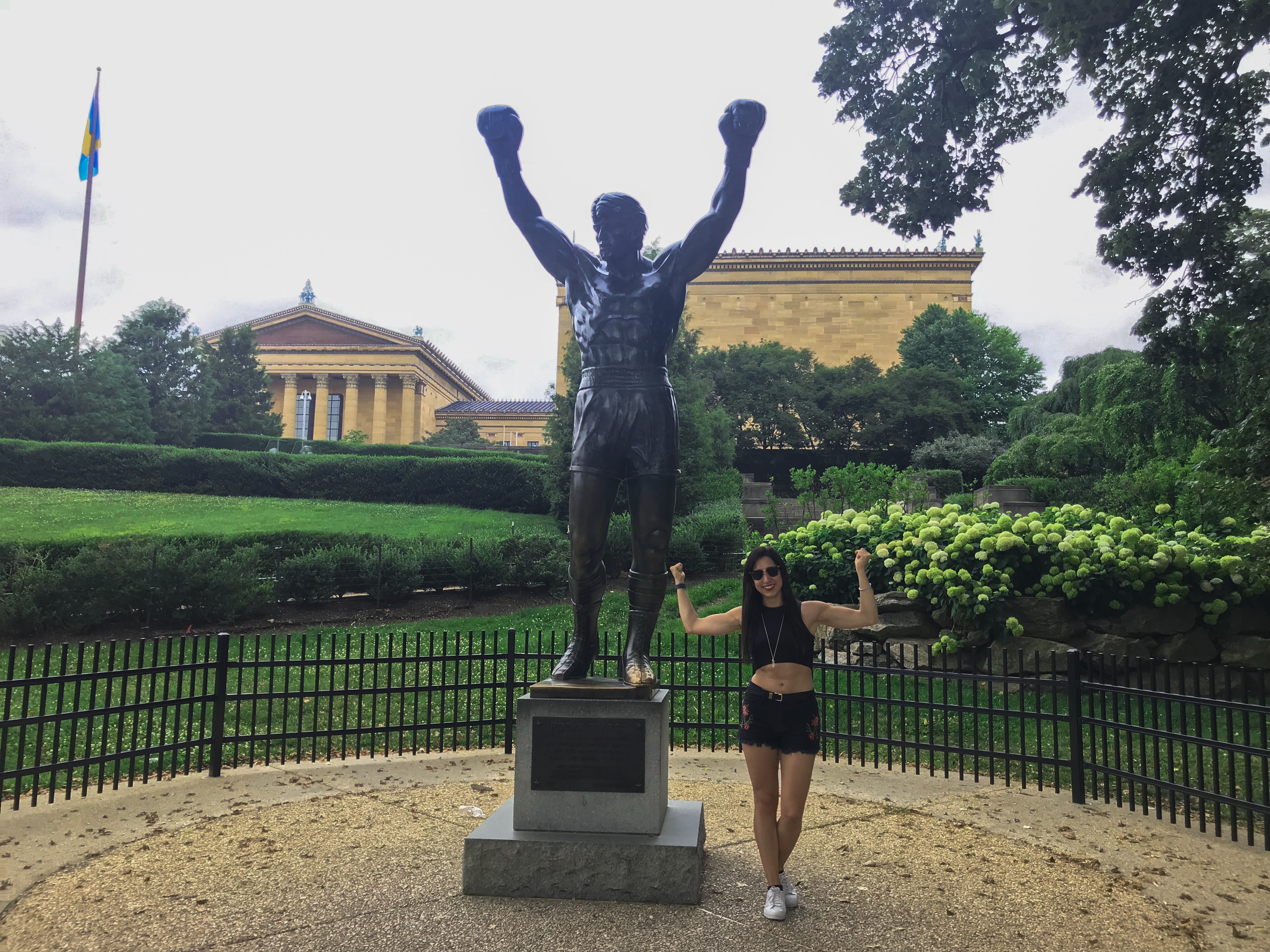 ---
Yo, Adriane! I did it!
Fuente
---

---
---