Aprendiendo de festividades colombianas: día de velitas con amigos [ESP - ENG]

Aprendiendo de festividades colombianas: dia de velitas con amigos
---
Hola, amigos de Hive!
Hoy quería compartir con ustedes un poco de mi día de ayer!
El martes, mientras hablaba con una amiga colombiana que vive aquí, en Madrid, me invitó a festejar con ella y otros amigos el día de velitas, algo que es típico y bastante importante de su país. En lo personal, jamás había escuchado de dicha celebración, pero no me pareció mal ir, probar platos típicos de Colombia y compartir con ellos.
---
---
Me ofrecí a llevar un postre argentino, para seguir en ambiente latinoamericano jaja. Había hablado con Cata, mi amiga, el martes por la noche y por la mañana debía ir a trabajar, por lo que no tuve oportunidad de prepararlo durante el día o, siquiera, poder comprar las cosas necesarias. Considerando que necesitaba unas galletitas típicas de Argentina y dulce de leche, debía buscar un mercadito latino... conseguí uno a pocos metros de mi piso, por lo que pensé en pasar luego de la oficina, preparar rápido el postre y ya, marcharme.
Llegué al lugar de la tienda, para encontrarme que estaba cerrada. Un cambio de planes de último minuto y productos no tan sencillos de conseguir no son una buena combinación, para ser honesta. Busqué otra tienda cercana y fallé, nada que estuviera a menos de media hora en metro, sólo me quedó recurrir a una de esas aplicaciones en las que es posible comprar y que uno las reciba en su domicilio. Yo ya iba tarde a la juntada, por lo que sabía que mínimo pasarían otros 40 minutos hasta que pudiera salir. Realicé el pedido y sólo pude esperar.
En mucho menos de lo que esperaba, llegó y me tardó unos cronometrados doce minutos en hacer el postre. Nada muy complejo, el café ya listo para remojar las galletas, preparar la mezcla de queso y dulce de leche, formar capas y decorar con chocolate. Sencillo y sumamente efectivo, de eso no había duda alguna.
Para haberlo realizado con máxima rapidez, no ha quedado nada mal:
---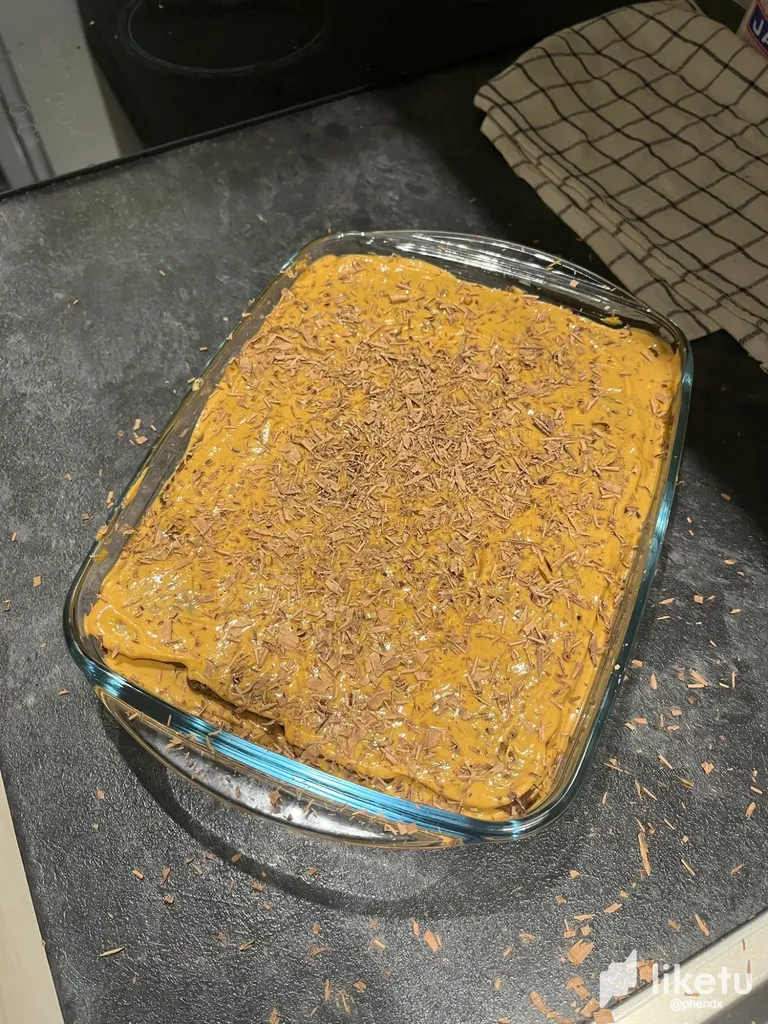 ---
Ya estaba lista para marcharme, ya que me había preparado en el tiempo en el que esperaba el pedido. Tomé mi abrigo, mis llaves, olvidé apagar las luces y me marché.
Cata y otra amiga de ella ya se encontraban preparando lo que cenaríamos: natillas y buñuelos. Por lo que me comentaron, son platos típicos de Colombia en estas fechas navideñas, y que, obviamente, yo jamás había probado. Estuvieron un largo rato friendo y friendo, hasta que llegaron el resto de invitados. Todos eran amigos de ella, en su mayor parte, ya los conocía a todos. De un momento a otro, noté que casi todos eramos latinos: cuatro chicas de Colombia, dos de Perú y yo de Argentina. Sólo había dos chicas de España, luego de eso, me di cuenta que, a pesar de haberme mudado a un país europeo, todas mis juntas eran de Sudamérica! Jajaja.
---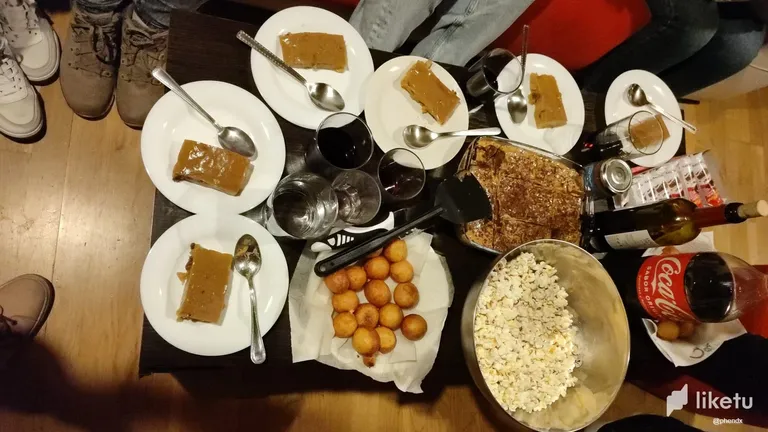 ---
Comimos y charlamos por un largo rato y luego fue hora de encender las velas. Por lo que me comentaron, se encienden doce velas, una por cada mes del año, y se pide un deseo y se agradece. Por falta de velas, tuvimos que reducir el número a dos para cada uno, en donde utilizamos una para cada propósito. Comentamos en voz alta lo que agradecíamos de este 2022 y lo que esperábamos para 2023. Siempre compartir la gratitud y lo bueno que nos ha ocurrido es un momento muy lindo con otros, es una vulnerabilidad que me parece increíble de compartir. Y especialmente considerando que este año yo lo he considerado como muy importante para mi crecimiento y desarrollo profesional, fue complejo reducir las cosas buenas a unas pocas frases.
---
---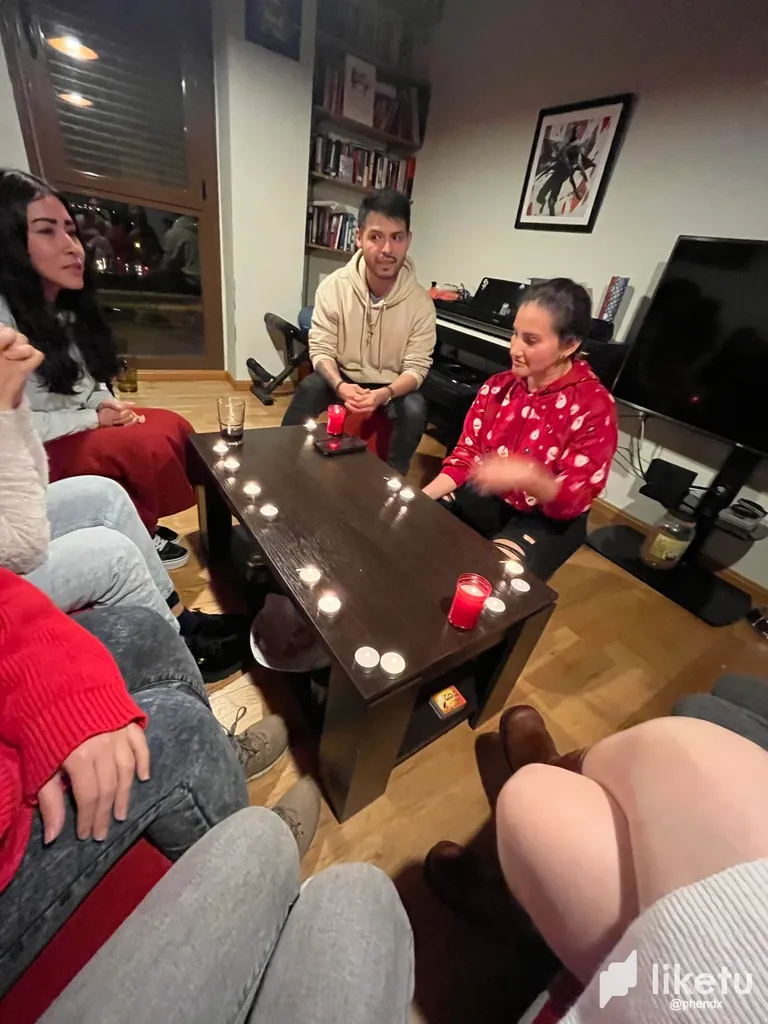 ---
Seguimos hablando y hablando un rato más. Probé el arequipe colombiano, algo que me aseguraban que no era dulce de leche y que, extrañamente, era muy similar en sabor. Compartimos cosas típicas del país de cada uno, como por ejemplo la jerga y palabras que quizás son diferentes entre nosotros, por más que hablemos en un mismo idioma y todo fue un momento super grato. Son personas muy sencillas y de buena energía, algo que siempre es muy lindo de tener cerca.
Hablamos y hablamos por ratos más, jugamos juegos de mesa y ya fue hora de partir.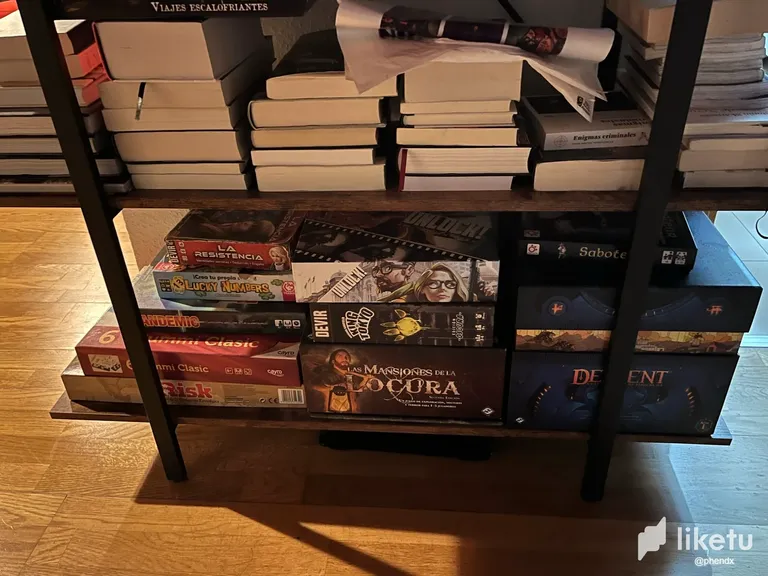 [ENG]
Learning about colombian festivities: candle day with friends
---
Hello Hive friends!
Today I wanted to share with you a bit of my day yesterday!
On Tuesday, while I was talking with a Colombian friend who lives here, in Madrid, she invited me to celebrate with her and other friends the day of little candles, something that is typical and quite important in her country. Personally, I had never heard of such a celebration, but it didn't seem bad to me to go, try typical Colombian dishes and share with them.
---
---
I offered to bring an Argentine dessert, to continue in the Latin American atmosphere haha. I had spoken with Cata, my friend, on Tuesday night and I had to go to work in the morning, so I didn't have a chance to prepare it during the day or even be able to buy the necessary things. Considering that I needed some typical Argentinian cookies and dulce de leche, I had to look for a little Latino market... I got one a few meters from my apartment, so I thought I'd stop by after the office, quickly prepare dessert and go.
I arrived at the place of the store, to find that it was closed. A last-minute change of plans and not-so-easy-to-find products are not a good combination, to be honest. I looked for another nearby store and I failed, nothing that was less than half an hour away by metro, I only had to resort to one of those applications in which it is possible to buy and receive them at home. I was already late for the meeting, so I knew that at least another 40 minutes would pass before I could leave. I placed the order and could only wait.
In much less than I expected, it arrived and it took me a clocked twelve minutes to make the dessert. Nothing very complex, the coffee is ready to soak the cookies, prepare the mixture of cheese and dulce de leche, form layers and decorate with chocolate. Simple and extremely effective, there was no doubt about that.
To have done it as quickly as possible, nothing was wrong:
---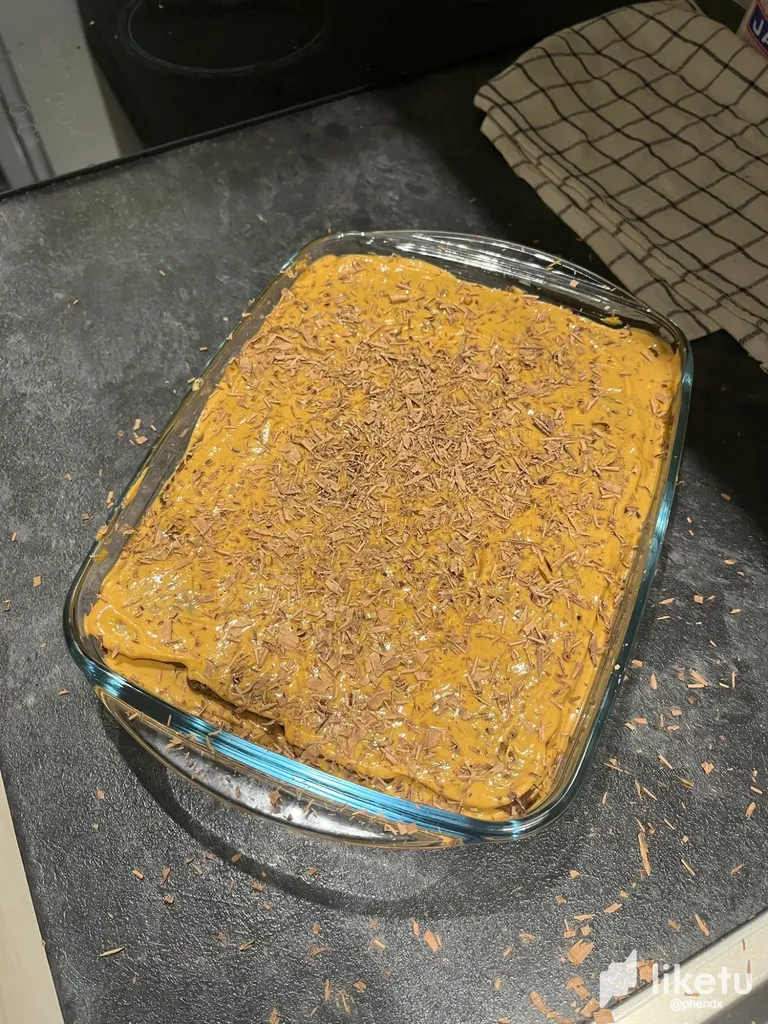 ---
I was ready to go as I had prepared myself at the time I was expecting the order. I took my coat, my keys, forgot to turn off the lights and left.
Cata and another friend of hers were already preparing what we would have for dinner: custard and fritters. From what they told me, they are typical Colombian dishes on these Christmas dates, and that, obviously, I had never tried. They were frying and frying for a long time, until the rest of the guests arrived. They were all friends of hers, for the most part, she already knew them all. From one moment to the next, I noticed that almost all of us were Latino: four girls from Colombia, two from Peru, and me from Argentina. There were only two girls from Spain, after that, I realized that, despite having moved to a European country, all my meetings were from South America! LOL.
---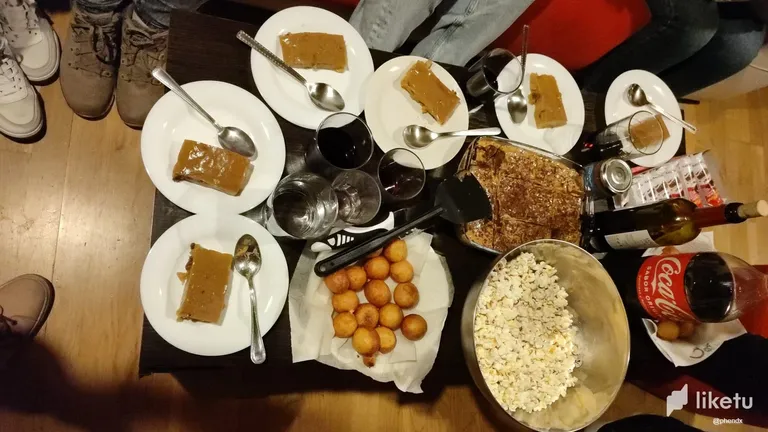 ---
We ate and talked for a long time and then it was time to light the candles. From what they told me, twelve candles are lit, one for each month of the year, and a wish is made and thanked. Due to lack of candles, we had to reduce the number to two each, where we used one for each purpose. We commented out loud what we were grateful for in 2022 and what we expected for 2023. Always sharing gratitude and the good that has happened to us is a very beautiful moment with others, it is a vulnerability that I find incredible to share. And especially considering that this year I have considered it very important for my growth and professional development, it was difficult to reduce the good things to a few sentences.
---
---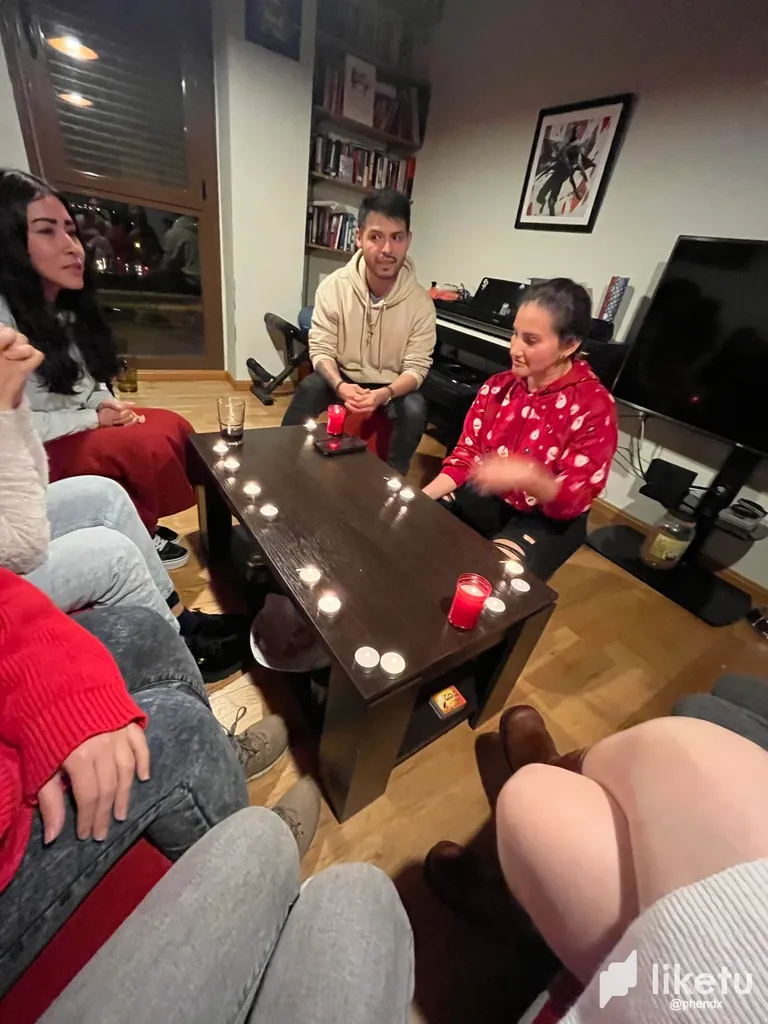 ---
We kept talking and talking for a while longer. I tried the Colombian arequipe, which I was assured was not dulce de leche and was strangely very similar in taste. We shared typical things from each other's country, such as slang and words that may be different between us, even though we speak the same language and it was all a super pleasant moment. They are very simple people with good energy, something that is always very nice to have around.
We talked and talked for a while longer, we played board games and it was time to go.

---
---