Black and turquoise, contrasts in Tenerife [ENG - ESP]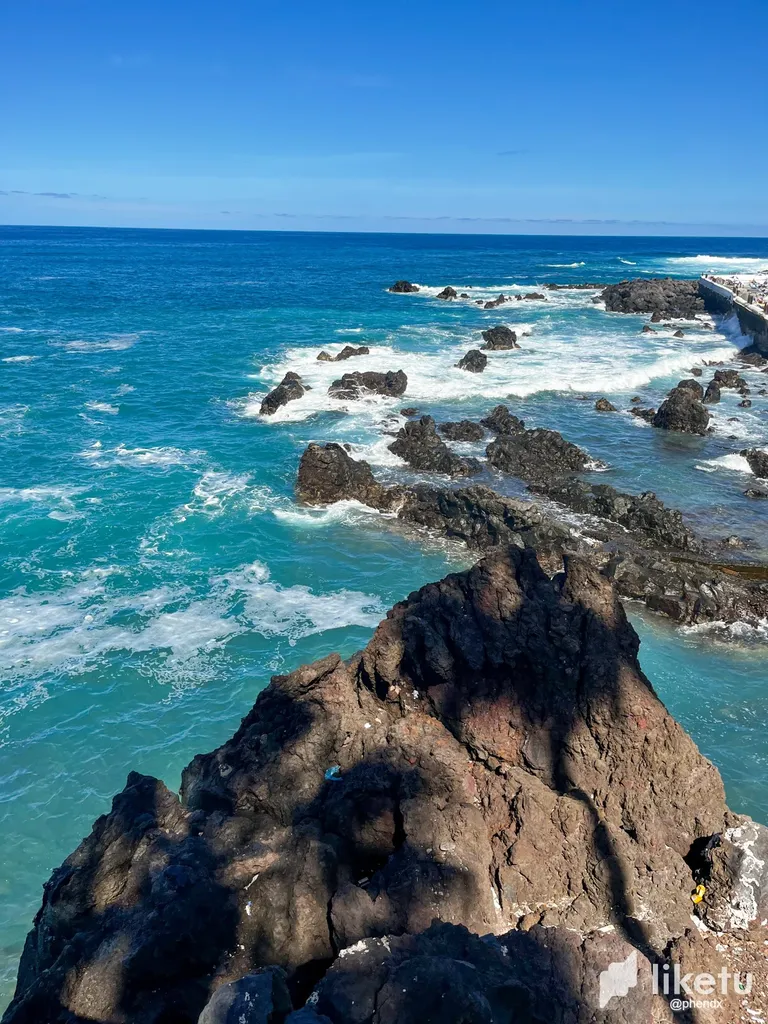 Black and turquoise, contrasts in Tenerife
---
So… my six-month trip had come to an end. The last leg of it, I decided to spend it in a very quiet destination, which was quite the opposite of what I had been doing for the past five months. After hopping from one city to another in ten different countries, my time to rest and prepare for a brand new experience had come.

After walking the Camino de Santiago, that you can see a kind of "review" that I did not long ago, the decision had been made: I would move to Madrid, Spain, and start a new life from scratch. Yup, there was no going back and all I could do was start getting ready for what was coming ahead.
I thought of a quiet place with warm weather, and of course, Canary Islands came to my mind. As I had already visited Gran Canaria, I was more than excited to visit Tenerife and know what all the fuzz was about.
And, for sure, it did not let me down.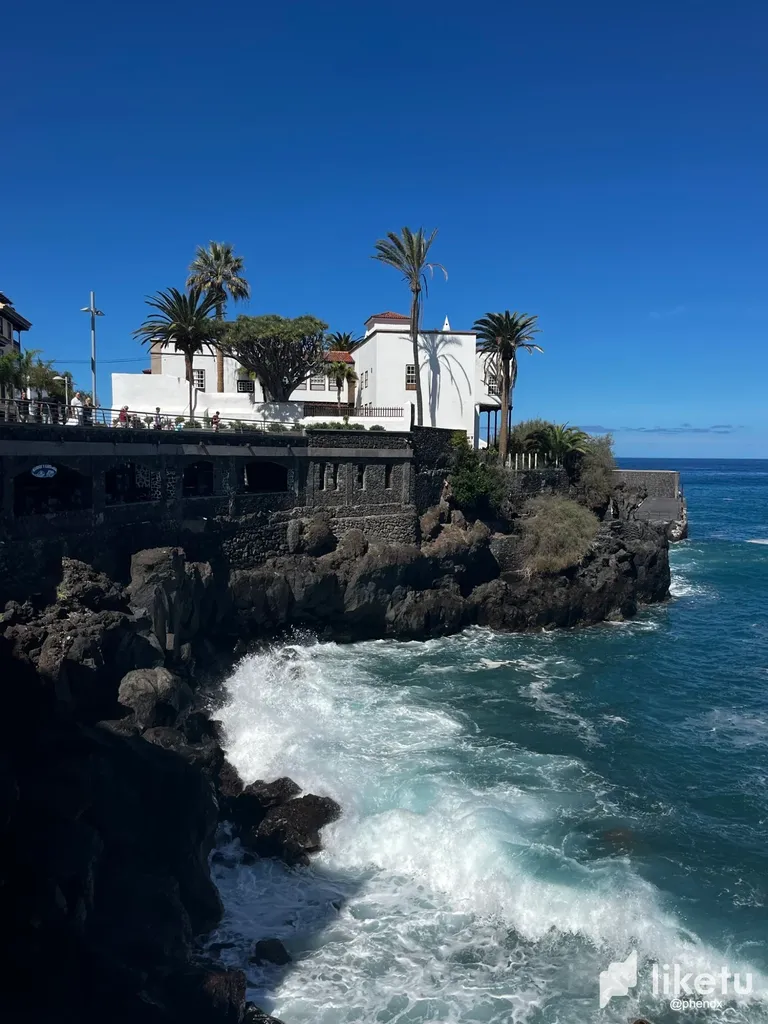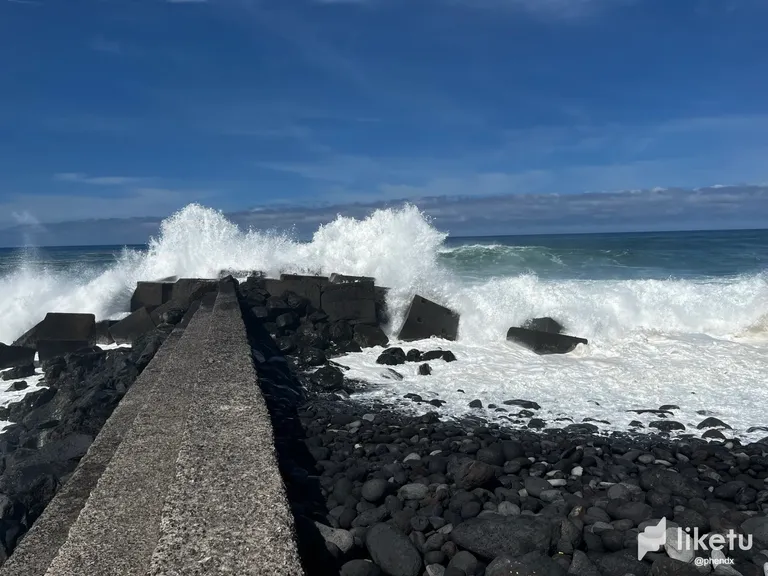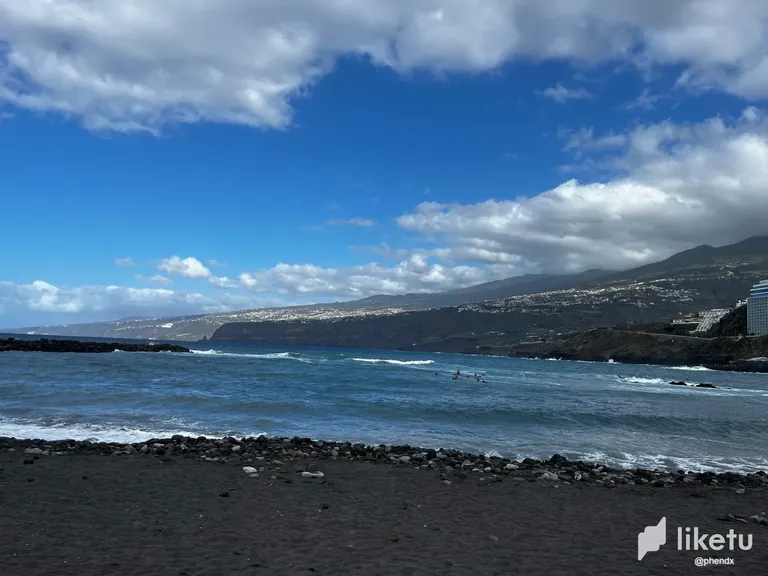 Tenerife is all about the bright blue of the Atlantic and the blackest rocks and sand that you will ever see. This particular scenario has been created mostly due to the eruptions of Teide volcano, which is without a shadow of a doubt one of the most important things the island has to offer.
The shore is all surrounded by huge black rocks, that you will most likely to see the ocean splashing against them. It's quite a relaxing and beautiful show to see, as the water's not always really calm in there. Specially when a storm is coming or there's a lot of wind, I can assure you that it's completelly worth it to stay there just enjoying the sounds and dance of the nature in its purest form.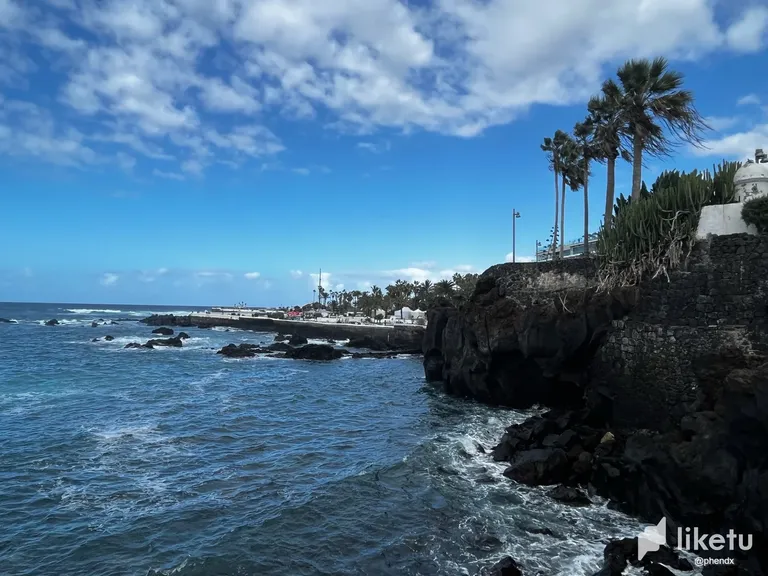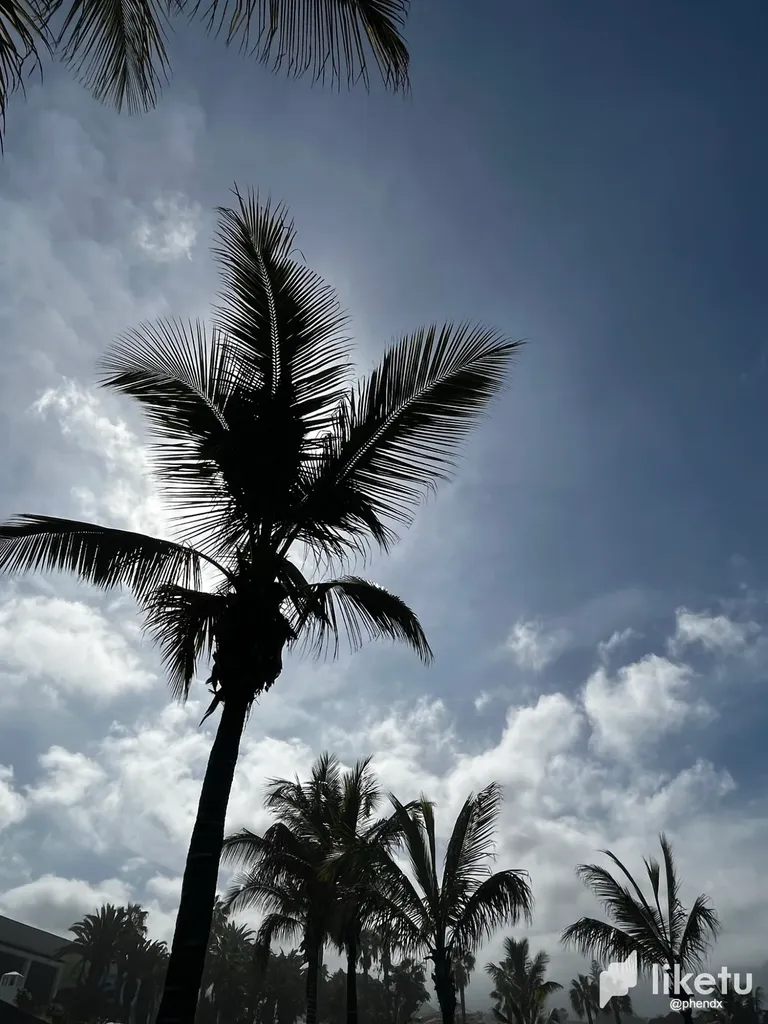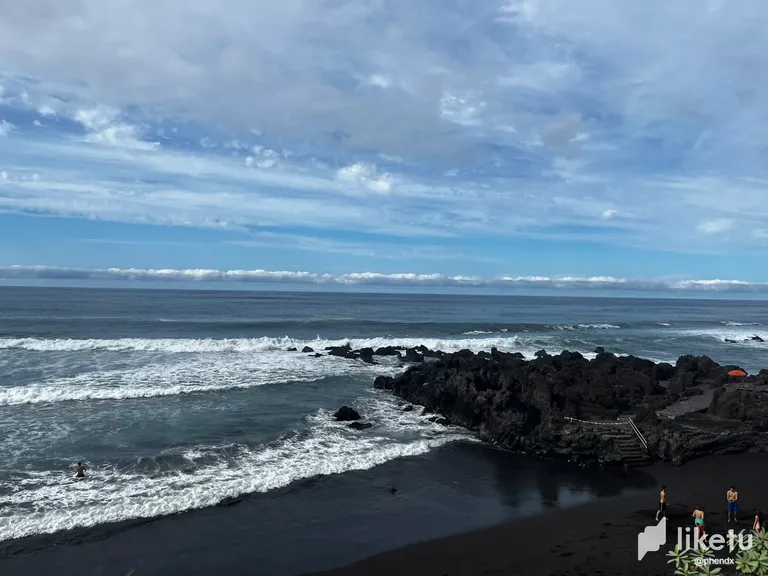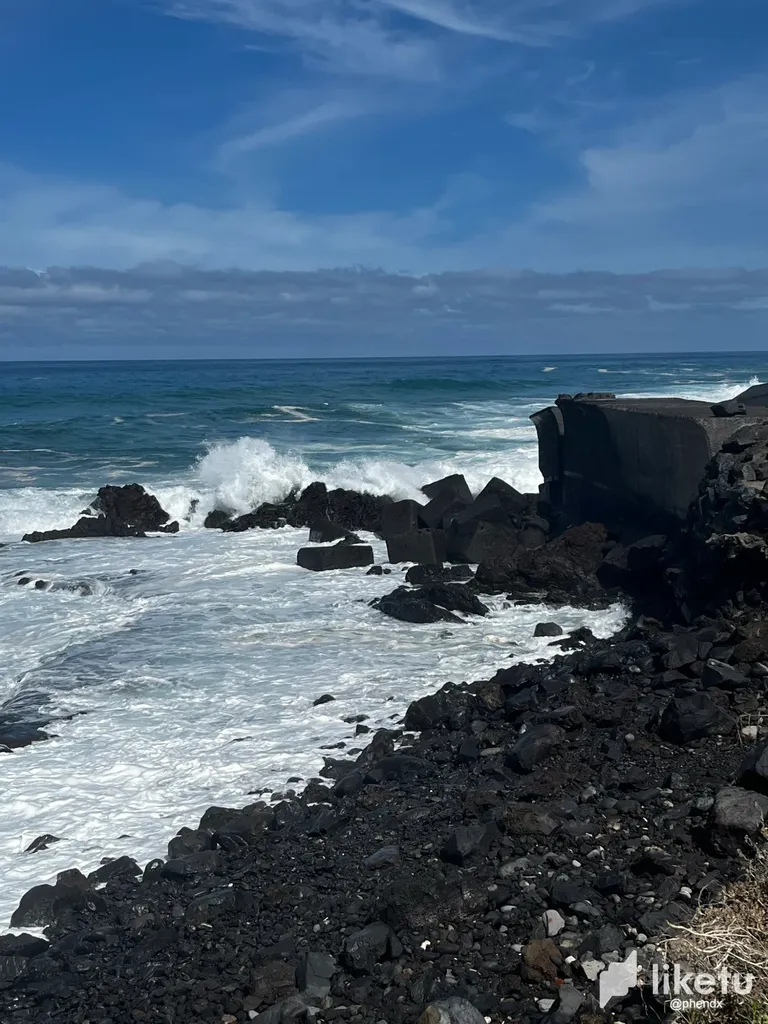 The beach is unlike others, while others are known for its thin or golden sand, in Tenerife it's quite the opposite: black beaches everywhere. Some people don't like them, I myself find them gorgeous. Even more than "regular" sand. Why is that? You get to appreciate the blueish shade of the ocean, the colour of the water really stands out and it makes it wonderful to our sight.
Aside from that, when it's cloudy or stormy, you get views like this: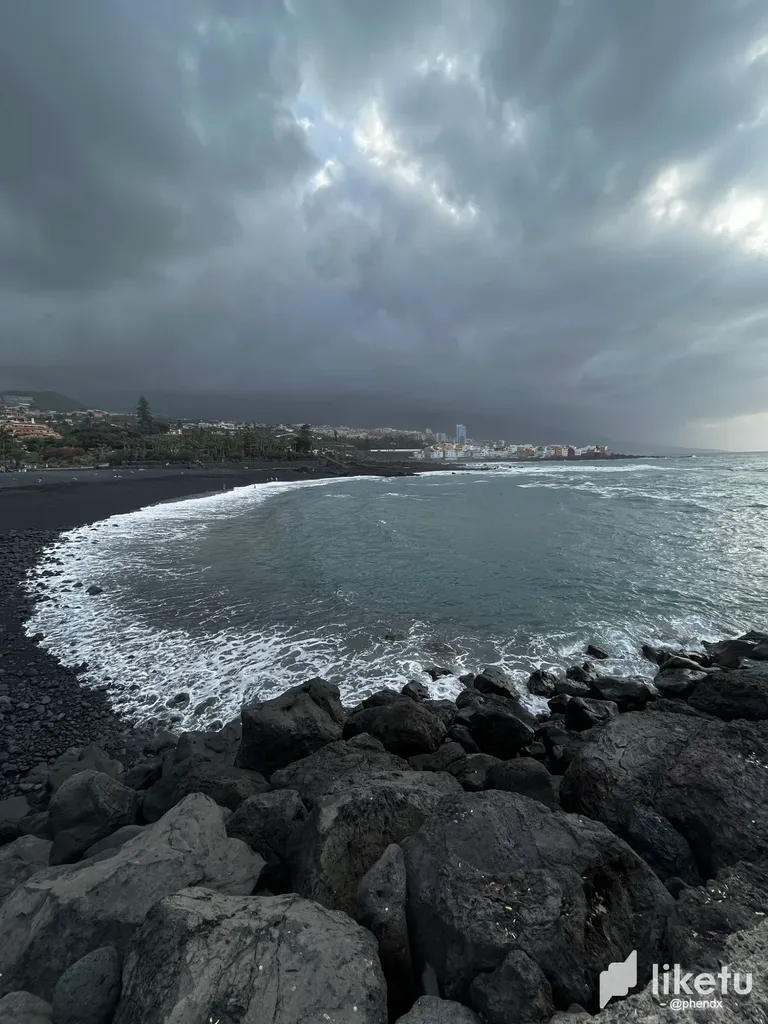 I promise that this picture has no filter or any other touchups, it was a very, very grey day. I had never seen one like this, not even in England. Black sand, grey sky, deep grey in the water, black rocks… a truly wonderful sightseeing.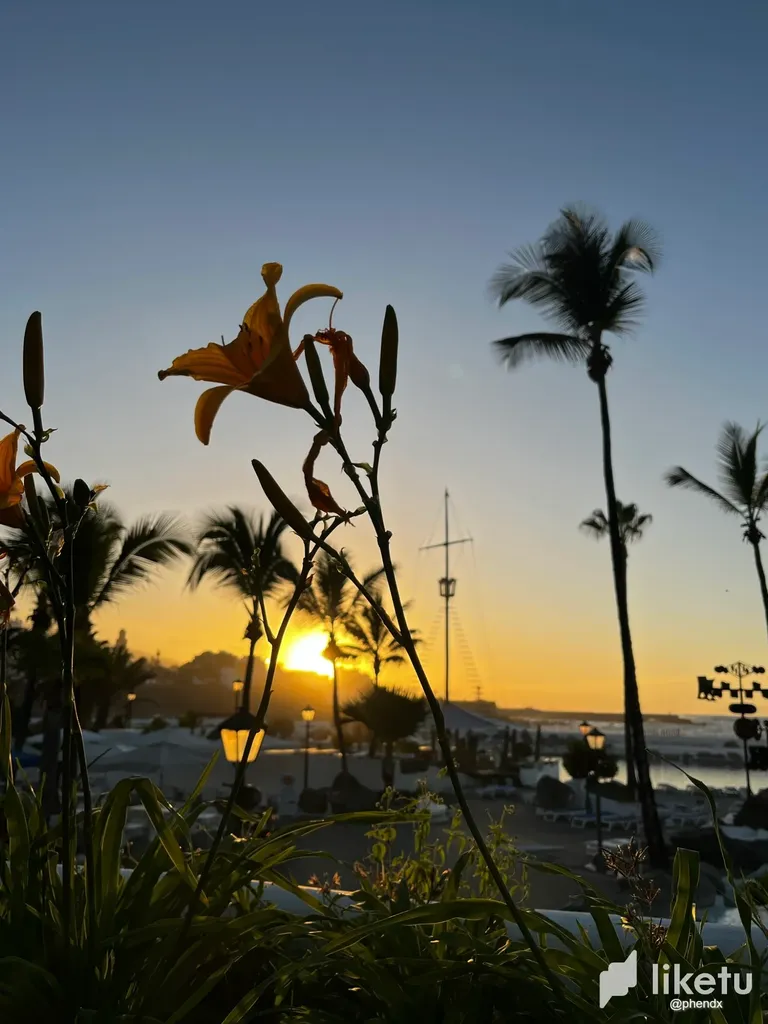 Hope you enjoyed getting to read a bit more about this island that is "kinda" lost in the middle of nowhere, lol. Just kidding!
Thank you so much for reading!
PS: Of course, all this pictures were taken by me in Puerto de la Cruz, Tenerife. October 2022.

[ESP]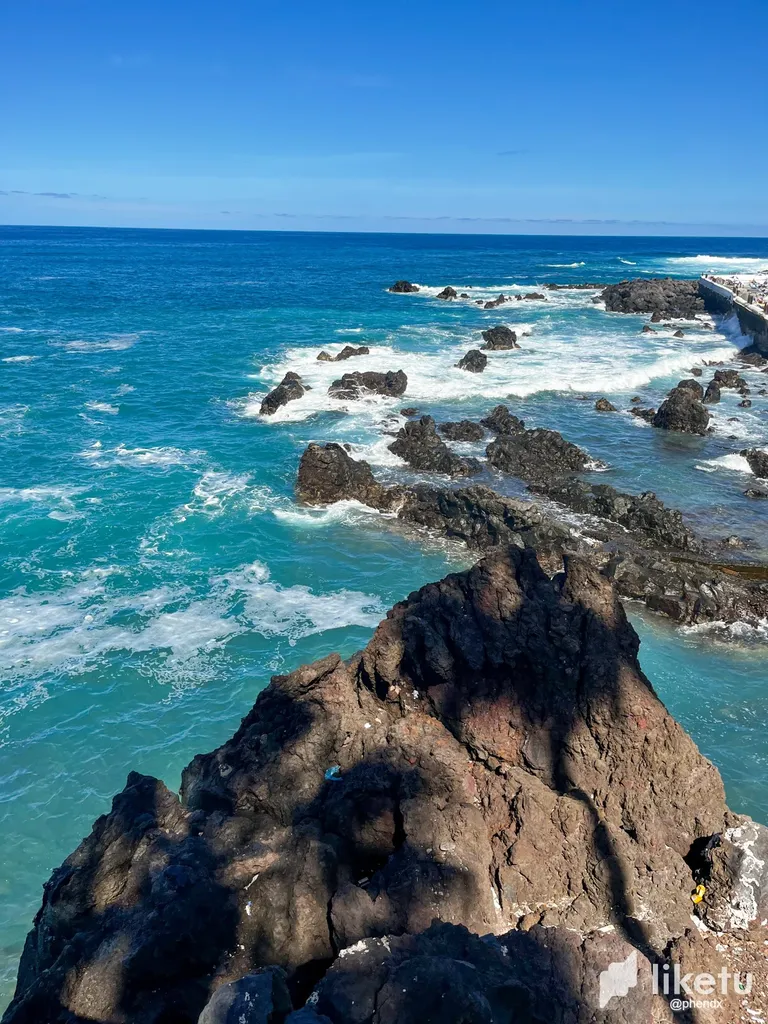 Negro y turquesa, contrastes en Tenerife
---
Entonces… mi viaje de seis meses había llegado a su fin. El último tramo, decidí pasarlo en un destino muy tranquilo, que era todo lo contrario a lo que había estado haciendo durante los últimos cinco meses. Después de saltar de una ciudad a otra en diez países diferentes, había llegado mi momento de descansar y prepararme para una nueva experiencia.
Después de hacer el Camino de Santiago, que podéis ver una especie de "repaso" que hice no hace mucho, la decisión estaba tomada: me mudaría a Madrid, España, y empezaría una nueva vida desde cero. Sí, no había vuelta atrás y todo lo que podía hacer era empezar a prepararme para lo que venía.
Pensé en un lugar tranquilo con clima cálido, y por supuesto, las Islas Canarias me vinieron a la mente. Como ya había visitado Gran Canaria, estaba más que emocionado de visitar Tenerife y saber de qué se trataba todo este alboroto.
Y, desde luego, no me defraudó.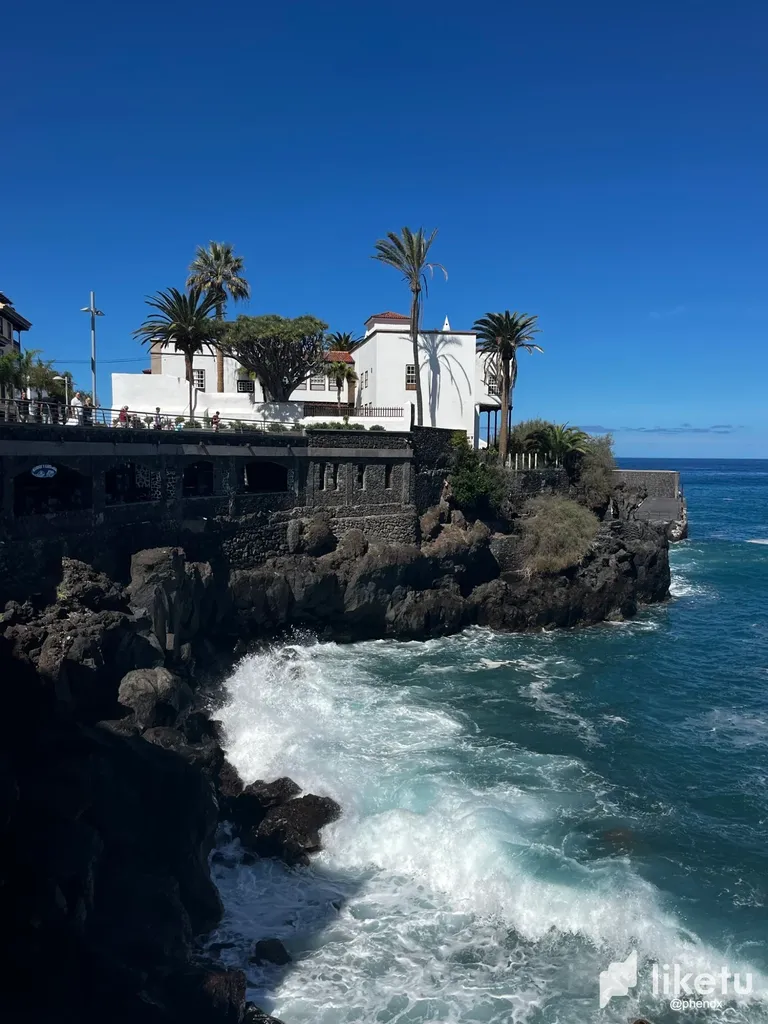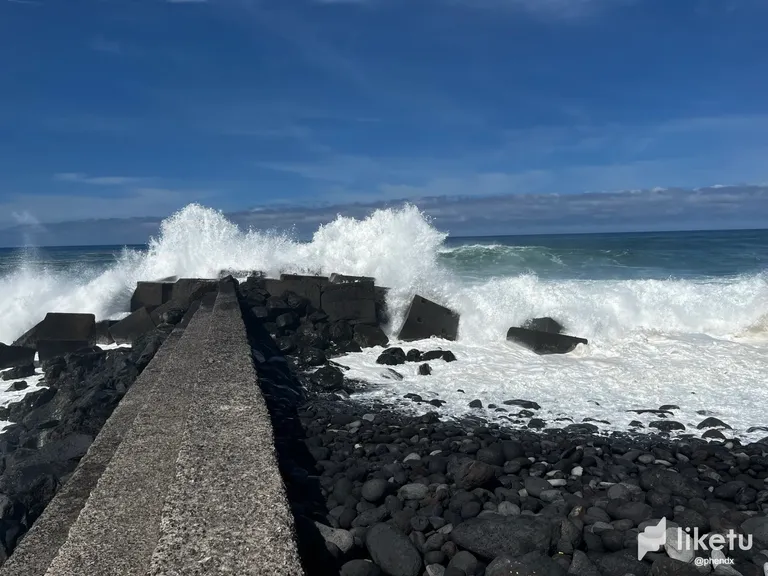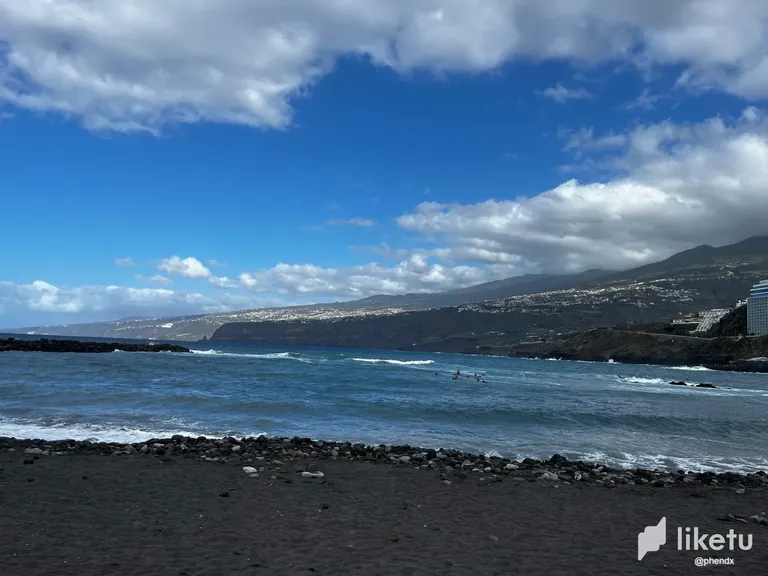 Tenerife tiene que ver con el azul brillante del Atlántico y las rocas y arena más negras que jamás verás. Este escenario particular se ha creado principalmente debido a las erupciones del volcán Teide, que es sin duda una de las cosas más importantes que la isla tiene para ofrecer.
La costa está rodeada de enormes rocas negras, que probablemente verás el océano chapoteando contra ellas. Es un espectáculo bastante relajante y hermoso de ver, ya que el agua no siempre está realmente tranquila allí. Especialmente cuando se avecina una tormenta o hay mucho viento, les puedo asegurar que vale la pena quedarse allí disfrutando de los sonidos y el baile de la naturaleza en estado puro.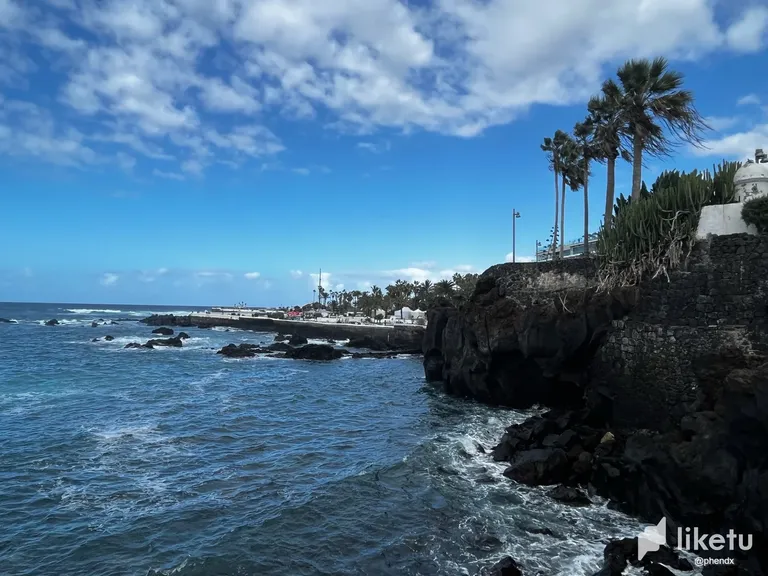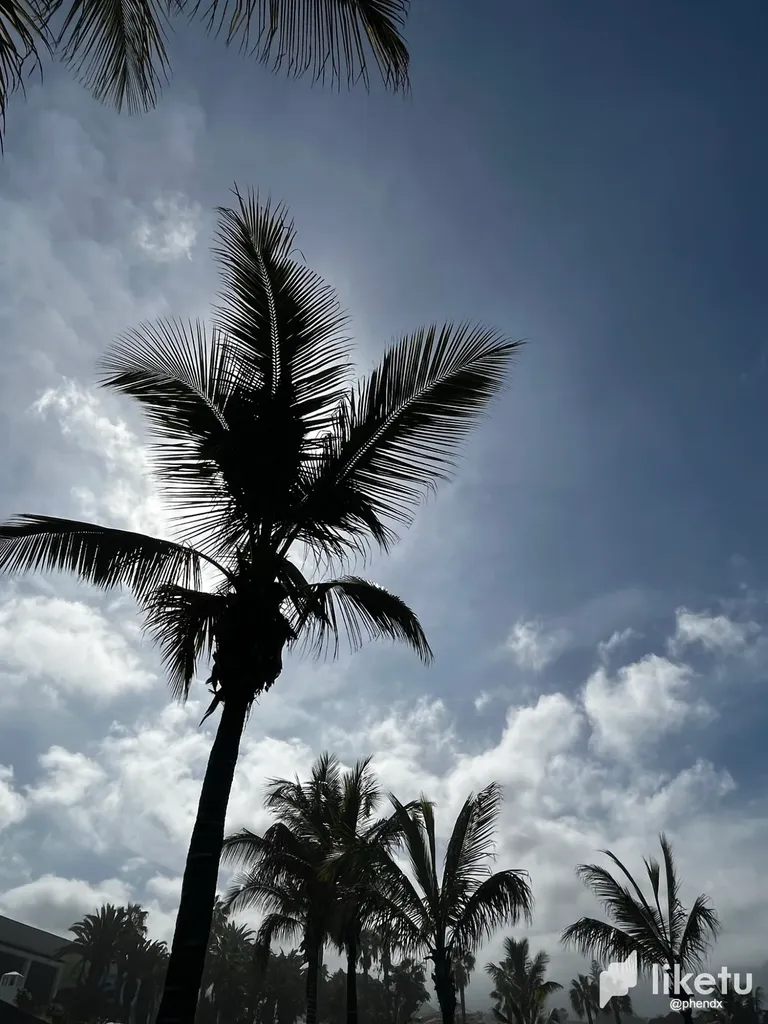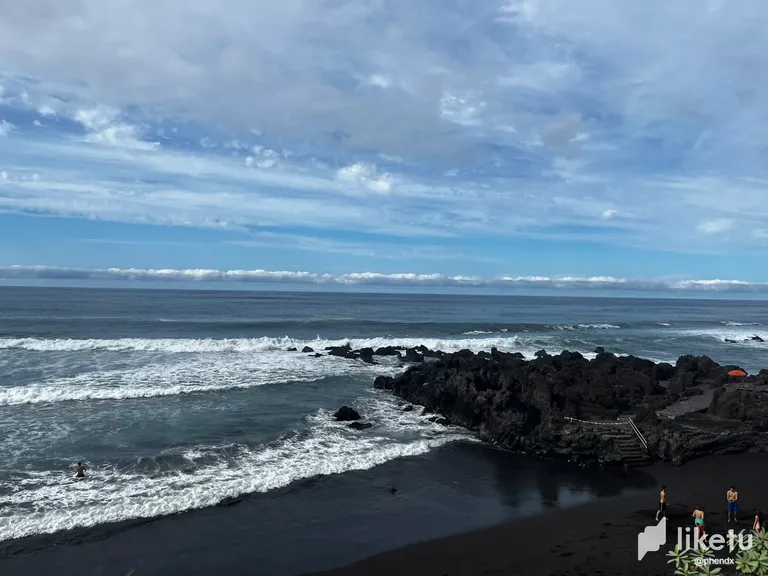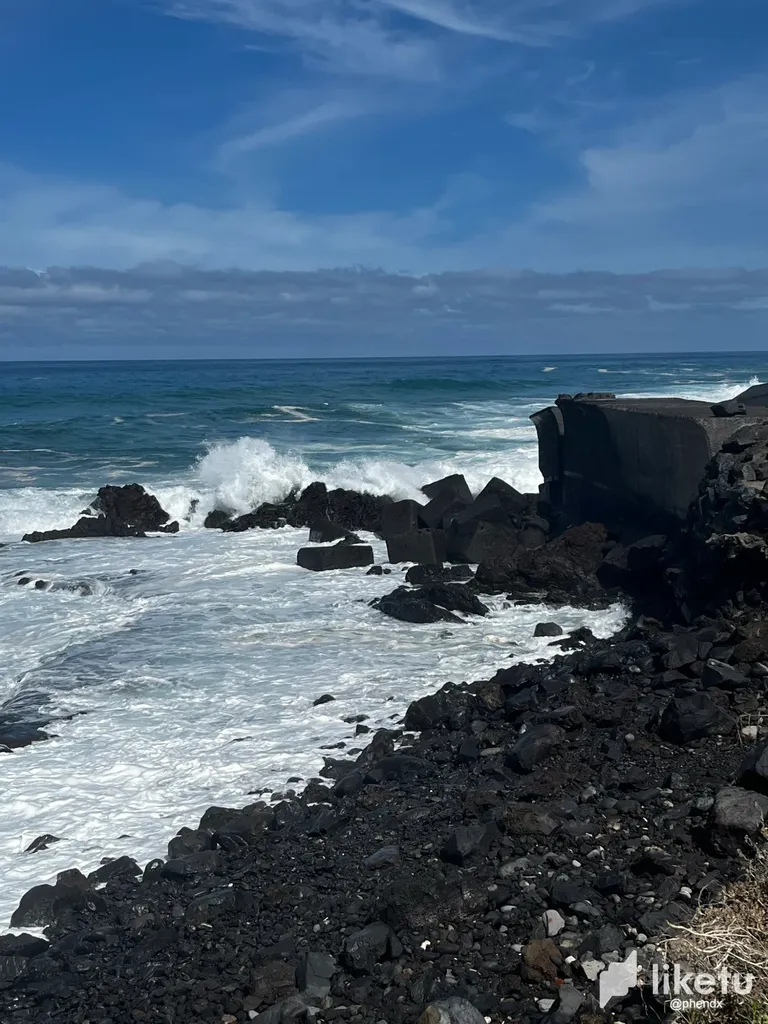 La playa es diferente a otras, mientras que otras se caracterizan por su arena fina o dorada, en Tenerife es todo lo contrario: playas negras por todas partes. A algunas personas no les gustan, yo mismo los encuentro hermosos. Incluso más que la arena "normal". ¿Porqué es eso? Se llega a apreciar el tono azulado del océano, el color del agua realmente se destaca y lo hace maravilloso a nuestra vista.
Aparte de eso, cuando está nublado o tormentoso, obtienes vistas como esta: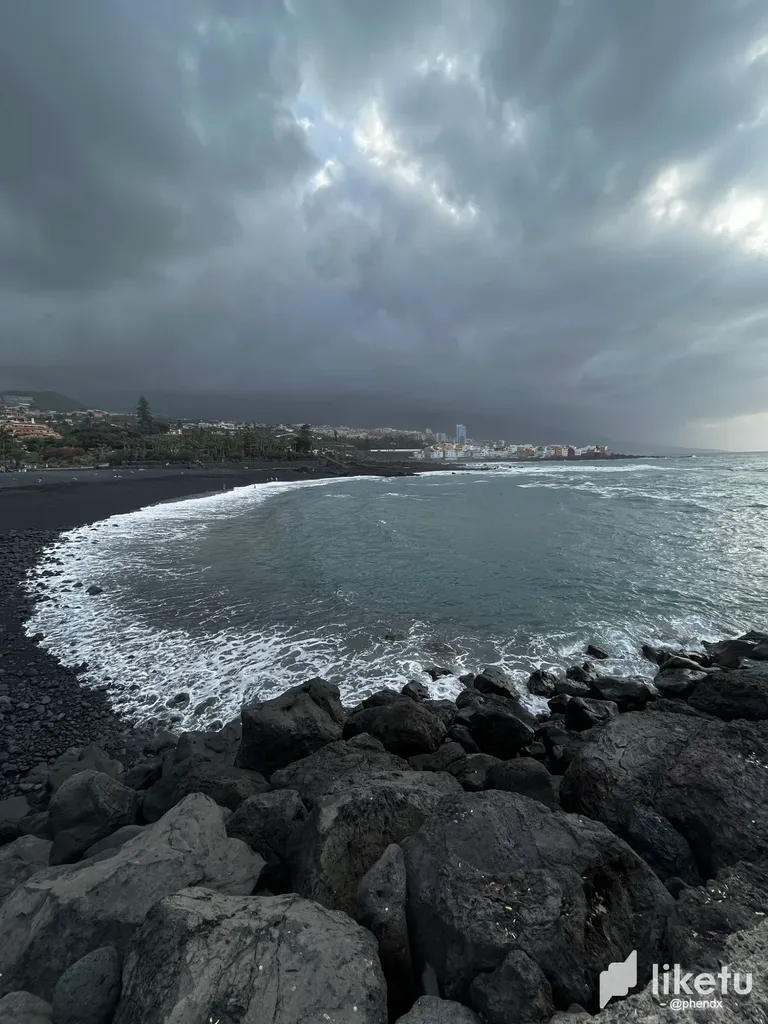 Les prometo que esta foto no tiene filtro ni ningún otro retoque, fue un día muy, muy gris. Nunca había visto uno así, ni siquiera en Inglaterra. Arena negra, cielo gris, gris profundo en el agua, rocas negras... un paisaje realmente maravilloso.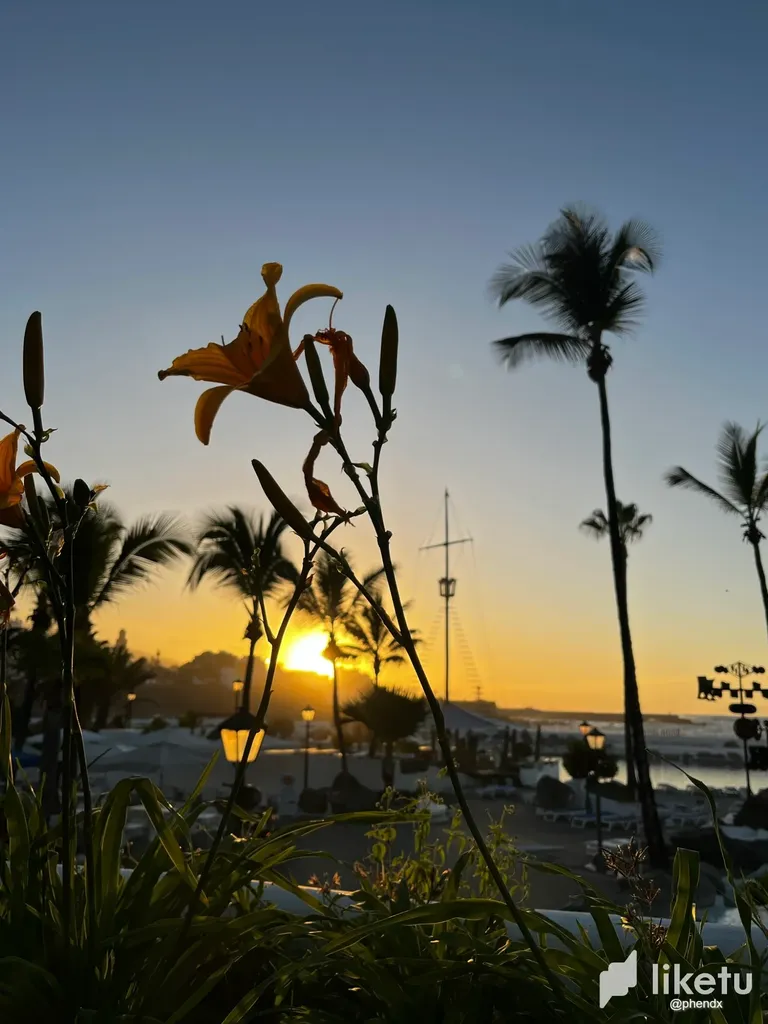 Espero que hayas disfrutado leyendo un poco más sobre esta isla que está "un poco" perdida en medio de la nada, jajaja. ¡Es una broma!
Muchas Gracias Por Leer!
PD: Por supuesto, todas estas fotos fueron tomadas por mí en Puerto de la Cruz, Tenerife. octubre de 2022.

---
For the best experience view this post on Liketu
---
---