Saute diced beef- a very nutritious dish
Good evening everyone. Every time I post a new post after only a few days of joining Hive, I get support from people all over the world. It's like a motivation for me to continue writing interesting stories that happen in my daily life. It is no coincidence that I write these things down. Everything has a reason for it and always leaves impressive memories for me, and I want to share them with all of you.
This morning I went to the market very early to buy the freshest ingredients. This is because I heard bad news from my aunt that her youngest son is currently in the hospital with unexplained headaches, and he was advised to be hospitalized for the doctors to monitor and give the most accurate diagnosis. I'm really worried about him. But right now the whole city where I live is still fighting the Covid pandemic as you know. I couldn't ride to the hospital to check on his health because of the hospital's strict rules: each patient was only cared for by one family member and no one is allowed to visit. I have also been hospitalized with my viral fever and I fully understand the hardships that patients and their families go through while there. Especially when it comes to food. If the food there doesn't suit your taste then that's a bad thing. That's why I decided to cook 1 of his favourite dishes every time he comes over to my house and asks me to make it for him.
Saute diced beef
One thing that I'm so excited to cook for him is that not only is this dish his favourite, it's actually very nutritious for him right now. Help him regain his energy to recover health quickly. Follow me to see how nutritious this dish is.
Ingredients
200-gram beef
Bell pepper ( you can make the dish more attractive by buying one bell pepper of each color)
1 onion
1 potato
4 cloves of garlic
1/4 teaspoons salt
1/2 teaspoons sugar
1/2 teaspoons monosodium glutamate
2 teaspoons chilli sauce
2 teaspoons tomato sauce
1/2 teaspoons soy sauce
Oil
1/2 cups of water
1 pan
1 spatula
Tips to get good beef: with the naked eye you will see the beef is bright red, you can also touch the beef to be sure. If the beef is firm, has good elasticity, does not cause the feeling of sticky hands and especially does not smell unpleasant, then it is good beef. It is best to go early in the morning because the meat has just been slaughtered and is still very fresh.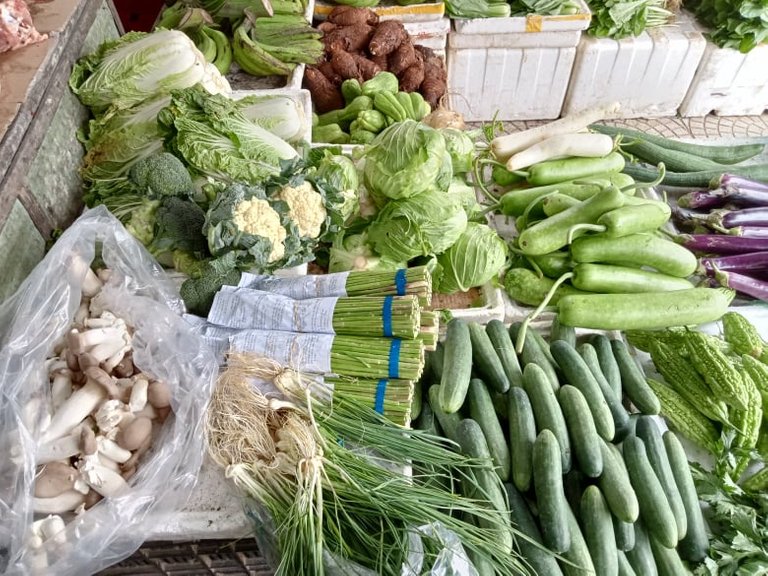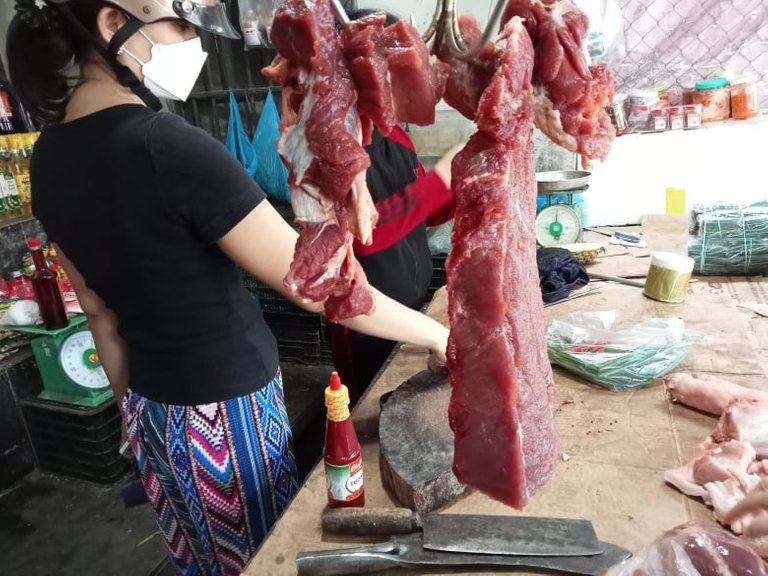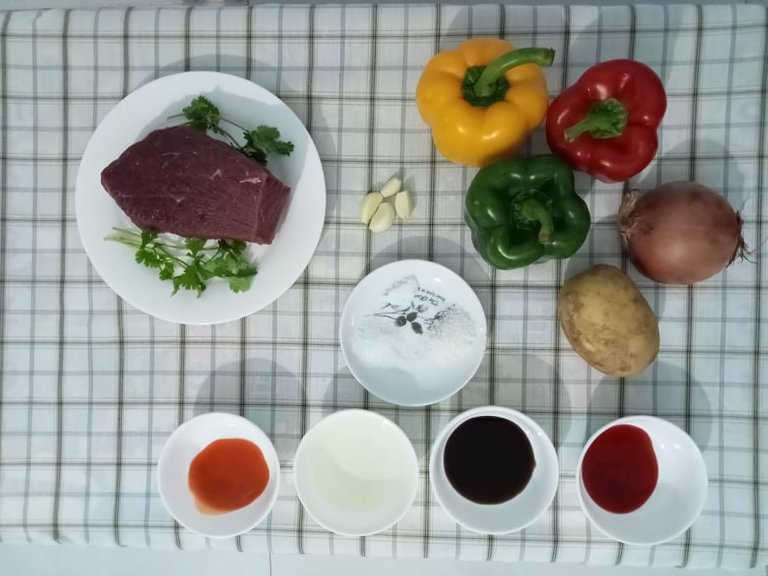 Food preparation
Wash beef, cut into 2cm squares
Wash bell peppers, cut into 3cm squares
Wash onion, cut into 3cm squares
Peeled potatoes, cut into 5cm lengths and then soaked in salt water, then rinsed and drained.
Crush garlic and mince.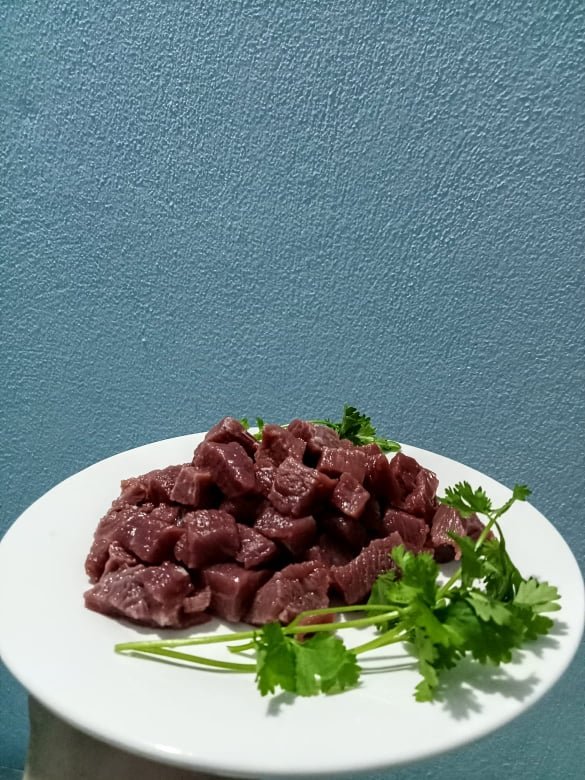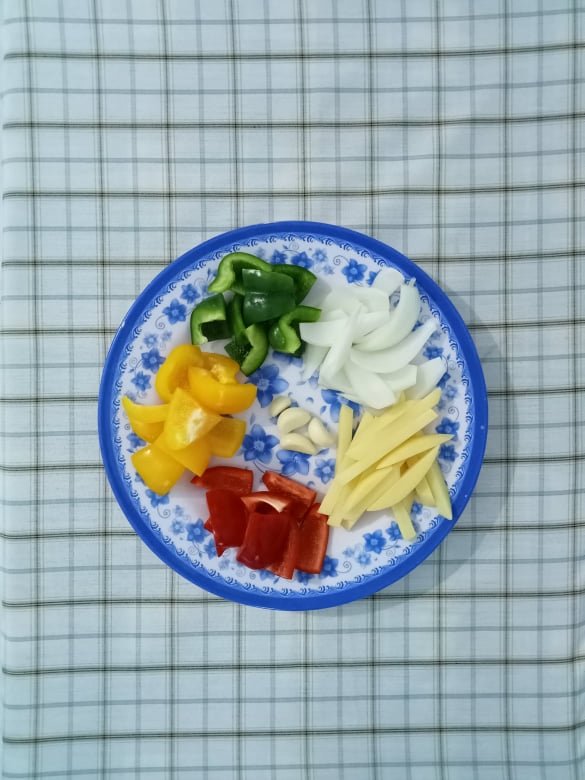 Cooking
Marinate beef with salt, sugar, monosodium glutamate, chilli sauce, tomato sauce, soy sauce.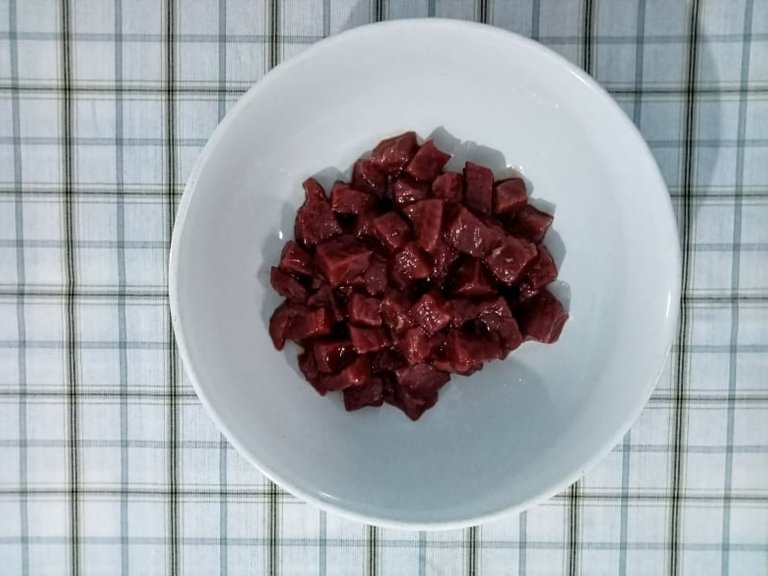 Put the pan on the stove and add the oil. Wait until the oil is hot, fry the potatoes, then turn down the heat until the potatoes are golden, then take them out and drain
Put another pan on the stove for 3 tablespoons of oil, wait until the oil is hot, then add the garlic. When the garlic turns brown, add the beef and stir continuously over high heat for about 30 seconds and then add 1/2 cups of water, then add the bell peppers and onions. keep stirring continuously on high heat for about 1 minute.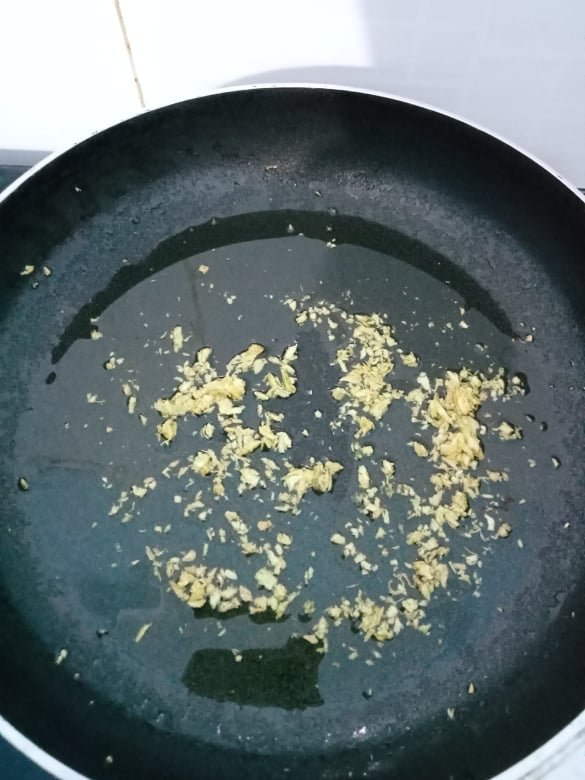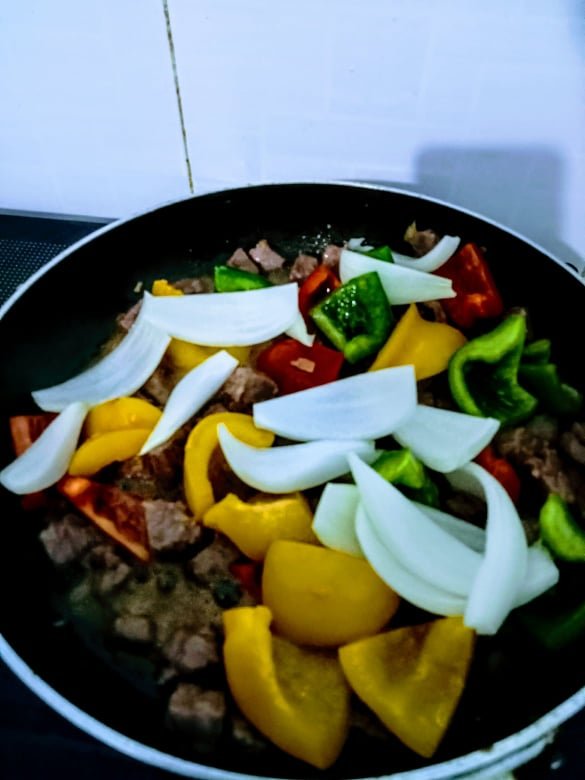 It was finished this morning and I wanted to save this beautiful image to share with you before giving it to him. I hope that you can make this dish well because the nutritional value that beef brings to our bodies cannot be overstated. Good luck.😊
---
---