CHICKEN FARM BUSINESS AND ITS PRODUCTION RISK.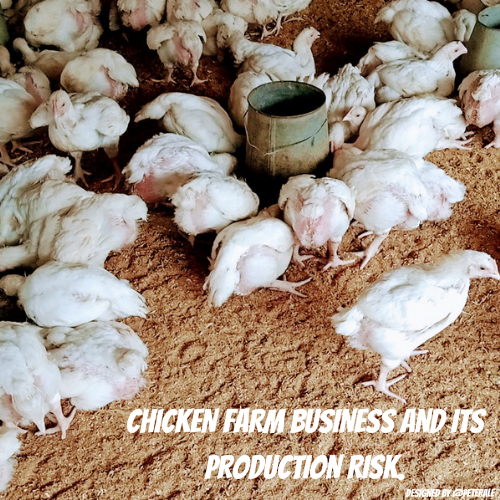 Before chicken birds reach their time of harvest ( from day old to maybe seven weeks) there are lot of obstacles they must have passed through. Risky things that must be avoided in other to allow these chicken birds arrive at a healthy and safe harvest. Aside the capital that stands for cost of production. There are some things in your production room that you as a farmer must always make sure you put in a rightful place. The production room is the pen itself where the chicken birds stay or are reared.
What's chicken production risk?
In simple term, production risk are unpalatable things that may curb your livestock from growing properly. If your chicken birds are on the verge of not growing properly, this maybe because of unhealthy operation that has happened in the pen. Meanwhile, note that production risks are many, we have varieties of them.
Chicken farm business and its production risk?
There are lot of things that can put your birds at risk while you are rearing them, like some unhealthy practices. For example.....
Allowing different set of people to get into your production room(pen). Some of these people might Carrier of diseases or pathogens underneath their foot which might put your chicken birds to many production risk.

Giving your chicken birds contaminated water, I mean water that are not clean which might endanger the life of these birds.

When your litter materials are not gotten from a trusted source. Lot of things can be used as litter materials anyways in the poultry farm such as Sawdust, Wood shave, Sand, Rice remains and many more. If these litter materials are contaminated with germs and unhealthy stuffs, it might put the birds in many production risk, for example they might start feeling sick, showing loss of weight, thin feet or even mortality which surely might negative effect on your profit outcome.

When the farm equipments are not well taking care of, it might leads to different diseases in the farm, diseases like merek, coccidioidomycosis, sneezing, intestinal infection and lot more. So make sure the farm equipments are cleaned from time to time most especially the chicken's drinkers.

When a farmer himself isn't hygienic himself or herself, surely the chicken birds are open to different kind of diseases which might tamper with the end profit.
---
You can click below to view some of my projects.
PART ONE OF THE BROODER PEN CONSTRUCTION:- CLICK HERE👉🏻SOURCE
PART TWO OF THE BROODER PEN CONSTRUCTION:- CLICK HERE👉🏻SOURCE
PART THREE OF THE PROJECT,THE BIRDS ARE NOW 2WEEKS PLUS:- CLICK HERE👉🏻SOURCE
Also thanks to @balte , @schlees and @satren for their upvote. I really appreciate.
---
Thanks for stopping by to view my blog. Please do have a wonderful day ahead.@peterale cares🤭
---
---