ALBION: Avalonian Dungeon with the guild and alliance | Estos días en Albion han sido GOOD [ENG - ESP]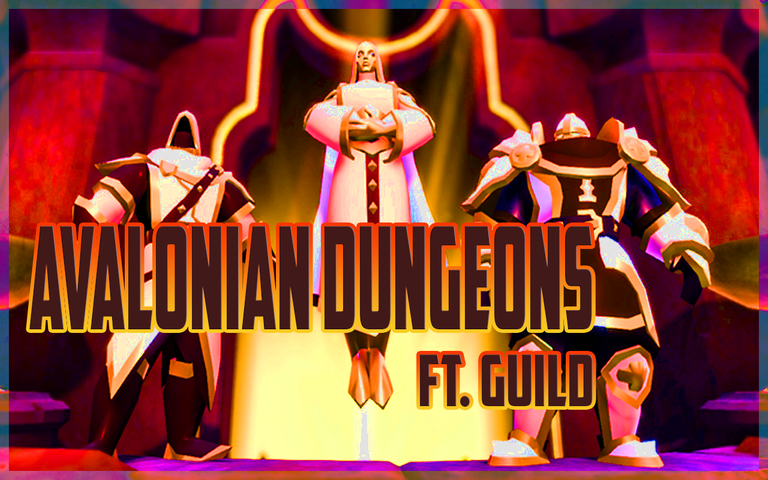 These days Albion has brought me a lot of good things, lots of fun, laughs over silly and funny things, new friends and some anger. Albion is an MMO that is quite competitive in many ways. The simple fact of losing everything you have on you when you are defeated in certain areas makes dying sometimes hurt quite a bit.
There are many other games where dying costs a game, maybe you don't get the rank you expected and that's it, games where losing in a PvP or being defeated by another player doesn't influence anything(excepting Runescape and Tibia), none have made me feel as many emotions as Albion, sometimes I'm afraid of dying, sometimes I feel like a hunter stalking his prey, sometimes I feel abandoned by those around me, this is Albion.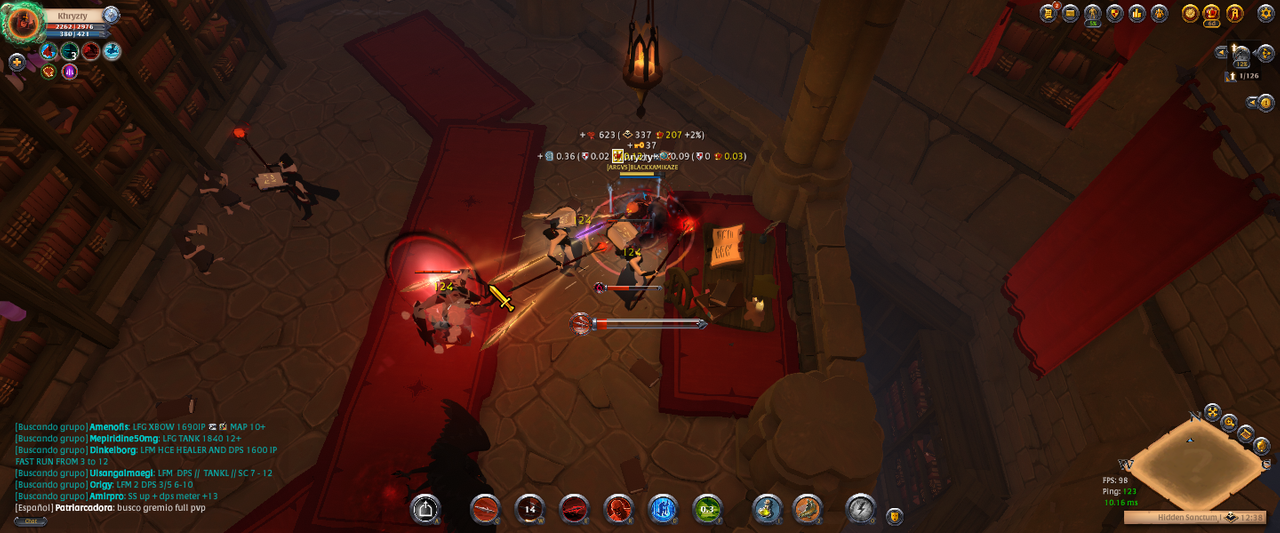 Many will think I have wasted too much time, believe me I have not. Enjoying a video game seems to be simple, but many times for certain reasons we do not manage to do it, either by some distractions, work, bad days, low spirits, among many other factors. I know that in the future I will not invest the time I dedicate now to the game, there are many things waiting outside, opportunities that maybe I do not take advantage of, many things to learn that go far away from video games, I am enjoying it a lot, but soon it will be my 25th birthday and my head just thinks: "I'm not rich yet". Anyway, I think I got a bit off from Albion.
A few days ago my guild decided to do an activity together with the main alliance, finally we are part of the main alliance! This activity was to do an Avalonian dungeon, this is a quite complicated dungeon to do, you can die with only two hits and you need to carry powerful equipment, plus the members of your party must be many. I recorded the whole course of the dungeon, although I didn't spend it as pleasantly as I expected(The obs had an error decoding the video, but most of it was recorded).
---
As I mentioned at the beginning, Albion is a game where you make quite a few friends, but it is also very easy to make enemies. In our dungeon there was an alliance guy with a pretty negative aptitude that in my opinion hurt our dungeon experience, many of the guild guys complained, but at least we got a fame bonus for a 7 days for defeating the last boss of the dungeon.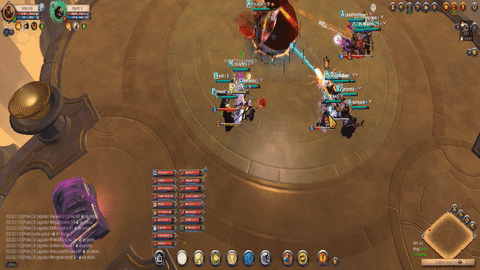 I played as a Healer, believe me being a Healer in this game is more complicated than it seems, much more when the people you have to heal are not good at dodging areas and don't follow the tank's orders. We died many times in the course of the dungeon, it was funny at first, but then dying so much consumed all our energy, I just wanted to get out of the dungeon and go do another activity.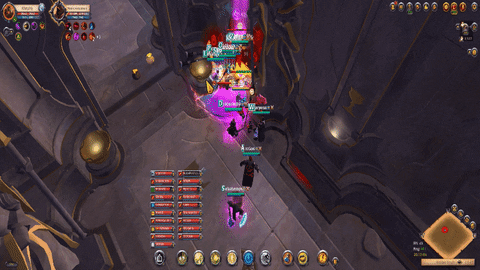 Little by little the guild is taking shape, we do a lot of things together and we are improving. Soon the new season is coming and we will have to get our act together, very interesting changes are coming, there will be many battles and goals to achieve as a guild, maybe we will reach the gold rank if we try, that's what I would like.
This has been my Albion update this week, I know I should update constantly, I won't make excuses, I'll just get on with it. If you liked my content, let me know, what do you think of Albion? I'll be bringing you a lot more content soon, I promise, see you in my next post! Cya, boomers!

Español

Estos días el Albion me ha traído muchas cosas buenas, desde mucha diversión, risas por cosas tontas y graciosas, nuevos amigos y algunos enfados. Albion es un MMO que es bastante competitivo de muchas maneras. El simple hecho de perder todo lo que llevas encima al ser derrotado en ciertas zonas hace que morir a veces duela bastante.
Hay muchos otros juegos en los que morir cuesta una partida, tal vez no consigas el rango que esperabas y ya está, juegos en los que perder en un PvP o ser derrotado por otro jugador no influye en nada(exceptuando Runescape y Tibia), ninguno me ha hecho sentir tantas emociones como el Albion, a veces tengo miedo de morir, algunas veces me siento como un cazador que acecha a su presa, otras veces me siento abandonado por los que me rodean, esto es Albion.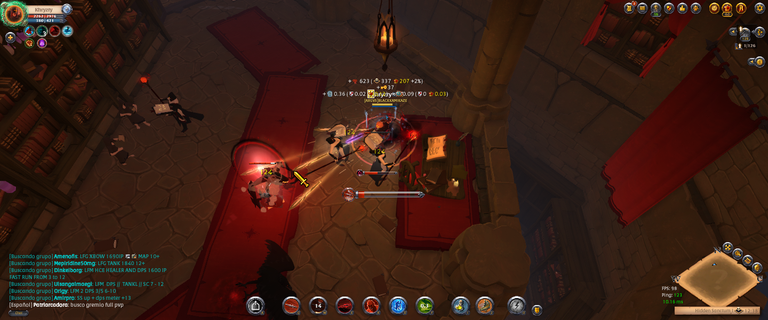 Muchos pensarán que he perdido demasiado tiempo, créanme que no. Disfrutar un videojuego parece ser sencillo, pero muchas veces por ciertos motivos no logramos hacerlo, ya sea por algunas distracciones, trabajo, malos días, ánimos bajos, entre otros muchos factores. Sé que en un futuro no invertiré el tiempo que le dedico ahora al juego, hay muchas cosas esperando afuera, oportunidades que tal vez no aprovecho, muchas cosas por aprender que van alejadas de los videojuegos, lo estoy disfrutando mucho, pero pronto será mi cumpleaños 25 y mi cabeza solo piensa : "Aún no soy rico". En fin, creo que me desvié un poco de Albion.
Hace unos días mi gremio decidió hacer una actividad junto la alianza principal, ¡por fin somos parte de la alianza principal! Dicha actividad fue hacer una mazmorra Avaloniana, esta es una mazmorra bastante complicada de hacer, puedes morir solo de dos golpes y necesitas llevar equipamiento poderoso, además de que los miembros de tu party deben de ser muchos. Grabé todo el transcurso de la mazmorra, aunque no la pasé tan a gusto como esperaba(El obs tuvo un error decodificando el vídeo, pero se grabó la mayoría).
Como lo mencioné al principio, Albion es un juego en el que haces bastantes amigos, pero también es muy fácil hacerte de enemigos. En nuestra mazmorra había un muchacho de la alianza con una aptitud bastante negativa que en mi opinión dañó la experiencia de nuestra mazmorra, muchos de los muchachos del gremio se quejaron, pero al menos obtuvimos una bonificación de fama por 7 días por derrotar al último jefe de la mazmorra.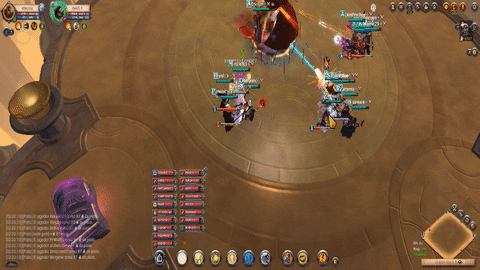 Me desempeñé como Healer, créanme que ser Healer en este juego es más complicado de lo que parece, mucho más cuando las personas a las que debes de curar no son buenas esquivando áreas y no siguen las ordenes del tanque. Morimos muchas veces en el transcurso de la mazmorra, fue gracioso al principio, pero ya luego el morir tanto nos consumió toda la energía, yo solo quería salir de la mazmorra e irme a hacer otra actividad.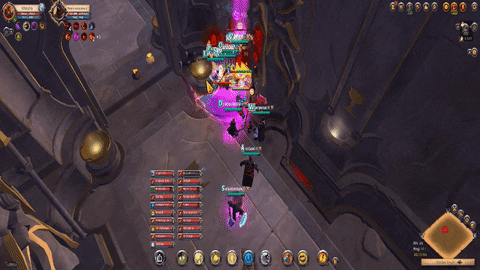 Poco a poco el gremio va tomando forma, hacemos bastantes cosas juntos y estamos mejorando. Pronto se viene la nueva temporada y deberemos de ponernos las pilas, se vienen cambios muy interesantes en los que habrán muchas batallas y objetivos por cumplir como gremio, tal vez alcancemos el rango de oro si nos lo proponemos, eso me gustaría.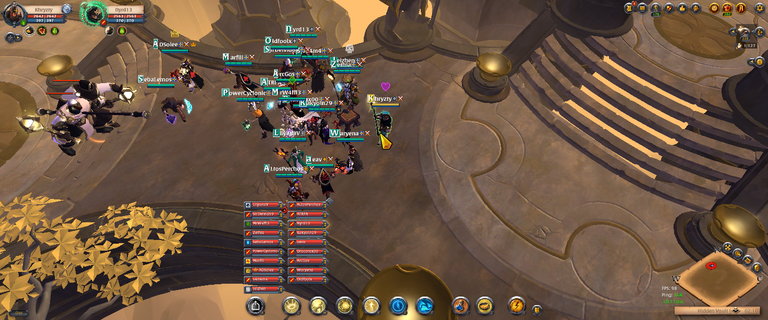 Esta ha sido mi actualización de Albion de esta semana, sé que debería de actualizar constantemente, no daré excusas, solo me pondré manos a la obra. Si te gustó mi contenido, házmelo saber. ¿Qué te parece Albion? Pronto les traeré mucho más contenido, lo prometo. ¡Nos vemos en mi siguiente post! Cya, boomers!
---
---