No Panic Buying, No Panic selling
Recently, it's as definitely been a very tough time recently for cryptocurrency investor's out there and for more than a year now, things aren't being really going on well in the crypto market, there behave been a lot of up and down in the crypto market, in which it as indeed given a lot of investor's fear and doubt as to what the future as to say when it comes to the crypto world.
Their have been numerous opinions and steps suggested and even being tried to see maybe that to will certainly help in making sure that cryptocurrency tokens get more value, with that also things aren't really where investor's absolutely want it to be.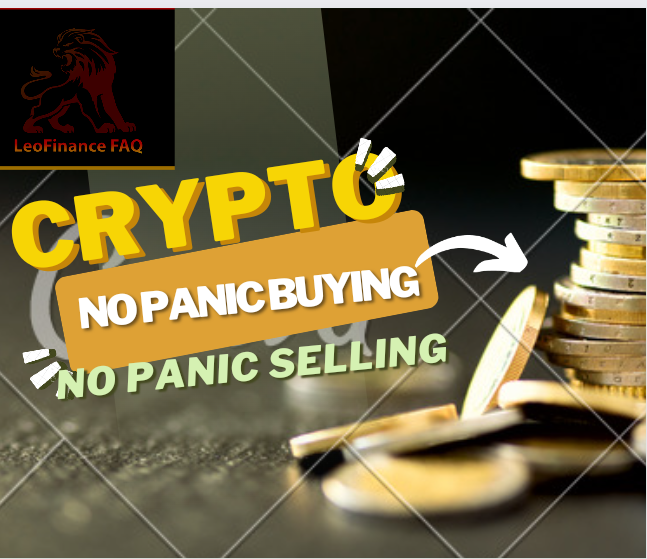 One of the easiest ways of making it big in life is by certainly investing in cryptocurrency, and to that, it's wise to say at the other side it can be very dangerous and also lead to financial bankruptcy if such investing is not wisely done, overnight the years their have been plenty of authors who have addressed so many issues, especially when it comes to investing in Cryptocurrency and I think by now those who really have more passion duly understand all it takes.
One of the wisest things investors do while buying tokens is studying the market trends and hitting the market at the right time, one popular saying goes thus "It is wiser to buy low and sell big", that is certainly one major thing that helps investors's to grow, and it also leads to financial freedom too.
Hitting the market at the right time is absolutely one thing investor's should look at for as that is definitely the only way they could make more money from Cryptocurrency.
Utilizing the bear season is a top-notch because it certainly comes with countless advantages, investors who really understand what it takes from making money from the bear season do have a cost set aside for such moment, but regardless of that, having faith and better understanding as to what a project or token will turn out to be in day's to come really makes investing in Cryptocurrency more awesome.
Though I strongly believed that predicting the outcome of any token might be very hard at times regardless of how good you are, though at times some predictions do work effectively while others goes wrong, but regardless investors's especially the new intakes really need to understand that investing in.
#Cryptocurrency comes with risk too, as I do see it as a 50/50 investment.
As interesting as crypto might be, it is critical that investors understand that panic buying or selling is definitely one wrong thing to do, irrespective of an individual's view about a token, it is very fascinating that you understand everything a project as to offer very much, did some panic buying recently, and it really tells how things can go from bad to worse in the market.
Invested some amount of money on Digimon rabbit coin like a month ago and right now, it markets value as fallen more and more in 7 days, but regardless of this am certainly not thinking of letting the token off, because any form of selling will absolutely lead to loss of capital on the token.
Preferably, I will definitely say that irrespective of the market value after investing in an investing without having proper understanding, holding up to such investment will definitely be better, instead of selling off which might eventually lead to loss of capital invested top, but of all it is more vital that you do your research as this is just a mere view and not a financial decision you should stick too.
Posted Using LeoFinance Beta
---
---