Is HBD a good alternative for your savings account?
0.11 % interest on savings accounts in Belgium
Belgium has a minimum intrest rate on savings accounts of 0.11 %, which is of course less than peanuts, if you take into account that currently the inflation in the Eurozone is just shy of 5 %.
So, people search for alternatives and they are very right to do so. Investing in the stock market and crypto is good. But I have always learned to have a little bit aside that is always available, for unexpected costs. So, I was thinking, would putting my savings into HBD be a good idea?
Well, the answer is not simple. First of all, HBD is not stable at 1 USD yet, it has been lower than 1 USD most of the time the last few months. So, that is a risk you have to take into account, especially if you need it quickly, there is no time to wait until it is higher... Second, the waiting time to get it released from your Hive Backed Dollar savings account is 3 days, so, getting it back really fast to buy a new lawn mower when it broke down, will have to wait at least 3 days.
But of course, there are good sides to it too, even though it is below 1 USD, it is quite stable between 0.95 and 0.98 USD. And then the best part, you get an interest of 12 % per year, that is payed out monthly. So that is beating inflation by a mile.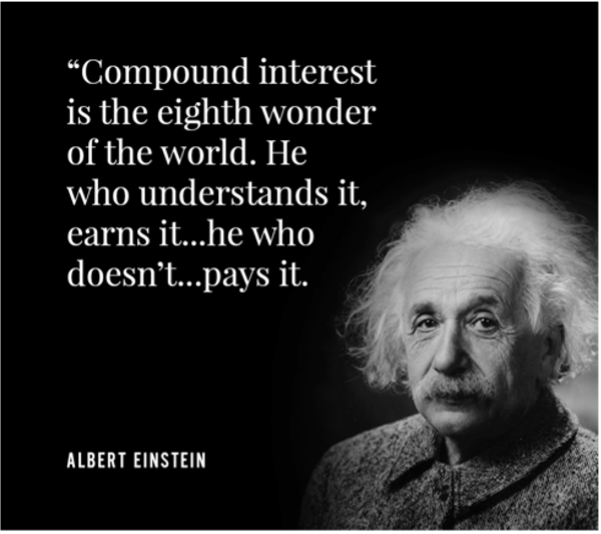 Compound interest
These things all have to be taken into account, and then you have weigh out the downsides against the upsides. And of course there is no government that is backing your money like we have in Belgium for when the bank goes bankrupt, but that is only an insurance on paper, as our country is also bankrupt.
I am really considering to put in some of my savings into HBD savings, as this intrest rate is just too appealing. 5000 USD brings you 50 USD of interest monthly, which once again will bring in extra intrest the next month. That's what we call compounding, and as Albert Einstein said it, earn it, don't pay it!
So my opinion is, it is sure worth to put in some of your savings, if you can spare them for three days...
Sincerely,
Pele23
Posted Using LeoFinance Beta
---
---