Hive is slowly climbing up the ladder of CMC!
From spot 155 to 145 in a few weeks
We see a drop in crypto prices lately, due to the "harsh words" from the war in Ukraine. And especially Bitcoin following the trend of the stock markets. But one thing has found my attention that not many people have spotted. Since about 10 to 14 days, Hive has slowly creaped up the ladder of Coinmarketcap. As it was in 155th spot two weeks ago, today it is in 145th spot. Which doesn't sound spectacular, but it is in fact a very good move. It means Hive is growing faster than some of its competitors, and even more important, even if Hive loses value in USD terms. It has moved up in BTC terms, which is awesome news. Hive is now worth more in Bitcoin terms than it was a few weeks ago. That is in my opinion, something that is very promising, and could be the start of a great move up the charts.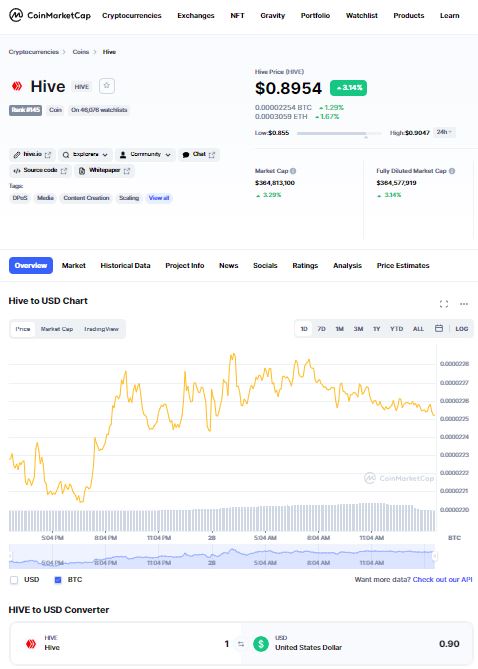 BTC terms are more important than the dollars
For me and for most, the value of Hive is not really important in USD terms. If hive is worth more in BTC, then I am very content. That is proof it is growing inside its own market and not just following the trend of the entire crypto market. In fact, Hive is going into the trend right now, even though it is not that visible if you just look at its value in USD. And that is a mistake a lot of people make. It's relative strength to BTC has grown, and also its market dominance, even if it is just a mere 0.02 %, we have to start somewhere. Imagine if Hive could take in 1 %. Which would mean a 50 X spike in price against the almighty Bitcoin. Which in my opinion is surely not impossible...
One thing is for sure, I will keep on Hiving, and so should you!
Sincerely,
Pele23
Posted Using LeoFinance Beta
---
---