[Eng+Spa] Quarantine: Day 593 + Cuarentena: Día 593
Brief description of the daily life in the personal quarantine.
Breve descripción de la cotidianidad en la cuarentena personal.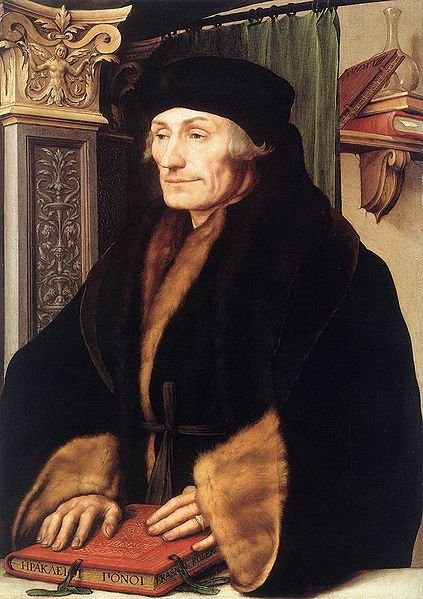 Erasmo de Rotterdam
Image's Source - Fuente de la Imagen
---

593 days since that presidential announcement in Venezuela, declaring the quarantine due to the Covid19 pandemic, is the last week of October and for Monday of next week a period of relaxation of quarantine measures in public places begins and offices, it is not that we have the pandemic under control, it is that the economy cannot stand to continue as we are and now that the Christmas period is coming, everyone wants to take advantage to move purchases and sales, I am concerned that the number of infections may increase by one explosive way, but that will largely depend on people respecting the minimum security measures, we'll see if these weeks of greater flexibility are something positive or not.

Watching the ephemeris, I found many things, but I chose one in particular, the one that relates that on this day, during the year 1858, the Dutch philosopher and universal man was born: Erasmus of Rotterdam, one of the most important thinkers of the stage. Renaissance. His way of interpreting religious themes and the freedom that he gave to his thought seriously marked him, but it is also worth noting that many of the phrases that are still used today for everyday things were created by, a good part of them written in his Adagios book, an example of these phrases would be "have eyes on the neck", "prevention is better than cure" or "have one foot in the grave", this great philosopher is an example of the old saying that the immortality of the great men is by their actions and by the mouths of those who survive him.

By the way, something that caught my attention was that despite his daring thinking, this man was a priest, you will see in his youth he entered the order of Saint Augustine and was ordained a priest in 1492, although he never said mass in his entire life , for moral scruples. But, a man who spoke that sexuality was not a source of sin but a part of human nature, in the middle of a medieval environment, well, he was an advanced man for his time when compared to the rest.

Anyway, in personal matters, because I have been incredibly stable all these days, I am begging to continue like this, my physical health is improving because my knee pain is going away, the public services have failed me little (that in Venezuela is a reason for celebration, as there are many worse cases) and I think that in these days I am full to buy a new cell phone. I am seeing that the NTF games in which I participate are growing very satisfactorily and that puts a smile on my face. Well, that would be it for today, I hope you are well and let's read another time.
593 días desde aquel anuncio presidencial en Venezuela, declarando la cuarentena por la pandemia de Covid19, es la última semana del mes de octubre y ya para el lunes de la semana que viene se inicia un periodo de flexibilización de las medidas de cuarentena en locales públicos y oficinas, no es que tengamos la pandemia bajo control, es que la economía no aguanta seguir como estamos y ahora que viene el período navideño, todos quieren aprovechar para mover las compras y ventas, me preocupa que el numero de contagios pueda aumentar de una manera explosiva, pero eso va a depender en gran medida de que la gente respete las medidas mínimas de seguridad, ya veremos si estas semanas de mayor flexibilidad son algo positivo o no.

Viendo las efemérides, me encontré con bastantes cosas, pero elegí una en particular, la que relata que en este día, durante el año 1858, nació el filósofo holandés y hombre universal: Erasmo de Rotterdam, uno de los mas importantes pensadores de la etapa renacentista. Su manera de interpretar temas religiosos y la libertad que le daba a su pensamiento le marcaron seriamente, pero también es de resaltar que muchas de la frases que aún hoy en día se usan para cosas cotidianas fueron creadas por, buena parte de ellas escritas en su libro Adagios, un ejemplo de esas frases sería "tener ojos en la nuca", "más vale prevenir que curar" o "tener un pie en la tumba", este gran filósofo es un ejemplo del viejo refrán de que la inmortalidad de los grandes hombres es por sus obrar y por las bocas de quienes le sobreviven.

Por cierto, algo que me llamó la atención fue que a pesar de su pensamiento atrevido, este hombre era un sacerdote, veras ingresó en su juventud en la orden de San Agustín y fue ordenado sacerdote en 1492, aunque nunca dijo misa en toda su vida, por escrúpulos morales. Pero, un hombre que hablaba de que la sexualidad no era una fuente de pecado sino una parte de la naturaleza humana, en medio de un ambiente medieval, pues, era un hombre avanzado para su época cuando se le compara con el resto.

En fin, en cosas personales, pues he estado increíblemente estable todos estos días, estoy rogando seguir así, la salud física está mejorando porque se me va quitando el dolor de rodilla, los servicio públicos me han fallado poco (eso en Venezuela es motivo de celebración, pues hay muchos casos peores) y creo que ya en estos días completo para poder comprar un nuevo celular. Estoy viendo que los juegos de NTFs en los que participo están creciendo muy satisfactoriamente y eso me pone una sonrisa en el rostro. Bueno, eso sería todo por hoy, te deseo que estés bien y nos leamos en otra oportunidad.
---
---