[Eng+Spa] Quarantine: Day 592 + Cuarentena: Día 592
Brief description of the daily life in the personal quarantine.
Breve descripción de la cotidianidad en la cuarentena personal.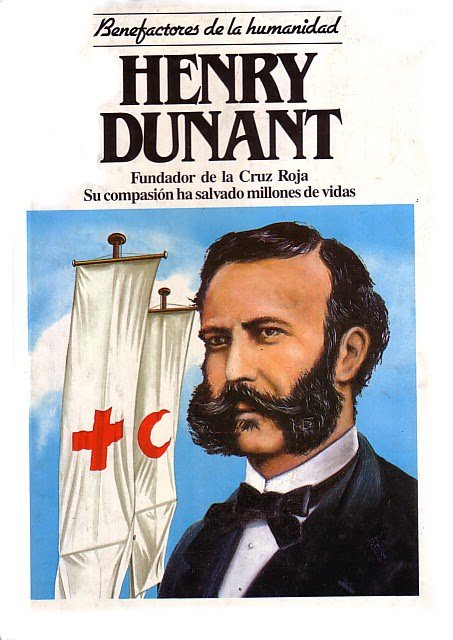 Benefactors of Humanity: Henry Dunant. Founder of the Red Cross. His compassion has saved millions of lives
Benefactores de la Humanidad: Henry Dunant. Fundador de la Cruz Roja. Su compasión ha salvado millones de vidas
Image's Source - Fuente de la Imagen
---

592 and still counting, are the days that have passed in Venezuela since the declaration of the quarantine due to the Covid19 pandemic. Today in particular there is an event that has to do with the medical, healthcare and health systems, it is about the founding of the Red Cross organization, carried out in 1863, due to the philanthropist Jean Henri Dunant, together with four Swiss citizens belonging to the Geneva Public Utility Society, a non-governmental organization is founded to provide medical assistance.

It is said that his interest in establishing an organization of this type was born from having witnessed the confrontation between the French and Piedmontese armies in 1859, very close to Solferino. That bloody battle The battle left some 40,000 dead, but it turned out that many of them did not die in the battle itself, it turns out that they were wounded and death with a long, terrible and miserable agony was the only thing that awaited them. These images never left him, so he wrote about this matter and then managed to convince his first associates to give birth to this idea.

With the passage of time, the traditional symbol of the cross brought to the organization the reluctance of different religions, internationalization also needs an adaptation to new users (as exemplified in recent times by the question of having corporate websites in multiple languages ​​to facilitate the visit of different people around the world), in this case of the Red Cross, what resulted in the creation of other symbols that represented it and avoided the religious connotation that caused rejection of its humanitarian activity In this sense, the Red Crescent was created, which today also represents this humanitarian organization.

One of those ephemeris that is nice to remember. Moving on to personal things, it is raining a bit, but I hope I can post before I lose power, I am stable in health and my mood is good, so I am luxurious hahaha. I wish you are well and we can read another time.
592 y contando, son los días que han pasado en Venezuela desde la declaración de la cuarentena por pandemia de Covid19. Hoy en particular hay una efemérides que tiene que ver con los sistemas médico, asistenciales y de salud, se trata de la fundación de la organización de la Cruz Roja, llevada acabo en 1863, debido al filántropo Jean Henri Dunant, junto a cuatro ciudadanos suizos pertenecientes a la Sociedad Ginebrina de Utilidad Pública, se funda una organización no gubernamental destinada a prestar asistencia médica.

Se relata que el interés en instaurar una organización de este tipo le nació por haber presenciado en 1859 enfrentamiento de los ejércitos francés y el piamontés, muy cerca de Solferino. Esa sangrienta batalla La batalla dejó unos 40.000 muertos, pero resultó que muchos de ellos no murieron en la batalla en sí misma, resulta que quedaban heridos y al quedar desatendidos la muerte con una larga, terrible y mísera agonía era lo único que les esperaba. Estas imágenes nunca lo abandonaron, por ello escribió sobre este asunto y luego logró convencer a sus primeros asociados para dar luz a esta idea.

Con el paso del tiempo, el tradicional símbolo de la cruz le trajo a la organización la renuencia de distintas religiones, la internacionalización necesita también una adecuación a los nuevos usuarios (tal como lo ejemplifica en tiempos recientes la cuestión de tener las webs de las corporaciones en múltiples idiomas para facilitar la visita de distintas personas en todo el mundo), en este caso de la Cruz Roja, lo que dio de resultado fue la creación de otros símbolos que le representaran y evitaran la connotación religiosa que causaba rechazo a su actividad humanitaria, en tal sentido, se creó la Media Luna Roja que hoy en día también representa a esta organización humanitaria.

Una de esas efemérides que es grato recordar. Pasando a cosas personales, está lloviendo un poco, pero espero poder publicar antes de que me quede sin servicio eléctrico, estoy estable de salud y mi ánimo está bien, así que estoy de lujo jajaja. Te deseo que estés bien y nos podamos leer en otra oportunidad.
---
---