[Eng+Spa] Quarantine: Day 586 + Cuarentena: Día 586
Brief description of the daily life in the personal quarantine.
Breve descripción de la cotidianidad en la cuarentena personal.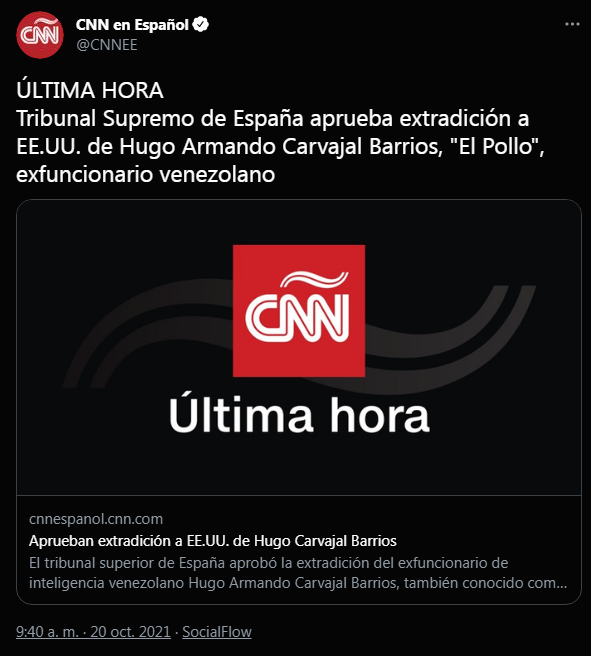 Image's Source - Fuente de la Imagen
---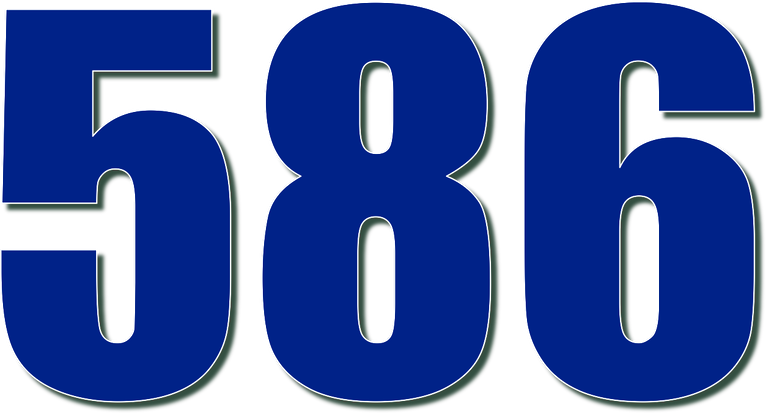 586 since the quarantine was declared in Venezuela, I think I remember that it was March 13, 2020 ... we are almost going to reach another Christmas in a world with a Covid19 pandemic unleashed, at least there are several vaccines available and there are a movement by governments and a good number of people to advance the vaccination and treatment process.

Today I learned early about news that I did not expect, a former high-level Venezuelan official, in charge of the intelligence and counter-intelligence services of Venezuela a few years ago, was in the process of trial in Spain, where he entered with a false passport , also being requested by the United States, which accuses him of crimes of drug trafficking into North American territory in collaboration with the FARC (Revolutionary Armed Forces of Colombia, an irregular armed group of the left classified as a terrorist group for its actions of kidnapping, murder, detonation of bombs against the civilian population and other things like that). A couple of years ago he managed to mislead the officials of Spain and escaped from judicial custody, he was disappeared for two years and was recently captured, it is said that it was due to pressure from the DEA, as it was an open secret that senior politicians in Spain protected him because of his relations with the Latin American left and with the Chavista movements (Government of Venezuela) and his dirty money.

Upon being captured, he began a few days ago to leak documents that show the dirty money relationships, partly as a way of negotiating that they would judge him in Spain and not send him to the United States, in truth that what he delivered was like a cartridge dynamite ignited, but, as a curious thing, he did not achieve what he wanted and it seems that the Spaniards were rather scared and preferred that the Americans take care of him instead of continuing to dig into the records and documents that he was contributing, because too much people would get involved with money from drug trafficking, corruption, influence peddling, tax evasion, and the like.

Now it does not seem that he can avoid being sent to the United States and being put on trial there.

By the way, for English-speaking friends, the text of the image says: "LAST NEWS. Supreme Court of Spain approves extradition to the US of Hugo Armando Carvajal Barrios, 'El Pollo', former Venezuelan official"

I do not see that these actions can make the miserable situation in Venezuela change in the short term, nor will it make the money stolen by the criminal gang that made up senior officials of the left-wing governments that have been in power so far this century be recovered and returned to the state coffers ... it may be useless or almost useless, but I have to accept that I see the annoyed face of people who bragged about doing whatever they wanted and that nothing and no one I could stop them, well, that produces a certain joy hahaha, I know that it will not do much to correct all the mistakes and it will not help us to survive, but it is something refreshing to know that those who put us in this situation will not be able to continue laughing at us and enjoying from their golden thrones stolen the spectacle of seeing us in misery trying to survive.

By the way, going to personal things, I don't have many things to say, I am looking for where to buy a cell phone that suits me and adjusting a budget to be able to solve that, it is a crying day and I hope we can continue to be in good spirits. I wish you are well and let's read each other another time
586 desde que se declaró la cuarentena en Venezuela, creo recordar que fue el 13 de marzo de 2020... ya casi vamos a llegar a otra navidad en un mundo con pandemia de Covid19 desatada, por lo menos hay varias vacunas a disposición y existe un movimiento por parte de los gobiernos y buena cantidad de gente para que el proceso de vacunación y tratamiento avance.

Hoy me enteré temprano de una noticia que no me esperaba, un ex funcionario venezolano de alto nivel, encargado de los servicios de inteligencia y contra-inteligencia de Venezuela hace pocos años, estaba en proceso de juicio en España, donde ingresó con un pasaporte falso, siendo solicitado también por Estados Unidos, que lo acusa de delitos de tráfico de drogas hacia territorio norteamericano en colaboración con las FARC (Fuerzas Armadas Revolucionarias de Colombia, grupo armado irregular de izquierda clasificado como grupo terrorista por sus acciones de secuestro, asesinato, detonación de bombas contra población civil y otras cosas así). Hace un par de años él logró despistar a los funcionarios de España y se evadió de la custodia judicial, estuvo desaparecido durante dos años y hace poco fue que lo capturaron, se dice que fue por presión de la DEA, pues era un secreto a voces que altos políticos de España lo protegían por sus relaciones con la izquierda latinoamericana y con los movimientos chavistas (Gobierno de Venezuela) y su dinero sucio.

Al ser capturado, comenzó desde hace unos días a filtrar documentos que muestran las relaciones de dinero sucio, en parte como una forma de negociar que lo juzgaran en España y no lo enviaran a Estados unidos, en verdad que lo que entregó fue como un cartucho de dinamita encendido, pero como cosa curiosa, no logró lo que quería y parece que mas bien los españoles se asustaron y prefirieron que los norteamericanos se encargaran de él en lugar de seguir escarbando en los registros y documentos que él estaba aportando, pues demasiada gente saldría involucrada con dinero de trafico de drogas, corrupción, tráfico de influencias, evasión de impuestos y otras cosas similares.

Ahora no parece que pueda evitar ser enviado a Estados Unidos y ser sometido a juicio allá.

No veo que estas acciones puedan lograr que la situación miserable de Venezuela cambie a corto plazo, tampoco hará que le dinero robado por la banda criminal que conformaron altos funcionarios de los gobiernos de izquierda que han estado en el poder en lo que va de siglo sea recuperado y devuelto a las arcas del Estado... puede que no sirva para nada o casi para nada, pero tengo que aceptar que ver la cara de molestia de gente que se ufanaba de hacer lo que les daba la gana y que nada ni nadie los podría detener, pues, bueno, eso produce cierta alegría jajaja, sé que no servirá de mucho para corregir todos los fallos y no nos servirá para sobrevivir, pero es algo refrescante saber que los que nos colocaron en esta situación no van a poder seguir riéndose de nosotros y disfrutando desde sus tronos de oro robado el espectáculo de vernos en la miseria tratando de sobrevivir.

Por cierto, pasando a cosas personales, no tengo muchas cosas que decir, estoy buscando en donde comprar un celular que me convenga y ajustando presupuesto para poder resolver eso, es un día clamado y espero que podamos seguir en buen estado de ánimo. Te deseo que estés bien y nos leamos en otra oportunidad.
---
---