Magic/Light power: Weekend event report [ ENG | ESP ]

English
I finished another edition of the weekend event. With a couple of stumbles this time, which took me away from the possibility of winning a legendary pack, but with good feelings at the end. It all came down to a total of eight wins, starting in Mythic. Not what I expected before the WR started, but I feel satisfied for now.
For this edition I combined an aggro light deck (in the first 11 matches), which in the end didn't work as well as last week, and a card draw magic for the final seven matches. With the latter, of which I will give details in the following paragraphs, I had a better performance and I was left with the feeling that, perhaps, if I had started the WR with it I would have obtained better results.
Español
Terminé otra edición del evento de fin de semana. Con un par de tropiezos esta vez, que me alejaron de la posibilidad de ganar un pack legendario, pero con buenas sensaciones al final. Todo se resumió en un total de ocho victorias, iniciando en Mythic. No es lo que esparaba antes del comienzo del WR, pero me siento satisfecho por ahora.
Para esta edición combiné un deck de aggro light (en las primeras 11 partidas), que al final no funcionó tan bien como en la semana pasada, y un card draw magic para los siete enfrentamientos finales. Con este último, del cual daré detalles en los siguientes párrafos, tuve un mejor desempeño y me quedó la sensación de que, quizá, si hubiese empezado el WR con él habría obtenido mejores resultados.


The decks
A little bit of this and a little bit of that. Unlike past editions, in which I play with a specific deck, although sometimes I have played one or two matches with another "backup" deck, this time I combined two decks. As in a previous post I already talked about the strengths I saw in those decks, now I will focus on the weaknesses I noticed in the development.
In almost every match with aggro light I felt that one creature in particular was too much for me: The Nemea Lion In other circumstances it would be a brutal creature, but at least with this archetype it was always an easy victim that the opponents destroyed quickly. It was the most serious flaw I perceived, and while I would love to replace it with a Sern, The Moderator or Thestor, Grieving General, both options are currently beyond my budget. So for now I'll settle for Athenian Archer, a one mana creature, thus easy to summon and buff, with which I can do an extra point of damage to some opposing creature.
Los mazos
Un poco de esto y un poco de aquello. A diferencia de ediciones pasadas, en las que juego con un deck en específico, aunque a veces he llegado a tantear una o dos partidas con otro de "respaldo", esta vez combiné dos. Como en un post anterior ya hablé sobre las fortalezas que vi en dichos decks, ahora me centraré en las debilidades que noté en el desarrollo.
En casi todas las partidas con aggro light sentí que una criatura en particular me sobró: The Nemea Lion. En otras circunstancias sería una criatura brutal, pero al menos con este arquetipo fue siempre una víctima fácil a la cual los rivales destruyeron rápidamente. Fue la falencia más grave que percibí, y aunque me encantaría reemplazarlo por un Sern, The Moderator o Thestor, Grieving General, actualmente ambas opciones sobrepasan mi presupuesto. Así que por ahora me conformaré con Athenian Archer. Una criatura de uno de mana, por ello fácil de convocar y buffear, con la que puedo hacer un punto de daño extra a alguna criatura rival.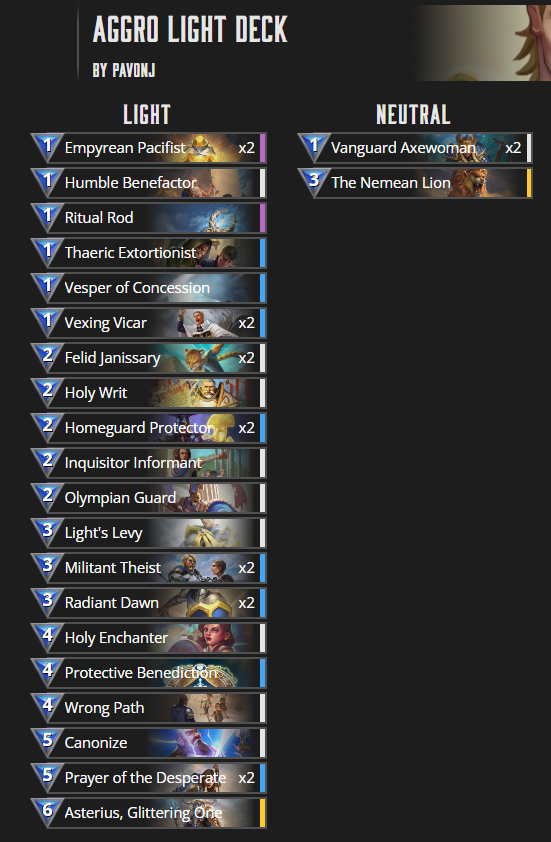 After aggro light came the turn of card draw magic, which was the best option for the WR. At times I felt that I missed Tracking Bolt, an effective spell to clear the field or remove a creature in early stages of the game; besides I felt in several occasions the lack of a removal for relics. However, it is not clear to me what I could substitute for these options. Overall, I think it's an efficient deck, although against Heirloom Death (which I only had to face once) I suffered.
Posterior al aggro light llegó el turno del card draw magic, que fue la mejor opción para el WR. Por momentos sentí que me hizo falta el Tracking Bolt, un hechizo efectivo para limpiar el campo o sacarse a una criatura en etapas tempranas de la partida; además de que sentí en varias ocasiones la falta de un removal para reliquias. Sin embargo, no me queda claro qué podría sustituir por estas opciones. En líneas generales me parece un deck eficiente, aunque contra el Heirloom Death (que solo me tocó enfrentar una vez) sufrí.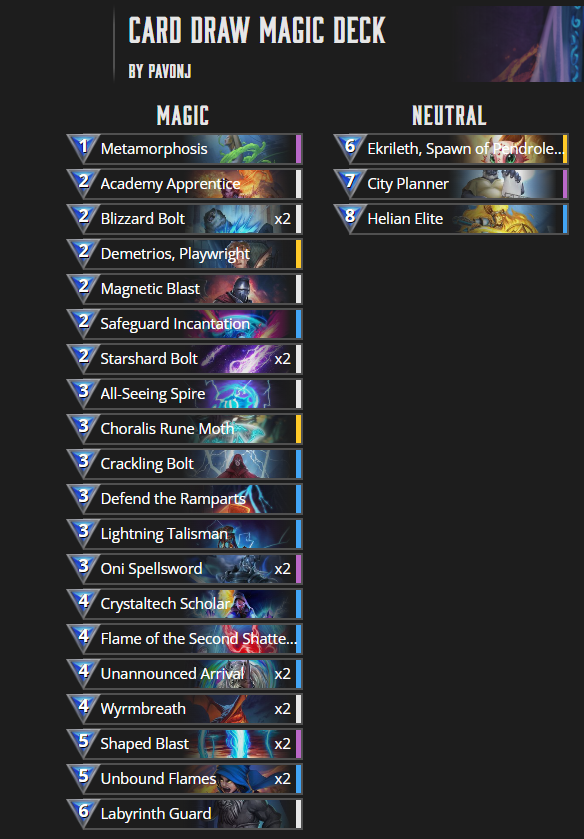 The rivals
The opponents with Death and War decks were the big absentees (again). In general the meta seems to be plagued by Light and Nature, especially aggro compositions. However, certain variations such as Regen Nature or Control Light are also quite present. In general I did not do well against any God, and I think I suffered especially against mages.
As always, I attach a table with more details about my wins/losses.
Los rivales
Los rivales con mazos de Death y War fueron los grandes ausentes (otra vez). En general el meta parece estar plagado de Light y Nature, en especial composiciones aggro. No obstante, ciertas variaciones como el Regen Nature o Control Light también están bastante presentes. En general no me fue bien contra ningún Dios, y creo que sufrí especialmente contra los magos.
Como siempre, anexo una tabla con más detalles sobre mis victorias/derrotas.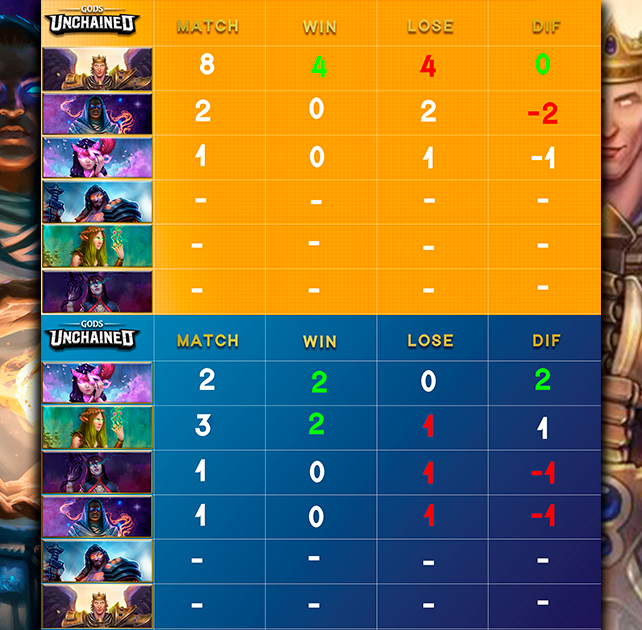 Past rewards
Four rare packs and one epic MJ pack were part of my rewards after last week's WR. Let's just say that the content of these was moderately good: four shinny, and the odd interesting card like Pharaoh's Heirloom, Twenty Si ded Mace, Curse of Greed and a couple of Bifurcating Curse. 25 more cards add to the collection.
Recompensas pasadas
Cuatro packs raros y uno épico de MJ formaron parte de mis recompensas tras el WR de la semana pasada. Dígamos que el contenido de estos fue medianamente bueno: cuatro shinny, y una que otra carta interesante como Pharaoh's Heirloom, Twenty Si ded Mace, Curse of Greed y un par de Bifurcating Curse. 25 cartas más se suman a la colección.





Juan Pavón Antúnez
Translated with the help of DeepL || Traducido con la ayuda de DeepL



---
---