Back to action: Weekend event report [ ENG | ESP ]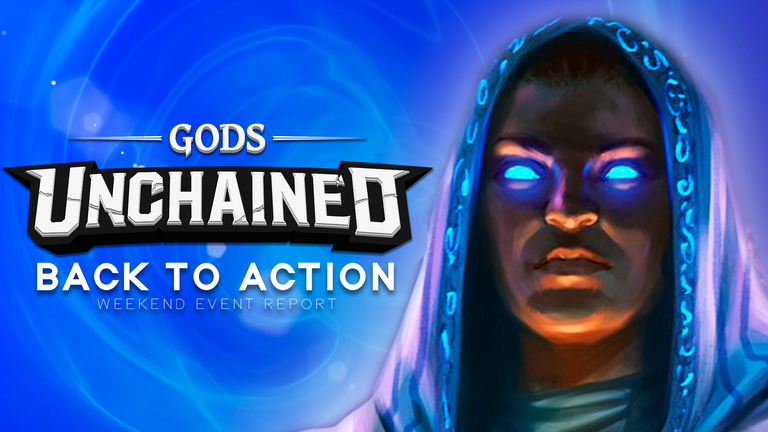 English
After a couple of weeks of inactivity (due to real life issues that kept me busy) I returned to play Gods Unchained, just before the weekend event. Unfortunately I didn't reach Mythic, so I had to settle for Ethereal Diamond. Rank in which I harvested 10 wins.
Although I didn't start the WR at the rank I wanted, nor did I reach the 13 wins needed to get the legendary MJ pack, I consider that my result wasn't too bad, given the circumstances: I competed in the last hour without even checking the current meta and I only made a few changes to the deck with which I participated three weeks ago. In the end I added five more packs, three of them from MJ, with which I hope that luck will bring me something good.
Español
Después de un par de semanas de inactividad (por cuestiones de la vida real que me mantuvieron ocupado) volví a jugar Gods Unchained, justo antes del evento de fin de semana. Desafortunadamente no logré llegar a Mythic, así que tuve que conformarme con Ethereal Diamond. Rango en el que coseché 10 victorias.
Aunque no inicié el WR en el rango que deseaba, ni tampoco alcancé las 13 victorias necesarias para obtener el pack legendario de MJ, considero que mi resultado no estuvo del todo mal, dadas las circunstancias: competí a última hora sin siquiera revisar la actualidad del meta y apenas hice unos pocos cambios al deck con el que participé tres semanas atrás. Al final sumé cinco packs más, tres de ellos de MJ, con los cuales espero que la suerte me brinde algo bueno.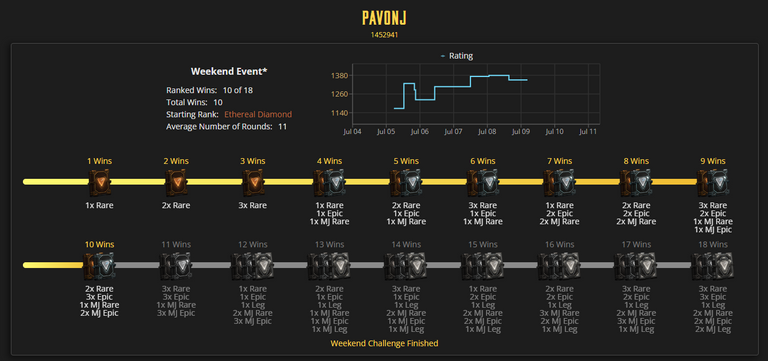 The deck
Again, my favorite deck, with which I played 17 matches, was the Midrange Magic full of spells and one or another creature, which fulfill specific functions. On the other hand, and as an experiment, I had the brilliant idea (note the sarcasm) to build a Midrange Deception with which I was beaten and only used once.
Among the most notable changes of this Midrange Magic, compared to the one I used for my last WR, is the addition of a Gleamweaver, designed to counter Heirloom decks, the return of Bronze Servant, in case relics were in fashion, and the addition of a Crackling Bolt, a spell that had been calling my attention for a while for its ability to do eight damage to a creature and ended up being very helpful.
El mazo
De nuevo mi mazo predilecto, con el que disputé 17 partidas, fue el Midrange Magic repleto de hechizos y una que otra criatura, que cumplen funciones específicas. Por otro lado, y a modo de experimento, tuve la genial idea (nótese el sarcasmo) de armar un Midrange Deception con el que fui apaleado y solo usé una vez.
Entre los cambios más notables de este Midrange Magic, en comparación al que usé para mi último WR, está la adición de un Gleamweaver, pensado para contrariar a decks Heirloom, la vuelta de Bronze Servant, en caso de que las reliquias estuvieran de moda, y la suma de un Crackling Bolt, un hechizo que llevaba rato llamándole la atención por su capacidad de hacer ocho de daño a una criatura y terminó siéndome de mucha ayuda.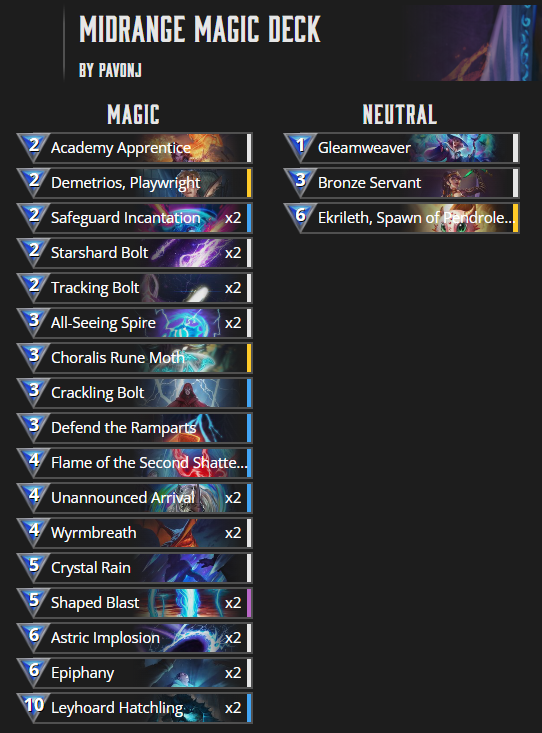 The rivals
I had to face opponents with Deception decks in most games (7). Fortunately, with my deck I was able to respond well to these compositions that alternated between the well-known Guild Zoo, Control and Order. On the contrary, I had a bad time against War and Magic decks, although in both cases I only faced a couple of opponents with these gods; I also played against an opponent with a very strong Control War, with two Demogorgon included; although this is not an excuse.
The biggest surprise I got in this WR was not running into any Heirloom Anubians were frequent until a couple of weeks ago, however this time they were nowhere to be seen. It's so unusual that I even think this is the first time I don't have to compete against, at least, every single god.
To conclude this report, which also serves as a record of my GU activity, I leave you with a graph with the details of my wins and losses in the weekend event.
Los rivales
Me tocó enfrentar a oponentes con decks de Engaño en la mayor cantidad de partidas (7). Por fortuna, con mi deck pude responder bien ante estas composiciones que se alternaron entre las conocidas Guild Zoo, Control y Order. Por el contrario, la pasé mal contra decks de Guerra y otros de Magia. Aunque en ambos casos solo encaré a un par de oponentes con estos dioses; además jugué contra un oponente con un Control War rotísimo, con dos Demogorgon incluídos; aunque esto no es excusa.
La sorpresa más grande que me llevé en este WR fue no toparme con ningún Heirloom. Los anubians eran frecuentes hasta hace un par de semanas, sin embargo esta vez no aparecieron por ninguna parte. Es tan inusual que incluso creo que esta es la primera vez que no tengo que competir contra, por lo menos, cada uno de los dioses.
Para terminar con este reporte, que sirve a su vez de registro de mi actividad en GU, les dejo una gráfica con los detalles de mis victorias y derrotas en el evento de fin de semana.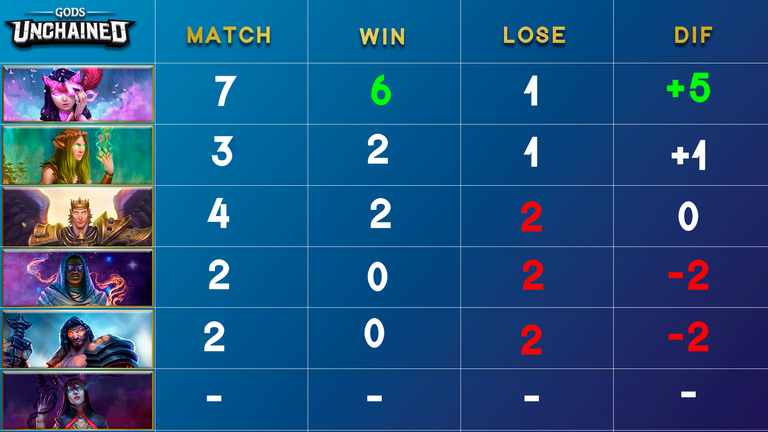 Juan Pavón Antúnez
Translated with the help of DeepL || Traducido con la ayuda de DeepL



---
---