Ranchero egg [ENG/SPA]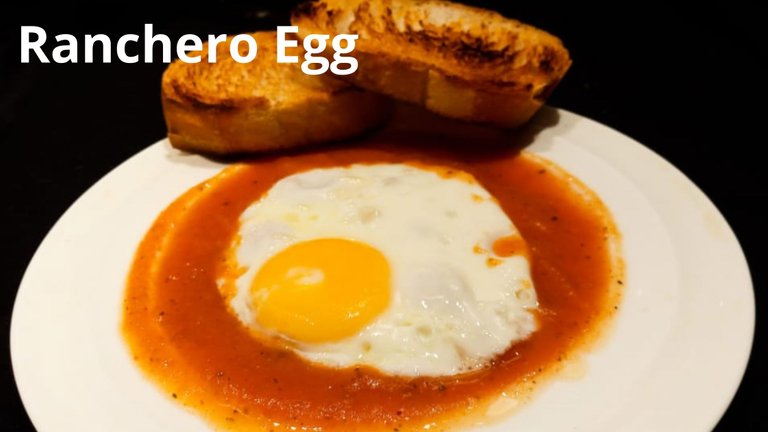 Photo by me
Greetings my beautiful people of HIVE. Blessings on this new day. Delighted to be back sharing 100% original content, made with love for this beautiful community of Foodies Bee Hive.
Today I wanted to eat some fried eggs, however I wanted to go out of the traditional and I remembered a trip I made to Mexico and I fell in love with the huevos rancheros, despite being a very simple dish, by adding that bed of natural tomato paste sauce, it gives a delicious and fresh flavor to this dish.

I did some research on the internet, to give you more detailed information about this great fruit, which I share with you.
The tomato stands out for its content in the trio of antioxidant vitamins C, E and A. Taking 200 grams of tomato covers 80% of the daily needs of vitamin C, 27% of those of vitamin A and 13% of vitamin E. All three vitamins prevent tissue degeneration, premature aging and support the immune system.

It has a higher content of B vitamins than other vegetables, especially vitamins B1, B6 and above all folic acid (200 g cover 25% of the needs). These nutrients favor the obtaining of energy from food and benefit the nervous system.
I believe that after this valuable information that I got with our friend Google I should not leave this fruit out of your meals, salads and drinks and even for the skin I was informed that it was excellent.
Well now I take you to my kitchen to show you how easy and healthy and delicious I will eat today.
Since this is a light dish it is usually eaten for breakfast or dinner.
I share with you the ingredients.
INGREDIENTS
2 ripe tomatoes
2 clove of garlic
1 onion
Oregano or Basil
2 eggs
3 slices of bread.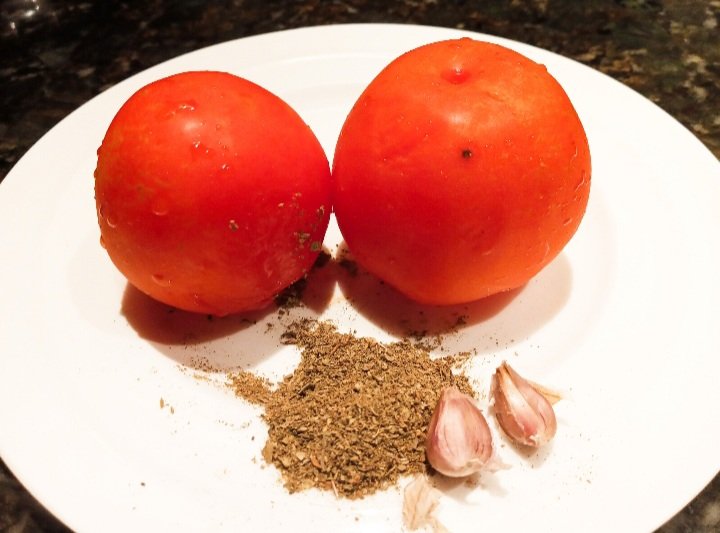 Photo by me
Make a slight X-shaped cut in the tomato.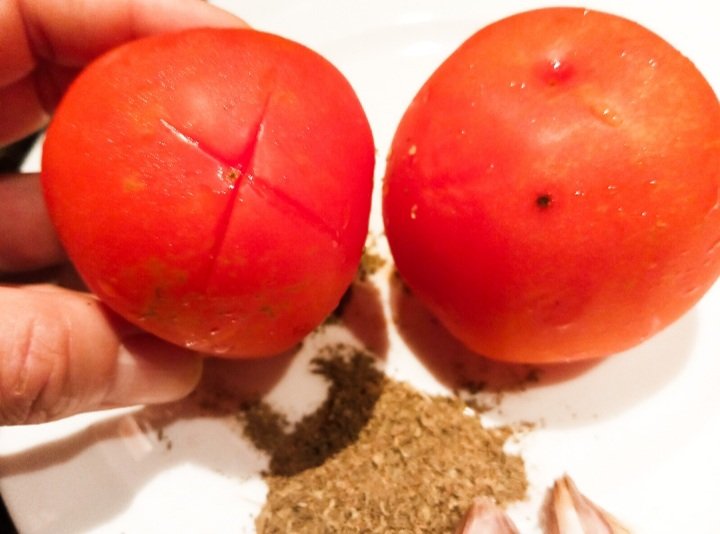 Photo by me
Place a pot on the stove, bring to a boil and immerse the tomato for 8 minutes.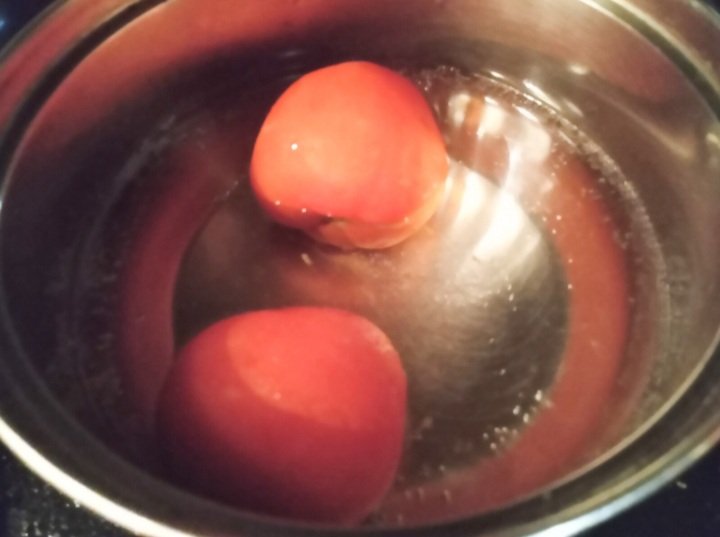 Photo by me
Remember I told him to cut the tomato at the tip in an X shape. It was to facilitate the process of removing the skin.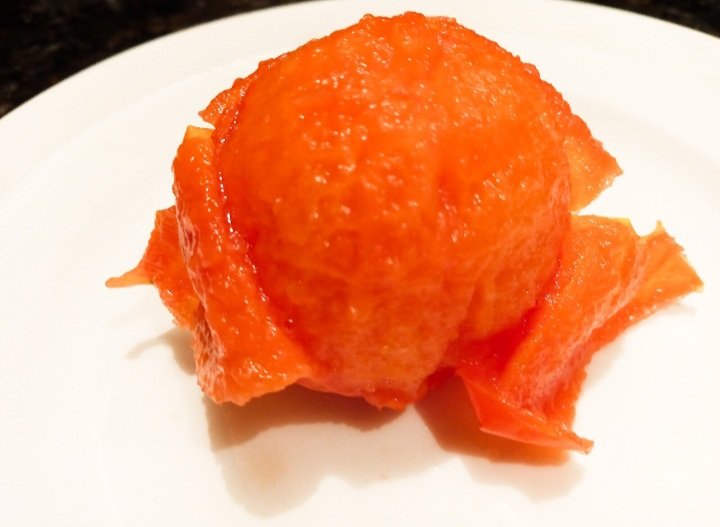 Photo by me
Blend the tomato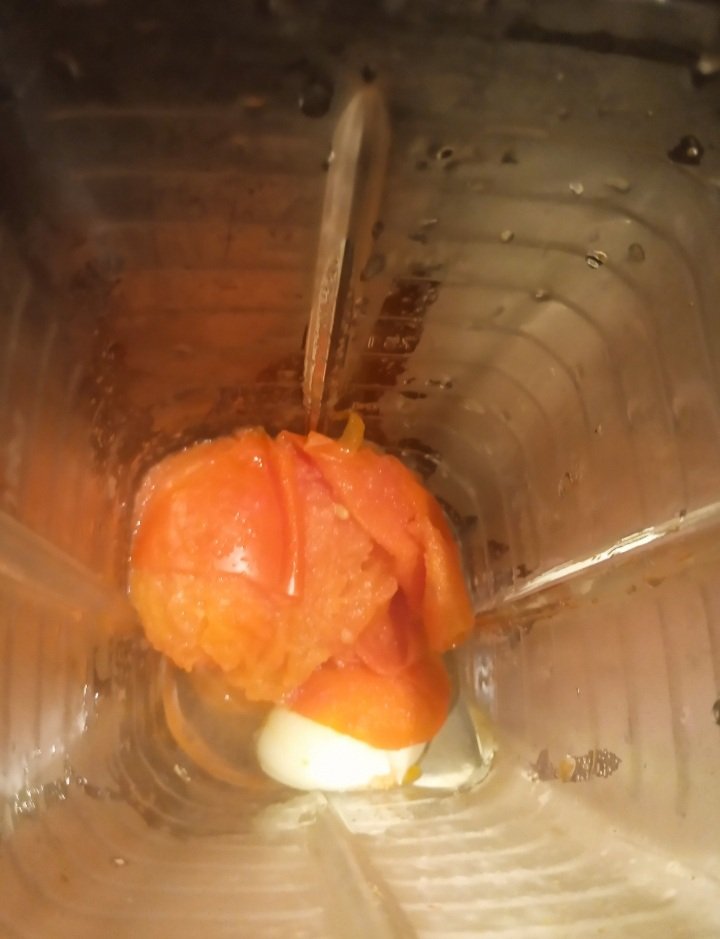 Photo by me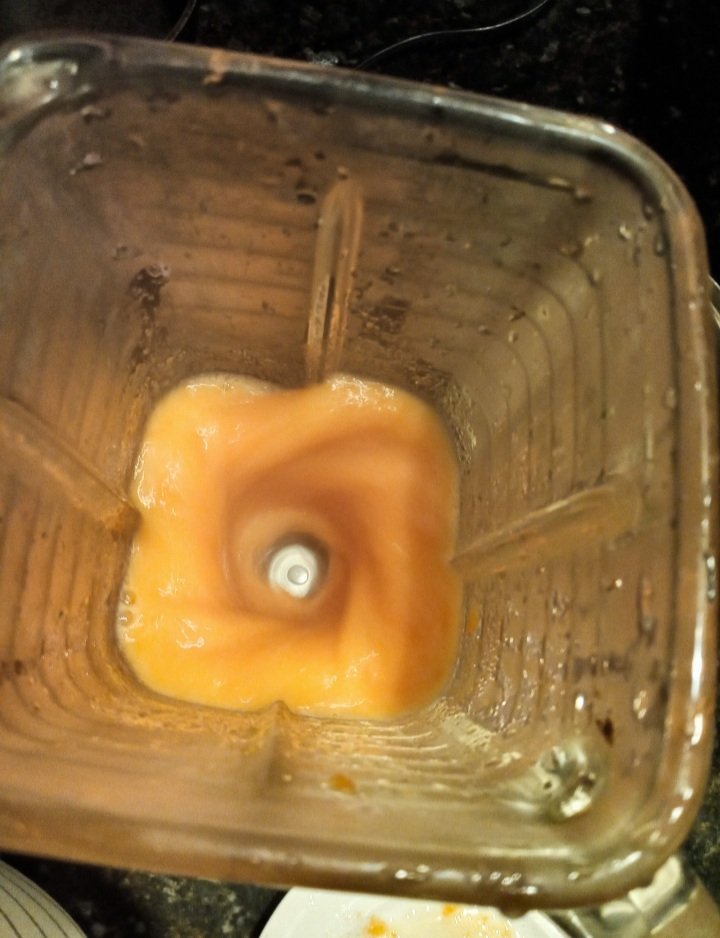 Photo by me
Proceder a licuar, con el fin de conseguir una consistencia lisa sin grumos.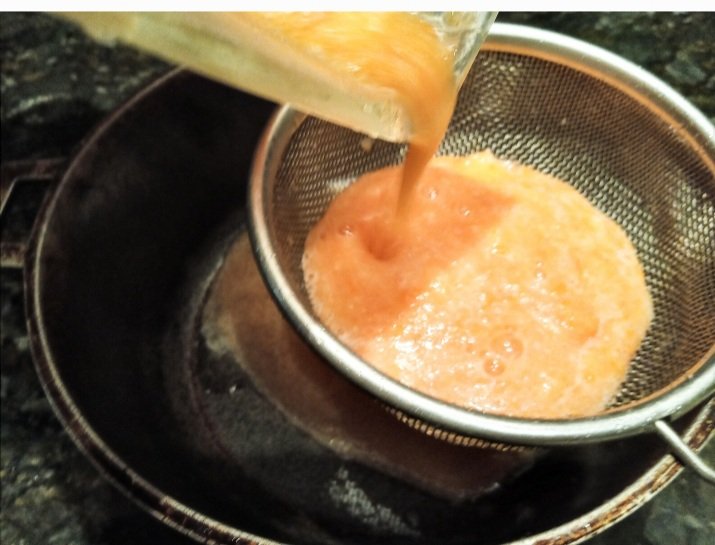 Photo by me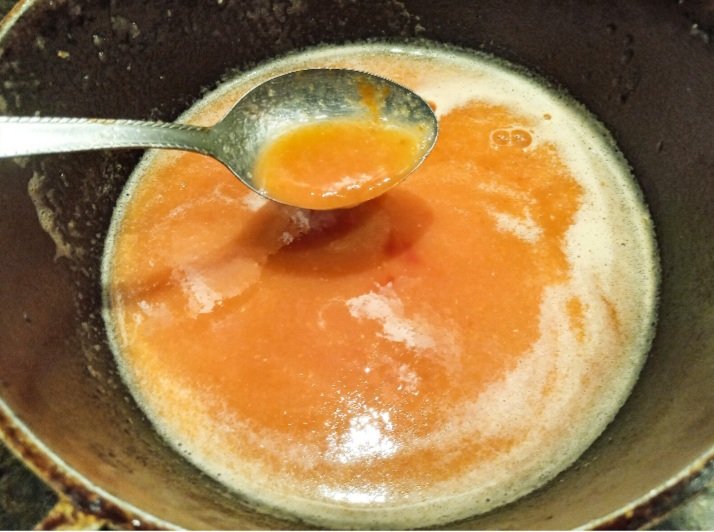 Photo by me
In a saucepan, add the tomato liqueur and let it reduce.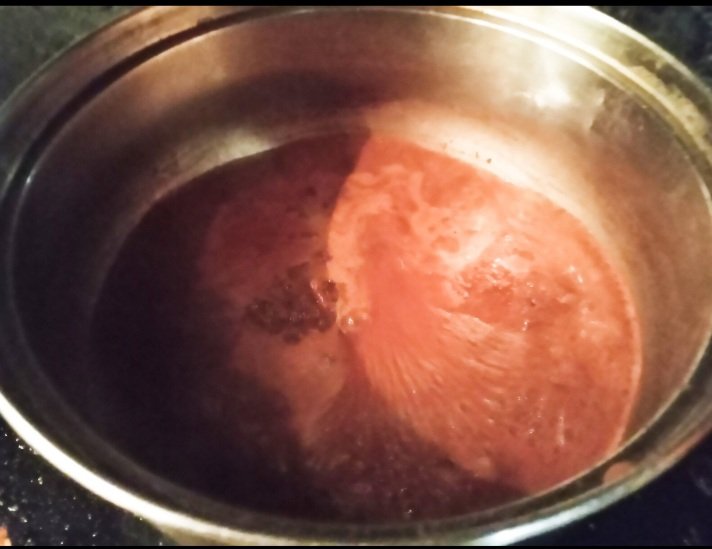 Photo by me
The consistency of the sauce should be smooth, but not dry.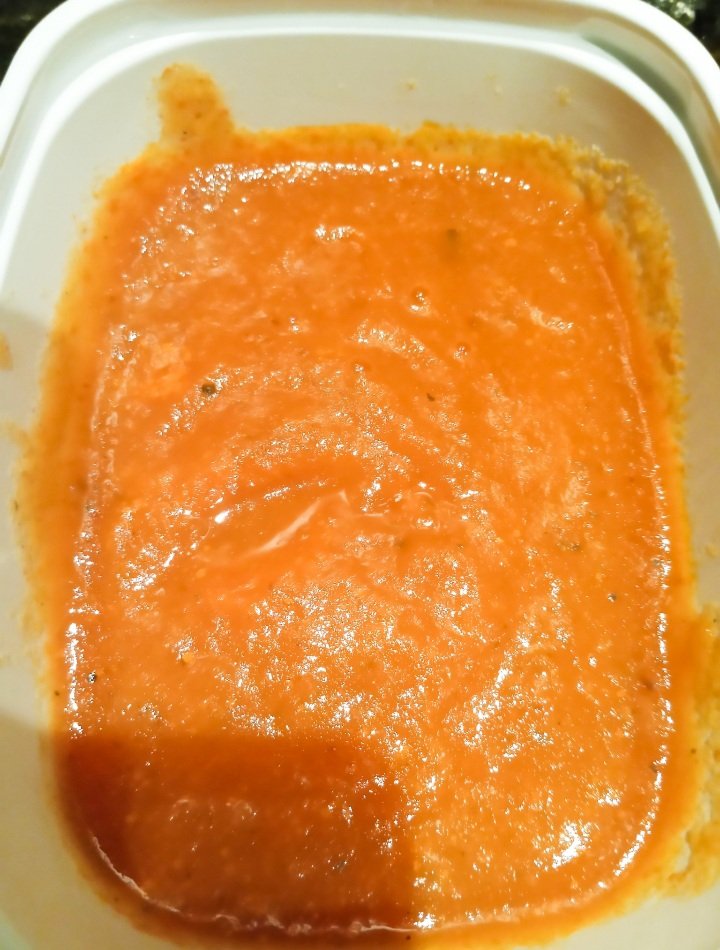 Photo by me
Fry the egg at low temperature.
It is important to highlight that eggs are one of the most complete foods that exist, containing a large amount of nutrients.
The yolk is the central and orange part, it contains 12-15% of proteins and several vitamins (A, D, E, B1, B2, B3, B5, B6, B9 and B12) and minerals (phosphorus, potassium, iron of low availability).
Clara contains a minimum amount of carbohydrates, vitamins (B2 and B3) and minerals (sodium, potassium, iodine), being practically nonexistent lipids, including cholesterol. It contains a protein, avidin, which fixes biotin (Vitamin B8).
If the additional whole egg is taken, we add calcium, zinc, iodine, magnesium, selenium, etc., to the egg.)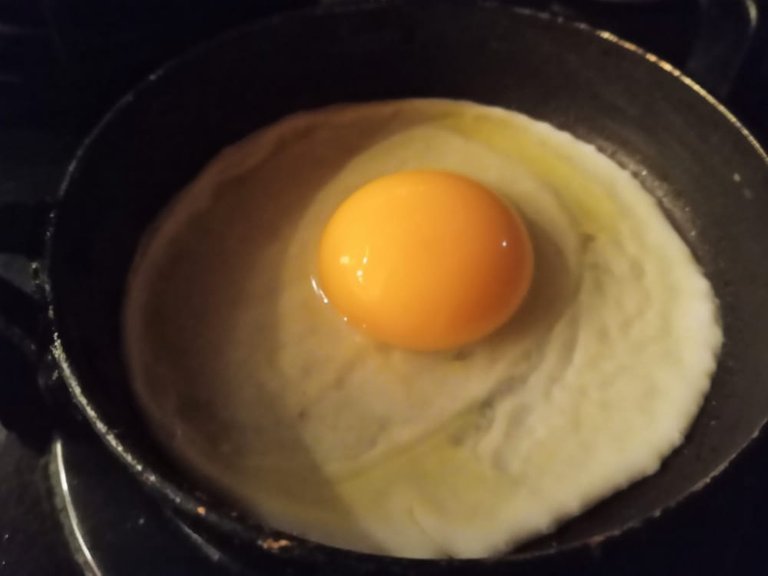 Photo by me
I place a bed of tomato sauce on a plate.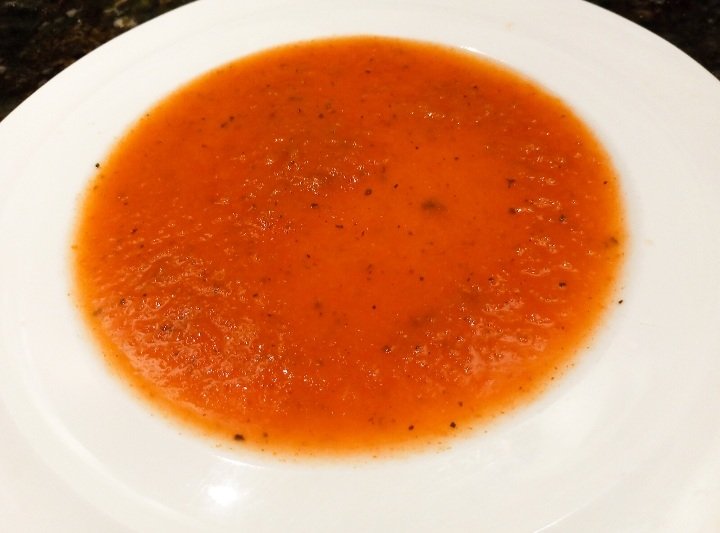 Photo by me
Toast three slices of bread. It will depend on the number of guests.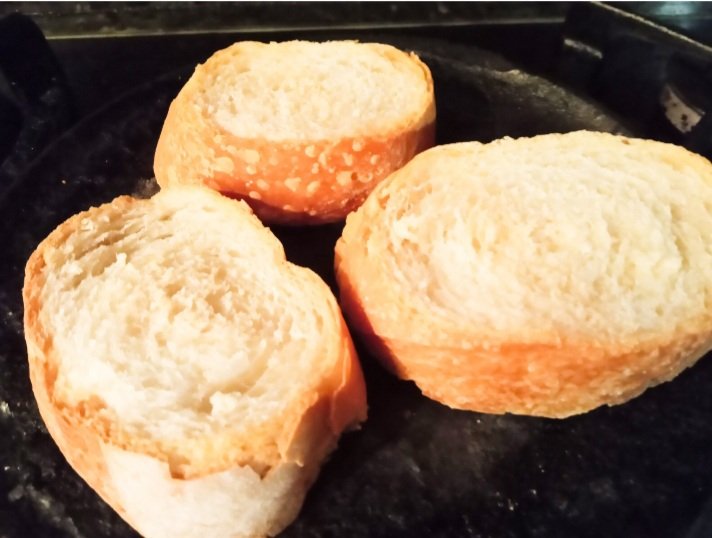 Photo by me
Enjoy this delicacy. Enjoy your meal.
Photo by me
Thanks for joining me friends, we will be sharing more 100% original content in the coming days.
Images are my own taken with Samsung phone. Use separators and banners made with Canva. Use Deepl translator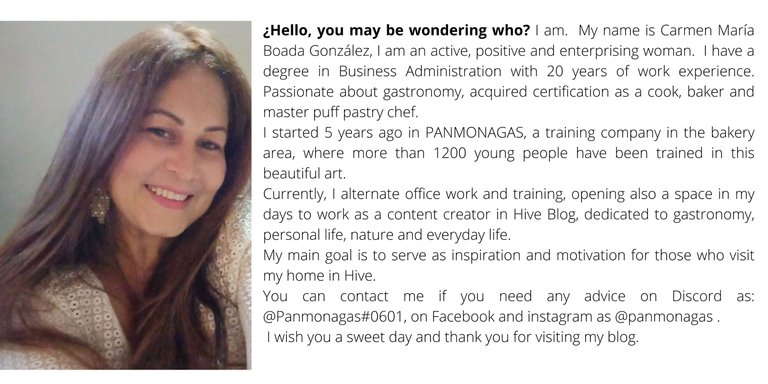 HUEVO RANCHERO
Saludos mi gente bella de HIVE. Bendiciones en este nuevo día. Encantado de estar de nuevo compartiendo contenido 100% original, realizado con amor para esta hermosa comunidad de Foodies Bee Hive,
Hoy tenia unas ganas de comerme unos huevitos fritos, sin embargo quería salirme de lo tradicional y recordé un viaje que hice a México y me enamore del huevo ranchero, a pesar de ser un platillo muy simple, al colocar esa cama de salsa de pasta de tomate natural,le aporta un sabor delicioso y fresco a este platillo.

Investigue en internet, para dejarle información mas detallada sobre este gran fruto, la cual les comparto.
EL tomate se destaca por su contenido en el trío de vitaminas antioxidantes C, E y A. Tomar 200 gramos de tomate cubre el 80% de las necesidades diarias de vitamina C, el 27% de las de vitamina A y el 13% de la vitamina E. Las tres vitaminas previenen la degeneración de los tejidos, el envejecimiento prematuro y colaboran con el sistema inmunitario.

Destaca el contenido en vitaminas del grupo B, más alto que el de otras hortalizas, en especial de vitaminas B1, B6 y sobre todo de ácido fólico (200 g cubren el 25% de las necesidades). Estos nutrientes favorecen la obtención de energía de los alimentos y benefician al sistema nervioso.
Creo que después de esta valiosa información que conseguí con nuestro amigo Google yo no deberías dejar este Fruto fuera de tus comidas, ensalada y bebidas y hasta para el cutis me informe que era excelente.

Bueno ahora si los llevo a mi cocina para mostrarle, lo fácil y saludable y delicioso que comeré hoy.
Por ser este un liviano plato suele comerse en el desayuno o cena.
Les compartos los ingredientes.
INGREDIENTES.
2 tomates maduros
2 diente de ajo
1 Cebolla
Oregano o Albahaca
2 huevos
3 rodajas de pan.

hacer un corte leve al tomate en forma de X.
Colocar una olla en la candela,esperar que hierva y sumergir el tomate por 8 minutos
Recuerda que le dije que cortaran el tomate en la punta en forma de X. Era para facilitar el proceso de quitar la piel.
Licuar el tomate.
Proceder a licuar, con el fin de conseguir una consistencia lisa sin grumos.
En una olla, agregar el licuado de tomate y dejar que reduzca.
La consistencia de la salsa debe de ser suave, mas no seco.
Freír el huevo a temperatura baja.

Es importante resaltar, que el huevo es uno de los alimentos más completos que existe, contienen una cantidad de nutriente.
La yema. Es la parte central y anaranjada, contiene un 12-15% de proteínas y diversas vitaminas (A, D, E, B1, B2, B3, B5, B6, B9 y B12) y minerales (fósforo, potasio, hierro de baja disponibilidad.
La Clara, contiene una mínima cantidad de carbohidratos, vitaminas (B2 y B3) y minerales (sodio, potasio, yodo), siendo prácticamente inexistentes los lípidos, entre ellos el colesterol. Contiene una proteína, la avidina, que fija la biotina (Vitamina B8)
Si se toma el huevo entero adicional le sumamos el calcio, cinc, yodo, magnesio, selenio)
Aparte coloco en un plato una cama de salda de tomate.

Tostar tres rodaja de pan. dependerá de que cantidad de comensales tienen.
A disfrutar de esta delicia. Buen provecho.
Gracias por acompañarme amigos, estaremos compartiendo en los próximos días más contenido 100 % original.
Las imágenes son de mi propiedad tomadas con el teléfono Samsung. Utilice separadores y banner hechos con Canva. Use traductor Deepl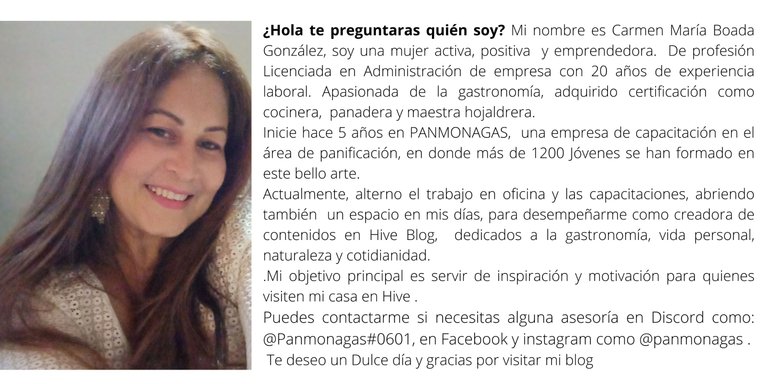 ---
---