April LPUD... here I am!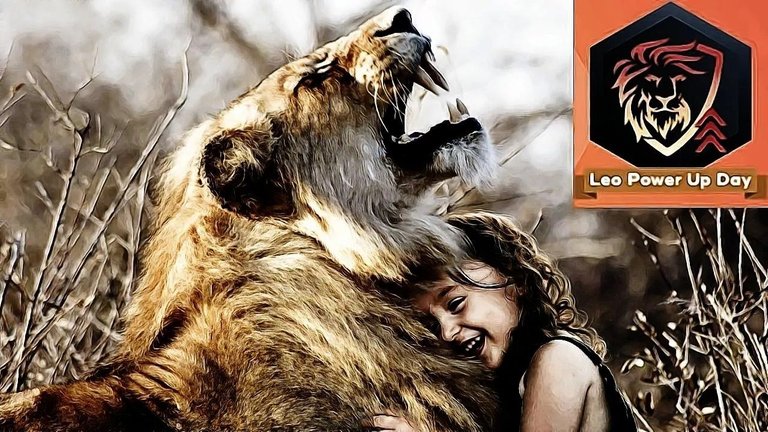 People don't like the idea of thinking long term. Many are desperate for short-term answers because they have money problems to solve today.



(Robert Kiyosaki)
---
---
Here I am ready, like every 15th of the month, for the usual appointment with Leo Power Up Day!
I love this day!
As you can see from the image below I have already done my 150 Leo upgrade; I've saved something for the next event but, anyway, everything will always go into upgrades since I'm not going to withdraw anything for a long time.
At the moment the password is to accumulate!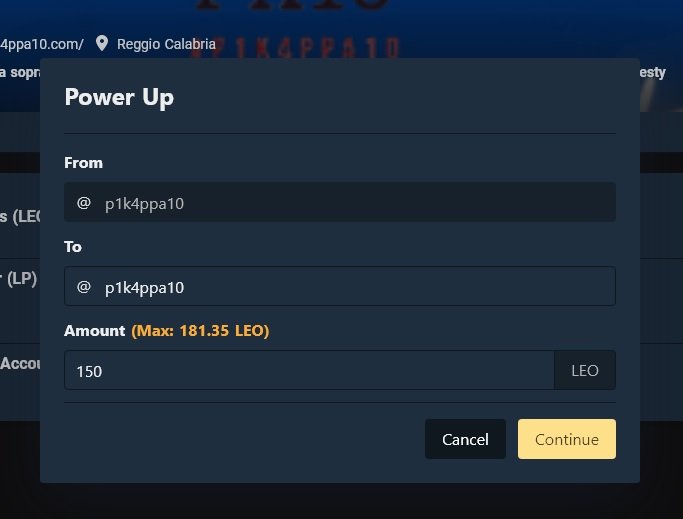 Here you can see the confirmation of the successful transaction.

As I have always said, I really like the Leofinance project and, certainly, Leo is the secondary Token on which I focus the most.
Precisely for this reason today, together with the Power Up, I increased my delegation to @leo.voter bringing it from 500 to 750 HP; my plan is to be able to reach at least 2000 HP delegates by the end of the year, obviously, without affecting my voting power and the contribution I can make to the community; in simple terms it means that in order to reach the desired delegation by the end of 2023, I will have to have at least 10,000 HP for curation over 2,000 delegates, for a total of at least 12,000.
12,000 HP would already be well over the 10,000 target set for the year... that wouldn't be bad!
Since we're at it and I've just touched on the topic, let's recap Leo's goals for a moment:
Have at least 5000 LPs.

Delegate 2000 HP to @leo.voter.
I don't set myself publication goals because the finance topic is certainly not my primary topic even if, of course, it fascinates me a lot; if I have something interesting to write I will do it otherwise my publications will be limited to the booster day.
I have decided that in Leo I will primarily invest by buying and strengthening my position.
I made this decision because writing is a great passion for me, therefore, I want to practice it by creating content on topics that are more in my comfort zone; as far as reading and editing posts is concerned, it's quite different since I really like the topic of finances and I'm always looking for new information to increase my cultural background.
I think it is important to know how to make the right distinctions; Of course, investments enter the category of my passions as well as reading and writing, however, I believe that to make the most of each one, it is necessary to focus on the important things of each of them.
For example, since writing is linked to inspiration, to create original and quality content that is not repetitive, I believe it is always necessary to write about what you love and what you like most which, not always, must correspond for example what we like to read.
In the same way, although investments are passion, as far as I'm concerned they must be approached in a very analytical way, studying what one invests in since, in the end. whether you are passionate about this field or not, the primary purpose is to earn or at least not lose money.
Writing on a topic like finance that doesn't belong to me, I risk skimping on quality; let's be clear there are subjects of this theme that I know and that I could deal with, for example I could talk about my investments in detail; however, the thing would run out in a short time and, to continue writing, I would have to go and search here and there, risking not writing anything interesting.
I find it useless to write a couple of articles a week which says how beautiful Leofinance is and how innovative it is or how much satisfaction it will give us in the future, I find the same thing useless talking about Hive and the ecosystem in general; let's be clear, if this type of writing were done out of this world of ours and was capable of making Hive known and attracting new users, then it would be very useful but telling each other to ourselves that we are already here how good and beautiful everything is really makes very little sense and indeed, at times, I see it as a waste of time and energy; in my view, for us who are now part of this world, it would be more useful to tell ourselves what doesn't work well and what can be improved, it would probably have a better and more important impact on the growth of the ecosystem, it is no coincidence that then , who actually does it, are long-standing, farsighted and very knowledgeable users of the blockchain and above all on Hive and perhaps first on Steem; in the same way it is no coincidence that the posts about how everything is beautiful, everything fantastic and everything special are written by relatively young users who, incidentally, often disappear at the first signs of a bearish market and then reappear when the price of Hive rises .
Man this digression was just stellar lol!
I'm sorry if I went a little off topic but, since by now my frenzy of thoughts had started I thought I'd use it to come up with a different post from the usual Power Up update posts, I hope you don't mind.
---
Well, at this point, I think I can greet you, not before obviously thanking you for reaching this point and wishing you a Happy Leo Power Up Day!
Naturally feel free to express your thoughts and ideas in the comments below.
Hug you!
🔘 🔘 🔘
Brave heart and gentle tongue will take you far into the jungle...
---
---
English is not my first language but I try, please forgive any errors.
---
---