HBD - The Best Stable Coin and Legit Passive Income Stream in 2022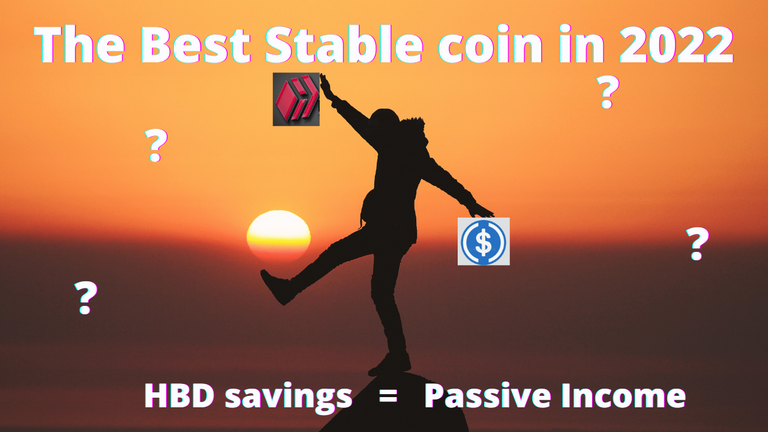 Edited with canva
I guess I can make a joke out of the whole experience now that it is days after the heartbreak. I'm talking about the Luna-Terra 'dip' or should I say trip.
Oh my days! That was my hard earned money. What is most painfully was the fact that I pulled it out of my long coming HBD savings to 'invest' in the now shitty coin. I wonder when or if it will ever recover. I mean, I bought it at $33 dollars and now its just a ridiculous amount of cents.
What was I thinking? Well, I was thinking faster yield and riding the waves of volatility. I guess slow and steady really does win the race but then again is 20% APR on SAVINGS really that slow? That's freaking far profitable than the traditional bank savings!
For those who may or may not know, HBD- Hive-Backed Dollar, which is always the same as the current price of US Dollar is the stable coin for the Hive blockchain and has risen to an APR of 20% of recent . It has been maintained that way by the witnesses for sometime now.
Investing in a stable coin that has no volatility, no heart break and still with 20% APR has got to be the best crypto/financial move ever. An analysis by @hitmeasap in his post Best Way To Earn Interest On Crypto will give you a broader view on the facts and figures. I love the fact that I have control over my HBD savings. Though it takes 3days to retrieve from the savings wallet which gives me that 'delay' feeling sometimes. Overall I think its still the best crypto to invest in because your asset can only be on auto compound mode. Talk about passive income! Or do you have a different thought on this? Do let me know in the comment section.
The Hive blockchain is a fast growing decentralized crypto community with a lot of sub communities for everyone who wishes to blog and earn in crypto. My personal favorite of all the communities is the Leofinance community that is all about finance blog, crypto and its related post.
If you're are looking forward to investing in a stable coin and don't know where to start, you should really check this post out to give you more insight.
With that being said, please note that this is not a financial advise. As with every other investment, please do your findings and thanks for reading! See you in the comment section.
Posted Using LeoFinance Beta
---
---