SBT and Owly Farm Gaming Partnership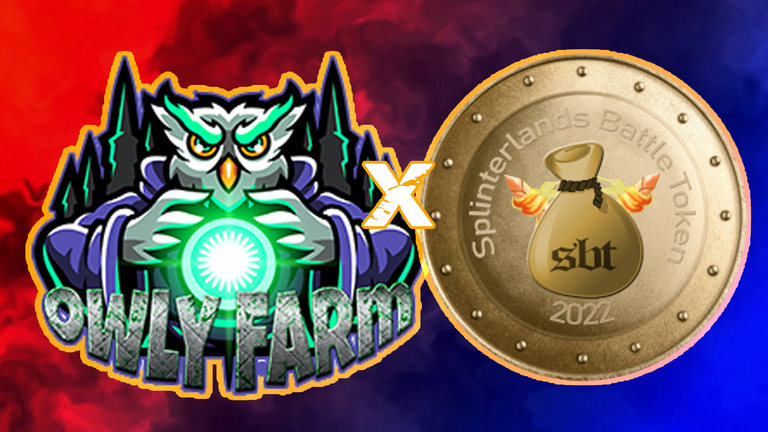 SBT and Owly Farm Gaming Partnership
The Owly Farm Gaming is joining forces with the Splinterlands Battle Token (SBT), The guild plans to integrate SBT in the live streams hosted by our Twitch channel and gifts to community members who participate in giveaways on our discord server.
By integrating SBT into all streamers' giveaways, Owly Farm Gaming hopes to help grow both communities. Each time a streamer broadcasts there will be a hope for new players will come and follow both channels and appreciate both SBT and the whole community.
What is SBT?
The Splinterland Battle Token has grown from simply a tipping token for amazing splinterlands battles to becoming a community currency. The SBT Community hosts Giveaways, Tournaments, Auctions, and an NFT night market for its holders. As the community grows SBT will also have a curation team for HIVE blogs and it will focus on tipping blogs related to splinterland battles.
Visit their official peaked account: https://peakd.com/@sbtofficial
Join SBT discord server here: https://discord.gg/S6ED3BbFCS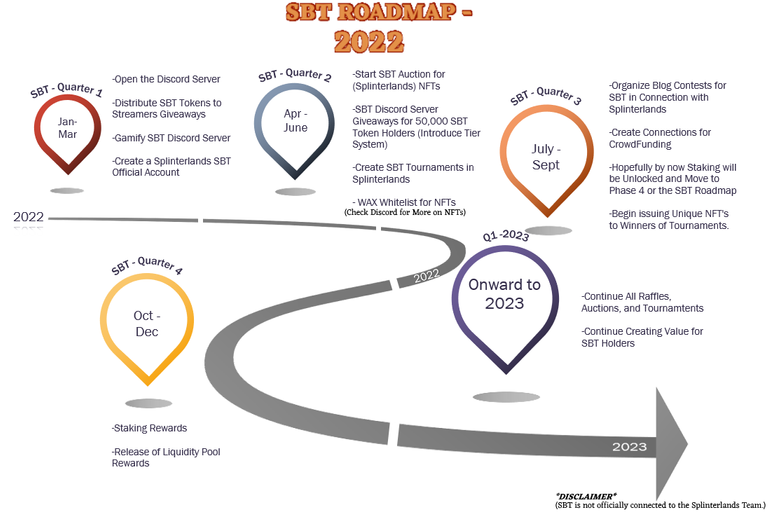 The SBT roadmap shows a promising future for the NFT and gaming community. Their roadmap shows plans for Blog and Streaming, incentives plus NFT giveaway integrations, and possible staking rewards. You can read more about the SBT roadmap here: https://peakd.com/sbt/@sbtofficial/change-to-sbt
SBT Utilization
SBT holders will have access to the following incentives:
Stream giveaways - Receive rewards from splinterlands streamers as you watch streams and earn channel points.
Splinterlands NFT auctions - participate in sleep auctions and live auctions happening in the SBT discord server.
Splinterlands NFT night market - earn huge discounts in the SBT night market. The more SBT you hold the more discount you'll get!
SBT Bounty missions - Accomplish the mission in the bounty board and claim your bounty rewards!
Blogging - SBT holders will receive upvotes from the @sbtofficial account as you use #sbt on your tags
NFT giveaways - SBT holders have access to Splinterlands NFT giveaway in the SBT discord server
| Stream Giveaways | Splinterlands NFT auctions | Splinterlands NFT night market |
| --- | --- | --- |
| SBT bounty missions | Blogging | Giveaways |
---
How did Owly Farm Gaming and SBT come across each other?
By joining SBT tournaments the Owly Farm Gaming members got into SBT. As part of the vision of Owly to promote NFT crypto Esports, it is like written by fate to have SBT and Owly Farm gaming meet. Through the help of @cmmndrbawang, a core team member of SBT and a streamer for Owly Farm, the bridge for this partnership came with ease.
What does this partnership bring to Owly Farm Gaming
The Owly Farm Gaming team will receive SBT tokens to distribute to the community through streams and events in discord. It will also be a way for Owly Farm Gaming to host tournaments in splinterlands and have SBT as a major sponsor for the tournaments.
Aside from reward integrations, Owly Farm Gaming is excited to engage with the SBT community and reach more gamers and crypto enthusiasts allowing the team to reach their vision of empowering gamers in creating their own self-sustaining wealth ecosystem. This partnership and the association with different HIVE communities will solidify Owly Farm Gaming's structure as it adds more credibility and visibility to the HIVE community.
---
It's a win-win I would say. It's beneficial for SBT too because they have a well-established guild with Owly Farm in the first 100 splinterlands guilds as well as a purposeful not-for-profit association that promote them.

Donma, Owner - Owly Farm Gaming
---
Donma, Owner of the Owly Farm Gaming, sees the partnership as a win-win agreement for both communities as it will help each other grow and reach their vision for their members.
---
What are the future plans with SBT x Owly farm partnership?
There will be 2 tournaments organized in May with Owly Farm x SBT. Streams that will distribute SBT will be hosted by the team members and will be included in the 24-hour stream event that will happen soon.
It is still too early to talk about this (Futures of SBT x Owly) ... We will have to take stock of the things that worked (in events and streaming) and the ones that will need to be improved before talking about additional plans for the future.

Donma, Owner - Owly Farm Gaming
---
Owly farm Giveaway mechanics for SBT
Streamers will have 3 amounts of SBT in their reward wheel: 1,000 SBT, 10,000 SBT, and 25,000 SBT. Allow for the 5,000 SBT to be won 5x times during one stream. 10,000 2x per stream. 25,000 to be won once per stream. Making the total given out during one stream 50,000
This is just a suggestion and the streamer has the right to adjust the prizes as he likes.
---
Have 3 amounts on a reward wheel.
1,000 SBT
10,000 SBT
25,000 SBT
---
The partnership with SBT will push both parties to their limits in the gaming world. The guild and the token alliance will prove beneficial for the players since it challenges the conventional methods of game monetization by creating a steady stream of income from playing games. Players who are welcomed by the partnership will have added ways of earning from playing and engaging in the @Splintelands community.
---
GIVEAWAY
As a kicker for the partnership, a giveaway will also be included in this post. To be eligible for the giveaway make sure to follow these steps:
5 winners of 5,000 SBT tokens will be chosen before that payout of this post.
---
Owly Farm X SBT upcoming events
Tournament Link:
https://splinterlands.com/?p=tournament&id=c8799a0d7937bee944bc1dc84d012ed0c2e72e70
Owly Farm x SBT tournament. Donma will host a tournament under owly farm and will be streamed on OwlyFarmGaming twitch channel.
---
Twitch Streams
https://www.twitch.tv/owlyfarmgaming
The twitch channel of the Owly Farm Main Roster Members. We promote esports in the Play 2 Earn cryptogaming community. . Giveaway at each of our streams for ACTIVE FOLLOWERS in the chat ONLY. Join us for lots of fun !!!
---
https://www.twitch.tv/cmmndrgarlic
Hello everyone! I am a small streamer. I play SPLINTERLANDS now :) Sometimes i just go crazy and do things randomly and just want the world to be happy :) #NoSleepGang!You can also support the channel by donating splinterlands assets for giveaways splinterlands ign : CmmndrBawang
---
https://www.twitch.tv/untamedsarge
SPLINTERLANDS OG (Original Gangster) 🐉📀🏹 IGN: @sgt-dan I love people and enjoy making them smile or chuckle! I am not safe for work (NSFW) as I am rude, crude, and am somewhere between a BOOMER and GEN X. If you want to LEARN about PLAY2EARN, you are in the RIGHT PLACE! 🍕
---
---
---