Play Realm, Save The World!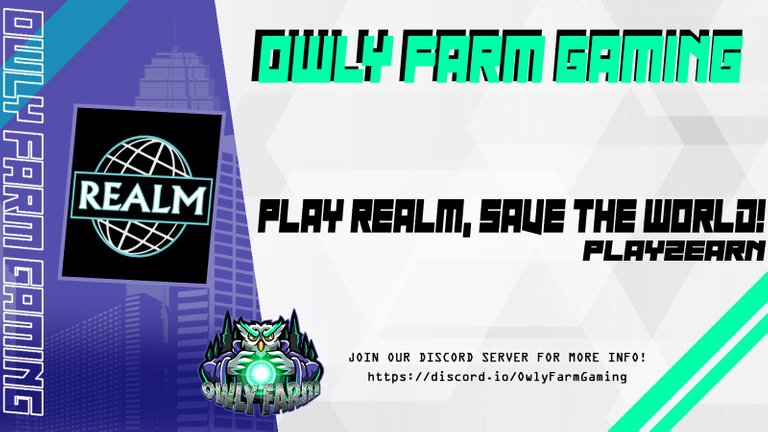 ---
---
I'm sure most of you P2E gamer have heard of or have even played Realm. After a successful debut in season one, season two of Realm is already underway, and they are expecting more and more seasons to come with even more improvements and exciting updates.
Introduction and Basic Gameplay
For those who are unaware, Realm is a resource management game in which you strategically use your NFT Leaders and Helpers to save the world from destruction. Players will gather resources, unlock regions, earn RLM Tokens, Upgrade their NFT, and engage in a variety of other activities.
The main game takes place in the near future, when the world is in shambles due to war, famine, disease, and meteors. Leaders today are failing and losing control. A secret organization called Realm is assembling a team to restore order to the world. Players will be able to strategically build their Realm team with the ultimate goal of restoring order to each region.
This will not be easy, and the player will need to use a lot of strategy, starting with choosing a leader who has their own strengths to use.
Almost like RTS (Real Time Strategies) games, players must build a base, upgrade buildings and assets, collect resources, and level up their NFT to unlock each region.
The game is still in its early-beta phase, so we can expect a lot more exciting features and updates in the coming seasons.
NFT and Tokenomics
There are currently ten distinct leaders, each with their own set of strengths and characteristics, as well as ten distinct helpers to assist the leaders in achieving their goal of saving the world, which is currently in a disastrous state.
Not to mention various NFT items such as equipment and exclusive perks and boosters that can only be obtained through special events or possibly on the marketplace if someone decides to list them, such as this season's promo booster.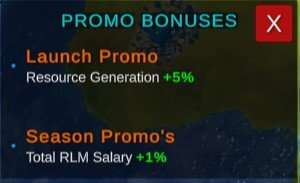 Not to mention the game currency Realm token (RLM), which is currently traded on several exchanges and swap platforms on the Wax blockchain. Anyway, the game's best feature, which outshines everything it lacked, is its in-game marketplace, which made purchasing NFT as simple as it has ever been. Of course, you can also buy and sell it on the dozen other Wax blockchain NFT marketplaces.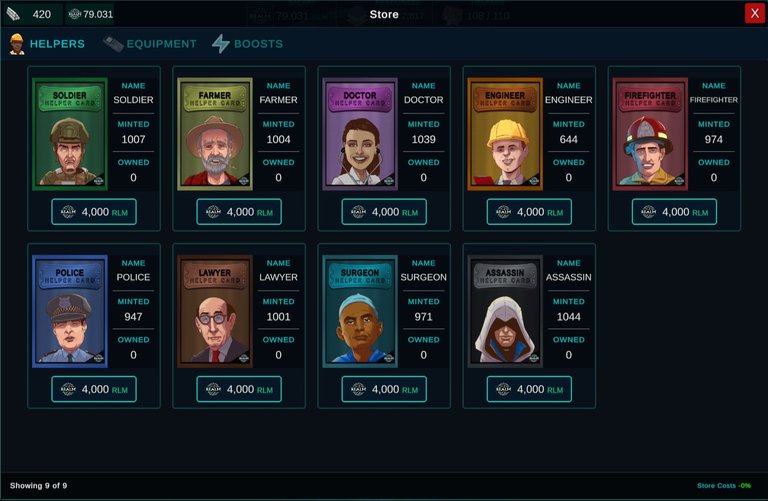 1. Leaders
There are 10 different Leaders at the moment, each with their own set of strengths and characteristics. The developer also stated that they will continue to introduce new Leaders to add variety to the game. A leader must not only lead the country, but also missions. Leaders, like most other NFT games, can be upgraded by blending. The process of combining three leaders of the same rarity to create one leader of the next rarity up is known as blending leaders. Leaders will be burned during the blending process. The number of stars shown above the leader picture on the NFT indicates the rarity of the LEader. Each character is described below.
---
There is no better leader. I would say that there are better leaders according to a strategy or your needs in games. Nothing prevents you from switching leaders for your continents if you need a bonus in the cost of buildings or rather the cost of research.

Donma - Owly Farm Guild Leader
---










2. Helpers
Helper is the NFT that can be train inside training centre which you gonna have to build when playing the game,they are also one of the core aspect inside Realms,Helper have different perks on the missons depending on their professions and the mission type thus determine the success of the mission.you can see how them will perform on any of the mission on the the 'mission brief' tab by looking the '+' and '-' icon beside each of the helpers.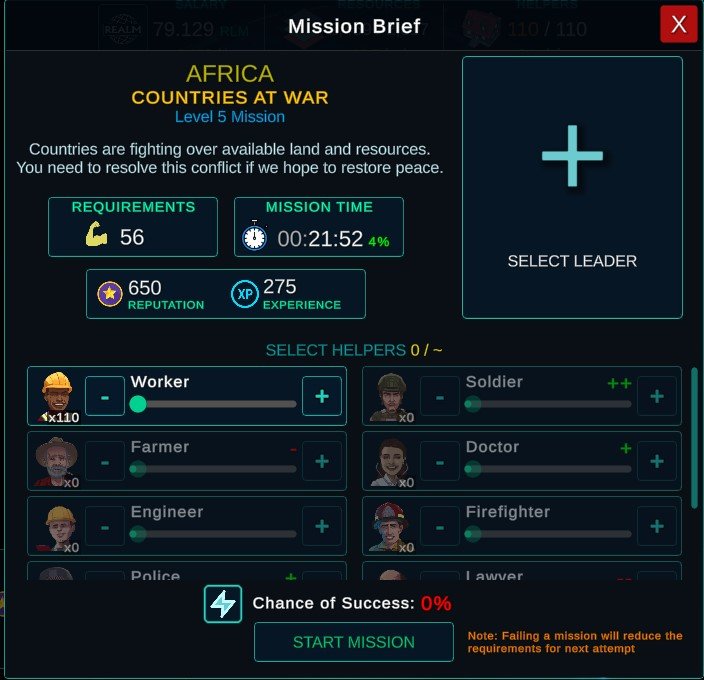 In addition to NFT helpers, there are regular helpers that are provided for free and can be used in all missions within the games, but they do not have any boosts or perks on missions.
Type of Helpers :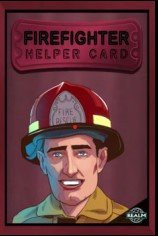 Doctors

Farmer

Engineer

Police

Firefighter

Soldier

Lawyer

Worker

Surgeon

Assasin
Each helper should be paired with a mission that matches their specialty, for example, doctors should be sent to disease outbreaks, firefighters to wildfire missions, and so on.
3.Equipments
Equipment NFT's are available in Realm packs, but can also be purchased through the in-game Store. Alternatively Players can earn them through events in and out of the game.
There are currently 7 different types of Equipment:
Caffeine
Recorder
Metal Detector
Navigator
Communicator
Business Cards
Calculator
Players are able to assign one or two pieces of equipment to each Leader to:
Enhance their abilities
Increase mission experience and rewards
Increase their RLM Salary
4. Boost
Boost cards will be available for players to purchase in packs or earn through in-game events.They can also be found inside in-game store. Players will be able to use these boost NFTs to gain unique Realm power ups. When using boosts, they will be consumed.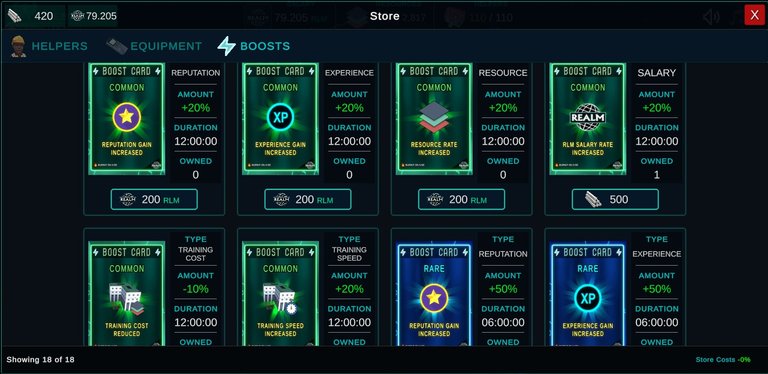 5. Regions
There are six regions to play, which can be unlocked as the player progresses through the game. The first region that a player will play when they first enter the game is Africa, followed by Asia, Europe, North America, South America, and Oceania.
6. Buildings
Buildings are structures that must be constructed in order for players to progress in Realm. Depending on the type of building, they serve a variety of functions. that is:
Headquarters - Is the first building you have to build, as the
Headquarters is upgrade so do the number of buildings that
can be
build, furthermore to build more advanced structures also
requires
headquarters to be upgraded.
Training Facilities - for training helpers
Factory - Generates resources
Housing - Provides housing for helpers,upgrade to keep more helpers on
stanby
Transport Depot - Provided logistics to generate extra resources
Storage Vault - Provides storage for resources
Research Centre - Various upgrades can be research here
Technology centre - Same with research center but this one required plasma.
Overview
Realm is a type of P2E game. To thrive in the world of [Realm], one simply needs logical and sharp intuition. Aside from the excitement of the game, the goal that everyone is aspiring for is the end-of-season rewards, which almost in total of 12k wax.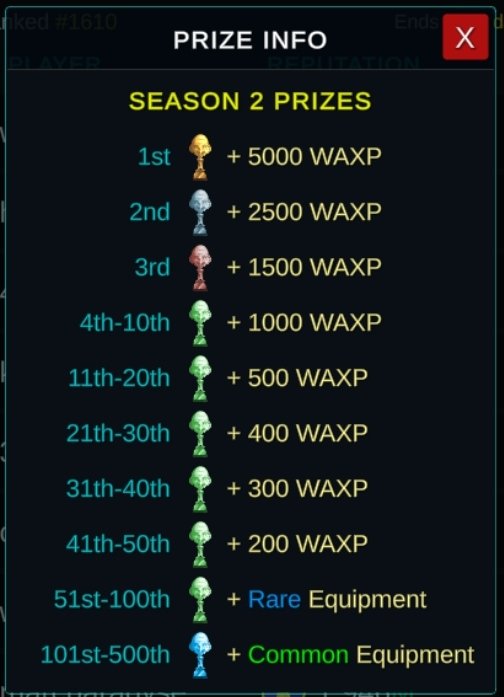 .
Forthcoming Future Plans
League Ranking System where players compete against another player that which having NFT holdings group by their Leader total stars.

New leaders.

New NFT packs for next season.
Pros and Cons
Pros
Seasonal - This is a good system that ensures every player starts the game from scratch at the start of each season. With this system, new players do not have to worry about being outmatched by older players.
cons
As with most new games, Realm (in its current state) is likely to be stuffed with players using multiple accounts and bots.
---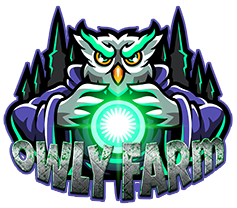 About Owly Farm Guild
Owly Farm has a dream to reach more people and help more crypto enthusiasts far and beyond. With that, we would like to announce that owly farm accounts on different social media channels will be active soon! We will be posting crypto and NFT news over those channels so make sure to leave a like and a follow on the links below.
Facebook
Instagram
Twitter
Discord
Our Partner:
SBT Official discord server
PeakD @sbtofficial
---
TWITCH STREAMS
https://www.twitch.tv/owlyfarmgaming
The twitch channel of the Owly Farm Main Roster Members. We promote esports in the Play 2 Earn cryptogaming community. . Giveaway at each of our streams for ACTIVE FOLLOWERS in the chat ONLY. Join us for lots of fun !!!
---
---