[ENG Sub] Reflexiones sobre el éxito (#ThreeShortsFriday)
---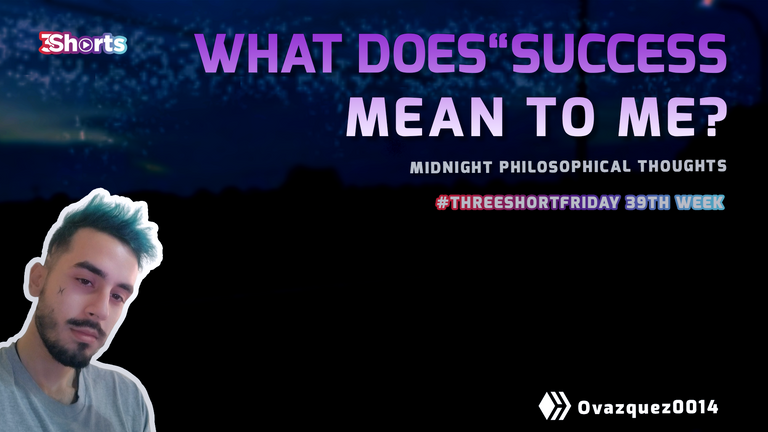 ---
ENGLISH

---
Today I bring you a very special video in which I participate in the #ThreeShortsFriday challenge proposed by @lduranjwp. In this challenge, we are invited to reflect on the nature of success and how we can achieve it in any creative field.
Success is a term that can be interpreted in different ways depending on each person. For some, success is measured in terms of public recognition and popularity, while for others it is about finding an emotional connection with their audience through their art. However, regardless of how success is defined, there are certain core values that are necessary to achieve it.
Passion and dedication are key ingredients to achieving success in any creative field. It is important to focus on the creative process and experiment with different styles and techniques to find our own creative voice and create something authentic and meaningful.
Thank you so much for taking the time to view my content, and I hope to be with you at an upcoming opportunity~.
ESPAÑOL

---
Hoy les traigo un video muy especial en el que participo en el reto #ThreeShortsFriday propuesto por @lduranjwp. En este desafío, se nos invita a reflexionar sobre la naturaleza del éxito y cómo podemos alcanzarlo en cualquier campo creativo.
El éxito es un término que puede ser interpretado de diferentes maneras según cada persona. Para algunos, el éxito se mide en términos de reconocimiento público y popularidad, mientras que para otros se trata de encontrar una conexión emocional con su audiencia a través de su arte. Independientemente de cómo se defina el éxito, hay ciertos valores fundamentales que son necesarios para alcanzarlo.
La pasión y la dedicación son ingredientes clave para lograr el éxito en cualquier campo creativo. Es importante enfocarse en el proceso creativo y experimentar con diferentes estilos y técnicas para encontrar nuestra propia voz creativa y crear algo auténtico y significativo.
Muchas gracias por tomarte el tiempo de ver mi contenido, y espero estar contigo en una próxima oportunidad~
---
! [Fuentes Usadas]

🔽 Music by: @ovazquez0014
---
---
▶️ 3Speak
---
---