I dared to recover the ABS of my car and I did it // Me atreví a recuperar el ABS de mi carro y lo logré
IN ENGLISH:
Hello friends, I told you a few days ago in one of my publications, that my car had stuck the brake pads on the right wheel, so I had to clean the entire cylinder and the caliper piston, but even so , when pressing the brake pedal, the caliper piston came out, pushed the pads, but did not return, that is, the pump injected the brake fluid into the caliper cylinder, but when the pedal was released, the piston it stayed outside, because the liquid remained compressed inside the cylinder, this problem only happened on that right wheel, so everything indicated that the problem was being caused by ABS.
EN ESPAÑOL:
Hola amigos, les decía hace unos días en una de mis publicaciones, que a mi carro se le había quedado atascadas las pastillas de los frenos la rueda derecha, por lo que tuve que limpiar todo el cilindro y el pistón del caliper, pero aun así, al pisar el pedal del freno, el pistón del caliper salía, empujaba las pastillas, pero no regresaba, es decir, que la bomba, esta le inyectaba el liquido de liga de frenos al cilindro del caliper, pero al soltar el pedal el pistón se quedaba afuera, porque el liquido se quedaba comprimido dentro del cilindro, este problema solo sucedía en esa rueda derecha, de manera que todo indicaba que el problema lo estaba ocasionando el ABS.
IN ENGLISH:
Well friends, to find out if the problem was actually caused by the ABS, I decided to place the right front wheel pipe, in the left front wheel hole, to understand it better, the ABS has six holes, two of which are they are connected to the pump through pipes, whose function is to inject the brake fluid into the pipes, said liquid is distributed by the ABS through four pipes, two of them go to the rear wheels and the other two go to the independently to the front wheels, so what i did was put the pipe from the right wheel to the left wheel and this one to the right wheel, now imagine what happened! It turns out that after exchanging the pipes of the front wheels, the problem happened to the left wheel, so I no longer had any doubt that the problem was caused by the ABS.
EN ESPAÑOL:
Bueno amigos, para saber si en realidad el problema lo estaba causando el ABS, decidí colocar la tubería de la rueda delantera derecha, en el orificio de la rueda delantera izquierda, para entenderlo mejor, el ABS posee seis orificios, de los cuales dos de ellos están conectados a la bomba a través de tuberías, cuya función es la de inyectar la liga de frenos a las tuberías, dicho liquido es distribuido por el ABS a través cuatro tuberías, dos de ellas van hacia las ruedas traseras y las otras dos van de manera independiente hacia las ruedas delanteras, entonces lo que hice fue colocar la tubería de la rueda derecha en la rueda izquierda y esta en la rueda derecha, ¡ahora imagínense lo que sucedió! resulta que después intercambiar las tuberías de las ruedas delanteras, el problema se paso para la rueda izquierda, de manera que ya no tenia duda en que el problema lo está ocasionando el ABS.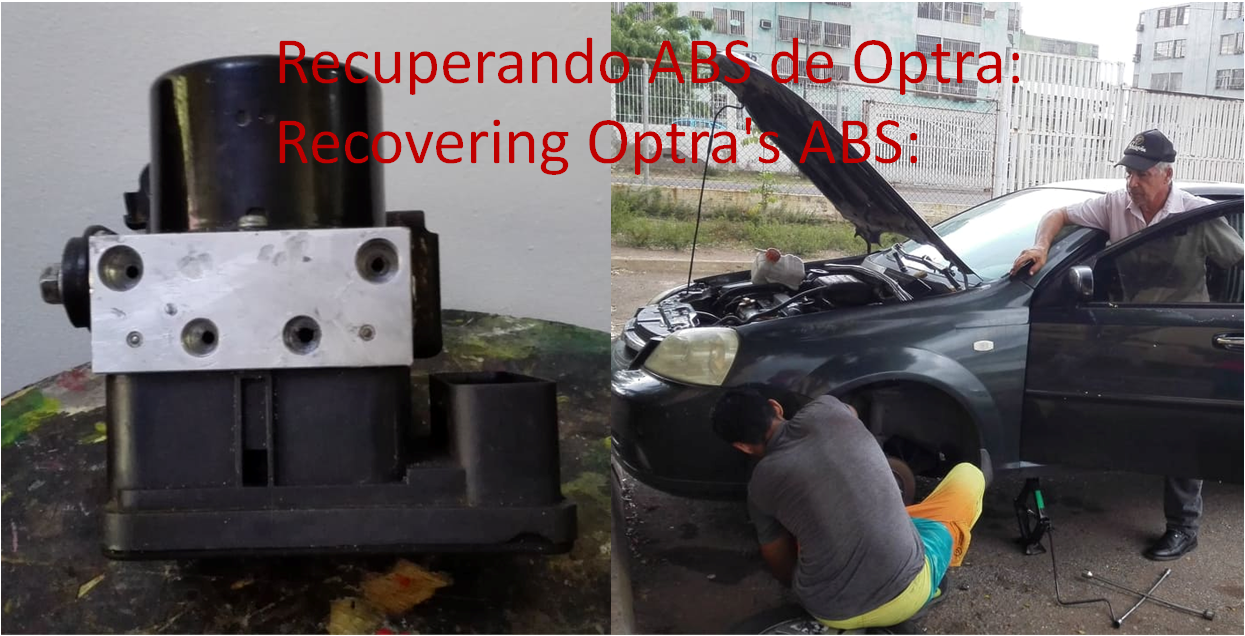 I dared to recover the ABS of my car and I did it // Me atreví a recuperar el ABS de mi carro y lo logré
If friends I dared to unlock the "ABS" to be able to solve the problem of the car's brakes, in reality, circumstances often make us creative, especially when we do not have enough money to buy a spare part, I will tell you that later After searching and searching for an ABS, I finally found this part but used, at a price of 80 dollars, what do you think? !Used! and only one week of guarantee, perhaps it could last me a long time, but it could also last a month or a few days, so I decided to check the ABS components to try to repair it or try to unlock the internal system, but of course, to To do this I had to know more about the internal components of the ABS, for this reason I began to investigate on the INTERNET, but in truth, I did not find a tutorial on the repair of this part, only information on its operation, so based on the way I the brake fluid circulates inside the ABS, I decided to drill the duct that communicates the inlet and outlet of the fluid that goes to the front wheels, which in turn communicates crosswise with the rear wheels, this perforation is to achieve that the liquid circulates freely and is not blocked by the ABS system.
Si amigos me atreví a desbloquear el "ABS" para poder solucionar el problema de de los frenos del carro, en realidad, muchas veces las circunstancias nos hacen creativos, sobre todo cuando no disponemos de suficiente dinero para comprar un repuesto, les cuento que después de buscar y buscar un ABS al fin encontré este repuesto pero usado, a un precio de 80 dolares, ¿que les parece? !Usado! y solo una semana de garantía, quizás me podía durar mucho tiempo, pero también podía durar un mes o unos días, de manera que decidí revisar bien los componentes del ABS para intentar repararlo o tratar de desbloquear el sistema interno, pero por supuesto, para hacer esto debía conocer más sobre los componentes internos del ABS, por esta razón me puse a investigar por INTERNET, pero en verdad, no encontré un tutorial sobre la reparación de esta pieza, solo informaciones sobre su funcionamiento, así que basado en la forma como circula el fluido de la liga de frenos dentro del ABS, decidí perforar el conducto que comunica la entrada y salida del liquido que va hacia las ruedas delanteras, que a su vez se comunica en forma cruzada con las ruedas traseras, esta perforación es para lograr que el liquido circule libremente y no sea bloqueado por el sistema del ABS.
This is the ABS model of my car: / Este es el modelo de ABS de mi carro: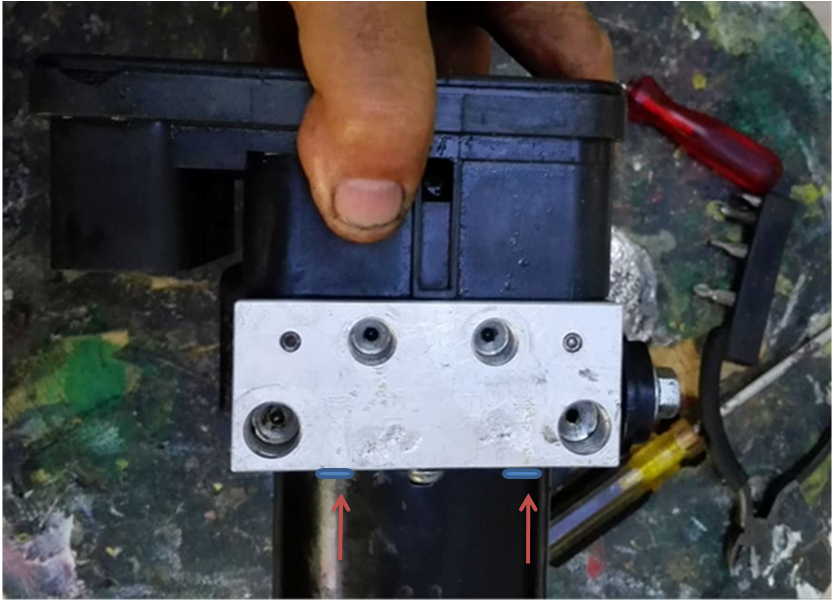 As you can see, it has 6 holes, 4 of them at the top and two on the sides, these holes correspond to the inlets and outlets of the liquid that goes from the pump to the 4 wheels, it is important to know that the fluid in the The right front wheel communicates through the pipes with the left rear wheel, and the left front wheel communicates with the right rear wheel, that is, they communicate crosswise.
Como podrán ver, posee 6 orificios, 4 de ellos en la parte superior y dos en los laterales, estos orificios corresponden a las entradas y salidas del liquido que va desde la bomba hasta las 4 ruedas, es importante saber, que el fluido de la rueda delantera derecha se comunica a través de las tuberías con la rueda trasera izquierda, y la rueda delantera izquierda lo hace con la rueda trasera derecha, es decir que se comunican en forma cruzada.
I decided to open the ABS: / Decidí abrir el ABS:
As the ABS presents a problem, as if it had a check valve, which prevents the return of the liquid, I decided to open this ABS to know its internal parts and try to solve the problem, good friends, after opening the part, I could see a group of solenoids and coils, I think that one of them was damaged causing the problem, I also think that these solenoids are activated with the sensor signal that is located on each wheel, the problem is that it is difficult to remove these solenoids , since they are embedded in the aluminum mass of the ABS itself, that is, when these parts are damaged they cannot be repaired, well friends, they are parts that are designed in this way so that they can be replaced by a new one.
Como el ABS presenta un problema, como si estuviese una válvula check, lo cual impide el retorno del liquido, decidí abrir este ABS para conocer sus partes internas e intentar solucionar el problema, bueno amigos, después de abrir la pieza, pude ver un grupo de solenoides y bobinas, pienso que alguna de ellas se dañó ocasionando el problema, también pienso que estos solenoides se activan con la señal sel sensor que esta ubicado en cada rueda, el problema es que es difícil retirar estos solenoides, ya que están embutidos en la propia masa de aluminio del ABS, es decir, que estas piezas al dañarse no se pueden reparar, bueno amigos, son piezas que las diseñan de esta manera para que sean reemplazadas por otra nueva.
Look inside the ABS: / Miren la parte interna del ABS: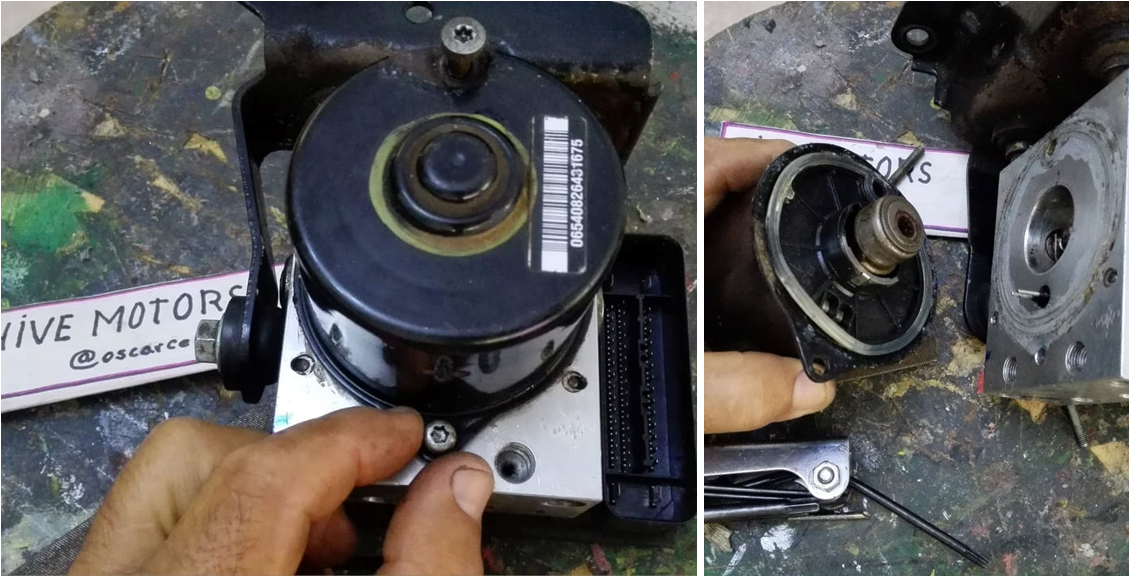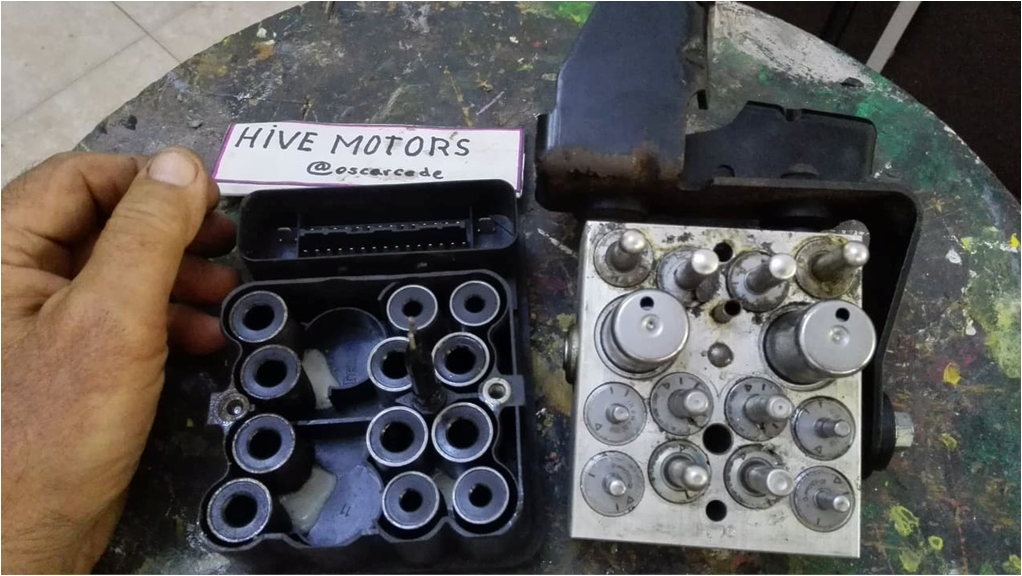 Movement of brake fluids in the ABS lines: / Movimiento de líquidos de frenos en las líneas del ABS:
The red and yellow arrows indicate the route of the liquid through the pipes, with the red arrow we can see that the liquid comes out of the pump and feeds the left front wheel and the right rear wheel and with the yellow arrow, I indicate the route of the liquid that goes from the pump and feeds the right front wheel and the left rear wheel, that is, they communicate in a crossed way.
Las flechas rojas y amarillas, indican el recorrido del liquido por las tuberías, con la flecha roja podemos observar que el liquido sale de la bomba y alimenta la rueda delantera izquierda y la rueda trasera derecha y con la flecha amarilla, les indico el recorrido del liquido que va desde la bomba y alimenta la rueda delantera derecha y la rueda trasera izquierda, es decir que se comunican en forma cruzada.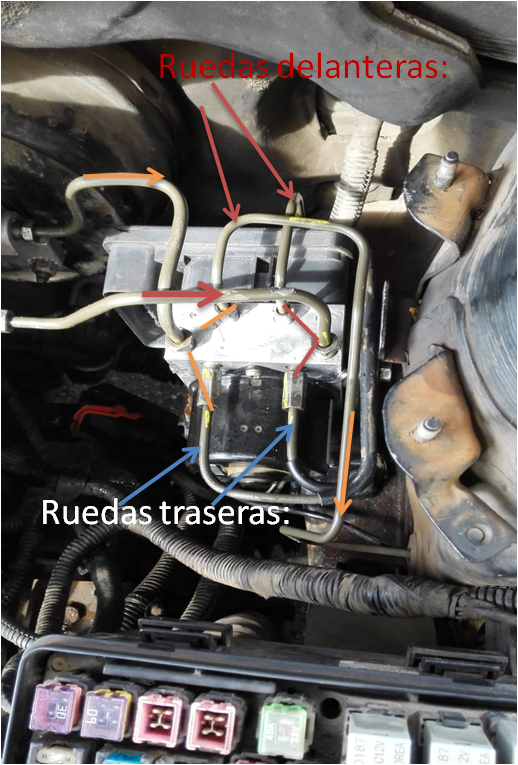 An idea occurred to me: Drill the ABS / Se me ocurrió una idea: Perforar el ABS
Yes friends, as I said at the beginning, circumstances often force us to be creative and invent to solve problems, especially when a spare part is not available, or simply because we do not have the money to buy it.
Si amigos, como les decía al comienzo, muchas veces las circunstancias nos obligan a ser creativos e inventar para solucionar los problemas, sobre todo cuando un repuesto no se consigue, o simplemente porque no tenemos el dinero para comprarlo.
I'll tell you that after analyzing the ABS problem, the idea of ​​perforating the aluminum mass came to my mind so that the brake fluid flowed freely between the ducts so that the fluid could return to the pump. the brakes or master cylinder as it is often called.
Les cuento que después de analizar el problema del ABS, llegó a mi mente la idea de perforar la masa de aluminio para que el líquido de frenos fluyera libremente entre los conductos para que el liquido pueda retornar a la bomba de los frenos o cilindro maestro, como se le suele llamar.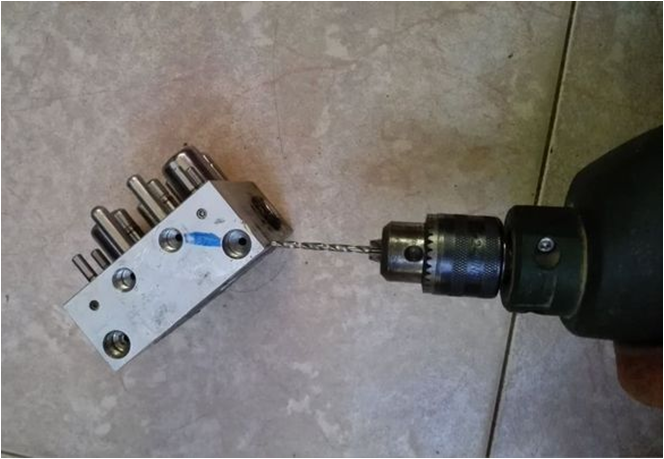 A very precise job: / Un trabajo de mucha precisión:
This work requires a lot of precision, therefore I need to draw some lines to locate the point of intersection, which will indicate the point where I have to drill, as I said, you have to be precise, because any mistake would ruin the job .
Este trabajo requiere de mucha precisión, por lo tanto necesito trazar unas rectas para ubicar el punto de intersección, lo cual me va a indicar el punto donde tengo que perforar, como les decía, hay que tener precisión, porque cualquier equivocación nos arruinaría el trabajo.
Line drawing to find the point of intersection between the ABS internal ducts / Trazado de lineas para encontrar el punto de intersección entre los conductos internos del ABS
The idea is to achieve that when you step on the pedal, the fluid from the brake league reaches all 4 wheels, and after releasing the pedal, it returns to the pump again, in this way the pressure in the piston will decrease and enter the caliper cylinder, for this reason I want the ducts to be free, so I am going to proceed to perforate the aluminum mass, I am going to do this work with the use of a drill and a bit with a diameter of 1/8 inches, but first I must draw some lines above the piece to locate the point of intersection, which will be the point where I am going to drill, I am also going to drill the existing ducts with the bit, to make sure they are free:
La idea es lograr que al pisar el pedal, el fluido del liquido de la liga de frenos llegue a las 4 ruedas, y luego de soltar el pedal, retorne nuevamente a la bomba, de esta manera va a disminuir la presión en el pistón y entre en cilindro del caliper, por esta razón quiero que los conductos estén libres, así que voy a proceder a perforar la masa de aluminio, este trabajo lo voy a realizar con el uso de un taladro y una broca con un diámetro de 1/8 de pulgadas, pero antes debo trazar unas rectas por encima de la pieza para ubicar el punto de la intersección, que será punto donde voy a perforar, también voy a taladrar con la broca los conductos existentes, para asegurarme de que queden libres:
The arrows that you see in the following image indicate the points or lines that I am going to drill: // Las flechas que observan en la siguiente imagen, les indican los puntos o lineas que voy a taladrar: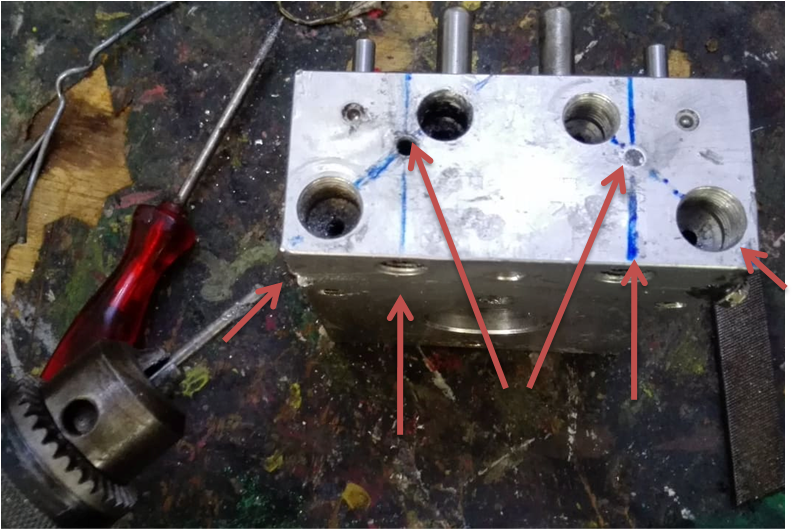 After opening the holes, now I am going to blow the ducts with the compressor to make sure that they all communicate with each other, and at the same time remove the remains of chips, because these ducts must be clean.
Después de abrir los orificios, ahora voy a soplar con el compresor, los conductos para asegurarme que todos se comunican entre si, y a la vez eliminar los restos virutas, porque estos conductos deben estar limpios.
Now, I'm going to plug the holes with an aluminum wire and then I sand it down so that the surface looks original, without the marks of the holes.
>Ahora, voy a taponear los orificios con un alambre de aluminio y luego le paso una lija para que la superficie se vea original, sin las marcas de los huecos.
Notice that after sanding the piece, the marks of the hole plugs are hardly noticeable: / Fíjate que después de lijar la pieza, apenas se notan las marcas de los tapones de los agujeros: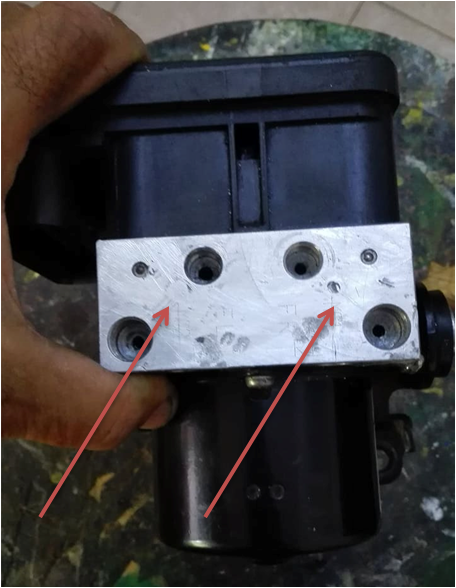 Well friends, I have finished assembling the ABS, the part looks original despite the modifications, I think that everything has turned out well and I am sure that it will work, so all that remains is to mount it again on the car and perform the bleeding all four wheels:
Bueno amigos, ya terminé de armar el ABS, la pieza se ve original a pesar de las modificaciones, pienso que todo ha quedado bien y estoy seguro de que va a funcionar, así que solo queda por montarla nuevamente en el carro y realizar el purgado de las cuatro ruedas: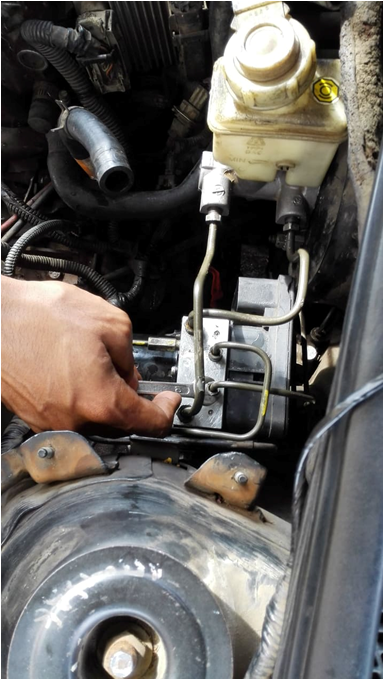 Bleeding the 4 wheel brakes: / Purga de los frenos de las 4 ruedas:
Here I am with my son removing the air from the brake lines. // Aquí estoy con mi hijo realizando el purgado de los frenos.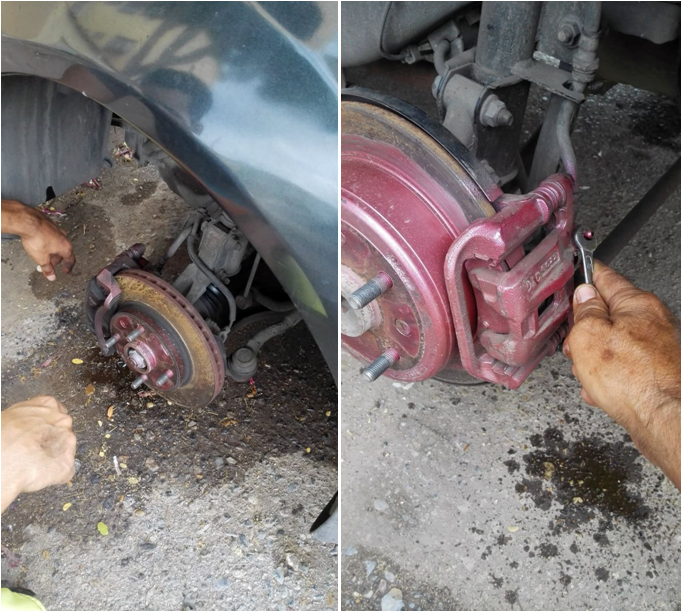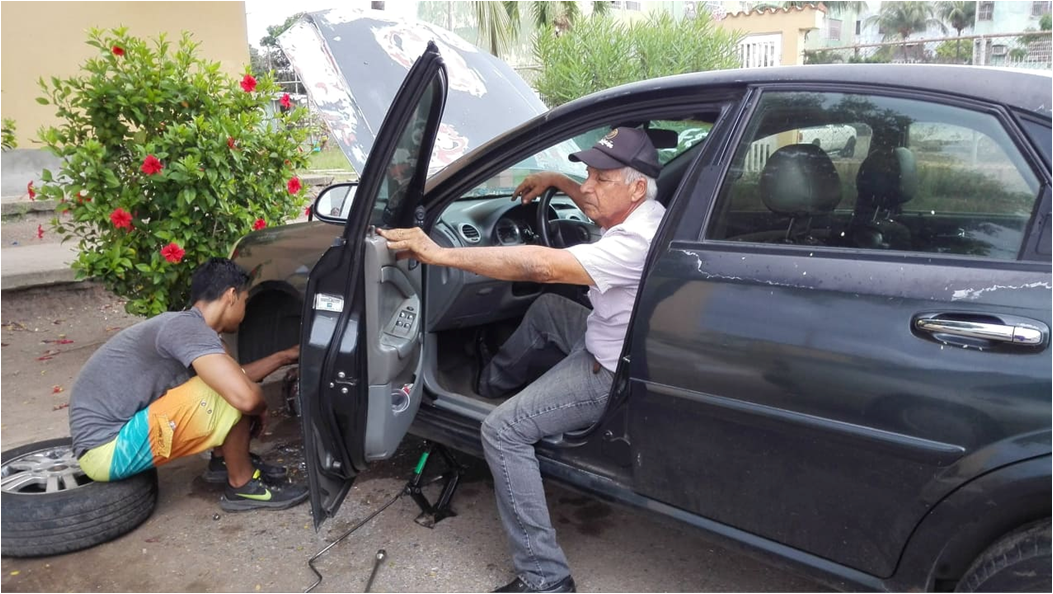 As I said at the beginning, circumstances often force us to invent, to be creative, to try to repair our equipment, in this case I dared to repair or rather recover the ABS of my car, which costs between 120 and 150 dollars. thank God after assembling the part and carrying out the respective bleeding, the car is braking very well, to tell you that everything feels normal, the brake pedal is up and soft as it should be, so the work I did was a complete success, This has been a wonderful experience, I also want to tell you that I connected the ABS connector as it was, that is, everything was original, so I hope this idea helps you, in a similar case, regards.
Como les decía al comienzo, muchas veces las circunstancias nos obligan a inventar, a ser creativos, a tratar de reparar nuestros equipos, en este caso me atreví a reparar o más bien recuperar el ABS de mi carro, el cual tiene un costo entre 120 y 150 dolares, Gracias a Dios, después de montar la pieza y realizar el respectivo purgado, el carro esta frenando muy bien, con decirles que todo se siente normal, el pedal del freno quedó arriba y suave, como debe ser, de manera que el trabajo que hice fue todo un éxito, esta ha sido una maravillosa experiencia, tambiés quiero decirles que el conector del ABS lo conecté tal cual como estaba, es decir, que todo quedó original, así que espero que esta idea les sirva de ayuda, en un caso similar, saludos.
---
---