Trying Out USB MIDI Roll-Up Piano with Hauptwerk
It's summer and it's fun to be able to play outside, maybe even on the beach. But carrying a real-sized MIDI keyboard sometimes can be impractical. I've always been curious about how these Roll-Up pianos work so I recently I bought this one:
USB MIDI Roll-Up Piano 61 Notes:
https://amzn.to/3xoUoTF
Yesterday it was delivered and today I'm trying it out in the garden while playing Schmücke dich, o liebe Seele, Op. 122 No. 5 by Johannes Brahms. Hope you will enjoy the sounds of Hauptwerk Salgareda sample set by Inspired Acoustics!
I had to put a plank under the keyboard because it's made out of silicone and on the soft grass it is tedious to play. It took a while since I got used to the touch. It takes a bit of effort to press the keys evenly so that MIDI signal would not break. It's easier to play an early music piece which doesn't require perfect legato touch but I was glad to meet this challenge. Next time Ausra and I go to the beach we will certainly take this little guy with us too.
Score with fingering:
https://secrets-of-organ-playing.myshopify.com/products/schmucke-dich-o-liebe-seele-op-122-no-5-by-johannes-brahms-with-fingering?_pos=1&_sid=65c7f724f&_ss=r
Thank you for your support! You get early access and I get to keep going.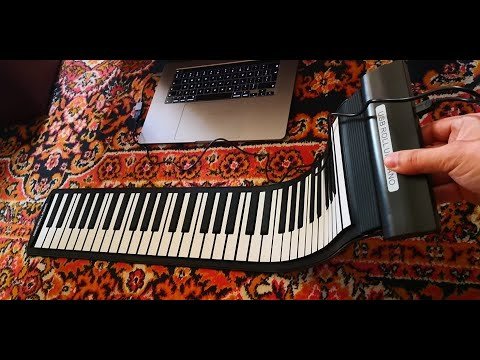 ---
---