Pinky and Spiky Challenge Week 192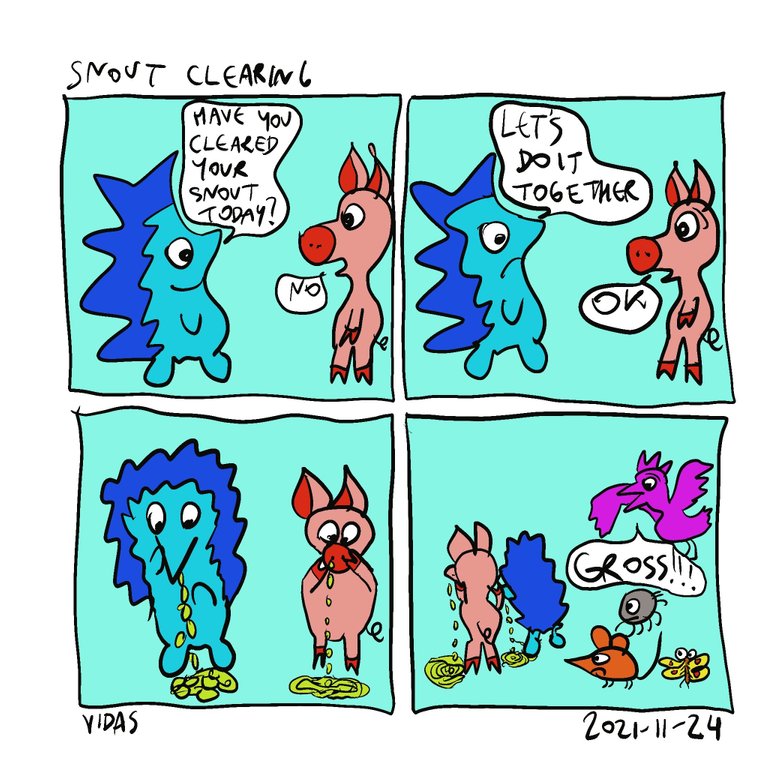 Do you like the quirky humor of our piglet Pinky and hedgehog Spiky? Can you relate with the screw-ups of Spiky? Or perhaps you have something in common with the order-loving Pinky? Or maybe you like their pets - Cornelius the purple cardinal, Dietrich the mouse, Victor the spider and Betsy the butterfly? They sure add lots of fun to the situations. Here's the thing: my wife Ausra - @laputis and I invite you to join in a challenge to draw our beloved imaginary friends in #drawaday community.
Are you an experienced artist? You can participate easily. Are you a beginner like us? No problem. This contest is open to every humor-loving Hivian.
Rules
Make a post on Hive of a comic strip you made (use https://peakd.com or https://hive.blog interfaces to post)
It could be a single panel or a multi-panel comic strip - the length doesn't matter
Could be a silent comic too - without words.
The comic strip has to follow this challenge theme
The comic has to be original and made by you
Digital and conventional art is valid
Use any drawing materials you want
Use #pinkyandspiky and #drawaday as your tags (Optional: use #palnet, #neoxian, #creativecoin and #marlians tags as well to earn more tokens)
The challenge is open until next Wednesday 12:00 PM UTC
Theme: Snout Clearing
Will you come up with some exciting and funny comic strip about this? I'm sure you will.
Support our fellow participants - upvote, reblog and comment their entry to let them know specifically what did you appreciate about their drawing.
We hope to see even more entries next week!
And now go wild with Pinky and Spiky!
---
Check out my Pinky and Spiky comic books:
https://amazon.com/author/vidaspinkevicius
---
---