Day 11 Mass Indoctrination | 3rd November 2021 | Zoom Meeting
1 Corinthians 10:21 Ye cannot drink the cup of the Lord, and the cup of devils: ye cannot be partakers of the Lord's table, and of the table of devils.
The table in the church or place to feed.
Philemon 1:21 Having confidence in thy obedience I wrote unto thee, knowing that thou wilt also does more than I say.
1 Corinthians 14:37 If any man think himself to be a prophet, or spiritual, let him acknowledge that the things that I write unto you are the commandments of the Lord.
What Paul wrote was the commandment of God. Since we are children God, we should to our common sense to do the rights. God reward in good if you are will.
Numbers 30:2 If a man vow a vow unto the LORD, or swear an oath to bind his soul with a bond; he shall not break his word, he shall do according to all that proceedeth out of his mouth.
A vow is done voluntarily. If you vow, you must fulfill. It is not evil to marry but if you made a vow you should fulfill it.
Ecclesiastes 5:4 When thou vowest a vow unto God, defer not to pay it; for he hath no pleasure in fools: pay that which thou hast vowed.
1 Corinthians 9:7 Who goeth a warfare any time at his own charges? who planteth a vineyard, and eateth not of the fruit thereof? or who feedeth a flock, and eateth not of the milk of the flock?
The offering should be decided voluntarily. Whether it is big or small, you are the one to decide what you want to give.
St. Mark 12:42 And there came a certain poor widow, and she threw in two mites, which make a farthing.
A vow is also a voluntary act. David offers Thanksgiving before his people. Thanksgiving is a sacrifice of praise and also doing good to our fellow men. Thanksgiving, praising God with our lip, and doing good to our fellow men.
Hebrews 13:15 By him therefore let us offer the sacrifice of praise to God continually, that is, the fruit of our lips giving thanks to his name.
Hebrews 13:16 But to do good and to communicate forget not: for with such sacrifices God is well pleased.
Colossians 3:15 And let the peace of God rule in your hearts, to the which also ye are called in one body; and be ye thankful.
It is the commandment of God to always be thankful. To all the good God has done, we should be thankful for it.
1 Thessalonians 5:18 In every thing give thanks: for this is the will of God in Christ Jesus concerning you.
St. Matthew 6:2 Therefore when thou doest thine alms, do not sound a trumpet before thee, as the hypocrites do in the synagogues and in the streets, that they may have glory of men. Verily I say unto you, They have their reward.
We should not boast of our contribution.
We are inviting you to join the Bible Readers community that studies the words of God and also earns some reward by making our reactions to it. We can check this link https://peakd.com/c/hive-182074/trending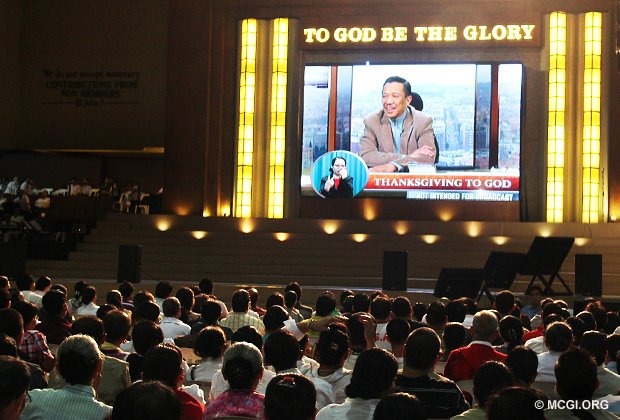 ---
---