Day 1 Mass Indoctrination | 8th November 2021 | Zoom Meeting

The first doctrine of Christ is baptism. We are to observe the doctrine of Christ.
The Acts 22:16 And now why tarriest thou? arise, and be baptized, and wash away thy sins, calling on the name of the Lord.
source
The first thing Paul was told to do when he left the Jewish religion is to be baptized. Paul was formerly is the Jewish region before he was called to the ministry.
Galatians 1:22 And was unknown by face unto the churches of Judaea which were in Christ:
Galatians 1:23 But they had heard only, That he which persecuted us in times past now preacheth the faith which once he destroyed.
source
When Paul was is the Jewish religion, he was persecuting the church of God.
Ephesians 5:23 For the husband is the head of the wife, even as Christ is the head of the church: and he is the saviour of the body.
Ephesians 5:25 Husbands, love your wives, even as Christ also loved the church, and gave himself for it;
source
Christ is the head of the church. We are not to regret the church. Christ loves the church of God. The church is till eternity. The church will be the instrument that God will use. It's the church that will bring wisdom to men. There are things we should do in other to receive the church in the Bible.
St. Matthew 16:18 And I say also unto thee, That thou art Peter, and upon this rock I will build my church; and the gates of hell shall not prevail against it.
source
The Gentile are the same member of the church of God. The church is an important institute for Christ and He purchase it with is blood.
St. John 12:49 For I have not spoken of myself; but the Father which sent me, he gave me a commandment, what I should say, and what I should speak.
source
The word that Christ spoke was the commandment of the father. All is words are the word of the Father.
Deuteronomy 18:18 I will raise them up a Prophet from among their brethren, like unto thee, and will put my words in his mouth; and he shall speak unto them all that I shall command him.
source
The official name of the church in the Bible is the church of God.
Isaiah 43:7 Even every one that is called by my name: for I have created him for my glory, I have formed him; yea, I have made him.
source
Everything that belongs to God is called by His name. And also the church is the church of God. The household of God is the church.
We are inviting you to join the MCGI Cares (Hive) community that study the words of God and also earn some reward by making our reactions on it. We can check this link https://peakd.com/c/hive-182074/trending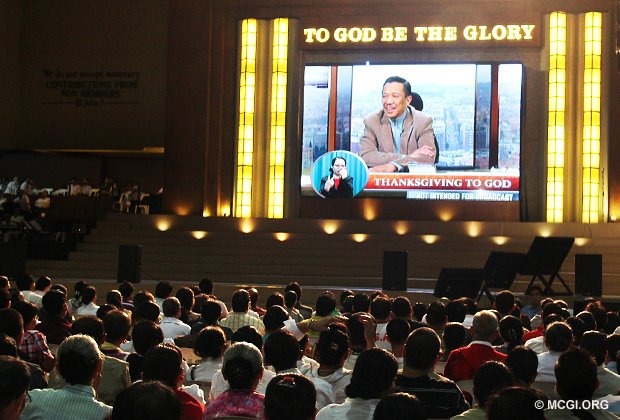 ---
---