LMAC - JUBILEE SPECIAL
Yayyyy... Round 100? Cheers to us🥂🍻
Hello dear hivers and lmacians, I hope your week went smooth, it's the weekend now and I hope you enjoy it to the fullest, take some rest and have fun...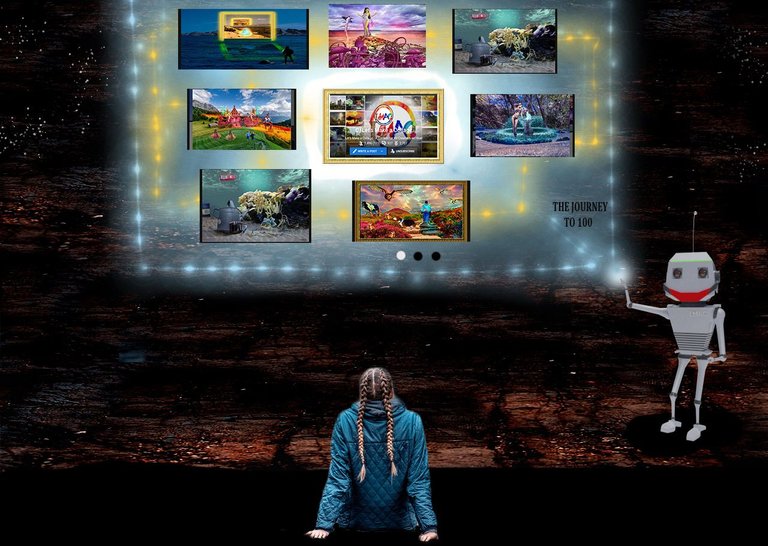 This collage shows a young lady sitting as the lmac bot displays all collages submitted from round 1-100, a private art exhibition. Would you love this though? For me, yes I'd love it...
What's does lmac mean to me?
It means a whole lot to me, this is the only contest I ever participated in and stayed consistent for this long. It's like a lifestyle to me now, back in September/October when I was so sick, for a couple of weeks my blog was empty but guess what? My only post was once a week and it was an LMAC contest post😂😂😂
How did the LMAC impact your Hive experience.
For real though, this contest made me learn how to be consistent on hive. At some point, my contest post used to be the one with the highest payout so this motivated me to post, interact, and spend more time on hive. Honestly, If I'm asked to say 20 names of hivers, trust me it's all going to be people from the LMAC community.
What do you value most about the LMAC
I value the community we have built together to be very honest, we are strong for real. The week that #lil was born really wowed me, so many images, artworks and all. We did it together and that's what I love and value most.
I didn't really use so many collages on this one because I painted most of the things there...
I got the girl image from Pixabay
Robot and collage by @quantumg
Additional Collages by @matrix01, @anibal-aa and @lmac header
Thank you for visiting my blog, have a wonderful weekend ahead.
Cheers 💓💞
---
---