What are you doing to drive Traffic to Leofinance.io?
Not to blow my own trumpet but for as long as can remember I have been promoting my posts published on the leofinance platform and leofinance.io platform itself every day on Twitter as my own little way of driving some traffic back to leofinance.io, and when am done writing this post and publish it on leofinance I will still do the same thing I have been doing every day and in almost all posts maybe with an exemption of three or four posts that I can think of, maybe because I was in a busy place or on-road trying to catch a bus to somewhere.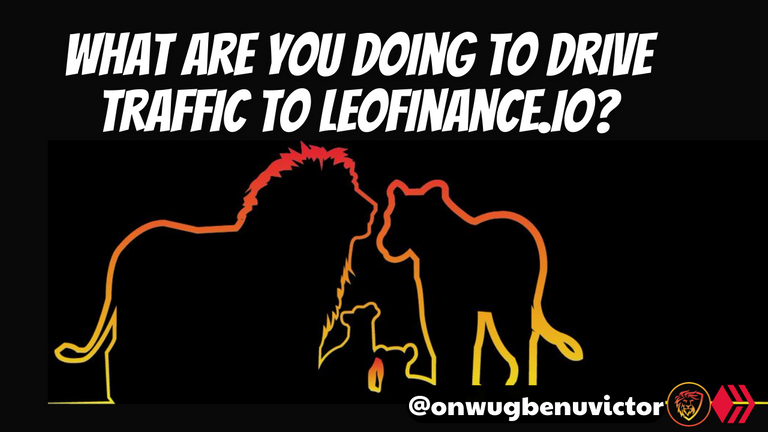 Now I won't lie I have seen so many other LIONS 🦁 promoting Hive and Leofinance in their own different ways and styles they prefer and I must say it is truly commendable and it makes me happy that everyone is playing their part in other to put leofinance on the map and out there for the World to see how amazing this Web3 platform is, and how it can change their lives for the better, I'm not just talking about rewards or earnings, but quality crypto and finance knowledge been shared by different amazing content creators on this amazing platform and also the ability to make friends, engage and have an intelligent conversation with one another in our posts comment section and also in the leofinance discord group.
Also on Twitter, I go to different popular and crypto influencer's comment sections to comment about leofinance, Leo token, Hive, cub, and polycomb, when they ask questions like which crypto platform is the best or one of best, with a great community, or which altcoins to invest in, or which coins have been doing well and holding their ground in this prolonged crypto bear market, I also still like and retweet other leofinance contents to increase the chances of it gaining the exposure or PR it deserves for the world to see, as Twitter is the biggest crypto hub or platform there is.
Leofinance Is Benefiting Hard From Khal's TikTok (Traffic Wise)
@khaleelkazi himself is also doing his best to drive traffic to Leofinance.io using TikTok and YouTube Shorts, that is an amazing PR strategy, and in the process of promoting and driving traffic to leofinance.io, he is also impacting a lot of crypto knowledge to anyone that comes across his page for free. This post is a call to action for all of us, to keep doing what we are doing and even more to put Leofinance and Hive out there for the world to see and make it go mainstream.
THANKS GUYS FOR READING MY POST.
PLEASE FOLLOW ME ON:
Discord: onwugbenuvictor#3447
Twitter: @VictorOnwugbenu
Posted Using LeoFinance Beta
---
---