Having your emotions under control and thinking long-term, gives you a huge edge in Crypto trading.
Now, understanding that the Crypto market will always go up and down and that we will always have Bear and Bull markets conditions, that won't last forever, helps you prepare yourself mentally and emotionally for any outcome and how to handle it better without you getting too emotional and just react without thinking it through. Also, we should learn to stop chasing trades, let them come to you, and be always ready to take advantage of good trading opportunities because those who buy at the top find it hard to win, as they get dumped on while chasing trades and most of the time they would have to sell off at a huge loss, while those who let the trade come to them buys towards the bottom, will always win because they get good entry options with little or no risks involved, but in all patience and consistency is key to you succeeding in the crypto industry.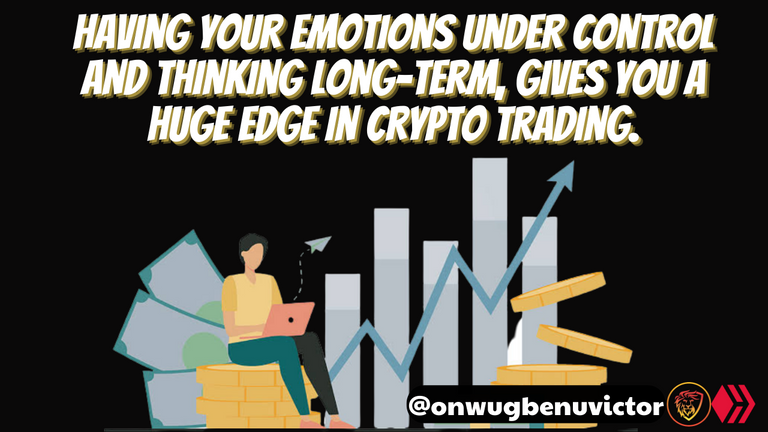 In crypto, trading emotions ate very important and work in both directions, either Greed or Extreme Fear and the truth is both of them are dangerous to you and your trades, that is why it is advisable to get a good crypto education and train yourself to be mentally and emotionally strong because once Greed kicks in, everyone expects Bitcoin and the other coins in their portfolio will pump further and forever then later get caught in a dip or dump and lose all their profits, sometimes they lose their capitals too. While Extreme Fear is in a crypto bear market, most trader thinks the price of Bitcoin and Altcoins will continue to dump or drop further without recovering, and these two situations keep happening all the time.
Most crypto traders who have not been able to control their emotions tend to lose in the crypto industry, sorry to say because they often follow the crowd and listen to the noise in the market and on social media, which most of the time turns out to be FUD news meant to create fear, uncertainty, and doubt in the crypto market. And those who don't follow the crowd and do their own research tend to succeed more. But the rules are simple, buy low and sell high, but many are buying high to sell low, which is too bad for a trader. Overcoming emotions in Crypto investment or trading is a great skill that is underrated but needs to be mastered.
For example: Last year November when the market was pumping and we hit a new all-time high at $69k, many were getting greedy and buying non-stop instead of looking for selling opportunities and trading with tight stop losses, Now we are in a bear market and people are panic selling instead of buying or accumulating more coin at cheaper rates. This is the reason why most people never win and lose.
When you can control your emotion and combine that with the long-term investment mindset, then you have an edge over many crypto traders, always remember crypto is a marathon, not a sprint.
THANKS GUYS FOR READING MY POST.
PLEASE FOLLOW ME ON:
Discord: onwugbenuvictor#3447
Twitter: @VictorOnwugbenu
Posted Using LeoFinance Beta
---
---