Funny how everyone is bullish again, but is this a fakeout or breakout?
So for the past two days, the crypto market has seen a lot of green candles and some nice pumps, although we are not out of the crypto winter or brutal bear market yet, but the positive sentiment of a possible bull is really cool and building back the confidence some people have already lost in the crypto market since the bear market started and kept on prolonging, now from the Bitcoin Fear and Greed Index, we have moved from extreme fear to fear, which is not bad and some level of progress because the crypto has been in extreme fear for months now and it feels good that there is a bit of relief in the crypto market, but to ask the question everyone is skipping and don't want to ask, is this pump a fakeout or breakout?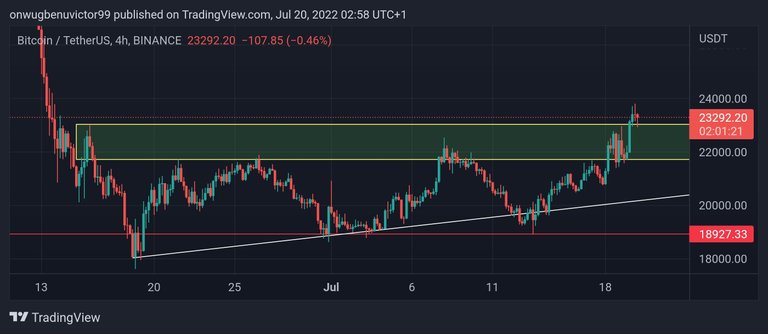 At this point, it looks like a fakeout, although it had broken through the yellow box above which is the key resistance box I drew between $21.7k and $23.1k because that region has rejected the Bitcoin price from breaking through it more than 4 times in a row, so it was the perfect resistance level, now that the price has broken above it everyone seems to be bullish than a week ago, but I won't rule out the possibility of a fakeout until it gets to $25k and stays above it, because for now, price is still very close to the yellow box and it could fall back below It. And on the Bitcoin 4 hours timeframe chart, Bitcoin just formed a Doji candle that signifies reverse, so it could possibly reverse to test the yellow box and continue pumping or retest the yellow box and fall below it, although I don't want that though but we have to be prepared for every possible outcome, whether it favors the bull or bears.
Who has noticed the streets of crypto have been more bullish than ever within a timeframe range, but most importantly and not so shocking but it seems like crypto critics have lost their voice and advantage.
THANKS GUYS FOR READING MY POST.
PLEASE FOLLOW ME ON:
Discord: onwugbenuvictor#3447
Twitter: @VictorOnwugbenu
Posted Using LeoFinance Beta
---
---