Can Crypto help solve the world's income inequality problem?
Can Crypto help solve the world's income inequality problem?
For me, I will say "Hell yeah", Crypto's main objective when Satoshi Nakamoto created Bitcoin the first ever successful cryptocurrency in 2008 and was launched a year after, 13 years ago, was to fix the traditional or fiat currencies issue and to transfer power back to the people because the governments have been oppressing the masses or citizen for a very long time. Now the shift in power from the government to the people and the financial freedom that crypto provides are the main reasons why the power that be, talking about the Governments, Central Bank, and the International Monetary Fund (IMF) are so scared of it and are doing everything in their power to get rid of it or control it, but since the can not control it and seems not to be going anywhere, they did the next best thing which is putting fear the minds of the citizens by calling is a Scam and also placing a band on it, that's why the International Monetary Fund (IMF) are so pissed at El Salvador and the Central African Republic (CAR) for making Bitcoin legal tender in their countries.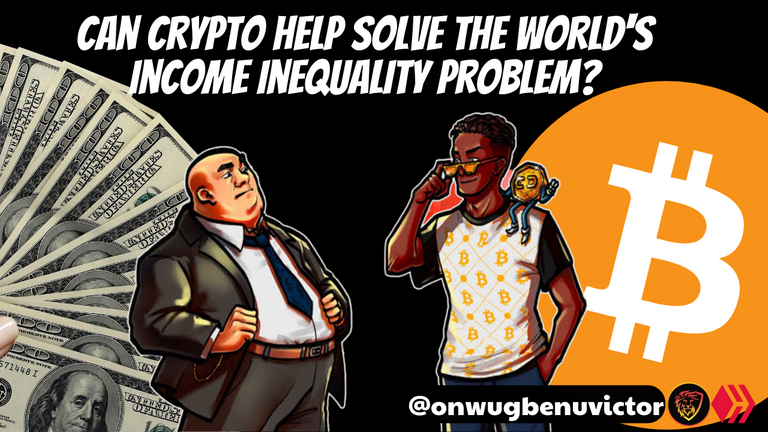 Fiat System Failed Us
The fiat or traditional system steals from the lower class (middle class and the poor) and creates a large wealth gap as it gets debased and the high increase in inflation is not helping matters at all, because the value of the fiat currencies is constantly reducing and the price for good and services, food, electricity, and gas are increasing by the day, Bitcoin can not be printed or hyper-inflated. So in my opinion, I do think it will help the lower class. And for the price is too volatile and expensive, we are in the best season or time to buy in or invest because of the constant dipping bear market, that has given everyone the opportunities to buy coins at a very cheap price or rate.
Buying the dip is always the best thing to do at a moment like this when the bear market keeps on dipping and it also depends on the projects you are buying, but please always remember to DYOR (Do your own research) it is very important to make you a profitable crypto trader or investor, you can also DCA to help manage the volatility of the crypto market if you are scared.
THANKS GUYS FOR READING MY POST.
PLEASE FOLLOW ME ON:
Discord: onwugbenuvictor#3447
Twitter: @VictorOnwugbenu
Posted Using LeoFinance Beta
---
---