Bruises (Cover) || Hive Open Mic [WK-128]

---
Here we are again, with another heartbreak song. We have chosen this week's theme for Hive Open Mic to be "Desamor," meaning "Heartbreak."
Heartbreak songs hit differently, you could agree. Well, not for everyone, but one can say they are powerful ones as they usually come from a place of pain. Today, I bring to you "Bruises" by Lewis Capaldi.
I'm no Swifty (fan of Taylor Swift), but I kind of like deep songs like this, and Lewis does very well to deliver them. Not that my heart is shattered into a million pieces spread across the universe. But let's not go there.
---
This song is quite simple, yet for some reason I found it really challenging. I have known it for a long time, but still I couldn't just get what I wanted.
I literally had to do a hundred and seventy takes to bring this to you. It sure would sound like an over-exaggerated figure, but I assure you, as an amateur musician like myself, it isn't.
At some point, my PC crashed, with all I had done, and then I had to restart and go through all the rigor again. I couldn't be any happier as I went through all the stress. I couldn't "not" put in my best into it.
If I had not had my brother with me, @starstrings01, I may not have finished this project (Bruises). He isn't always here, but whenever he is, he sure is like an angel sent at the right time.
The audio production was monitored by @starstrings01. And then @starstrings01 and another brother, who's new to Hive (watch out for him) @t-gold, made the video as you have it.
It sure wouldn't sound like a lot happened, but believe me that my soul went into this, as always. So, so ensure you listen with an open mind an enjoy it.
---

SPANISH
---
Aquí estamos de nuevo, con otra canción desgarradora. Hemos elegido el tema de esta semana para Hive Open Mic como "Desamor", que significa "Heartbreak".
Las canciones de Heartbreak golpean de manera diferente, podrías estar de acuerdo. Bueno, no para todos, pero se puede decir que son poderosos, ya que suelen provenir de un lugar de dolor. Hoy os traigo "Bruises" de Lewis Capaldi.
No soy Swifty (fanático de Taylor Swift), pero me gustan las canciones profundas como esta, y Lewis lo hace muy bien para entregarlas. No es que mi corazón esté destrozado en un millón de pedazos repartidos por todo el universo. Pero no vayamos allí.
---
Esta canción es bastante simple, pero por alguna razón me pareció muy difícil. Lo sé desde hace mucho tiempo, pero aún así no pude conseguir lo que quería.
Literalmente tuve que hacer ciento setenta tomas para traerte esto. Seguro que sonaría como una figura exagerada, pero te aseguro que, como músico aficionado como yo, no lo es.
En algún momento, mi PC se estrelló, con todo lo que había hecho, y luego tuve que reiniciar y pasar por todo el rigor de nuevo. No podría estar más feliz, ya que pasé por todo el estrés. No pude "no" poner lo mejor de mí.
Si no hubiera tenido a mi hermano conmigo, @starstrings01, es posible que no hubiera terminado este proyecto (Bruises). No siempre está aquí, pero cada vez que lo está, seguro que es como un ángel enviado en el momento adecuado.
La producción de audio fue monitoreada por @starstrings01. Y luego @starstrings01 y otro hermano, que es nuevo en Hive (cuidado con él) @t-gold, hicieron el video tal como lo tienes.
Seguro que no parecería que hubiera pasado mucho, pero créeme que mi alma se metió en esto, como siempre. Así que asegúrate de escuchar con la mente abierta y disfrutarlo.
---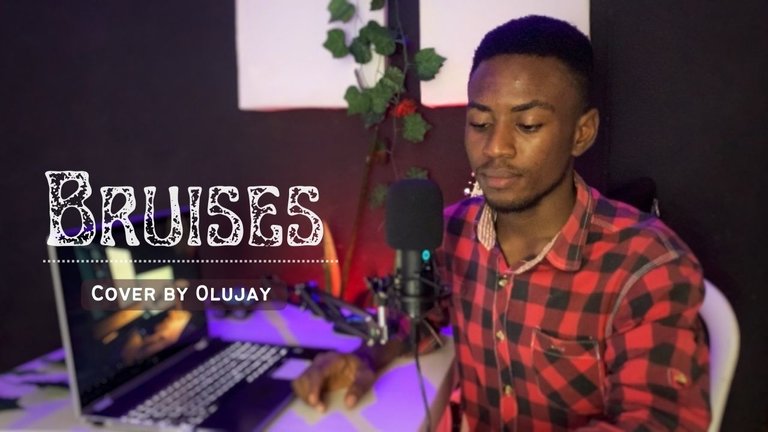 ℍ𝕖𝕪, 𝕚𝕗 𝕪𝕠𝕦 𝕖𝕟𝕛𝕠𝕪𝕖𝕕 𝕥𝕙𝕚𝕤 𝕡𝕠𝕤𝕥, 𝕜𝕚𝕟𝕕𝕝𝕪 𝕝𝕖𝕒𝕧𝕖 𝕒 𝕔𝕠𝕞𝕞𝕖𝕟𝕥, 𝕣𝕖𝕓𝕝𝕠𝕘, 𝕠𝕣 𝕦𝕡𝕧𝕠𝕥𝕖. 𝕀𝕥'𝕝𝕝 𝕤𝕦𝕣𝕖 𝕓𝕖 𝕒𝕡𝕡𝕣𝕖𝕔𝕚𝕒𝕥𝕖𝕕.

T͜͡H͜͡A͜͡N͜͡K͜͡ ͜͡Y͜͡O͜͡U͜͡ ͜͡F͜͡O͜͡R͜͡ ͜͡S͜͡T͜͡O͜͡P͜͡P͜͡I͜͡N͜͡G͜͡ ͜͜͜͜͡͡͡͡B͜͡Y͜͡
---
▶️ 3Speak
---
---