MOVIE REVIEW: The Unforgivable || Senational Drama [ENG-ESP]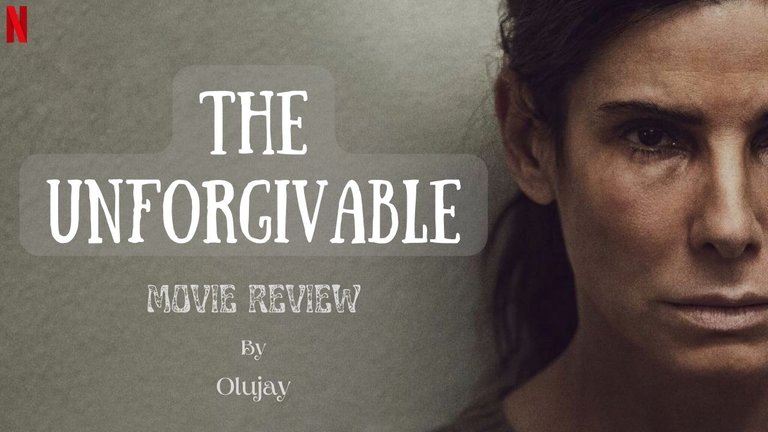 ---
With the increasing number of films available on a daily basis, one would think that there should be an endless list of engrossing films to pick something enjoyable and worthwhile from. However, this is usually not the case for me.
With the large catalogue that the streaming service, Netflix, has come to have, it can still be quite challenging to find a film that would be worth the time and maybe worth the hype.
In my search for something to occupy my mind, I came across this film, which piqued my interest solely because of my favorite actress, Sandra Bullock. This is absolutely normal for most people; they are drawn to a film only because of the starring actor they are fond of.
Other than the fact that she is on the verge of turning 60 and still looks as stunning as ever, she has been and remained an excellent actor, with whom I fell in love the first time I saw "Birdbox," in which her tremendous performance sold the whole story.
Without much hesitation, I started The Unforgivable. And after about ten minutes, I was hooked on the story. On completion, I immediately realised that I had not seen such a film in quite a while.
This is why we are both here. But before we get into the review, let me tell you a little bit about the movie for context.

𝔸𝔹𝕆𝕌𝕋 𝕋ℍ𝔼 𝕄𝕆𝕍𝕀𝔼
Ruth Slater had just been released from prison after twenty years for a violent crime. She now re-enters a society that refuses to accept her, for her crime is far from being forgotten.
Despite this, all she can think about is her younger sister, whom she abruptly left for prison. She has longed ever since their separation to see her younger sister again. However, she may not be able to do so as her restrictions do not allow her to.
---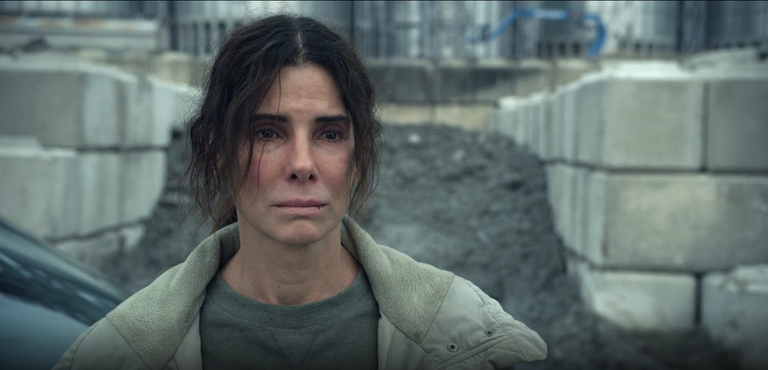 Source
---
On the other hand, victims of the violent crime she had been convicted of never forgave her and kept their eyes on her.
In the midst of her social stigma, she strives to make a life for herself and devises means to reconnect with her sister while trying to keep her head down. Nonetheless, the victims have their eyes on their prize: revenge on the unforgivable.

𝕄𝕐 𝕋ℍ𝕆𝕌𝔾ℍ𝕋𝕊 & 𝕆ℙ𝕀ℕ𝕀𝕆ℕ
The world in which we live is not in any way a forgiving one, and neither is it one that forgets. Emotions heavily influence men's hearts, often leading to uncontrollable behavior, unless they are tamed.
It is not an easy thought to deal with when someone else wrongs you and you have to live with the consequences while the individual gets to walk free. It does take strong will and courage to actually accommodate strength to carry on leaving the dead weight of vengeance.

This film depicts exact real-life scenarios. It delves into the world of convicts and portrays their version of life in a way that non-convicts do not see in that perspective; rejection, hate, and despair. A glimpse into the struggles they face in trying to establish themselves in a society that they once knew.
I had an expectation; one that anyone would typically have with stories that had the "revenge" tag, as the title simply implied so. But what I got served totally blew me away. I knew, at the end of the film, that I had not felt this many emotions in a movie in a very long time. I had humor, sympathy, fear, thrills, and lastly, a mad twist served to me in a single dish.
There are elements that gave the definition that made this movie one that I will remember for a very long time.
---
sᴛᴏʀʏʟɪɴᴇ
---
The story we have in this film is one that is very similar to what we have in reality. However, as cliche as the revenge story can be, it is the execution in this film that gives it the strong hold it has.
The film started by putting its audience in familiar territory by introducing what we would normally expect to see at the beginning of the film. But then, it began throwing together puzzles that obviously needed putting together.
Its storyline developed in such a manner that it prepared its audience well enough for the main blow. It did so by dragging one along with itself in the same way that a true story would have; it was completely relatable. It alternated between flashbacks and the present story, but it all made sense in the end.
---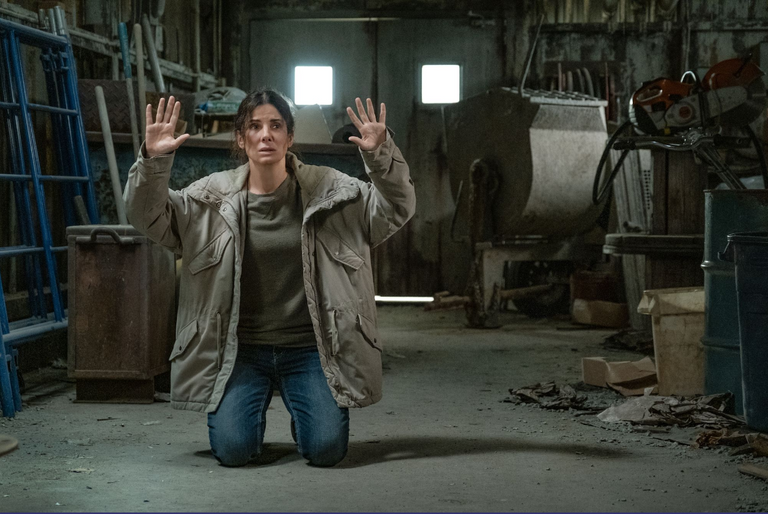 Source
---
There were some comedic elements here and there that were not necessarily made obvious, but one could derive them from the nuances in the conversations or scenes just as one would do so in reality. As the audience, I felt this connection with the story that was so strong that I felt every single emotion that was sufficient for me to follow through.
A basic story that would naturally be the case in reality, but its sublime progression is one that I must absolutely commend.
---
ᴄɪɴᴇᴍᴀᴛᴏɢʀᴀᴘʜʏ
---
The art of visual storytelling comprises elements such as lighting, camera angles, focus, color, framing, and the like that go into the visualization of the story. It provides the overall look a film's narrative should take on.
The film had a visual setting that made the film natural to follow. The film did not seem to be set in a time like we are in now, maybe one dated about 15 years ago or so. And it had colors and lighting that enunciated the concepts we had to grasp in the storyline well enough to provide the visual storytelling.
The majority of everything appealed to the perspective that one would have concerning the time it was set, further allowing one to easily relate to the story.
---
ᴀᴄᴛɪɴɢ
---
When it comes to telling a story in a film, it will only go in the manner the director (or filmmakers) intends it to go, with the actors playing their roles effectively enough to sell their characters.
Sandra Bullock is an actor that has won many awards in her career, and they really do not exist on her trophy shelf for no reason. She is well known to always give an exceptional and amazing performance in her roles. She basically sold the entire story with her performance in the film, down to every little facial expression and breath. Everything felt real and there was power in her acting.
I cannot even begin to commend why I think her performance was spot-on perfect. You'd have to see the film for yourself for you to love her performance for yourself. I really could not help but feel connected to her acting. She made it look so easy.
I will also commend every other actor in this film. I will not begin to list them, but I can sure say that without their excellence in their performances, Sandra's performance, and the story as a whole, may not have made much sense as it did.

𝕄𝕐 𝔽𝕀ℕ𝔸𝕃 𝕋ℍ𝕆𝕌𝔾ℍ𝕋𝕊...
The movie was just released late last year in 2021, so there may not be a sequel to the film. But if there is, in any way, a possibility for a sequel, because I feel there is a little room for that, I am so jumping at it.
The film will surely go on to receive accolades from renowned award presenters as it deserves. It is a film that one will remember for a long time.
I will therefore give it a rating of 𝟡/𝟙𝟘.
---

SPANISH
---
Con el creciente número de películas disponibles a diario, uno pensaría que debería haber una lista interminable de películas absorbentes de las que elegir algo agradable y que merezca la pena. Sin embargo, este no suele ser mi caso.
Con el amplio catálogo que el servicio de streaming, Netflix, ha llegado a tener, todavía puede ser bastante difícil encontrar una película que valga la pena el tiempo y tal vez el bombo.
En mi búsqueda de algo para ocupar mi mente, me encontré con esta película, que despertó mi interés únicamente por mi actriz favorita, Sandra Bullock. Esto es absolutamente normal para la mayoría de la gente; se sienten atraídos por una película sólo por el actor protagonista que les gusta.
Aparte de que está a punto de cumplir 60 años y sigue estando tan estupenda como siempre, ha sido y sigue siendo una excelente actriz, de la que me enamoré la primera vez que vi "Birdbox", en la que su tremenda interpretación vendía toda la historia.
Sin dudarlo mucho, empecé "Lo imperdonable". Y después de unos diez minutos, me enganché a la historia. Al terminar, me di cuenta inmediatamente de que hacía tiempo que no veía una película así.
Por eso estamos aquí. Pero antes de entrar en la crítica, déjenme contarles un poco sobre la película para contextualizarla.

𝕊𝕆𝔹ℝ𝔼 𝕃𝔸 ℙ𝔼𝕃𝕀́ℂ𝕌𝕃𝔸
Ruth Slater acaba de salir de la cárcel después de veinte años por un crimen violento. Ahora se reincorpora a una sociedad que se niega a aceptarla, pues su crimen está lejos de ser olvidado.
A pesar de ello, lo único en lo que piensa es en su hermana pequeña, a la que abandonó bruscamente para ir a la cárcel. Desde que se separaron, ha anhelado volver a ver a su hermana menor. Sin embargo, es posible que no pueda hacerlo, ya que sus restricciones no se lo permiten.
---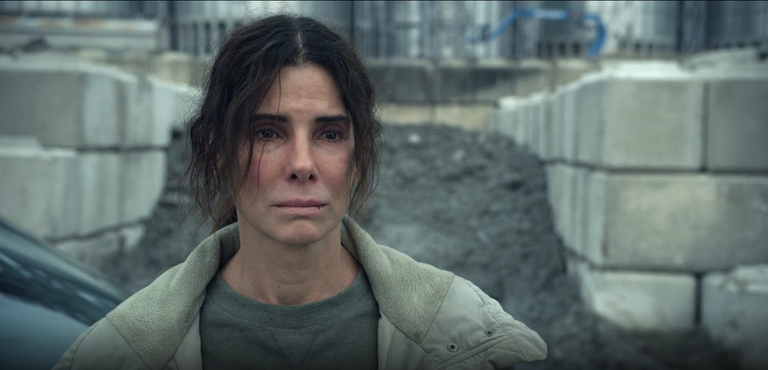 Fuente
---
Por otro lado, las víctimas del crimen violento por el que fue condenada nunca la perdonaron y mantuvieron sus ojos sobre ella.
En medio de su estigma social, se esfuerza por hacer una vida por sí misma e inventa medios para reencontrarse con su hermana mientras intenta mantener la cabeza baja. Sin embargo, las víctimas tienen los ojos puestos en su premio: vengarse de lo imperdonable.

𝕄𝕀𝕊 ℙ𝔼ℕ𝕊𝔸𝕄𝕀𝔼ℕ𝕋𝕆𝕊 𝕐 𝕆ℙ𝕀ℕ𝕀𝕆ℕ
El mundo en el que vivimos no es en absoluto un mundo que perdona, ni tampoco uno que olvida. Las emociones influyen mucho en el corazón de los hombres, y a menudo conducen a un comportamiento incontrolable, a menos que se las domine.
No es fácil lidiar con el hecho de que otra persona te haga daño y tengas que vivir con las consecuencias mientras el individuo sale libre. Hace falta una gran voluntad y coraje para acomodar la fuerza para seguir adelante dejando el peso muerto de la venganza.

Esta película describe escenarios reales exactos. Se adentra en el mundo de los convictos y retrata su versión de la vida de una manera que los no convictos no ven desde esa perspectiva: rechazo, odio y desesperación. Un vistazo a las luchas a las que se enfrentan al tratar de establecerse en una sociedad que una vez conocieron.
Tenía una expectativa; una que cualquiera tendría típicamente con las historias que tienen la etiqueta de "venganza", ya que el título simplemente lo implicaba. Pero lo que me sirvió me dejó totalmente sorprendido. Al final de la película supe que no había sentido tantas emociones en una película en mucho tiempo. Tenía humor, simpatía, miedo, emoción y, por último, un giro loco servido en un solo plato.
Hay elementos que dieron la definición que hicieron de esta película una que recordaré durante mucho tiempo.
---
ʜɪsᴛᴏʀɪᴀ
---
La historia que tenemos en esta película es una muy parecida a la que tenemos en la realidad. Sin embargo, por muy cliché que pueda ser la historia de la venganza, es la ejecución en esta película lo que le da la fuerza que tiene.
La película comenzó poniendo a su público en territorio familiar al introducir lo que normalmente esperaríamos ver al principio de la película. Pero luego, comenzó a armar rompecabezas que obviamente necesitaban ser armados.
Su argumento se desarrolló de tal manera que preparó a su público lo suficiente para el golpe principal. Lo hizo arrastrando a uno consigo mismo de la misma manera que lo haría una historia real; era completamente relatable. Alternaba entre flashbacks y la historia actual, pero al final todo tenía sentido.
---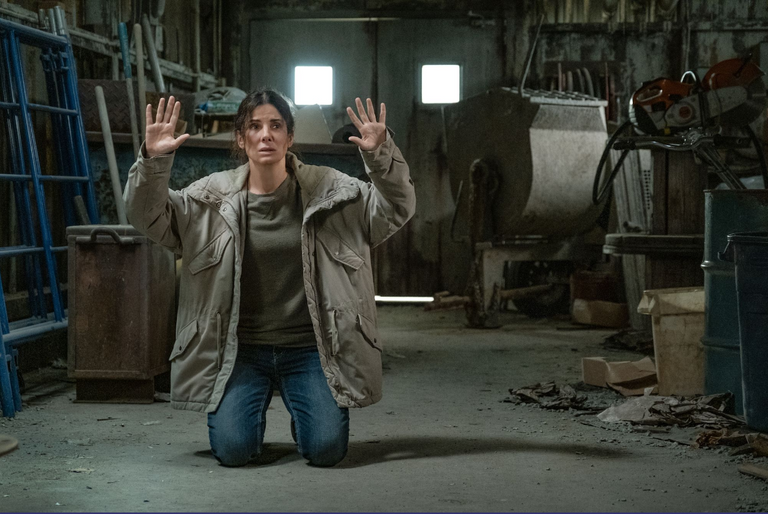 Fuente
---
Había algunos elementos cómicos aquí y allá que no se hacían necesariamente obvios, pero uno podía deducirlos de los matices en las conversaciones o las escenas tal como lo haría en la realidad. Como público, sentí esa conexión con la historia tan fuerte que me hizo sentir cada una de las emociones suficientes para seguirla.
Una historia básica que, naturalmente, sería el caso en la realidad, pero su sublime progresión es algo que debo elogiar absolutamente.
---
ᴄɪɴᴇᴍᴀᴛᴏɢʀᴀғɪ́ᴀ
---
El arte de la narración visual comprende elementos como la iluminación, los ángulos de la cámara, el enfoque, el color, el encuadre y otros similares que intervienen en la visualización de la historia. Proporciona el aspecto general que debe tener la narración de una película.
La película tenía una ambientación visual que hacía que la película fuera natural de seguir. La película no parecía estar ambientada en una época como la actual, quizá una fechada hace unos 15 años o así. Y tenía unos colores y una iluminación que enunciaban lo suficientemente bien los conceptos que teníamos que captar en el argumento para proporcionar la narración visual.
La mayor parte de las cosas apelaban a la perspectiva que uno tendría respecto a la época en la que se ambientaba, lo que permitía relacionarse fácilmente con la historia.
---
ᴀᴄᴛᴜᴀᴄɪᴏ́ɴ
---
Cuando se trata de contar una historia en una película, ésta sólo se desarrollará de la manera en que el director (o los cineastas) pretenden que se desarrolle, con los actores interpretando sus papeles con la suficiente eficacia para vender sus personajes.
Sandra Bullock es una actriz que ha ganado muchos premios a lo largo de su carrera, y realmente no existen en su estante de trofeos sin razón. Es conocida por ofrecer siempre una interpretación excepcional y sorprendente en sus papeles. Básicamente, ha vendido toda la historia con su actuación en la película, hasta la más mínima expresión facial y la respiración. Todo parecía real y su actuación era poderosa.
No puedo ni empezar a elogiar por qué creo que su actuación fue perfecta. Tendrás que ver la película por ti mismo para que te guste su actuación. No pude evitar sentirme conectada a su actuación. Hizo que pareciera tan fácil.
También voy a elogiar a todos los demás actores de esta película. No voy a empezar a enumerarlos, pero sí puedo decir que sin la excelencia de sus interpretaciones, la actuación de Sandra, y la historia en su conjunto, no habrían tenido mucho sentido.

𝕄𝕀𝕊 ℙ𝔼ℕ𝕊𝔸𝕄𝕀𝔼ℕ𝕋𝕆𝕊 𝔽𝕀ℕ𝔸𝕃𝔼𝕊...
La película se estrenó a finales del año pasado, en 2021, así que es posible que no haya una secuela de la película. Pero si hay, de alguna manera, una posibilidad de una secuela, porque siento que hay un poco de espacio para eso, estoy tan saltando en él.
La película seguramente recibirá elogios de renombrados presentadores de premios, como se merece. Es una película que se recordará durante mucho tiempo.
Por lo tanto, le daré una calificación de 𝟡/𝟙𝟘.
---
ɪ ɪɴᴠɪᴛᴇ ʏᴏᴜ ᴛᴏ ᴊᴏɪɴ ᴛʜᴇ ᴄᴏᴍᴍᴜɴɪᴛʏ ɪғ ʏᴏᴜ ᴡᴏᴜʟᴅ ʟɪᴋᴇ ᴛᴏ sᴇᴇ ᴍᴏʀᴇ ғɪʟᴍ ʀᴇᴠɪᴇᴡs ʙʏ ᴀᴡᴇsᴏᴍᴇ ᴀᴜᴛʜᴏʀs.
---

ℍ𝕖𝕪, 𝕚𝕗 𝕪𝕠𝕦 𝕖𝕟𝕛𝕠𝕪𝕖𝕕 𝕥𝕙𝕚𝕤 𝕡𝕠𝕤𝕥, 𝕜𝕚𝕟𝕕𝕝𝕪 𝕝𝕖𝕒𝕧𝕖 𝕒 𝕔𝕠𝕞𝕞𝕖𝕟𝕥, 𝕣𝕖𝕓𝕝𝕠𝕘, 𝕠𝕣 𝕦𝕡𝕧𝕠𝕥𝕖. 𝕀𝕥'𝕝𝕝 𝕤𝕦𝕣𝕖 𝕓𝕖 𝕒𝕡𝕡𝕣𝕖𝕔𝕚𝕒𝕥𝕖𝕕.

T͜͡H͜͡A͜͡N͜͡K͜͡ ͜͡Y͜͡O͜͡U͜͡ ͜͡F͜͡O͜͡R͜͡ ͜͡S͜͡T͜͡O͜͡P͜͡P͜͡I͜͡N͜͡G͜͡ ͜͜͜͜͡͡͡͡B͜͡Y͜͡
---
---