2nd Half As A Newbie || MY GOALS FOR THE NEXT SIX MONTHS

It's almost a year now since I found this beautiful place that many of us call home (particularly myself). It is home for me, mostly because of the intricacies involved with connecting with real minds and real thoughts.
However, being a newbie here, as it should be, has come with many challenges, such as not knowing what the frigging hell you are doing, and then everything on Hive seems so overwhelming. But over time, with turning up, I began to warm up to many things and gained more understanding.
---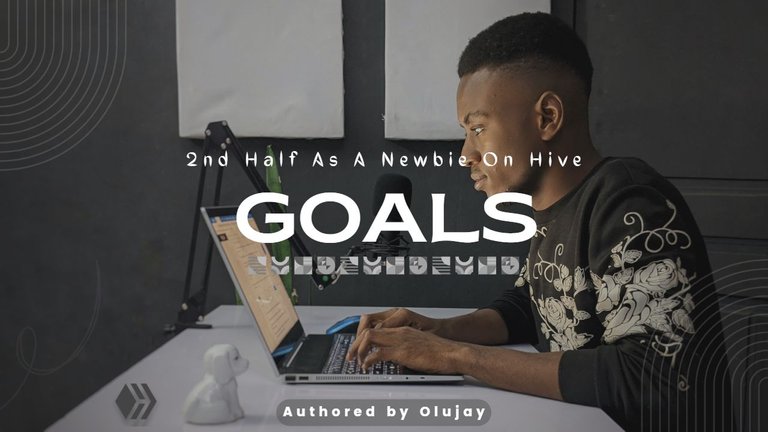 "𝙸𝚝 𝚖𝚞𝚜𝚝 𝚋𝚎 𝚋𝚘𝚛𝚗𝚎 𝚒𝚗 𝚖𝚒𝚗𝚍 𝚝𝚑𝚊𝚝 𝚝𝚑𝚎 𝚝𝚛𝚊𝚐𝚎𝚍𝚢 𝚘𝚏 𝚕𝚒𝚏𝚎 𝚍𝚘𝚎𝚜𝚗'𝚝 𝚕𝚒𝚎 𝚒𝚗 𝚗𝚘𝚝 𝚛𝚎𝚊𝚌𝚑𝚒𝚗𝚐 𝚢𝚘𝚞𝚛 𝚐𝚘𝚊𝚕. 𝚃𝚑𝚎 𝚝𝚛𝚊𝚐𝚎𝚍𝚢 𝚕𝚒𝚎𝚜 𝚒𝚗 𝚑𝚊𝚟𝚒𝚗𝚐 𝚗𝚘 𝚐𝚘𝚊𝚕𝚜 𝚝𝚘 𝚛𝚎𝚊𝚌𝚑."
— 𝙱𝚎𝚗𝚓𝚊𝚖𝚒𝚗 𝙴. 𝙼𝚊𝚢𝚜
---
This is basically to say that I really did not have much of a perspective on where I was going with my growth here. All I was interested in was learning and earning (yeah, that's important too).
But like I have said, I have been learning, and I have learned that growth can only be effectively and efficiently achieved with deliberate planning. And although I have never really put my thoughts on where I'd like to be in a few months, I have had sketchy conceptions about what it is I would like to see myself become. And thanks to the Hive Learner's prompt, I am thinking a little deeper and journaling them.
Here we go...
I have only been on Hive for 6 months (since I made my intro post), and I must admit, I have really done quite okay. This is because I have been able to achieve certain feats within such a short time. Examples are my reputation, my HP, and the number of friends I have been able to connect with.
So now, for the rest of the 6 months to come, I am choosing to be deliberate about my growth. And I will be focusing mainly on the following:
I am aware of how harder it becomes to increase in reputation as one goes up, and that it really depends on large stakeholders. But having a goal to reach should help keep one's eyes fixed on the target: growth.
---

---
I currently have a reputation of 65. With six months to go until I complete a year on Hive, I want to have a rep of 68. Like I have earlier established, it gets harder. And although I may feel tempted to long for 70, I would rather want to chase something quite realistic and surpass it than raise the bar too high and then disappoint myself eventually.
So, up till this moment as I write, I have never powered down, so my HP has been on steady growth since I have been here. I do not intend to power down soon. As a matter of fact, I intend to not power down at all till I have spent a year being active on Hive.
I do understand that situations may arise that could require me to power down. But I guess that's life for you; throwing the unexpected at you. With all things being equal, I am hoping to keep my HP growing as it sure increases my voting power, which I could in turn use to support my friends and other authors.
---

---
I currently have a HP of 722.869. I have been able to achieve this in 6 months, which was not attained by conscious effort. With deliberate planning, I am aiming to reach a HP of 1500.
I actually have never kept HBD in savings before. I have always wanted to, knowing the 20% APR and how effective it can be in helping one grow their savings. But due to the fact that I have been needing most of my author rewards, I never saw much importance in keeping some money away.
Now that I think about it, if I had actually been putting away some HBD, no matter how little, I might as well have had quite a significant number in HBD savings, and that'll make me prouder of myself now.
---

---
From now on, I will save 3.5 HBD per week, which is 0.5 per day. And by the end of the next six months, I should have 90 HBD in my HBD savings account. I will set up a recurring transfer to HBD savings to do this transaction automatically. I just figured that I can't, so I'm finna have to do it by my friggin self. :)
There is not much I know yet about investments in Hive. I am familiar with many names (or types), but there really is just one that I know of; the BRO token.
From what I understand so far, holding just enough BRO tokens can earn you goodies. And if I am able to amass just enough BRO tokens, over time I should be able to earn my "investment" back while still having my investment in the token.
---

---
One BRO token costs about 7 Hive now. They are quite expensive. I am hoping to have 5 BRO tokens in 6 months. This will cost me about 1.46 Hive every week. Things may, however, turn out really well and I may be able to buy much more. But I am sticking with something really small for now.
The concept of engagement cannot be overemphasized. It is the very foundation of making connections that will last. It is how we prove our indebtedness to the ecosystem. It is how I was taught by @starstrings01, my mentor.
And I've been doing quite an okay job since I started, but things have been shaky lately. I am not as active as I once was. I intend to fix that, and even more, take it up a notch.
Beyond the numbers on my following and my followers, I am more interested in making actual connections. The increasing numbers of my followers are actually quite encouraging, to be honest. The feeling one gets that one is actually growing in the space is quite satisfying. However, I am keen on actually building relationships that are much more meaningful and purposeful.
I have met a lot of amazing people here on Hive in just the little time that I have known them. I have gotten really close to the majority of them, and boy am I glad to have met them. Their support has gone (and still goes) a really long way in helping me grow. If they find this, I'd like to say THANK YOU.
What's now the way forward?
I have only made 2,648 so far, and that is way less than I intended to have made by this time. I aimed at reaching 7000 by this time. It was not impossible to reach, but then many setbacks came, and I also became really lazy. Yeah, I admit that.

I am now choosing to be intentional with my growth and take engagement really seriously. I have come to love it anyway. I will now pursue the same goal I set months ago: reaching 7000 comments.
I may very well pass this mark as it really is achievable as long as I show up every day. Again, I have come to love this space, so why not? Unless I am leaving.
In Summary ...
I am aiming to achieve the following in 6 months:
Reach a reputation of 68.
Attain 1500 HP.
Bag 90 HBD in savings.
Acquire 5 BRO tokens.
Make 7000 comments - as they would mean I have been invested into connecting more.
We see again on the 19th of April, 2023, the very day I made my intro post.
---
D͏e͏a͏r͏ f͏u͏t͏u͏r͏e͏ m͏e͏ (i͏n͏ s͏i͏x͏ m͏o͏n͏t͏h͏s͏), I͏ c͏e͏l͏e͏b͏r͏a͏t͏e͏ y͏o͏u͏ f͏o͏r͏ h͏a͏v͏i͏n͏g͏ a͏c͏h͏i͏e͏v͏e͏d͏ t͏h͏i͏s͏ g͏o͏a͏l͏. Y͏o͏u͏ s͏e͏t͏ g͏o͏a͏l͏s͏ t͏h͏i͏s͏ t͏i͏m͏e͏, a͏i͏m͏e͏d͏ a͏t͏ a͏c͏h͏i͏e͏v͏i͏n͏g͏ t͏h͏e͏m͏, a͏n͏d͏ y͏o͏u͏ d͏i͏d͏ a͏c͏h͏i͏e͏v͏e͏ t͏h͏e͏m͏. Y͏o͏u͏ a͏r͏e͏ o͏n͏e͏ s͏t͏e͏p͏ c͏l͏o͏s͏e͏r͏ t͏o͏ g͏r͏e͏a͏t͏n͏e͏s͏s͏. H͏o͏w͏e͏v͏e͏r͏, i͏t͏ d͏o͏e͏s͏ n͏o͏t͏ s͏t͏o͏p͏ h͏e͏r͏e͏. T͏h͏e͏ f͏u͏t͏u͏r͏e͏ a͏w͏a͏i͏t͏s͏ y͏o͏u͏. G͏o͏ b͏a͏c͏k͏ t͏o͏ t͏h͏e͏ d͏r͏a͏w͏i͏n͏g͏ b͏o͏a͏r͏d͏ a͏n͏d͏ r͏e͏v͏i͏s͏e͏ y͏o͏u͏r͏ n͏e͏w͏ p͏l͏a͏n͏s͏ (a͏s͏s͏u͏m͏i͏n͏g͏ y͏o͏u͏ h͏a͏v͏e͏ m͏a͏d͏e͏ a͏n͏o͏t͏h͏e͏r͏ s͏e͏t͏). Remember to be realistic. :)
---

ℍ𝕖𝕪, 𝕚𝕗 𝕪𝕠𝕦 𝕖𝕟𝕛𝕠𝕪𝕖𝕕 𝕥𝕙𝕚𝕤 𝕡𝕠𝕤𝕥, 𝕜𝕚𝕟𝕕𝕝𝕪 𝕝𝕖𝕒𝕧𝕖 𝕒 𝕔𝕠𝕞𝕞𝕖𝕟𝕥, 𝕣𝕖𝕓𝕝𝕠𝕘, 𝕠𝕣 𝕦𝕡𝕧𝕠𝕥𝕖. 𝕀𝕥'𝕝𝕝 𝕤𝕦𝕣𝕖 𝕓𝕖 𝕒𝕡𝕡𝕣𝕖𝕔𝕚𝕒𝕥𝕖𝕕.

𝒮𝑒𝑒 𝓎𝑜𝓊 𝒾𝓃 𝓉𝒽𝑒 𝓃𝑒𝓍𝓉 . . .
---
---