Market Friday That Made a Funny Day!
Today is my 51st Birthday, I thank God for the gift of life that He has been given to me. I thank my parent, my mother in heaven for the life she gave me. I do not celebrate today unlike the previous year but today I am not in a perfect position to celebrate. There is no need to celebrate, and we should practice practically how life is going on. I have the reason inside and will not dig deeper into why and how it happens.
If God allows me to live until 60, 70, and 80. I would celebrate it not every year. It should be in 10 years. So, after 9 years I have to celebrate it, promise. That's my new rule. What matters most today, I am standing and keep on kicking. Wishing for myself, above all is good health. As long as we are healthy, everything comes along the way.🙏🙏🙏❤❤❤😇😇😇
Treating myself in a little way
I was walking yesterday amidst the very hot sunny day. Going to the supermarket buying some stuff for the kitchen. Would you believe that every time I went to a mall or grocery, my eyes were rolling up wanting to buy stuff for myself but I can't? I salivating wanting to eat delicious food outside but I refrain from buying because the more I am thinking for my family back home. I want them to be happy and I could send enough money that is why I am not buying anything for myself. People said, it's not good and I should give a prize to myself but to be honest, I can't do that most especially when my mother and grandmother were sicked at the same time.
But yesterday!
I was tempted to get inside a stall that is selling fresh fruit juice. It is expensive and we have fruits at home. But I just tried myself pretending to have money and can afford to buy fresh juice. It was a funny moment in my life. I felt a little bit shy buying like that. I thought poor people are not buying like that. Poor people prefer to buy water for the whole day than buying juice and sipped in just a minute then after that we need water again. I couldn't stand a situation like that. But I tried.
First of all, I talked to the man if he had a pineapple fresh fruit but there was no available. I saw the guava and it was imported guava. So, I choose it and he quickly made the process in a blender. While he was making it, I kept on taking pictures and thinking of @dswigle. I told myself that my friend would become happy when I have a market Friday story to share. Hahaha! I thought @dswigle will pay for my expensive juice on that day.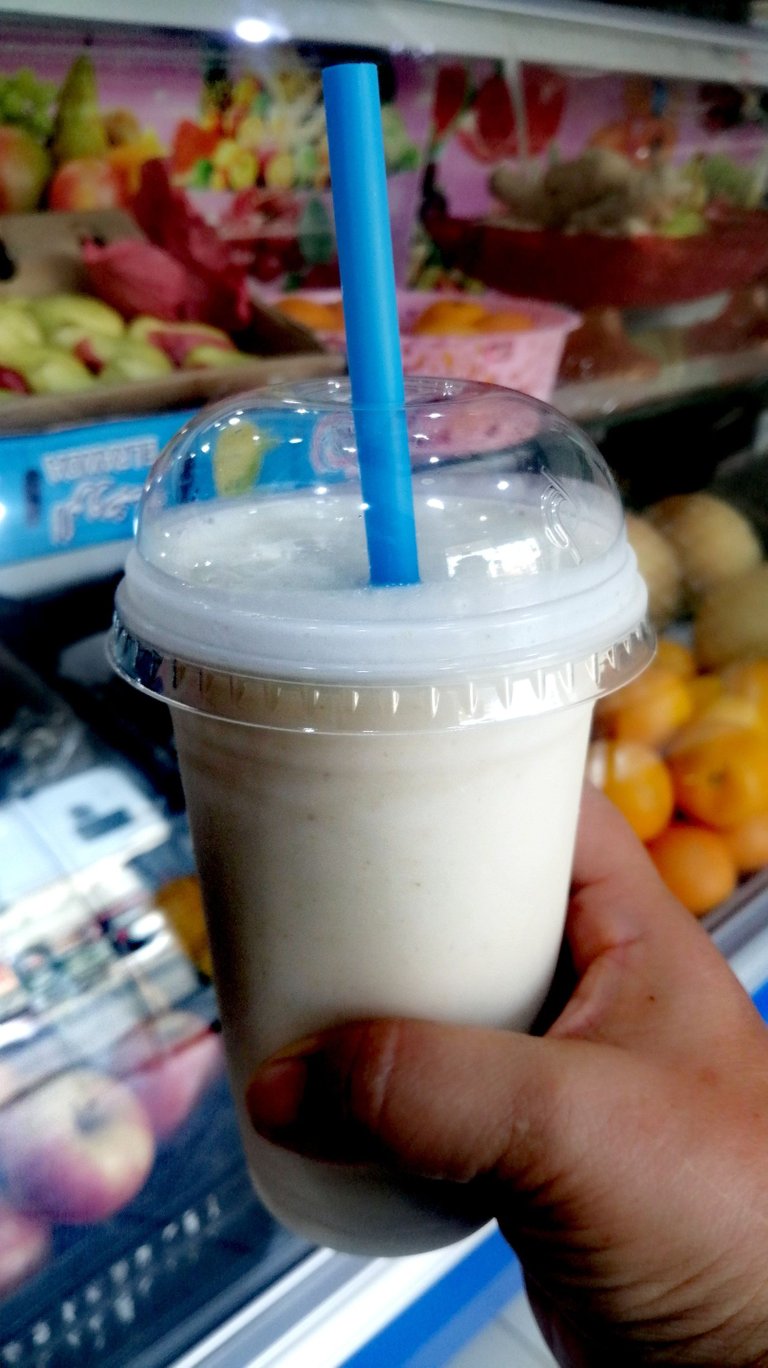 This was me holding the guava juice.
It was made up of 3 big guavas, milk,, and ice with tablespoons of sugar. He told me that it was a special order but I didn't think so.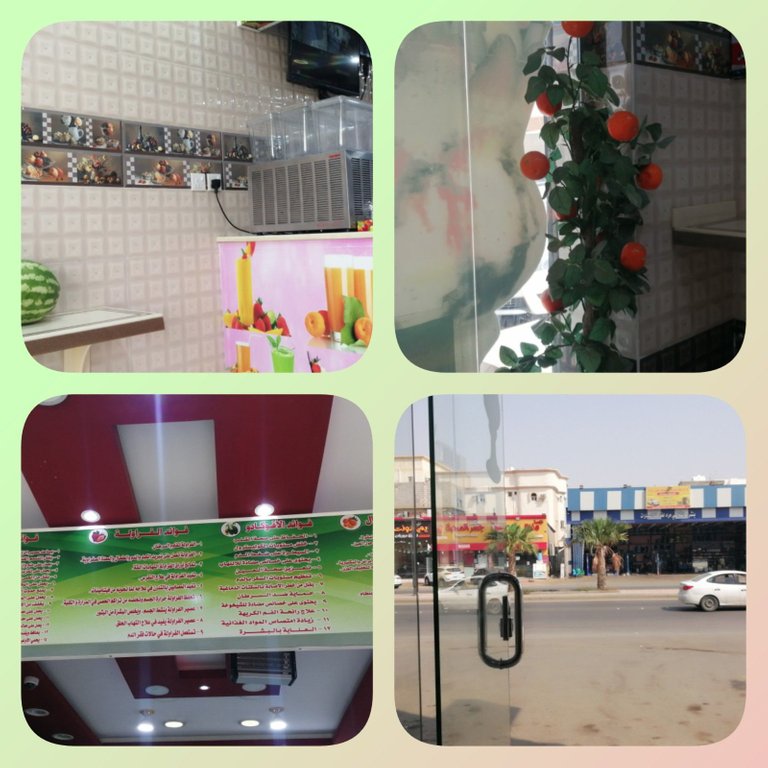 The place was clean and well organized. The salesman was also wearing a mask and gloves.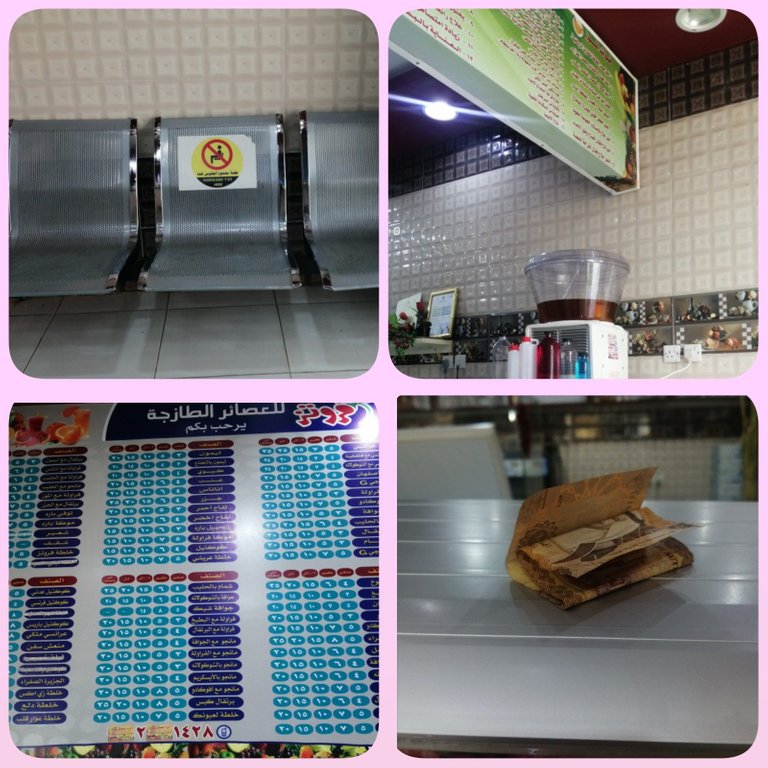 Menus were written in Arabic and I didn't know how to read them but I can fluently speak Arabic. When I pay it, I just put it on the top of the glass where the fruits were being displayed.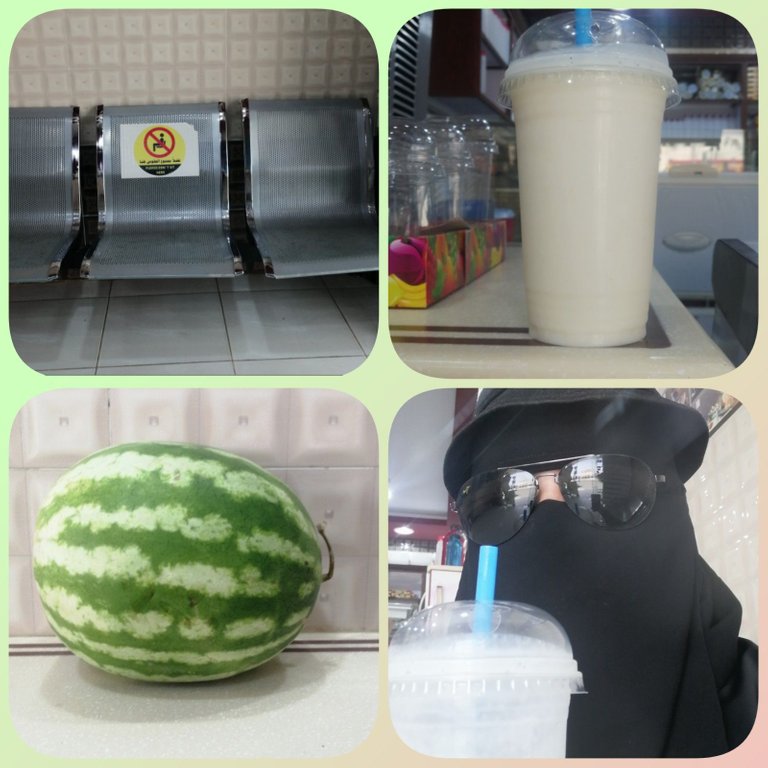 There was a bench inside for the customer who wanted to drink their juice but it was a place for a take out orders only. But I sat down for 10 minutes, sipped the fresh juice, take a selfie, and walk away.
There was a big melon. I love melon juice but it was still uncut so I preferred the guava juice. It satisfied me and I pay 10 Saudi pesos, 140 pesos for Philippines money, and approximately 2.5 USD.
Anyway, it was just a small amount but I am just too much thinking of not spending money unnecessarily. I was thirsty, yes! But the house is just a walking distance. What a happy moment, I passed there a million times but I never thought of buying but I did before I became 51. The fresh juice was so delicious and it quenched my thirst. No regret at all. But I can't tolerate myself doing such a thing. I should be careful in spending my money wisely. I earned it from hard work so I must think twice all the time. No problem when it comes to foods but for just a material thing, I can not do it.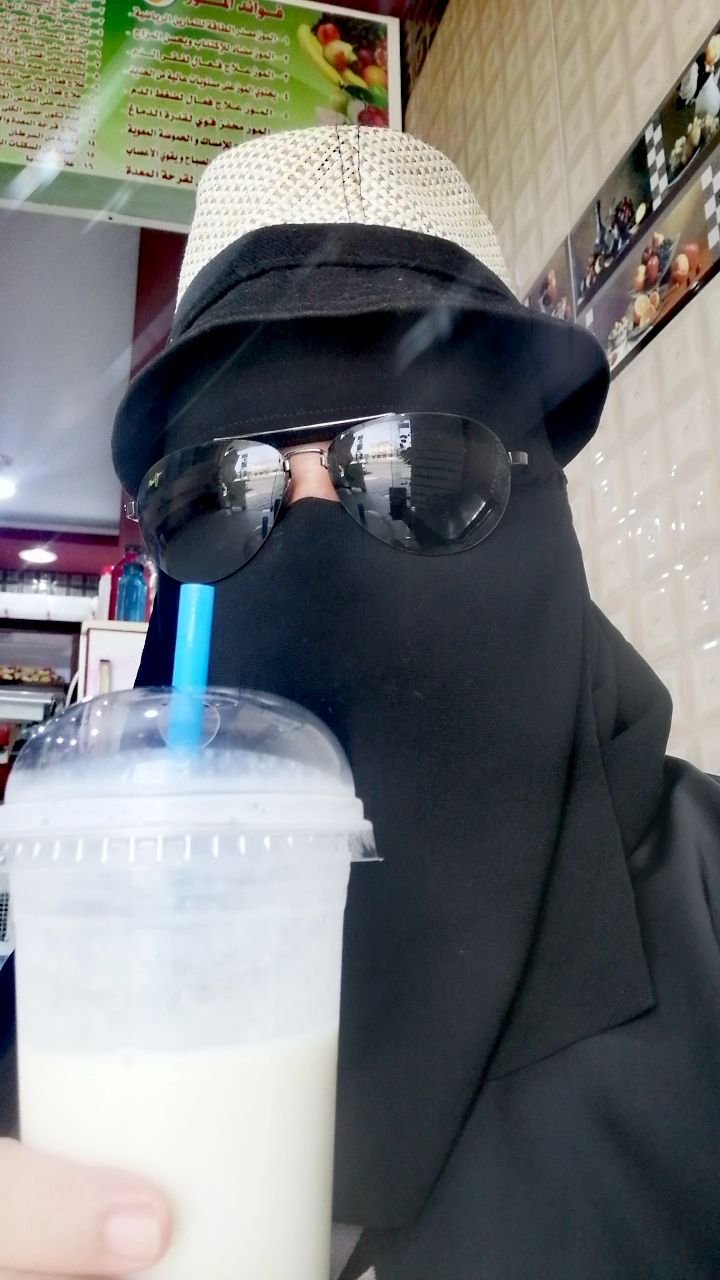 That was a funny Friday market that ever happened lately. I hope that people get some good points about how we spend our money. We are different, you have your own way and this is just the way I live my life being an Overseas Filipino Worker, who sacrifice a lot of things just for the family needs.


Thank you so much @dswigle. I am waiting for your nice response. I missed it. And thanks to @asean.hive community for being nice to us.
Happy Friday Market Day! Hive On!


Gif credit to @gremayo

---
---