Hive Open Mic For Filipinos Contest Week #1
Mabuhay!
Filipinos are recognized in the music industry and are mostly, if not all, are natural-born singers. With or without occasion, you can see and hear them singing. Regardless of the timbre and pitch, we can't deny that Filipinos love to sing.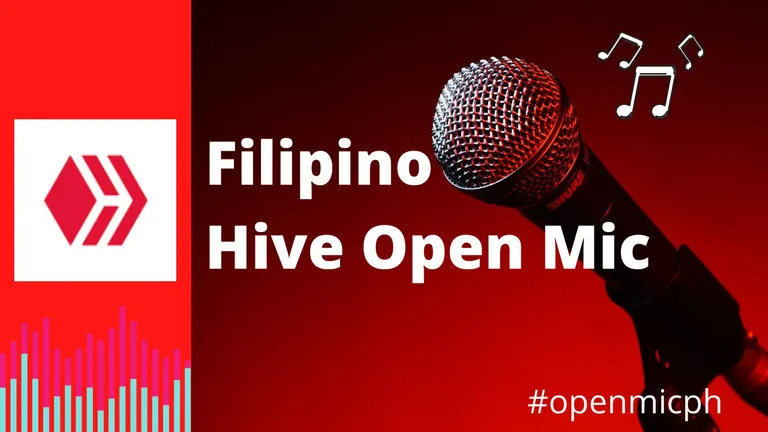 gif credit to @me2selah.
With that, I humbly ask the brain of the Hive Open Mic if I can conduct a singing contest for the Filipinos under the Hive Open Mic community. I give respect to the already set-in-motion community, and I want to extend my gratitude to @cabelindsay for allowing me to. Thank you so much!
And without further ado, let's begin the Filipino Hive Open Mic Week #1.
MECHANICS
Sing any song of your liking; the song must be a maximum of 4 minutes. Only one entry per Hiver.
Post your video on Hive. Before you start singing, state your Hive username, and it is your entry to the Filipino Hive Open Mic Week 1.
3, Attach the lyrics of the song in your post, and then briefly share with us why you chose that song, at least 200 words.
Use the #openmicph #contest #hiveopenmic as your first three (3) tags.
Must start with the title "Filipino Hive Open Mic Week #1".
Comment the link of your post here.
Reblog this post to spread the news.
Tag at least one (1) of your friends here to join the contest.
9.Must be posted in @hiveopenmic community
Marking February 18, 2022 and counting for the best of us all🙏🙏🙏.
Aawitan ko muna kayo at ito'y ay handog ko sa nga kaibigan iniwanan ako😍😍😍 at iiwanan pa🤔🤔🤔.
CRITERIA
Vocal (50%) - Displays the tone quality, diction, intonation.
Expression (30%) - Shows how you express and connect yourself to the song.
Showmanship (20%) - Consists of music selection and overall performance.
JUDGES:
@mers
@sisterhood2
@olivia08
PRIZES
First Prize: 3 HIVE
Second Prize: 2 HIVE
Third Prize: 1 HIVE
Note that the prizes are from my wallet. Donations and sponsorships are welcome and highly appreciated.
DEADLINE
This contest will run from February 18, 2022, until February 25, 2022.

Once again, thank you to @cabelindsay. Without him, this contest wouldn't be possible. And to all Filipinos, let's rock and roll!
HIVE ON!


Gif credit to @gremayo
---
---