"HELPING OUT WITH NO EXPECTATIONS || LOOKING AT MY MOTIVE IN RELATION TO VOLUNTEERING."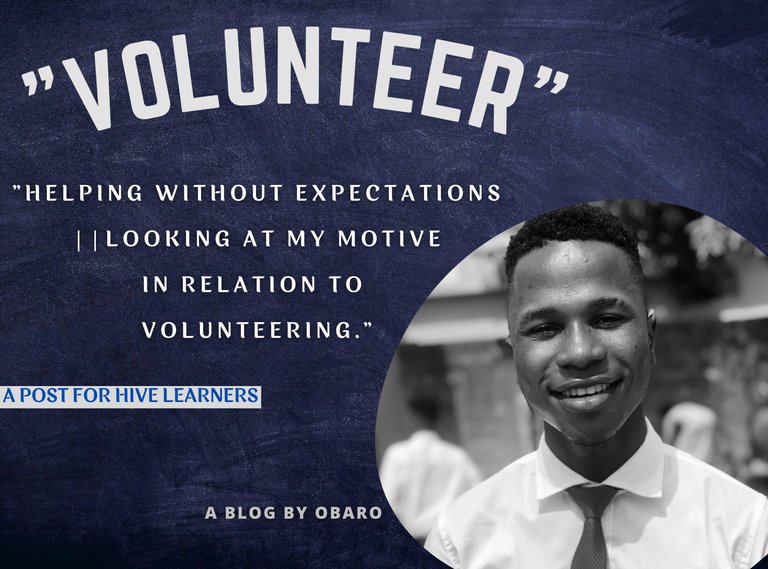 Before the word volunteer comes in, you must have had it in mind that you are not expecting anything!
Volunteering is an act or a decision of rendering services at your own free will without expectations.
To get a volunteer these days now is really rare because everyone now wants something for something.
I'm not surprised that even the church where we usually have a lot of volunteers towards a particular department, is now a place where people expect something for something.
It's rare to get a volunteer these days and a lot of reasons are behind it, part of which are:
"bad attitude of those they've rendered help to which in one way or the other got to the heart of the volunteers and damaged their good intentions"
HAVE I EVER VOLUNTEERED?
This is such a huge question.
Well, I'm also not a saint when it comes to those that are always expecting something in return for something.
This country, Nigeria, can be a sole reason why so many people's good intentions might be damaged.
However, the answer to that question is, Yes!
I have volunteered before in my area of specialization.
It's no longer a news that ASUU (Academic Staff Union Of Universities) strike has lasted for more than half of the year and it is seen as a national embarrassment.
However, the positive impact of ASUU on me is more powerful than the damage it has done to me.
So, during this strike, I took a very strong decision that made my pastor and also my Choir master like me the more.
After our choir rehearsal on a faithful Sunday afternoon, I discovered some errors in the choir and I felt bad.
I was like, I am blessed in this area and I'll find joy in volunteering myself as a temporary music instructor till the strike is over!
So, the music training is to commence this coming Sunday and I'm so excited because I kind of feel fulfilled that I'll be passing out the knowledge of what I know to the blessing of others.
LOOKING AT MY MOTIVE IN RELATION TO VOLUNTEERING
My intentions towards this particular decision I took are so good, pure and genuine.
In fact, I'm ready to go on a financial Journey if the need arises to see that the choir becomes better before I depart from them.
I need us to understand that Volunteering is not just enough.
What are your Intentions?
Why did you volunteer?
What is your motive?
So if you can figure that out, You won't even get hurt even if you later got insulted in the process of rendering your free services.
THANKS FOR READING THROUGH!❤️
---
---